Don't you just love travelling and learning new things?   I love learning about all of the history, art, architecture, and local foods of the places I travel.  Now that it is summer, I've been dreaming of new places I want to go to learn, tour, relax and eat!  I found myself reading about the best places to travel this year, and Portugal, a country I've yet to visit, was listed. In the article I read, I learned that the African countries of Angola and Mozambique were once territories of Portugal.  When the Portuguese visited, they learned how to cook with the African Birds-Eye Chile, and took it back to Portugal, using it to create Piri Piri Sauce, which is used in the famous Portuguese dish Piri Piri Chicken.
I had to make it!  A quick search for recipes took me to Bon Appetit, so I present you with Piri Piri Chicken!  Also known as Peri Peri Chicken or Pili Pili Chicken, it is a fantastic new kind of spicy that you may not have tasted before, and so worth a trip to Portugal! (Or at least a quick recipe.)
You can make this unique sauce yourself, but it does come bottled. For this recipe, I used Nando's Peri Peri Sauce.  Since I'd never tried it before, I had to open the bottle, and pour a bit on a spoon to taste.  "WOWZA!", (Seriously!) I really did say it – (the first time I've ever said that word.)  Wowza!  Spicy, garlicky, lemony, so so good.  THIS is absolutely my new go-to hot sauce.  So sorry, Sriracha! I do love you still, but Piri Piri, Wowza!  BTW, you do need two 4.7 oz bottles for this recipe, because a full half cup goes in the marinade, and you need 2 Tablespoons for the glaze, so you will have extra(!) But note, the spicy taste of the sauce is way toned down in the chicken, compared to the sauce on its own. So fear not – or buy the Medium-Spice variety.  I used the Hot in the marinade and the Medium for the glaze.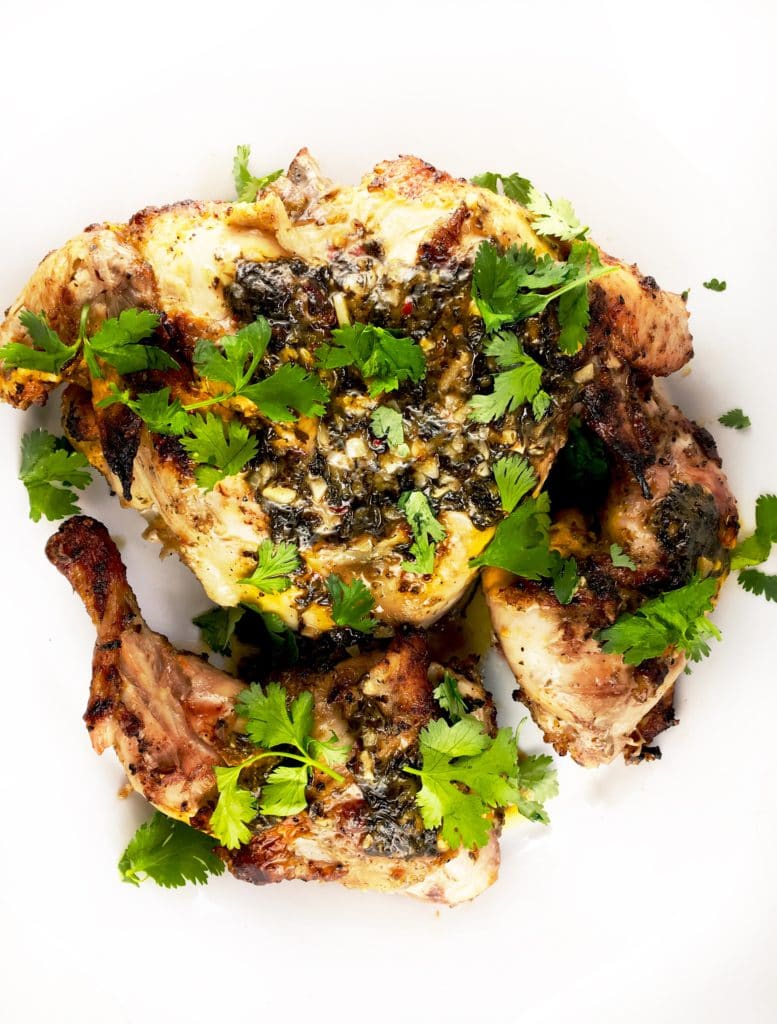 Piri Piri chicken was the juiciest and most tender chicken I've ever grilled.  We served it with grilled pita bread and tzatziki sauce and a crispy-cool slaw.  This is my new summer favorite!  It is best marinated a day ahead and then you can grill before dinner. Only 45 minutes on the grill – that's enough time to dream of future travels! If you've been to Portugal and had Piri Piri chicken before, leave a comment because I'd love to hear what you thought of it! Enjoy!
Print
Piri Piri Chicken
A traditional Portuguese dish, this chicken is marinated in Piri Piri sauce (aka Peri Peri or Pili Pili sauce).  This bright and spicy sauce is made from the African Birds' Eye Chile, garlic and lemon juice, and can be mildly or wildly spicy.  If you like spicy, go ahead and buy the "hot" variety, otherwise stick to "medium".  Since most of the sauce is in the marinade, and then grilled, the intensity is lessened, as compared to the sauce on its' own.  I used Nando's Peri Peri, which is awesome!
Author:
Prep Time:

20

Cook Time:

45

Total Time:

1 hour 5 minutes

Yield:

4

-

5

Servings

1

x
Method:

Grilled

Cuisine:

Portuguese
Ingredients
For the Marinade:
1/4

c Cilantro, chopped

1

2-inch chunk Fresh Ginger, peeled, sliced

1

Large Shallot, peeled, quartered

3

Garlic Cloves, peeled

1/4

c Extra-Virgin Olive Oil

1/4

c Fresh Lemon Juice (about

2

medium lemons' worth)

1

t Kosher Salt

1

t Black Pepper

1

Chicken, spatchcocked (see Notes), ideally 4 lbs.
For the Glaze:
3

T Butter

3

T Cilantro, chopped

2

Garlic Cloves, peeled, minced

2

T Piri piri Sauce

2

T Fresh Lemon Juice (

1

medium lemon)
Instructions
Make the Marinade:
Finely chop the cilantro, ginger, shallot, and garlic in a food processor. Add the piri piri sauce, olive oil, lemon juice, salt and pepper.  Process about 30 seconds to blend.
If you have not had a butcher spatchcock (remove the backbone) your chicken, Martha Stewart gives a nice tutorial. Lay the spatchcocked chicken on your board, skin-side up and press down firmly, over the breastbone, to flatten the chicken.
In a baking dish that will hold the chicken (11×7), pour half of the prepared marinade. Place the chicken, skin-side down in the marinade, then pour the other half of the marinade over the chicken. Cover and refrigerate 4-24 hours, turning chicken occasionally.
Make the Glaze:
Over medium heat, melt the butter in a small saucepan. Add cilantro and garlic, cook about 2 minutes, garlic will just barely begin to brown.  Add the piri piri sauce and lemon juice.  Reduce heat to Medium-Low; simmer a few minutes until it begins to thicken a bit. If making a day in advance, store the glaze covered in a small bowl, and reheat a bit just prior to glazing grilled chicken.
Grill the Chicken:
When ready to grill, prepare your grill to cook using Indirect Heat.  This means heating your charcoal or gas burner on one side of the grill and cooking on the non-heated side.  If you have a 2-burner grill, just heat one burner, or if you have 3 burners, heat the two outside burners leaving the middle unheated for cooking.  I heat my grill to Medium-High when using indirect heat.  Place a disposable aluminum pan below the grill rack on the unheated area to catch marinade and drips.  Then place the grill rack over the drip pan.
Brush the grill (unheated area) with oil. Place the chicken skin-side up over the drip pan.  Cover grill and cook, turning every 8-10 minutes, until chicken is done (dark meat should register 165F).  This should take 40-45 minutes.
Warm the prepared Glaze.  Pour over chicken.  Serve.
Notes
Additional equipment needed:  a medium-sized (about 8 x 11 x 1 1/4) Aluminum pan, to catch drippings from the marinade while grilling.
To spatchcock a chicken, Martha Stewart's step-by-step guide is a good way to learn. Even though spatchcocking is not difficult,  if I buy my chicken at a butcher counter, I usually ask them to do it.
Recipe Card powered by