Pumpkin Bundt Cake with Salted Penuche Frosting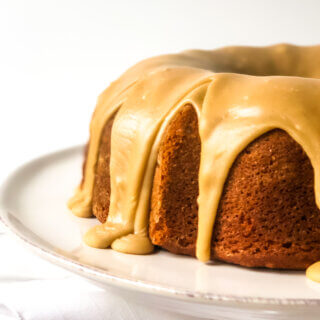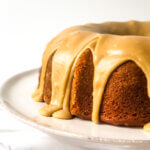 This Pumpkin Bundt cake is so soft, moist, pumpkin-y and spicy. Topped with a blanket of warm, caramel-ly Penuche frosting, it's literally Autumn on a plate! For a holiday or a random Tuesday, this cake is perfection! 
Pumpkin Bundt adapted from New York Times Cooking , and Penuche recipe my own. My best tip for this easy cake: Wait until the second day to eat it, if you can. It gets better as the days go by!
Ingredients
For the Cake:
3

c (360g) All-Purpose Flour

2

t Baking Powder

1

t Baking Soda

1

1 /2 t Kosher Salt

2

t Ground Cinnamon

1/2

t Ground Nutmeg

1 1/2

t Ground Cardamom

1/4

t Ground Allspice

2

c (404g) Light Brown Sugar, packed

1/2

c (114g, 1 stick) Unsalted Butter, softened

1/2

c (120ml) Extra-Virgin Olive Oil

2

Large Eggs

1

15-oz (425g)can Pumpkin puree (not pumpkin pie filling)

1/2

c Sour Cream
For the Frosting:
1/2

c (114g, 1 stick) Unsalted Butter

1

c (202g) Light Brown Sugar, packed

1

t Salt

1/4

c Milk, any type (I used Oat milk)

2

–

2 1/2

c (240-3

00g

) Confectioners Sugar
Preheat Oven and Prepare Pan
Preheat Conventional oven to 350F, or 335F for Convection/Fan Oven.
Grease or Butter and flour Bundt pan.
Mix the Dry Ingredients
Into a bowl, add the flour, baking powder, baking soda, salt, cinnamon, nutmeg, cardamom and allspice. Whisk to combine.
Mix the Wet Ingredients and Make the Batter
Using a stand mixer, or a large bowl with a hand mixer, mix the butter, brown sugar, and olive oil at Medium-High Speed until light and fluffy, about 3 minutes.
Add the eggs, one at a time, mixing for 20 seconds after adding each egg. Add the pumpkin puree and the sour cream and mix thoroughly.
Detach the bowl from the stand mixer, if using. Add the flour mixture to the pumpkin mixture, and gently fold in until you can see no flour. Be sure to scrape the edges and bottom of the bowl well. Be sure the batter is evenly mixed.
Pour or spoon the batter into prepared bundt pan. Tap the filled pan on the counter a few times to eliminate any air pockets this thick batter makes. Place into preheated oven, and bake until a tester inserted in the middle of the cake comes out clean, 50-65 minutes. (See Note 1 for doneness tips) Set the baked cake, in its pan, on a rack to cool a bit, about 15 minutes, then turn onto a serving plate and let cool completely before making the frosting and frosting the cake.
Make the frosting:
After the cake is cool, melt the butter in a small (2 qt.) saucepan. Let it bubble a bit, then add the brown sugar. Stir constantly for 2 minutes until the brown sugar is fully melted.
Remove from heat. Add the salt and the milk, stir until smooth.
Vigorously stir in the 2 cups (240g) confectioners sugar. If you want the frosting thicker, add the additional half cup (60g). Stir until smooth. 
Pour over cooled cake. Serve after the frosting cools, or even the next day. 
Store cake, covered, at room temperature.
Notes
1. When cake just begins to pull away from the sides of the pan, it is usually done. Mine took 53 minutes in Convection oven at 335F, so determine doneness by using the tester, once you can smell the aroma of the cake, at about 48-55 minutes, check to see if it has begun pulling away from the pan and use the tester.
Nutrition
Serving Size:

1 slice, 1/16 recipe
Keywords: pumpkin bundt cake, penuche frosting, best pumpkin cake, thanksgiving, Bundt cake, desserts, Salted Penuche frosting, caramel frosting, easy caramel frosting,