Vietnamese Caramelized Pork! This recipe has the ideal balance of sweet/salty/spicy and a nice hit of lovely umami! A brilliant weekend braise!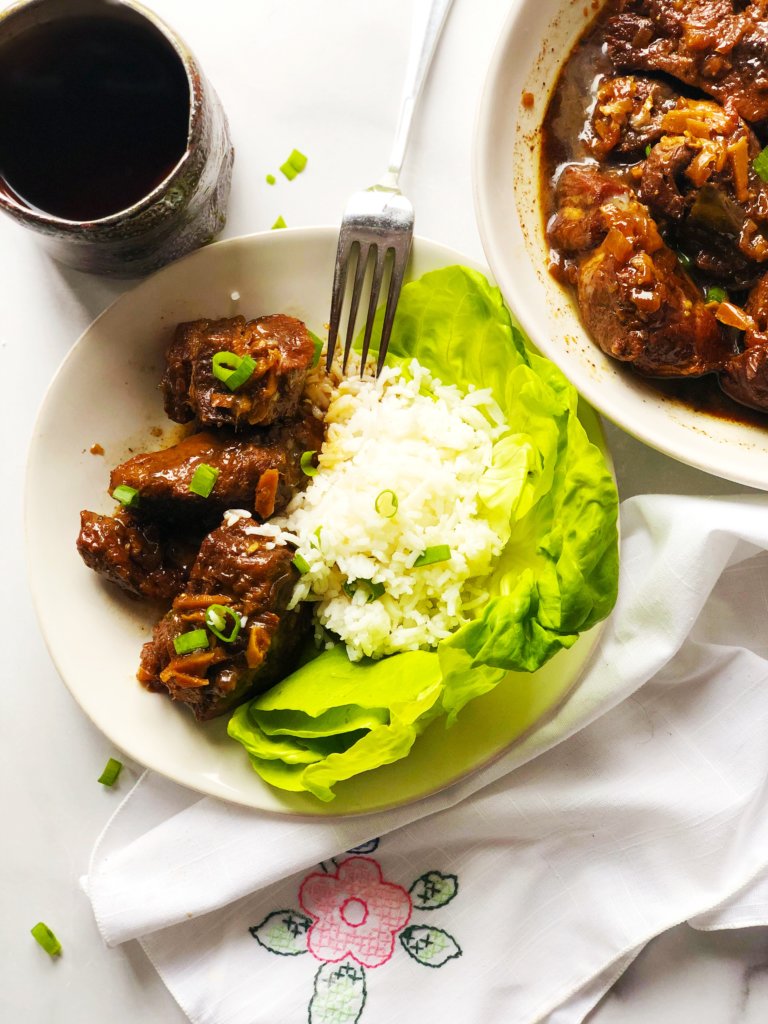 What draws you to a particular recipe? I've often wondered. For me, it can be so many different things. The photo of a dish sometimes gets me, but more often than not, it's the words. "Oven-lacquered, fork-tender, caramelized". These are the particular words that drew me to this particular recipe. Then, I looked at the ingredient list: ginger, garlic, Thai chilies, shallots. I mean, have you ever smelled those things all sizzling together in a pot? Seriously, you know that's gonna be a great dish! And this one definitely delivers the flavor, the texture, the aroma. 
I didn't care one way or another that it was a pork recipe. It was the flavors and ingredients for that pork, and that caramel sauce. A caramel appropriate for a savory dish. Salty, with some spice and heat from the chilies.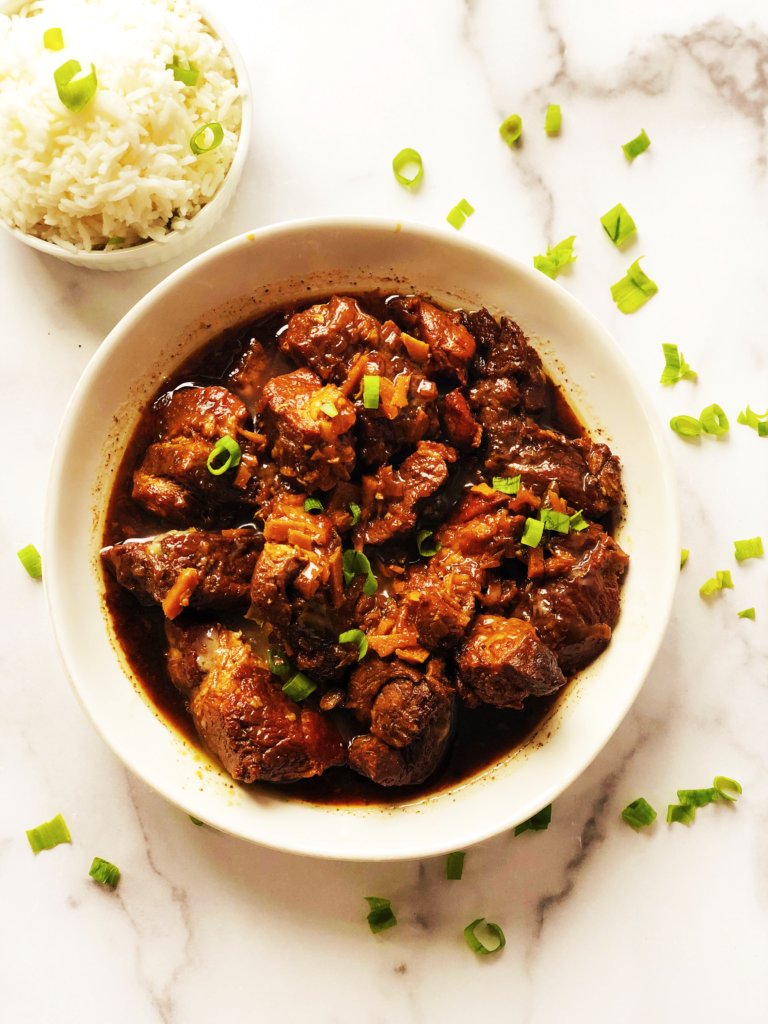 Now I'll just warn you, this is not a weeknight type of dish. It's a braise for sure. I first tried this recipe in my InstantPot, and maybe will try it again, but the oven-braise version totally WOW'ed me. It was the lacquering. It was the caramelization of the pork. Things difficult for InstantPot to do. And they are the qualities that raise this dish from good to restaurant-quality!
This recipe makes a big pot of food. Unless you're feeding a large family, you'll likely have enough for dinner and some awesome and welcome leftovers for a lunch or two. Just don't heat it up in and office full of hungry people.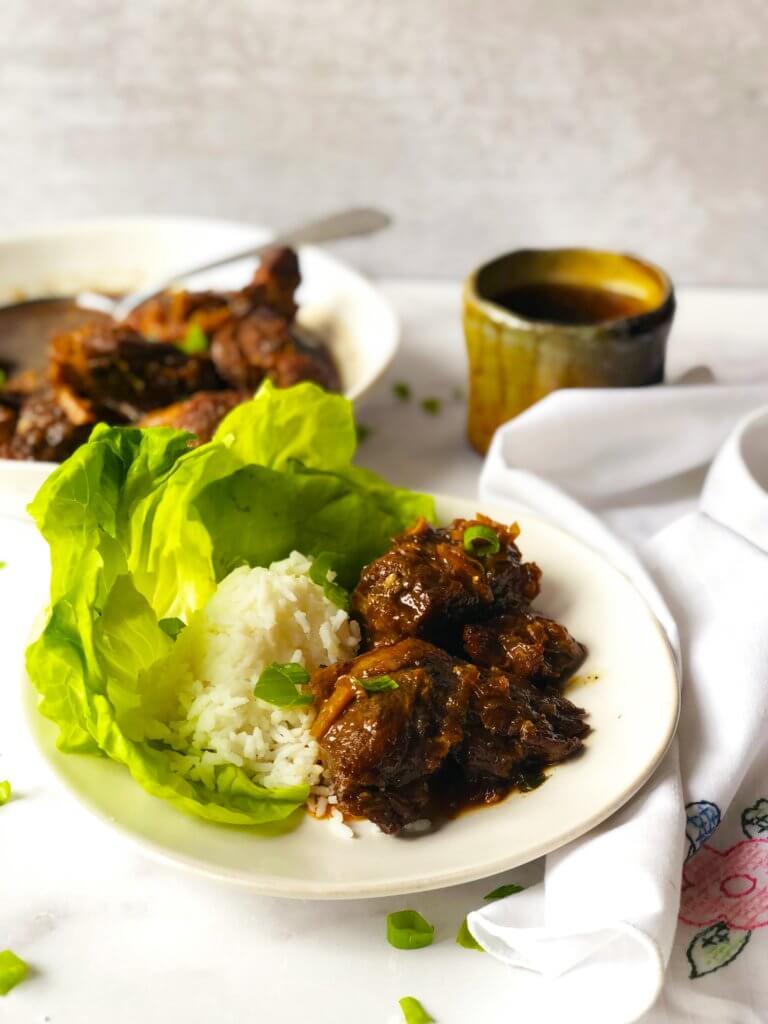 The flavors here are a desired and needed departure from traditional autumn and winter fare. And unforgettable. And, since most of the cooking time is inactive, so you'll have time to enjoy the aromas that come from the braise, while you steam the rice or cook some noodles. We served it with lettuce leaves to make little wraps – so delish!
So, tell me, what is it that draws you to a particular dish? Is it an image? A memory? Particular words? It's a fascinating thought, isn't it, the things that bring us to a particular recipe?
Enjoy!
Looking for other pork recipes? Try these awesome Pork Chops with Capers and Lemon or this easy Red Posole with Pork. Both simple dishes filled with flavor!
For dessert? This tangy Key Lime Tart with a Mountain of Meringue  or some No-Churn Key Lime Cheesecake Ice Cream would be perfect!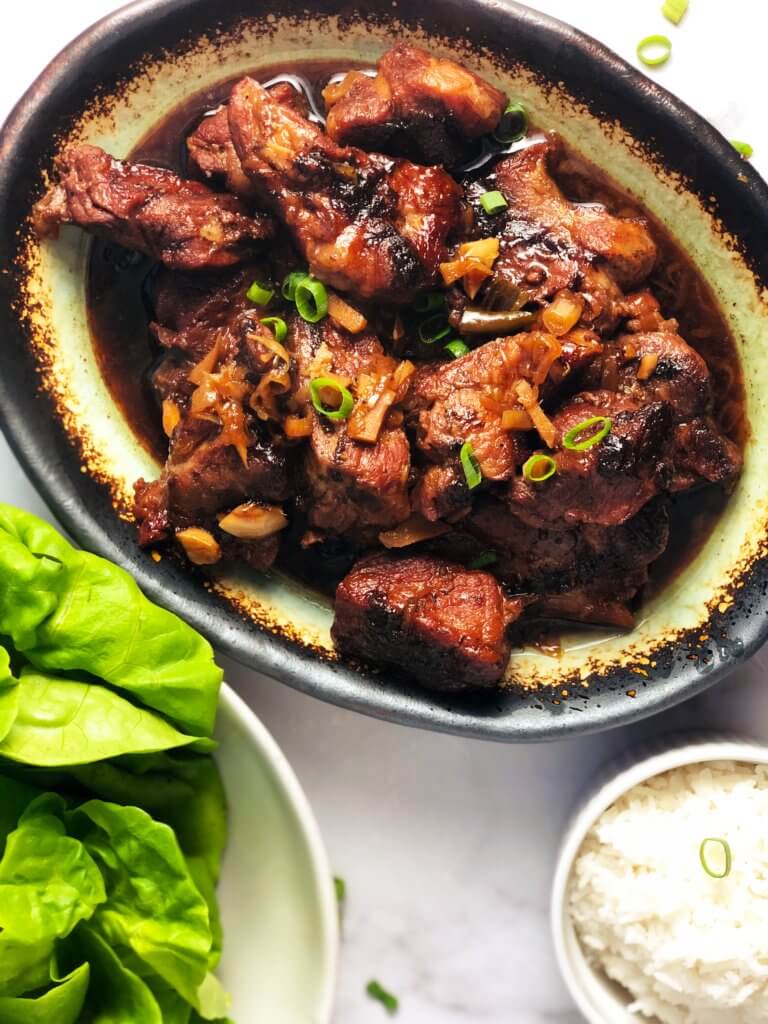 Recipe Details
This recipe comes from Jessica Battilana as seen on Epicurious, drawing me in with the words "lacquered, caramelized, fork-tender".
Although it takes a little time, the recipe is fairly stratightforward.  I first made it in my InstantPot, just tossing everything in, and setting it to high pressure for 40 minutes. It turned out just ok, somewhat lacking in the deep flavor I was seeking. Maybe because I didn't sear the meat. Maybe because I added 2 1/2 cups liquid, and should've stopped at 1 cup. I don't know. But this time, I made it in the oven, as the recipe instructs. And it couldn't have been tastier. Sweet/salty/spicy, nicely filled with umami. Here are some things to know about the recipe:
1. Included below is a photo of how I chopped each of the ingredients. The only change I made to the recipe was adding cinnamon for additional depth and it was wonderful! I stopped at 1 tsp, but probably could've added an additional 1/2 or full teaspoon. This was one tasty dish – not too spicy for children, lovely balanced sweet/salty flavors.
2. Get a good sear on the pieces of pork. A good hot pan with hot oil and a couple minutes on each side is important. When searing the meat, just salt lightly, as the fish sauce adds plenty of salt to the dish. 
3. Choose green Thai chilies for milder heat, red ones if you want it a bit spicier. I used 3 green chilies for my family, but would've likely used red ones if it were just for me.😉 
4. The key is to not fully cover the meat with the liquid, so that the edges get deeply caramelized. So add just enough coconut water for this effect.
5. You could serve the dish with rice or noodles. Or use some butter lettuce leaves and make wraps with the rice and meat. Delicious!
Caramel Sauce Ingredients

Cinnamon adds depth

Chopped Produce

Be sure to sear meat cubes

Cooked Caramel Pork
Print
Vietnamese Caramel Pork
Deeply caramelized tender pork, in a sauce of ginger, garlic, Thai chilies, fish sauce and brown sugar! A lovely dish in a heavenly sauce. Perfection!
Serve the braised pork with white rice or noodles. You could also include some lettuce leaves and make "wraps."  
Adapted from Jessica Battilana as seen on Epicurious. The only change I made was to add some cinnamon to further deepen the flavors. 
Nutrition Information includes all the ingredients for what would be a fairly large portion, including all of the sauce ingredients.
Author:
Prep Time:

30 min

Cook Time:

120 min (mostly inactive)

Total Time:

2 hours 30 minutes

Yield:

8

–

10

servings

1

x
Category:

Pork

Method:

Braising

Cuisine:

Vietnamese
Ingredients
8 oz

. (

240g

) Dark Brown Sugar

1

t ground cinnamon

3/4

c (180ml) Fish Sauce

3

T Canola Oil

4

lb (1.9kg) Boneless Pork shoulder, cut into

2

"x3" chunks

1

c (about

3

) thinly sliced shallots

1

 2-inch piece of fresh ginger, peeled and julienned

2

cloves garlic, peeled and crushed

2

–

3

Thai chilies (I used

3

green for milder flavor), stemmed and crushed

2

–

3

cups coconut water
Instructions
Make the Sauce
Preheat oven to 300F.
In a large saucepan over Medium-low heat, melt the brown sugar. Stir frequently until sugar is fully melted, smooth, thick, liquid-ish. This takes 5-7 minutes. Remove the pan from the heat, and s-l-o-w-l-y add the fish sauce, stirring constantly. It will bubble up quite a bit with each addition, but keep stirring, and make additions until it is completely added and mixture is smooth. If it seizes up, return the pan to low heat and stir until smooth.  Then sprinkle and stir in the cinnamon.
Braise the Pork in the Sauce
In a Dutch Oven or other heavy, lidded vessel you can put on the stove and into the oven, heat the canola oil over high heat. Season the pork on all sides with just a little salt and pepper, as the sauce is quite salty. Brown the pork, in 2-3 batches, until they are seared nicely on all sides. This will take about 6-8 minutes per batch. Place seared pieces on a rimmed board, dish, or pan, as you take them out of the oil.
After all the pork has been seared, reduce heat to Medium. Place the shallots in the pan and stir while cooking for 2 minutes. Add the ginger, garlic and chilies. Cook 1 minute more, stirring regularly. Add the pork pieces back to the pan. Pour the caramel sauce over the pork. Add the coconut water, making sure the pork pieces are sticking out of the water and sauce. You may need more or less than the recipe says. In my pan, I added just over 2 cups of coconut water. You may need as much as 3 cups, depending on your pan's size and shape.
Bring to a boil, then reduce heat to a simmer. Cover the pot and transfer to the oven.
Uncover the pot after 15 minutes to ensure the liquid is simmering gently. If it's boiling or bubbling more than a gentle simmer, reduce oven temperature to 275F. Cover the pot again and continue cooking an additional 55 minutes, for a total of 70 minutes. Then uncover pot and cook 30 minutes more. This will allow the exposed parts of the meat to caramelize. Meat should be quite tender but not falling apart. Remove from oven and serve with rice, noodles. Lettuce leaves make a delicious wrapper for the rice and meat, if desired.
Keywords: Candy Pork, Vietnamese, Caramel Pork, Braised
Recipe Card powered by
PIN Vietnamese Caramel Pork ->