New to my cookie plate this year are these dreamy Almond Shortbread Cookies! I've made shortbread before, but had yet to make a holiday version. A bit of Orange Essence and some Fresh Cranberries makes them positively festive!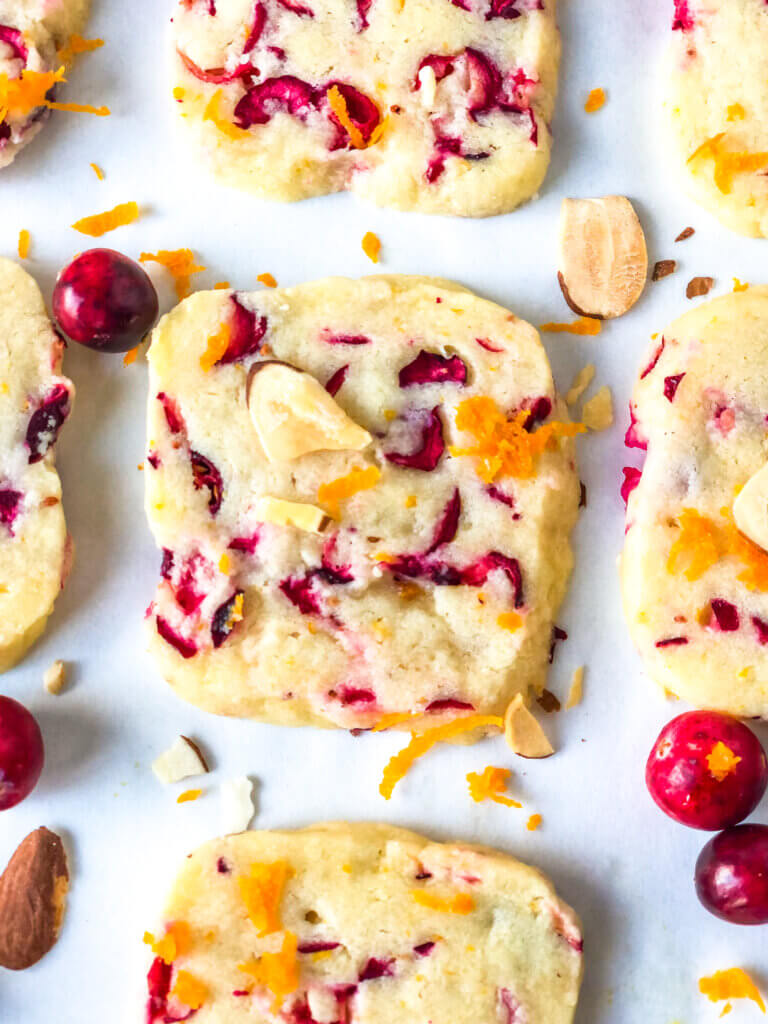 Do you remember the first time you tried Shortbread Cookies? I think my mom made them when we were kids, and we were a little skeptical when we saw them. Because, they had to taste like nothing, you know, because they looked so "plain" to us. Those were also the days we thought Vanilla Ice Cream was "plain" also, so take the opinion of our youth for what it's worth. (not much!)
Anyway, we tried those plain little things – because, cookies (!), and Oh my! were those little gems DE-LI-CIOUS! Buttery, slightly sweet, delicately textured, with that slightly crisp outside and oh-so-tender middle. It really doesn't get any better, does it? You just never know what you're missing, until you try it…..Wait – I think my Dad used to say that exact sentence. See, there you have it – our parents were right about EVERYTHING!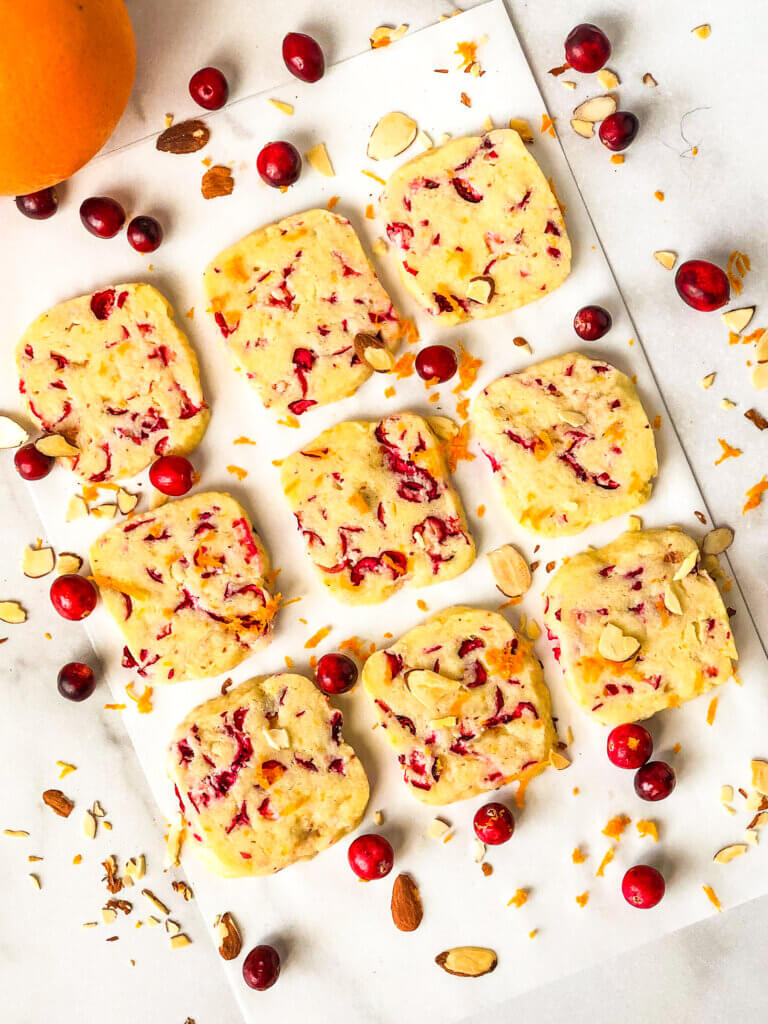 Anyway, in thinking about those first shortbread cookies, I realized that although they were magnificent, I still needed to "up my game" a bit. So, first of all, I decided to make Almond Shortbread Cookies. Because while plain vanilla (as if there were a such thing) is good, almond adds just a bit more oomph, especially when paired with orange. And then, for the holidays, how about a flavor of orange and fresh cranberries? And, WOW! These cookies! They are truly a bite of the winter holidays. And they've certainly gained a spot in my Christmas Cookie Box!
Just a few basic ingredients creates these slice-and-bake Almond Shortbread Cookies. You'll need to refrigerate the dough before slicing, so it maintains its shape. You can probably bake the whole batch at once on 2 baking sheets.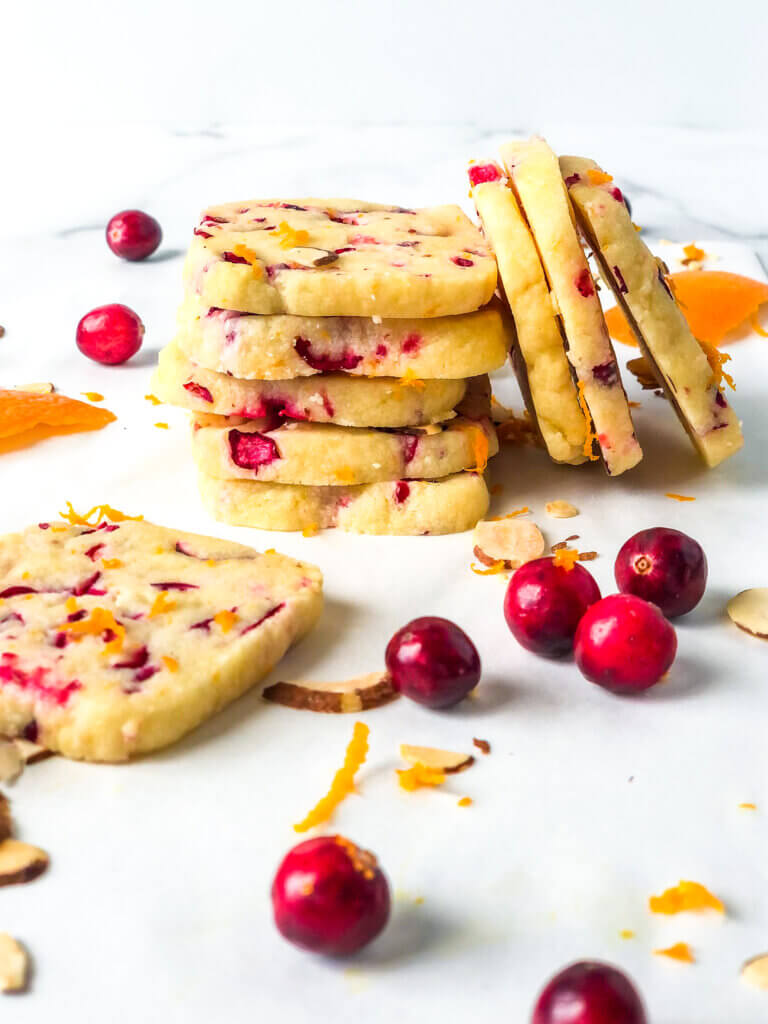 So if homemade shortbread cookies sound plain to you, why not try these delicious Cranberry Orange Almond Shortbread Cookies? And, let me know, will they make YOUR Holiday Cookie Plate?
Enjoy!
Looking for other holiday treats?
How about:
Jam Thumbprint Cookies from Ina Garten
White Chocolate Cranberry Cake
Chocolate-Dipped Coconut Macaroons
Chewy Ginger-Molasses-Rye Cookies
Pin this->
How to make Almond Shortbread Cookies ->
This post may contain affiliate links. As an Amazon Affiliate, I may earn a small commission, at absolutely no cost to you, for purchases you may make of items linked from this site.
Some things you might need to bake these cookies:
Stand Mixer (I love my KitchenAid) or a simple Hand Mixer
Mixing Bowls (These OXO Bowls are awesome and easy to use)
Baking Sheets – you know how I love my USA Pan sheets, and this one comes with a cooling rack!
Parchment Paper – it really doesn't hurt to buy a year's worth, does it? I use these to line pans for baking, roasting veggies, so many things!
Making the Dough
Making the dough for these Shortbread Cookies could not be simpler. The key here is using room temperature butter. So set it out of the fridge at least 2 hours and preferably overnight before making the dough. You can use salted or unsalted butter. If you use salted butter, maybe add 1/4 tsp salt to the recipe instead of 1/2 tsp, or no salt if the butter is especially salty-flavored. All salted butters vary in their salt content, which is why many bakers prefer using Unsalted Butter for baking. This way, one can control the saltiness.
So, you'll want to gather and measure your ingredients. Cut the butter into small cubes. Zest a large navel orange (or any type you might have), it should yield about a tablespoon (around 15 ml) zest. Then, using a stand mixer or hand mixer at Medium Speed, (or a strong bicep and a whisk), mix the butter cubes, sugar, zest and almond extract until just fully combined. This should take 2-3 minutes.
Turn the speed down to Medium-Low and add the flour until just combined, about another minute. It should look like the dough is just wanting to come together, maybe a bit ragged yet. Then, mix in the chopped cranberries until they are evenly distributed, until you can't see any bits of flour.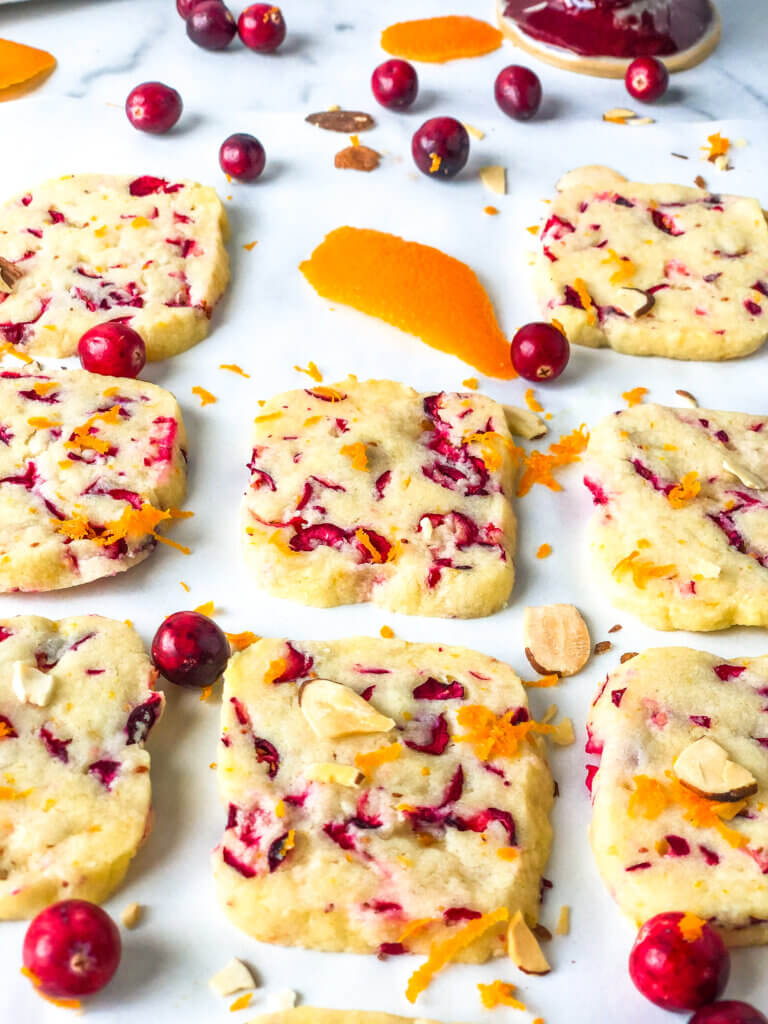 Shaping and Baking Shortbread Cookies
Dump the dough out onto a sheet of plastic or wax paper. Using the plastic, form the dough into a log, or an elongated cube (plank). Make your plank or log shape somewhere between 9 and 12 inches long. I made mine 12 inches in order to make more, albeit smaller, cookies. I chose the cube shape so it would maintain its shape in the refrigerator. Wrap the log tightly and chill at least 2 hours, up to overnight.
When ready to bake, preheat your oven to 325F (or 315F for Convection/Fan oven) and line 2 baking sheets with parchment or butter. Slice the dough plank (or log) into 1/3″ (just shy of 1 cm) slices, placing each on the baking sheet, about an inch apart – they don't really spread when baking. Bake until the cookies are set and the sides are just beginning to turn slightly golden. This should take 12-15 minutes, and on the longer side if your cookies are larger than I made mine. If you bake them past the just golden point, they will still be delicious, just a bit crispier. Let cool several minutes on the sheet then remove to a cooling rack to fully cool. Store baked cookies in an airtight container.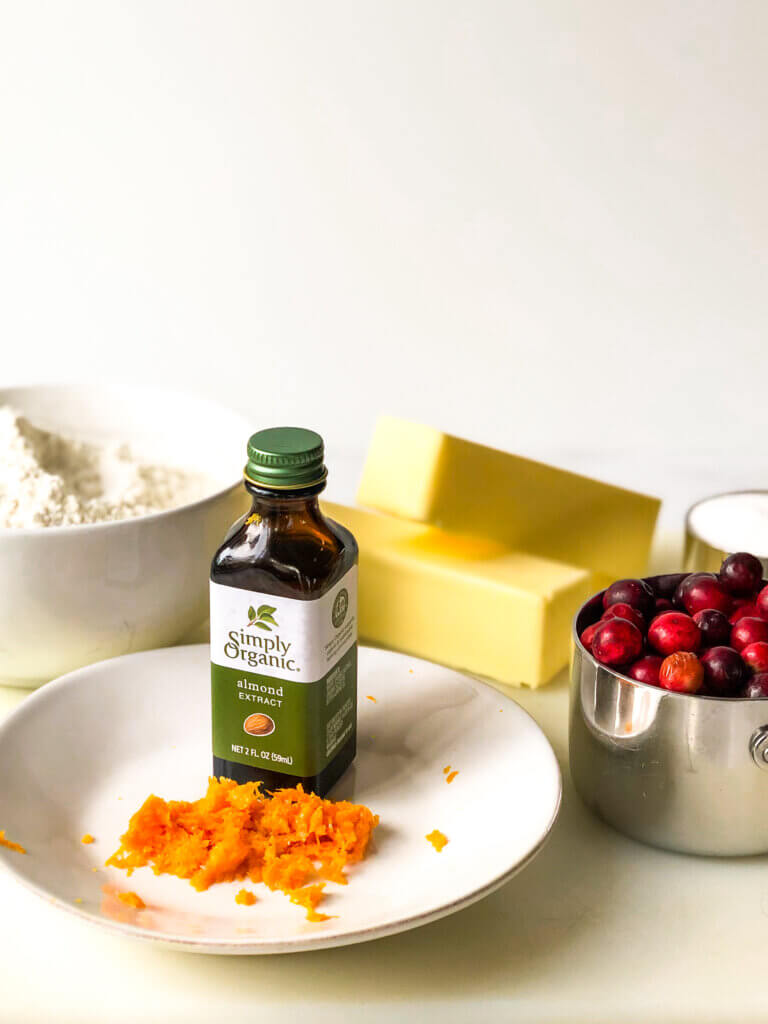 Some variations on this recipe
This recipe can be made with several variations, including those below:
Plain Almond Shortbread: Just omit the cranberries and orange zest.
Vanilla Shortbread: as above, just use vanilla instead of Almond Extract, and omit the cranberries and orange zest.
Lemon or Lime Shortbread: Use lemon or lime zest instead of orange zest. You can use either almond extract or vanilla extract.
Print
Almond Shortbread Cookies with Cranberries and Orange
Tender, Buttery shortbread cookies, flavored with almond, orange zest and fresh cranberries! These are easy to make, and perfect for the Winter Holidays (or any time of year, really)! 
Be sure to start with room temperature butter!
Recipe inspired by and adapted from The View from Great Island
Author:
Prep Time:

15 minutes

Cook Time:

15 minutes

Total Time:

30 minutes, plus chilling time

Yield:

36

cookies

1

x
Category:

Cookies

Method:

Baking

Cuisine:

International
Ingredients
1 cup

(

227g

, 2 sticks) Unsalted Butter, cut into 1/2″ cubes 

1/2 cup

(

100g

) Granulated Sugar

1/2 tsp

Kosher salt (Omit if using Salted Butter)

1 Tbsp

Freshly Grated Orange Zest

1 tsp

(5ml) Almond Extract

2 cups

(

240g

) All-Purpose Flour

1 cup

Fresh Cranberries, chopped
Instructions
At Medium Speed in a stand mixer or with a hand mixer, beat room temperature butter, sugar, salt and orange zest until nicely combined, about 2-3 minutes. Add the almond extract and mix an additional 15-30 seconds to incorporate.
Turn speed down to Medium-Low and add the flour, beating until you can see no streaks of flour, a minute or 2. Shorter time keeps the cookies tender. Then mix in chopped cranberries.
Form dough into a log and refrigerate
Onto a sheet of wax paper or plastic wrap, dump the dough. Form the dough with your hands into a long, log shape. Wrap the plastic around the shape, then, using your hands and the plastic, shape into an oblong cube (plank) or a round log. I made mine 12″ long. You can make it as long as you want, but decide on the size of cookies you want. They do not really spread much in the oven, so a shorter log or plank will yield larger cookies, and longer, like mine, will yield smaller cookies. The square shape is easier to maintain in the fridge and while cutting. 
Place shaped dough log or plank in the refrigerator at least 2 hours and up to 2 days.
Bake
When you are ready to bake, preheat oven to 325F (Conventional oven) or 310F for Convection/Fan oven. Butter or parchment-line 2 baking sheets.
When oven is preheated, remove the log or plank from the refrigerator, unwrap, and slice into cookies, somewhere between 1/4 and 1/2″ thick. I make mine about 1/3″ thick.
Place on the baking sheets and bake 12-15 minutes, until set and just beginning to brown on the edges. If you prefer softer cookies, take them out closer to the minimum time. A longer bake will make crispier cookie. I took mine out right in the middle, about 13-14 minutes.
When done, remove from oven and cool 2-3 minutes on the sheet before placing them on a rack to cool completely. (See Note 1)
Notes
Store cookies in an airtight container at room temperature for 3-5 days, or in the refrigerator up to 7-10 days. A better option is to wrap tightly and keep in the freezer until a few hours before serving.
Keywords: almond shortbread cookies, Cranberry Orange Shortbread cookies, Orange Almond Shortbread, Christmas Cookies, Holiday Cookies, easy cookies, quick recipe, Cranberry Orange recipe
Recipe Card powered by