What's in a name? Turns out, some might think it's actually less than meets the eye. A few months back, I was stunned to see results of a Research study where people could identify the names of strangers by looking at their faces! Upon seeing photos of faces, participants correctly guessed a person's name from a list at a rate (significantly) better than chance would assume. Is that crazy? Strangely, and contrary to what some might wish, the theory here is that people subconsciously adapt their look to the cultural norms that their name might dictate. For instance, in American culture, we often expect a person named "Bob" to have a rounder face than someone named "Tim".  (Isn't that true?) Or a "Jenny" might have longer hair than a "Pat".  Do you find that disappointing?  Pretty sure I do. This chicken, conversely, will not disappoint.  And, unlike the "Name the Face" study, you likely can't tell just by looking how awesome this chicken is.  I'll admit, it is not that attractive; maybe it's downright ugly, with that kind of curdled looking sauce.  By looking at it, you also have no idea that this dish is called Chicken in Milk.  Not even the flavor gives away that ingredient.  But the flavor does honestly say that Roast Chicken in Milk should be renamed "The Most Awesome Roast Chicken You've Ever Had!"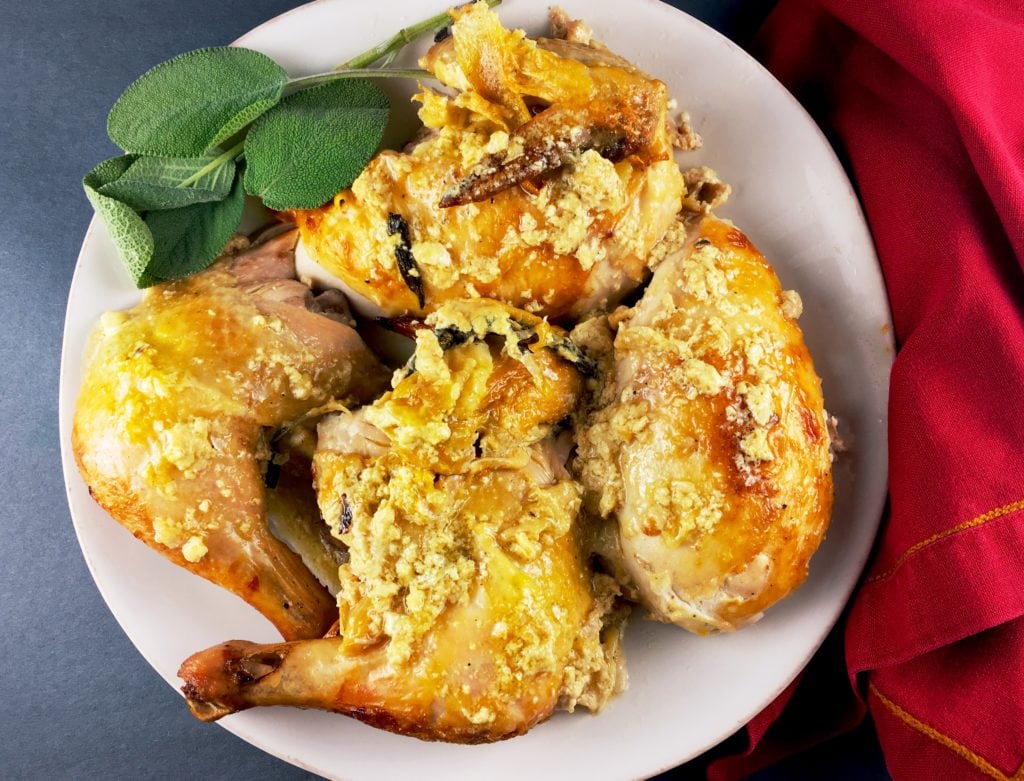 Like other Chicken Recipes I've posted, Roast Chicken In Milk is a pretty simple recipe with a few key ingredients – sage, lemon, a cinnamon stick, and of course, whole milk – don't even try to use 1% or 2%, only whole milk will do – and a few minutes of prep lead to this juicy, flavorful roast chicken.  It's so good you may just push the side dishes to the place they belong – the side – to make room for more of this heavenly stuff. It is kind of ugly, but really, you can get past that, can't you? This recipe comes from Jamie Oliver, purveyor of all sorts of delicious recipes.   So, while you can find this recipe written in many spots, this video (in which Jamie is translated to German) is interesting to watch and you can see extra steps he takes to boost the flavor, steps which most written recipes exclude. I included these steps in my adapted recipe.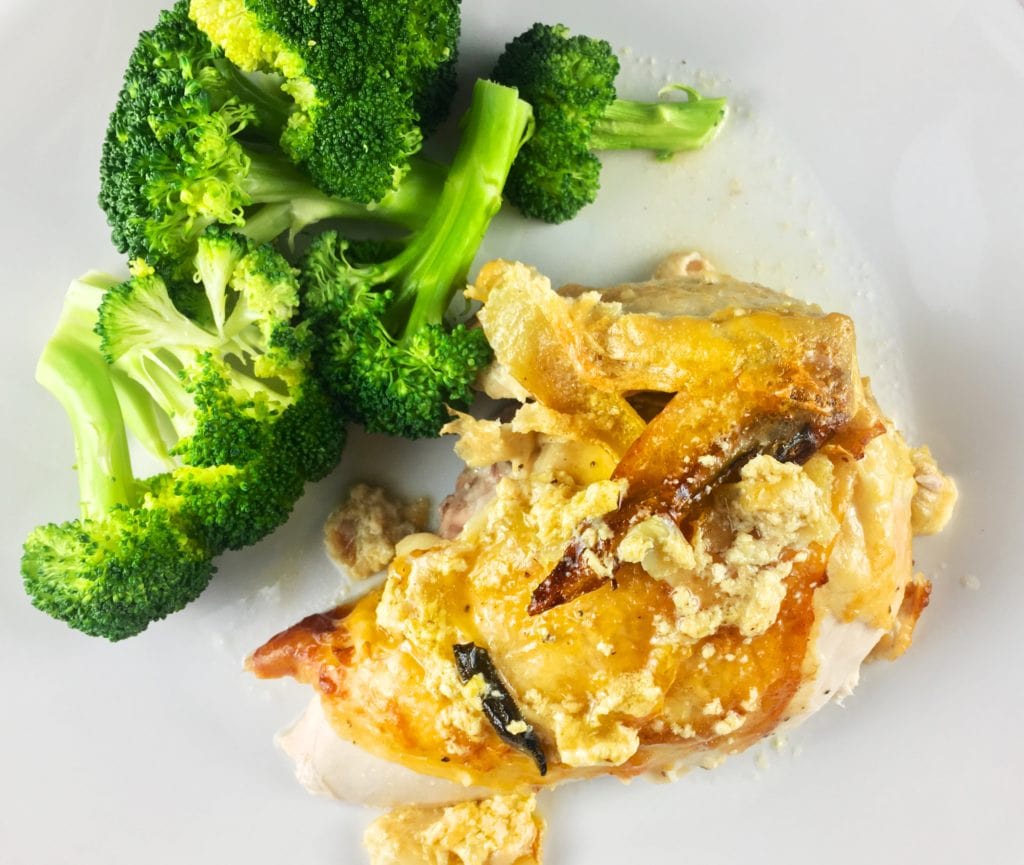 So as good as we all may be at picking someone's name from a list, I'll bet you'll agree with me that Chicken in Milk should be renamed Best Roast Chicken EVER! Enjoy!
Print
Roast Chicken in Milk (Jamie Oliver)
Roast Chicken in Milk is everything a chicken should be:  juicy, fragrant with lemon, sage and cinnamon, and so flavorful you will wish you'd made 2!
I pretty much stuck to Jamie's recipe with the exception that my pot was bigger than one that would fit the chicken "snugly", so I added a full quart of whole milk.  If your pot fits your chicken "snugly", you might want to stick with just 2 1/2 cups, as in the original recipe.
Author:
Prep Time:

10 mins

Cook Time:

90 mins

Total Time:

1 hour 40 minutes

Yield:

4

Servings

1

x
Category:

Chicken

Method:

Oven Roasting
Ingredients
1

Whole Chicken (

3

–

4

lb)

1/2

c (stick) Unsalted Butter, separated

1/4

c Extra-Virgin Olive Oil

1

small cinnamon stick

10

cloves garlic (skin left on)

1 Qt

. (

4

c) Whole milk

1

Handful fresh sage – about

15

–

20

leaves

2

Lemons
Kosher Salt and Freshly ground Pepper
Instructions
Prepare the seasonings
Remove the sage leaves from the stems.  Reserve stems.
Using a vegetable peeler, peel wide strips of peel from the lemons.  Slice peeled lemons in 1/4-1/2" sections.
Brown the Chicken
Preheat oven to 375F.  Heat a heavy, oven-proof pot over Medium-high heat on the stove.  Add 1/2 stick of butter and the olive oil. Season the chicken well with salt and pepper.  Once oil is hot and butter is bubbly, sear the chicken on all sides until it is golden. Remove chicken to a plate, turn heat down to medium-low.  Pour out the butter and olive oil (it should be black at this point.
Stuff the cavity of the chicken with the sliced lemon pieces and the sage stems.  Truss the legs if you like.
Add the Flavoring
Melt remaining 1/4 cup butter to the pot.  Once it melts, add the cinnamon stick and garlic cloves (skin on is fine!) and saute until fragrant, about 1-2 minutes.
Return the stuffed chicken to the pot.  Add the milk, sage leaves and strips of lemon peels.
Optional: Tear a 18" sheet of parchment paper, run it under a little water, and place it over the chicken, tucking it loosely around the chicken. This will retain the moisture nicely during roasting.
Place in preheated oven and roast for 90 minutes, basting the chicken occasionally. If you did not use the parchment method, be sure to pay attention to the amount of sauce in the pot – if it reduces too much, cover the pot half-way to slow it down.
To serve, the chicken should be done enough that you could use a spoon to divide the chicken into quarters for serving.  Serve with remaining sauce (See Notes).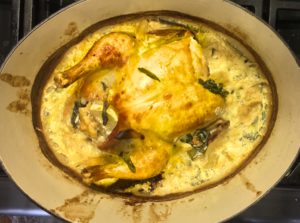 Notes
While cooking, you will notice the sauce "curdles" – no worries, as it cooks it will begin to get smoother. When done, the sauce may still be a bit curdled-looking, and it will likely be  cooked down substantially. This is fine, just stir it up with a whisk or spoon and place some on each serving.
It is delicious served with potatoes, bread, or rice, along with sautéed greens.
Recipe Card powered by