These Dulce de Leche Pumpkin Cheesecake Bars are everything you want need in a pumpkin dessert! That lovely, earthy pumpkin, sweetened with Dulce de Leche – smooth textured, cheesecake goodness, all nestled into a Gingersnap crust and topped with a layer of Dulce de Leche topping! I'm not kidding – it's definitely one of the best desserts I've ever made! Perfect for cooler weather holidays – or anytime!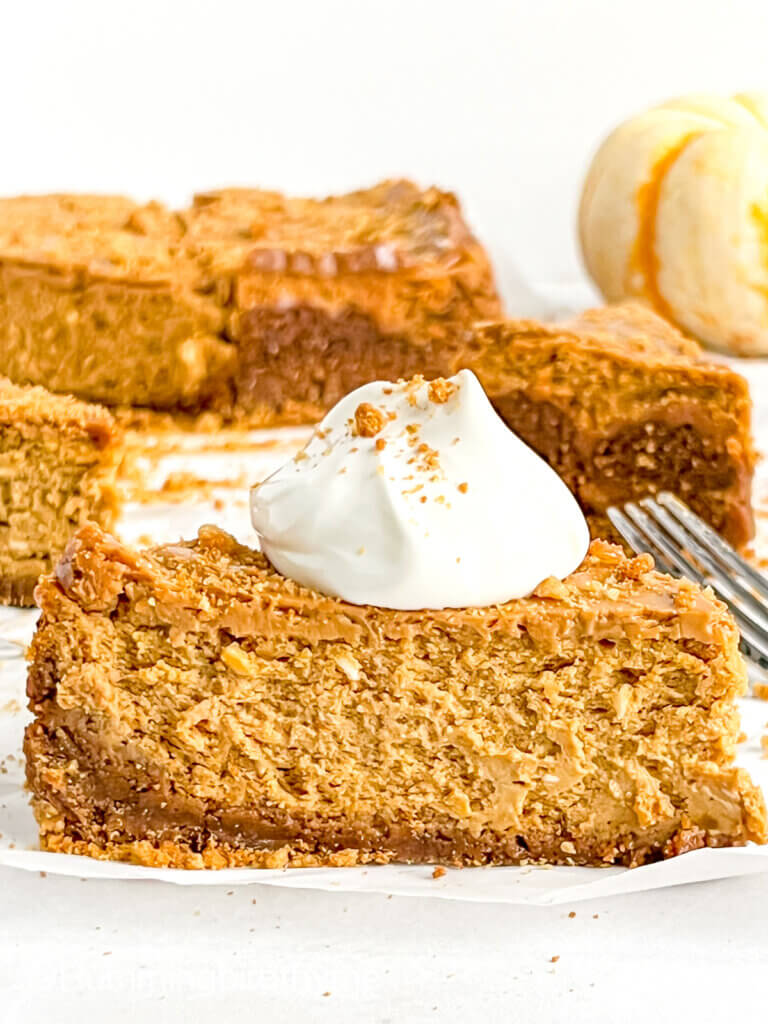 Do you consider yourself a "pumpkin person?" I used to think I wasn't. Pumpkin pie was a dessert our parents enjoyed, but for some reason, we kids did not care for it. And, TBH, we really weren't pie people at all when we were young kids, unless it was a fruit pie, or chocolate – not that THAT should surprise anyone here, right? We preferred cookies any day to pumpkin pie. But Mom and Dad really didn't even encourage us to give it a try. They knew what they had to themselves – that whole pie! You know, they really could've said "Well, you love Pumpkin Bread, right? And this homemade pumpkin pie has the same flavor. Maybe just a bite?" Because, really, it does have that same, warm, spiced, pumpkin-y flavor. Then, as an adult, I gave it a try, and realized what I'd been missing all those years! Pumpkin! So delicious!
But, you know me, I like to kind of "tweak" the flavors of a classic pie. And, I couldn't help myself but combine it with 2 other favorites – cheesecake and dulce de leche. I mean, what's not to love here? Oh – and for added goodness, I put all those flavors in a crispy Gingersnap Crust. So, if you haven't ever made a cheesecake, it really is pretty easy. The key here is to make sure all your ingredients are at ROOM TEMPERATURE. Why is this so important? First of all, it will be easier to mix. And, easier to mix means easier to make it smooth. Smoother cheesecake is, well, just better than cheesecake with lumps. The cheesecake batter comes together in about 7-10 minutes in a mixer. I've included photos of the process below. And, possibly more importantly, it will be less likely to have lumps. We don't want a lumpy cheesecake, now, do we?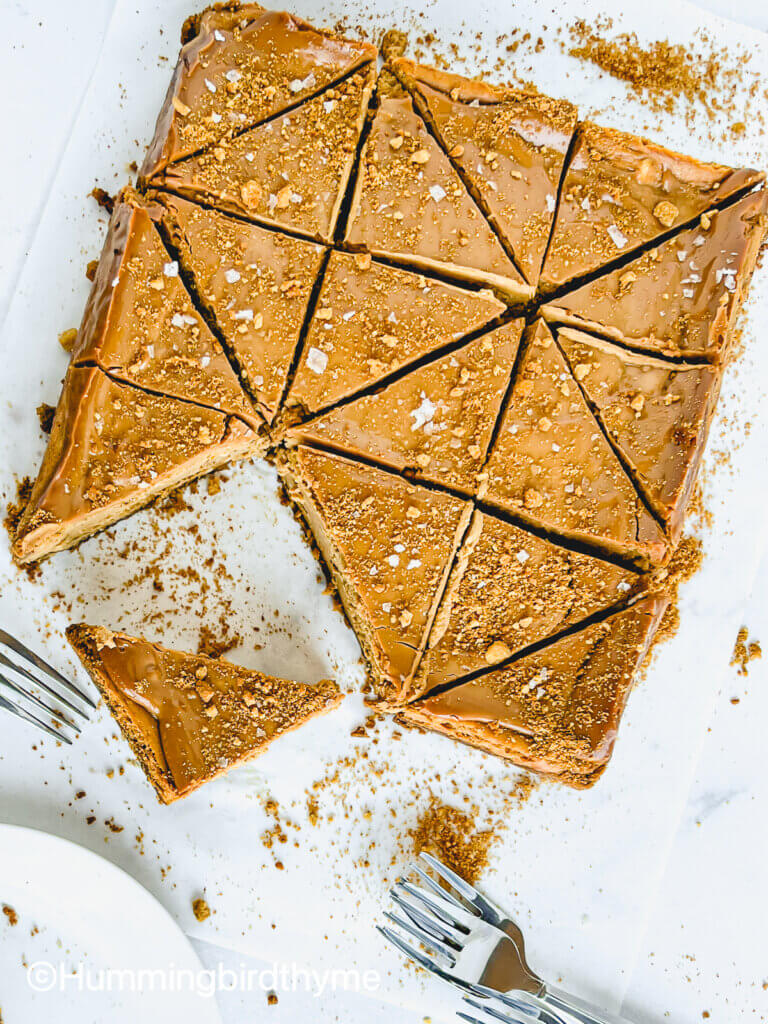 And because it's a Pumpkin Cheesecake, I decided to encase it in a Gingersnap Crust! Because, well, the spices we love in Pumpkin pie are the same as those in Gingersnaps. I used Trader Joe's Triple Ginger Snaps, because they are my favorite Gingersnaps – crispy, but tender and full of ginger, including a bit of chewy candied ginger in the mix. Because extra texture is always welcome!
I would venture to say that even if you're not a "pumpkin person" you might just want to give these Pumpkin Dulce de Leche Cheesecake Bars a whirl. None of the flavors is overwhelming, rather, it's a nice balance of pumpkin, dulce de leche and cheesecake! You may find yourself, surprisingly, a newly minted Pumpkin Lover!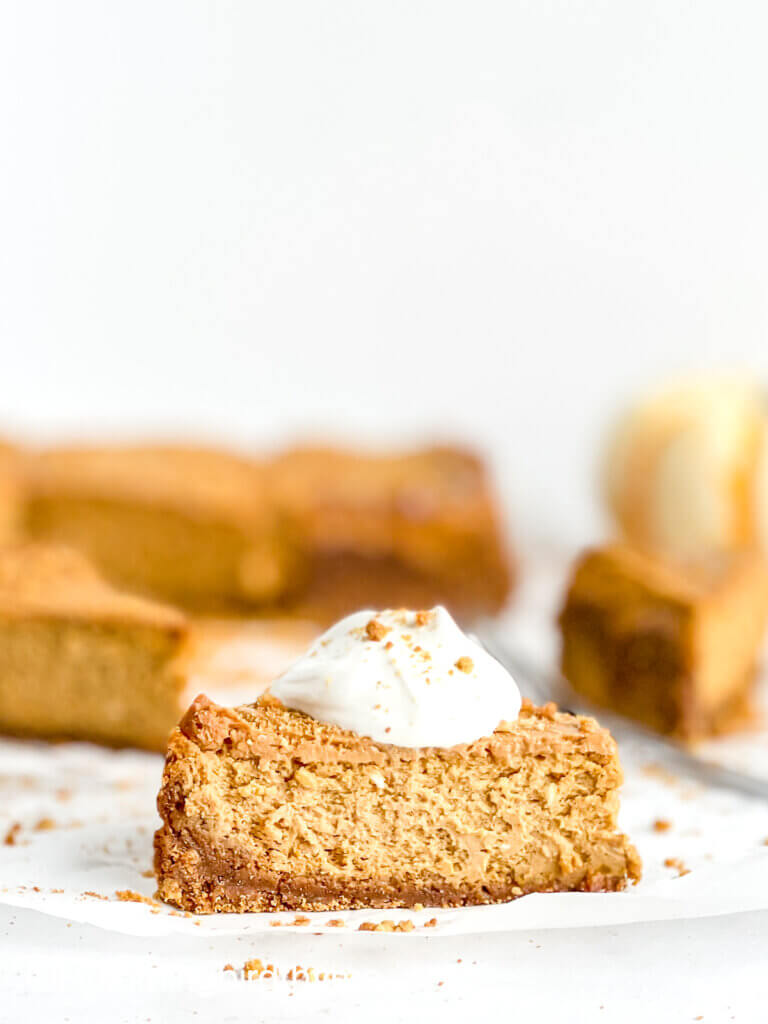 So, tell me, what is your favorite Fall/Winter Holiday treat? Cookies? Pumpkin Pie? Perhaps Pumpkin Dulce de Leche Cheesecake in a Gingersnap Crust?
Enjoy!
Looking for other Pumpkin recipes? Don't miss:
Pumpkin Bundt Cake with Easy, warm, Salted Penuche Frosting
The Best Pumpkin Chocolate Chip Scones
Pumpkin White Chocolate Blondie Bars
Pumpkin Bread with Chocolate Chips
Or, check out these great cheesecake recipes:
No-Bake Peanut Butter Caramel Cheesecake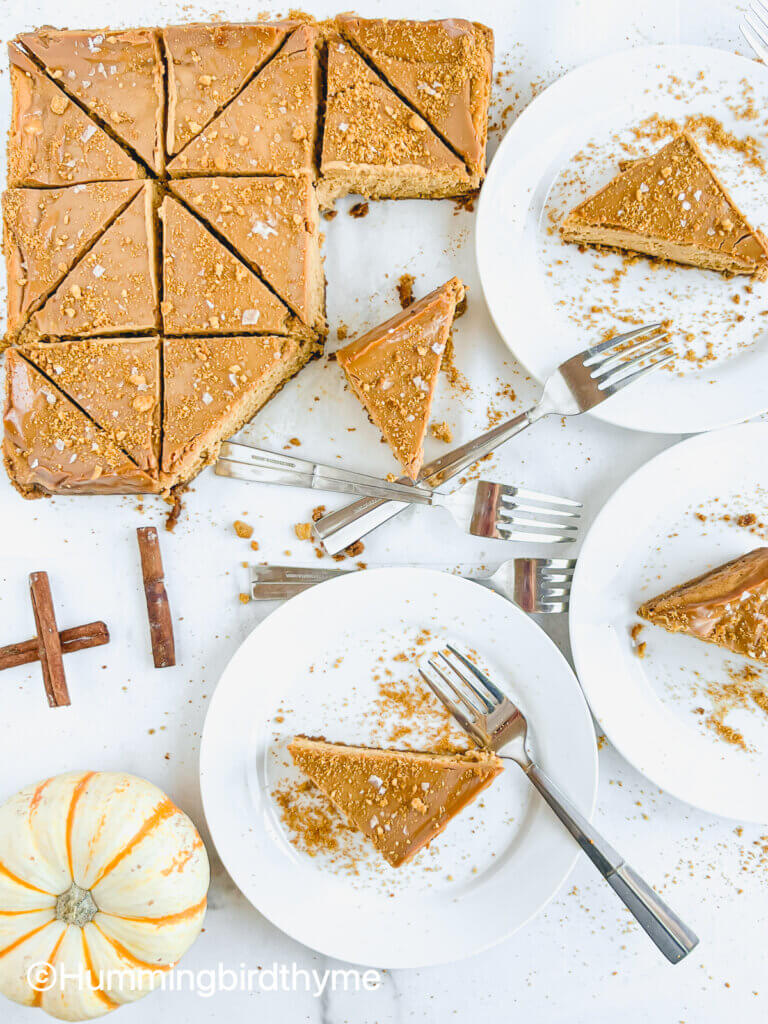 How to make Dulce de Leche Pumpkin Cheesecake Bars:
I AM AN AMAZON AFFILIATE, SO PLEASE KNOW ANY PURCHASES YOU MAKE THROUGH LINKS PROVIDED ON MY PAGE ALLOW ME TO MAKE A SMALL COMMISSION, TO MAINTAIN THIS SITE, BUT AT NO ADDITIONAL COST TO YOU.
Step-by-Step photos and instructions: (continue to scroll down to get right to the recipe card)
Make the Gingersnap Crust:
A Gingersnap crust is simply another version of a Graham cracker crust. To make this crust, preheat your oven to 350F. Then, you'll need to crush the cookies – my favorite are Trader Joe's Triple Ginger Snaps – into crumbs. You can do this in a food processor or blender, or if you don't have or don't want to use an additional piece of equipment, just put about 11 oz of cookies into a zip-top bag, and roll over them with a rolling pin until they are crumbs! You'll need 2 cups of crumbs. Then, add sugar, salt and melted butter. Mix until the ingredients are well-combined and look like wet sand. Press into a buttered and parchment-lined 9×9 pan (or a 10-inch springform pan!). Pop that crust into the oven for about 7 minutes, to par-bake it. This will ensure it remains nice and crispy for that creamy cheesecake! Be sure to turn the oven down to 325F at this point for the cheesecake.
Make the Pumpkin Dulce de Leche Filling:
Next, you'll want to make the filling. Using hand-mixer or stand-mixer, you'll first create a smooth mixture of your room temperature cream cheese, the sour cream and the granulated sugar. Mix it on Medium for about 5 minutes, or until it's smooth, light, and fluffy. Then, add the pumpkin puree and half the can of dulce de leche. If using dulce de leche from a jar or homemade, you'll want 9 tablespoons, or 190g. You'll use the other half-can for the topping, just before baking is finished.
Next, mix in until just combined the following: the vanilla, spices, salt, and the two beaten eggs. That's it! Just 8 minutes for the filling to come together! The texture of the filling at this point should remind you of a thick, smooth, milkshake.
Bake, and Make the Dulce de Leche Topping:
Once the filling is done, pour it into the par-baked crust, pushing it into the corners, and leveling the top. (It's ok if the surface isn't perfectly smooth, since we will be adding a dulce de leche topping later.) Then, into the oven. After 30 minutes, reduce the heat in the oven to 250F. A slow and gentle bake will help the cheesecake remain nice and smooth and will inhibit cracks in the top. While the cheesecake is in the oven, mix together the rest of the dulce de leche with a half cup of sour cream and a pinch of salt. After an hour at 250F, remove the cake – the top should be firm with just a bit of jiggle – and spread the topping. Place it back in the oven for the last 10 minutes of baking.
After 10 minutes of baking with the topping on, turn off the oven heat, and leave the oven cracked open – you may need to place a wooden spoon between the door and the oven to keep it open. You'll want to leave it this way for an hour. Then remove and let it come to room temperature for a bit, before refrigerating. It will need to chill for at least 3 hours, preferably 6 or more, before serving.
I like to serve this cheesecake topped with more gingersnap crumbs and some unsweetened or lightly sweetened whipped cream topping! Maybe a pinch of flaky sea salt, too!😉
Want to save this recipe for later? Pin it!
Print
Dulce de Leche Pumpkin Cheesecake Bars
These Dulce de Leche Pumpkin Cheesecake Bars are everything you want need in a pumpkin dessert! That lovely, earthy pumpkin, sweetened with Dulce de Leche – smooth textured, cheesecake goodness, all nestled into a Gingersnap crust!
Remember to remove all of the refrigerated ingredients to come to room temperature before baking. This will help the batter be lump-free, and make the filling smoother.
Equipment needed: electric hand-held or stand mixer, and either a 9×9 Square baking pan or a 10″ Springform pan.
Author:
Prep Time:

15-20 min

Cook Time:

1 hour, 50 minutes, plus 1 hour in oven afterward

Total Time:

3 hours, plus chilling

Yield:

18

slices

1

x
Category:

Cheesecake

Method:

Baking

Cuisine:

International
Ingredients
For the Crust:
2

cups

Gingersnap Crumbs (around 11 oz., I recommend Trader Joe's Triple Ginger Snaps)

3 Tablespoons

Granulated Sugar

5 Tablespoons

Melted, Unsalted Butter
Pinch of kosher Salt
For the Cheesecake Filling:
16

oz

. (2 – 8oz. bricks) Cream Cheese, at room temperature

1/4

cup

Sour Cream, room temp.

1/2

cup

Granulated Sugar
Half of

13.4 oz

. can or jar (

6.7 oz

,

190g

) Dulce de Leche (long-simmered Sweetened Condensed Milk turns to Dulce de Leche), (you'll use the other half in the topping, below)

1

–

15

oz. can Pumpkin Puree (NOT Pumpkin Pie mix)

2

Large eggs, lightly beaten, room temp.

1 Tablespoon

Vanilla Extract

1 teaspoon

ground Cinnamon

1/2 teaspoon

dry Ginger

1/4 teaspoon

Nutmeg

1/8 teaspoon

ground Cloves

1 teaspoon

Kosher Salt, or

1/2 teaspoon

Table salt
For the Caramel Topping:
Half of a 13.4 oz. can or jar (190g, 9 Tablespoons) Dulce de Leche

1/2

cup

Sour Cream

1/4 teaspoon

Kosher Salt
Instructions
Make the Crust:
Grind 11.2 oz (320g) of Gingersnap cookies into about 2 cups of crumbs. You can do this in a Food Processor, blender, or by placing the gingersnaps into a zipper-locked plastic bag, and crushing with a rolling pin (or a bottle of wine might work, too – for rolling ;).)
In a Medium bowl, mix together the crumbs, melted butter, sugar and salt until it looks like wet sand.
Butter or spray a 9×9 square pan (or a 10-inch Springform pan), and, if using a square pan, cover with parchment, leaving an overhang, then coat with butter or spray.
Using buttered hands, press the wet-sand mixture into the bottom of the pan, and about halfway up the sides. Par-bake in a 350F oven for 6 minutes. While the crust is baking, begin to make the filling.
Make the Filling:
After removing the crust from the oven, turn down the oven temperature to 325F.
In the bowl of a stand mixer, or a large bowl and using a hand-held mixer, beat the room temperature Cream Cheese, along with 1/4 cup Sour Cream, and the granulated sugar,  at Medium Speed, for 4-6 minutes, scraping down the bowl after about 2 minutes, and mixing until it is light and fluffy and smooth, with no (or very few) lumps.
To the cream cheese mixture, add the pumpkin puree, half (190g or 9 Tablespoons) the can or jar of Dulce de Leche and vanilla extract. Mix until evenly incorporated. Then, add the beaten eggs, mixing until incorporated, about a minute. Mix in the spices and salt, continuing to mix until just incorporated.
Pour the filling into the par-baked crust, and return to the 325F oven for 30 minutes. After 30 minutes, reduce the oven heat to 250F, and continue to bake cheesecake for an additional 60-70 more minutes, until the cake batter appears dry and feels firm to the touch, but with a slight wobble if you gently move the pan.
While the cake is baking, mix together the topping ingredients, and set aside. After removing the cake, keep the oven on, and spread the dulce de leche-sour cream topping over the cake, to the edges, and return to the 250F oven and bake 10 more minutes. The cake is done when the top feels mostly firm, and there is just a bit of jiggle or wobble in the middle when you move the pan.
At this point, turn the oven off, and crack the oven open a few inches and leave cake another 60 minutes. Remove cake, and let come to room temperature. 
Once the cheesecake is at room temperature, cover with plastic wrap and refrigerate 4-6 hours to 2 days before serving.
Top with extra gingerbread crumbs and/or flaky sea salt before slicing and serving.
Notes
Leftovers should be covered with plastic wrap and returned to the refrigerator. They will stay fresh for around 5 days. To freeze, wrap tightly in plastic wrap, then cover with foil for freshness up to about 6-8 weeks.
Keywords: pumpkin cheesecake, Thanksgiving desserts, Christmas desserts, pumpkin recipes, dulce de leche, what to do with a can of dulce de leche, cheesecake recipes, easy cheesecake recipe
Recipe Card powered by