Everything Cookies are the answer when you aren't sure what flavor of cookie you want, but you NEED a cookie as big as your hand! Then, you realize, this is the cookie you've wanted all along! This version has flavor from oatmeal to peanut butter to salted caramel and white and dark chocolate!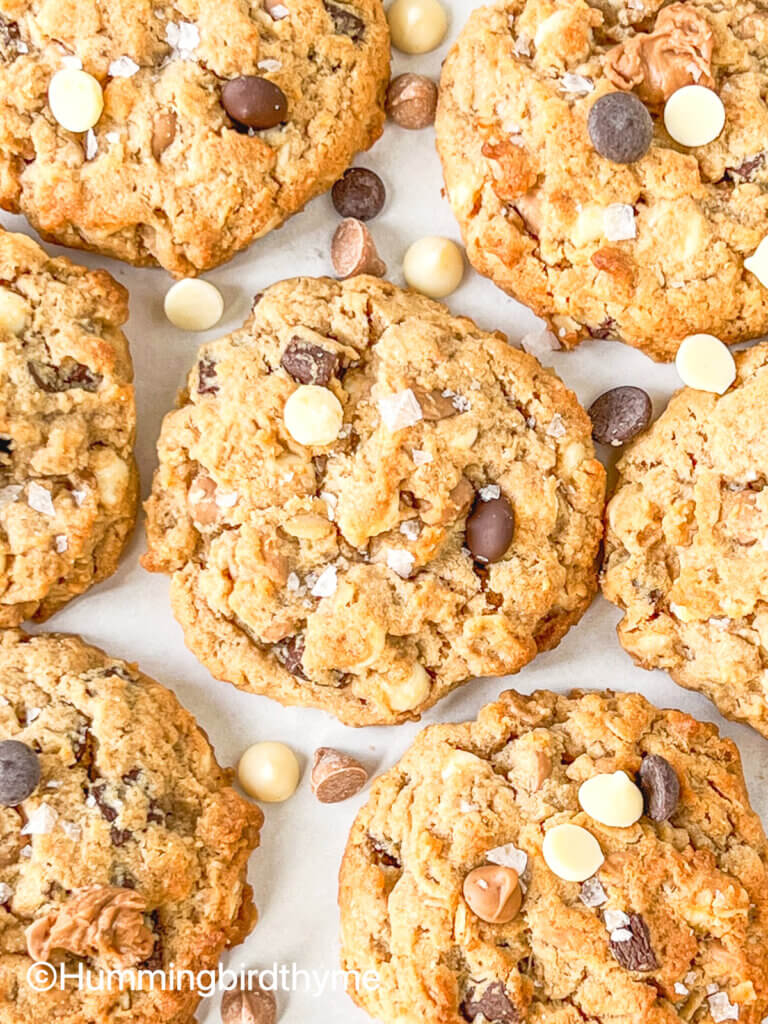 I often say that I don't know what I want, but I'll know it when I see it. I feel like the late Steve Jobs was right, that sometimes we don't know what we want until we're told what we want. Because there are things we just can't imagine or visualize until we see it. Think about it. If 10 years ago someone described to you all the things a smartphone device would do, have, and be, would you have believed what all could fit into that thin hand-held rectangle you can slip right into your pocket? If you did, I'd love to sneak into your brain sometime.
So, clearly, I'm often the person who's indecisive. That's why usually I'm the "some of each" person. Do you want X or Y? Well, I'd really like some of each. "Less is More?" Um, …, no. (Unless you're talking about the classic black turtleneck). Fact: More is More. For sure. Especially when you're talking about cookies. Or cellphones. But this blog is about cookies and such. So I present to you THE EVERYTHING COOKIE. I'm not sure I could stuff any more flavors in here if I tried. Well,… maybe one or two more, because that's how I roll. Maybe a future post.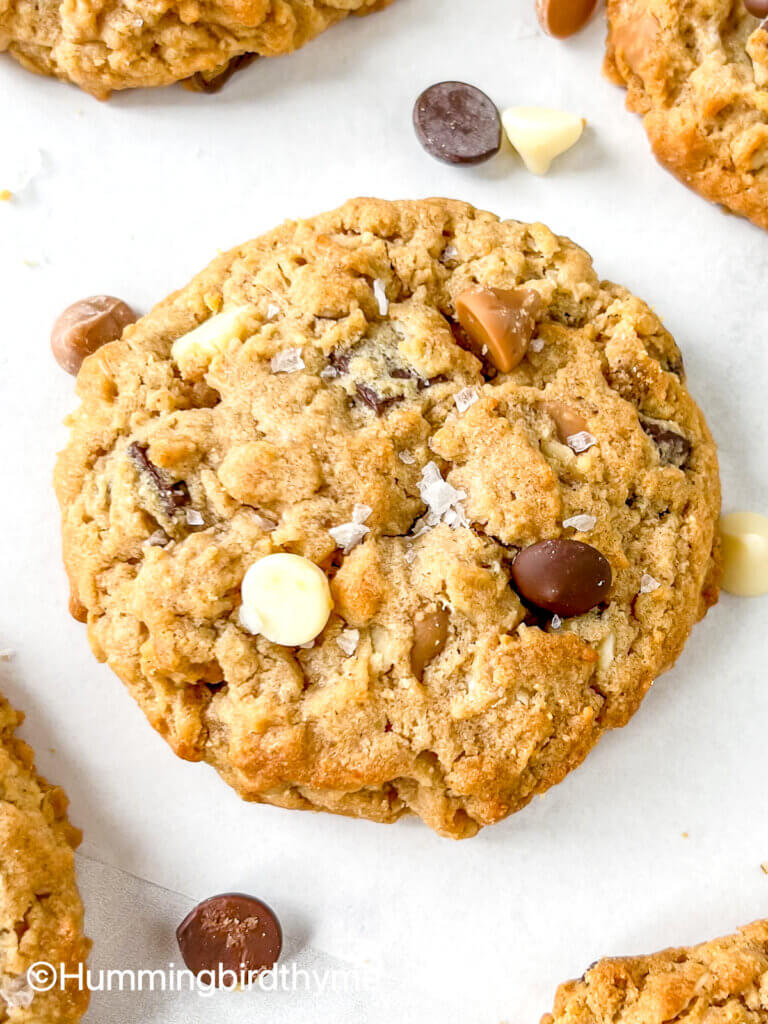 These cookies, sometimes known as Monster Cookies – are the perfect set of flavors – peanut butter, chocolate, white chocolate, salty caramel, all in a brown sugar oatmeal background. Perfect texture – a nice thick cookie with crisp exterior, and tender, but chewy interior. Studded with candies. I'll just start the bidding with a "Yes, please!"
And, so easy to make – slightly soft butter mixed with the sugars until it's all light and fluffy, add some eggs and vanilla, followed by pre-whisked dry ingredients, then stir in your chosen mix-ins: chips, nuts, candies, potato chips. Chill the dough for somewhere between an hour to 2 days, a.k.a. "age the dough" – so worth it! Bake them up, (don't forget a sprinkle of flaky sea salt!) and enjoy! Another unrequested opinion here – I think fully room temperature cookies taste better than fresh-from-the oven cookies. And, truly – I know, I KNOW, not the popular opinion. We did a test once – trust the results, if you dare. Or, do your own test and let me know if you agree.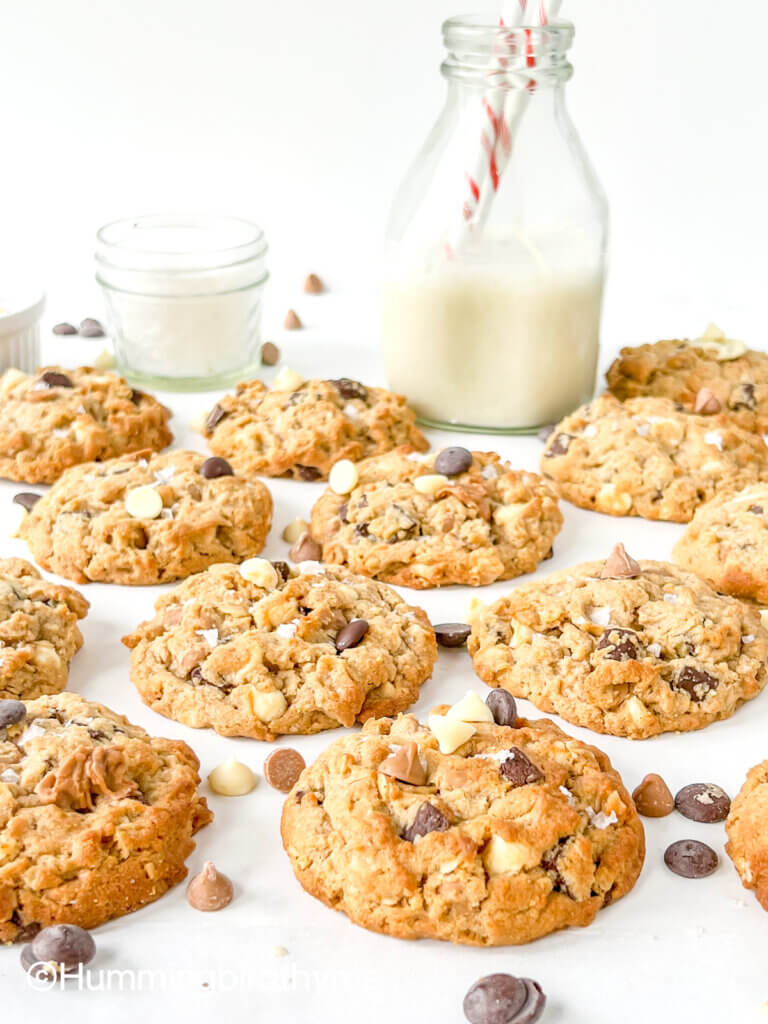 So, I'm curious, are you the decisive one? Or are you the "some of each" person? And, do you prefer room temperature cookies or fresh-from-the-oven cookies – I won't judge, promise! I always want to be the one I'm not feeling at the moment….
Enjoy!
Some other favorite cookie recipes include:
Brown Butter Oatmeal Chocolate Chip Cookies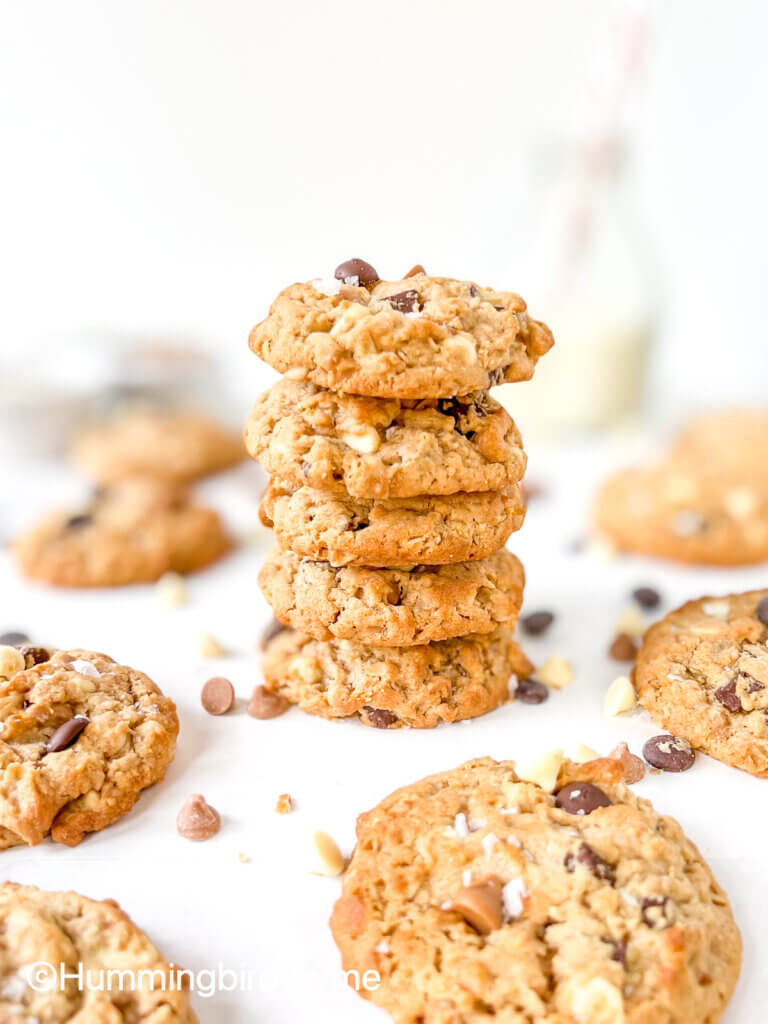 How to Make Everything Cookies
This post may contain affiliate links. As an Amazon Affiliate, I may earn a small commission, at no cost to you, for purchases you may make of items linked from this site.
Ingredients of note and Substitutions:
Peanut Butter – My favorite peanut butters are the kind that include just peanuts and salt – the kind you have to stir when you open it, and refrigerate after opening. I know this is a little extra work, and some people don't like baking with it, but it's the only kind I use, and in this recipe it really does work just fine. It lets the peanut flavor shine and allows me to add the sugar I want to add. That said, I use the Trader Joe's brand because it is much smoother than other all-natural peanut butters and it is nicely salty. This is all to say, you use your favorite smooth peanut butter here, all-natural or not.
Slightly Softened Butter – I live in a cooler climate. My house temperature is often around 68F. So room temperature butter is not "slightly softened". For this recipe, "slightly softened" means that if you were to stick your finger into the butter, the butter would not collapse, but the indentation would remain. I put my room temp butter in the microwave at the "defrost" setting for 20 seconds. That way, I can use a hand whisk to whisk it, or use my stand mixer, both easily enough. The stand mixer works better, but in a pinch, hand whisking still works.
Dry Milk Powder – I like to add a Tablespoon or two dry milk powder to a cookie dough. The famous Milk Bar Compost Cookie taught me this. And, many bakers swear by it for adding and super-charging the flavors of so many baked goods and treats. It also makes a cookie chewier and perhaps gives the edge an extra bit of crisp. Read more about it here.
Add-ins – You can make these cookies your own by varying the add-ins. I used 1 cup each of 3 different types of chips: Semi-sweet chocolate, Salted Caramel, and White Chocolate. Feel free to substitute Milk Chocolate chips, Bittersweet Chips, Peanut Butter chips, Potato chips, or even some chopped nuts. But keep the volume of add-ins at about 3 cups.
Salted Caramel Chips – These were new for me. I saw them at Trader Joes, and once I tasted one – I can't tell you how yummy these chips are! I'd say if you see them – buy them! Perfectly salty, deliciously caramel!
Step-by-Step Recipe Instructions: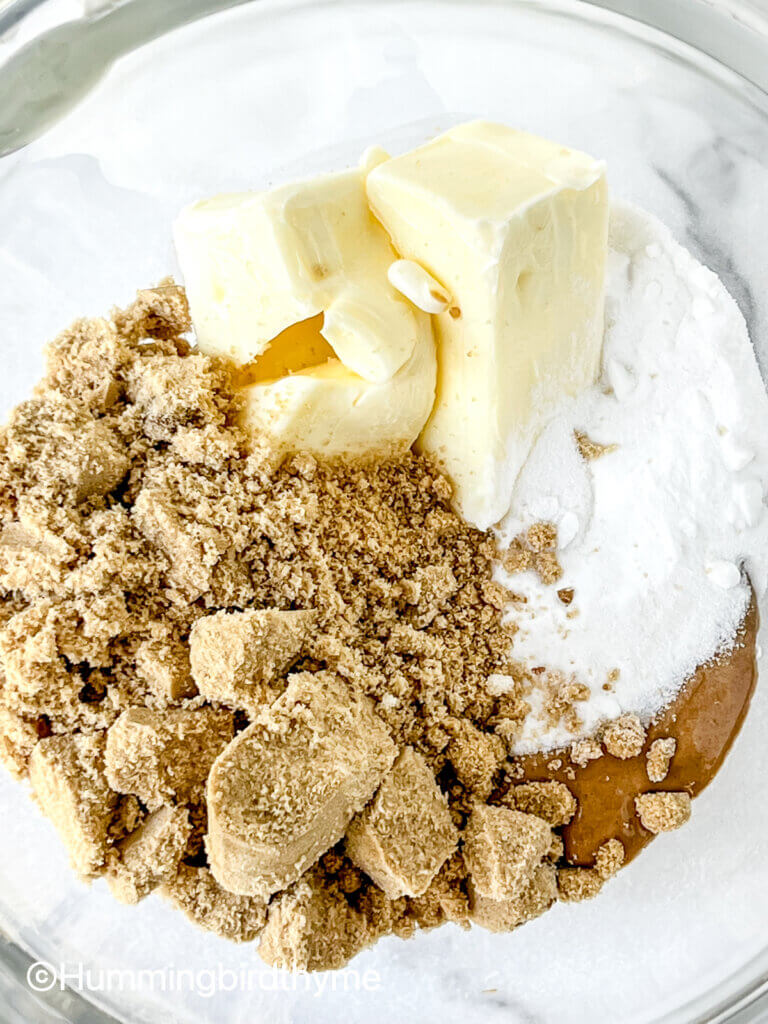 Add the butter, peanut butter and sugars to a mixing bowl. It's best if the butter is slightly softened, similar in texture to the peanut butter. It shouldn't be melted, but soft enough that if you poke a finger into it, the indentation stays.
Whisk or blend (with an electric or stand mixer at Medium Speed) the butter, peanut butter and sugars until smooth. Then add the vanilla and the eggs, one at a time.
Whisk together the dry Ingredients. Set aside.
Measure the add-ins like chocolate chips, salted caramel chips, white chocolate chips, or nuts, if using. 3 cups total is what you'll want. I used 1 cup each of: Semisweet chocolate chunks, White Chocolate Chips and Salted Caramel chips.
Stir the add-ins into the dough.
Refrigerate dough. I like to pre-scoop mine beforehand. Mine made 28 cookies, but I tend to be a little heavy-handed with the scooping. If you're diligent about level-scooping, you could very likely get 30 cookies. Refrigerate at least an hour, but up to 2 days. Longer is better, and there's enough to bake some today, some tomorrow. You could even freeze some of the pre-scooped dough, just be sure to thaw it in the fridge for several hours before baking.
Bake. Fresh out of the oven, cookies will be too soft to remove neatly from the sheetpans. Sprinkle with some flaky sea salt (I use Maldon). Wait 5-6 minutes and they should be easy to transfer to a cooling rack.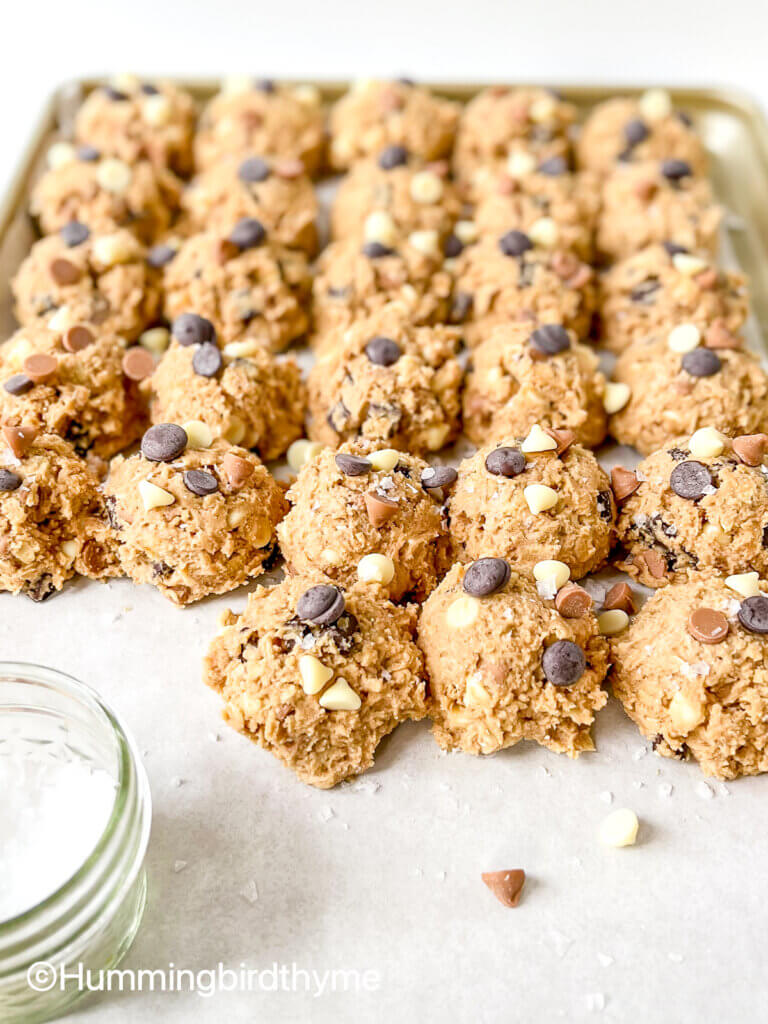 Want to save this recipe for later? Pin it!
Print
Everything Cookies
Everything cookies are the cookies you make when you're not sure what kind of cookie to bake, or you don't have quite enough ingredients to make a full batch of any. But you'll realize after trying them, they're the cookie you wanted all along!
A note about the add-ins: You can use any candies or nuts you'd like: I used a cup each of Semi-sweet Chocolate chips, White Chocolate Chips and Salted Caramel Chips. But feel free to use Milk Chocolate chips, Bittersweet Chips, Peanut Butter chips, mini M&Ms, Potato chips, or even some chopped nuts.
Author:
Prep Time:

20-30 minutes

Cook Time:

12-13 minutes

Total Time:

32-43 minutes, plus refrigeration time

Yield:

28

–

30

Large Cookies

1

x
Category:

Cookies

Method:

Baking

Cuisine:

American
Ingredients
1

cup

Unsalted Butter, slightly softened

1

cup

Smooth Peanut Butter

1 1/4

cup

Light Brown Sugar (dark is ok)

1/3

cup

Granulated Sugar

2

eggs, room temperature

2 teaspoons

Vanilla Extract

2

cups

All-Purpose Flour

1 1/2

cup

Rolled Oats

2 Tablespoons

Nonfat Dry Milk

1 1/2 teaspoon

Baking Powder

1/2 teaspoon

Baking Soda

1 teaspoon

Kosher Salt (or

1/2 teaspoon

Morton kosher salt or table salt)
Add-ins (3 cups total):

1 cup Semi-Sweet Chocolate Chips

1

cup

Salted Caramel Chips

1

cup

White chocolate chips
or substitute any chopped nuts, (like salted peanuts) or small candies.

(optional) Flaky Sea Salt, like Maldon
Instructions
In a mixer at Medium Speed (preferred), or using a whisk, beat the following until smooth and light-textured, and a bit fluffy: Butter, Peanut Butter, Brown Sugar, Granulated Sugar. This took about 2-3 minutes in a stand mixer, but may take closer to 5-7 minutes with a hand whisk.
Add eggs, one at a time into the mix and mix until incorporated. Then mix in the vanilla extract.
In a Medium Bowl, whisk together the flour, rolled oats, dry milk, baking powder, baking soda, and salt. Add to the wet ingredients and mix at low speed until evenly incorporated, about 30-60 seconds.
Add the chocolate, caramel and white chocolate chips (or whatever add-ins you choose) and mix by hand to incorporate.
Using a 4 Tablespoon (57ml) scoop, portion into balls on a parchment covered sheetpan. Cover with plastic and refrigerate at least 1 hour and up to 2 days.
When ready to bake, preheat oven to 350F.  While oven is preheats, remove dough portions from the fridge and place 6 portioned balls 3 inches apart on sheet pan. You don't want them totally refrigerator temperature nor do you want them fully room temp, either. In a Conventional oven, bake just 1 sheet at a time on the middle rack, for best results. In a convection oven, you can place two trays at a time leaving an empty oven rack in between. Bake until the edges of the cookies are just beginning to turn golden, and cookies look just set, about 11-14 (mine took 12-13) minutes.Remove from oven and cool on sheet about 5-6 minutes. Sprinkle with Flaky Sea Salt, if desired. Remove from sheet to cooling rack.
Notes
Baked cookies keep well at room temperature when placed in an airtight container, for around 5-7 days, or frozen in an airtight container or zip-top bag up to a month.
Keywords: Monster Cookies, Everything Cookies recipe, Oatmeal Cookies, calories in Monster cookies, everything cookies nutrition information, Oatmeal chocolate chip cookies, everything oatmeal cookies
Recipe Card powered by