Rustic Chicken Pot Pie is one of the most satisfying of all the comfort food dishes I've ever made! Reminds me of all that was good about being a kid!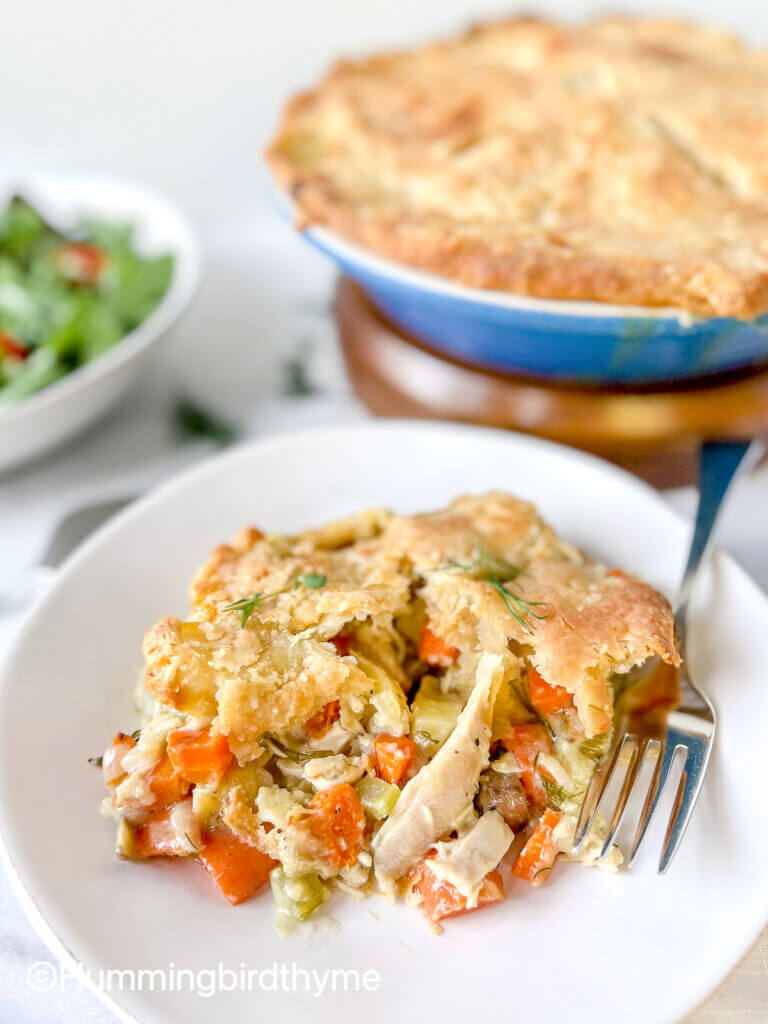 Fall is definitely in the air here in the Pacific Northwest, and you know what that means. We are making our way into the long Comfort Food Season. I love it! Don't you? And, there's a lot to be said for this time of year. The weather is crisp, it's still sunny, I can take out my favorite sweaters – all good things. But there's also a lot going on for most of us, between kids and sports and don't get me started on the upcoming holidays! I can get overwhelmed just thinking about all of it. It all makes me realize why we crave the foods from our childhood. As kids, things really were simpler, or at least more straightforward – school, homework, a piano lesson, a sports practice. Nice and organized. A nice warm dinner. Fabulous! Life was generally good. And it's good to be reminded of those times.
I have to say, though, my Mom actually never made homemade chicken pot pie. She did occasionally make a "beef pot pie", but if I remember correctly, it was to hide other meats that we kids did not approve of. The kind of meats that just mentioning them ruins my appetite. She was a farm girl from Kansas. They used all the parts. No judgment here. We just picked those pieces out, after the mandatory bite. However, she did occasionally buy those boxed, single-serving pot pies and served them for lunch on a cold day. We each got our choice of beef, chicken, turkey, or, one that became strangely popular in my house – tuna. (!) Yes, indeed. I'll not comment further on that either.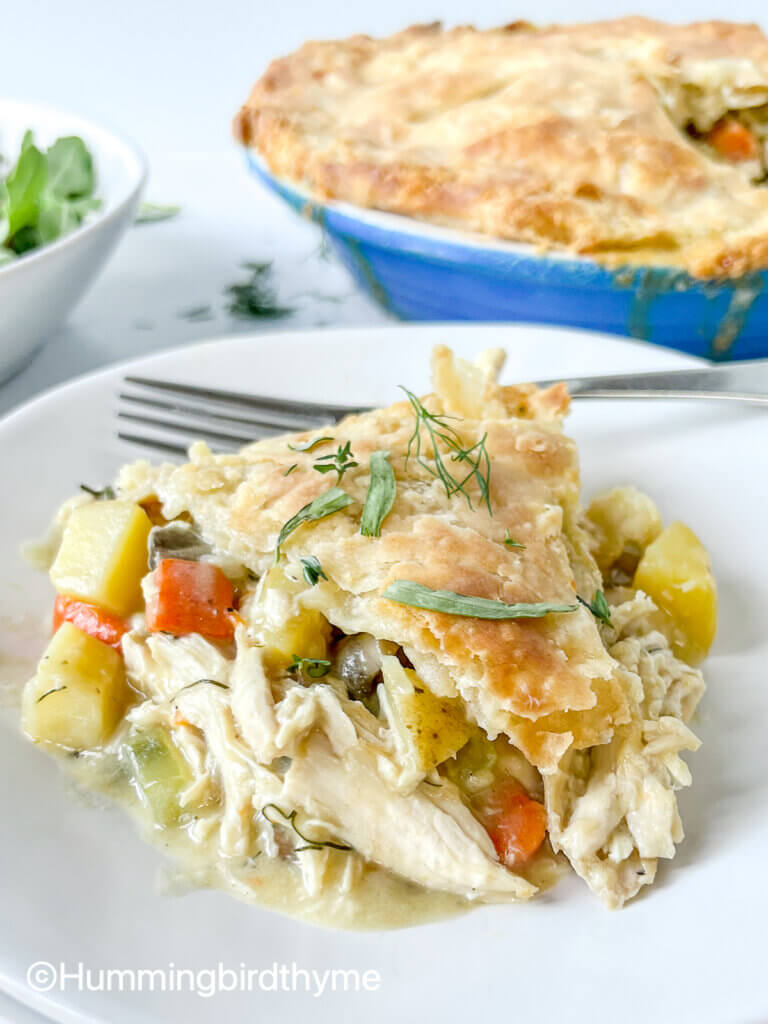 This week, it all started with that crispness in the air. It ended with the most glorious Chicken Pot Pie. And my Rustic Chicken Pot Pie is about as good as comfort food gets. Savory, warm, all your food groups in a single dish, what could be better? It has a warm, cozy "chicken in a pie" aroma, and always a savory, comforting dinner.
I call this recipe "Rustic" because it is totally the opposite of fussy. You can use pre-cooked and sliced chicken pieces, or you can poach your own chicken. Or, you can shred, by hand, a rotisserie chicken from your grocery, like I did! For my family, I love to stuff my pot pies full of delicious veggies. And, you can use all the vegetables I did, or just choose the ones you want, as long as the volume is somewhat the same, it's all good! You can use a store-bought pie crust or make your own. My favorite pie crust recipe, the one I used to top this Simple Chicken Pot Pie, is this recipe, from Food52. I'm completely serious when I say, the dough takes less than 5 minutes start-to-finish, and it's always PERFECT! It's never failed me! So easy and perfectly flaky every time!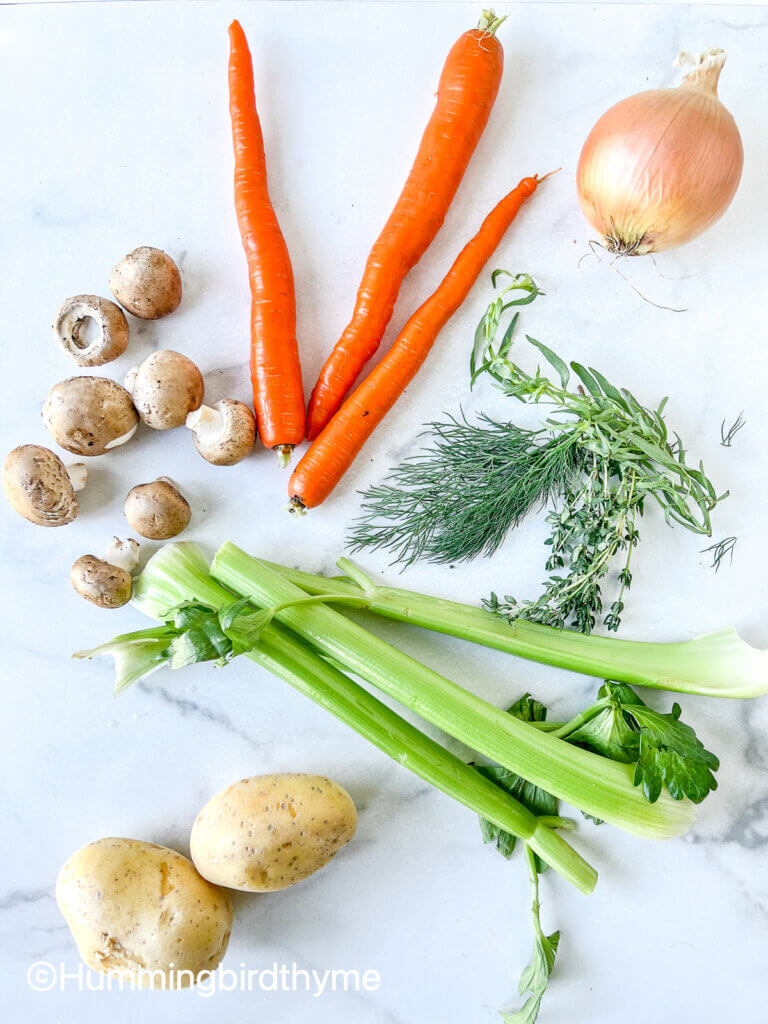 So, do you have a storied history with pot pie? Have you tried any "interesting" flavors of Pot Pie? If so, I hope it hasn't dissuaded you from making your own!
Enjoy!
Looking for other comforting, satisfying family meals? How about: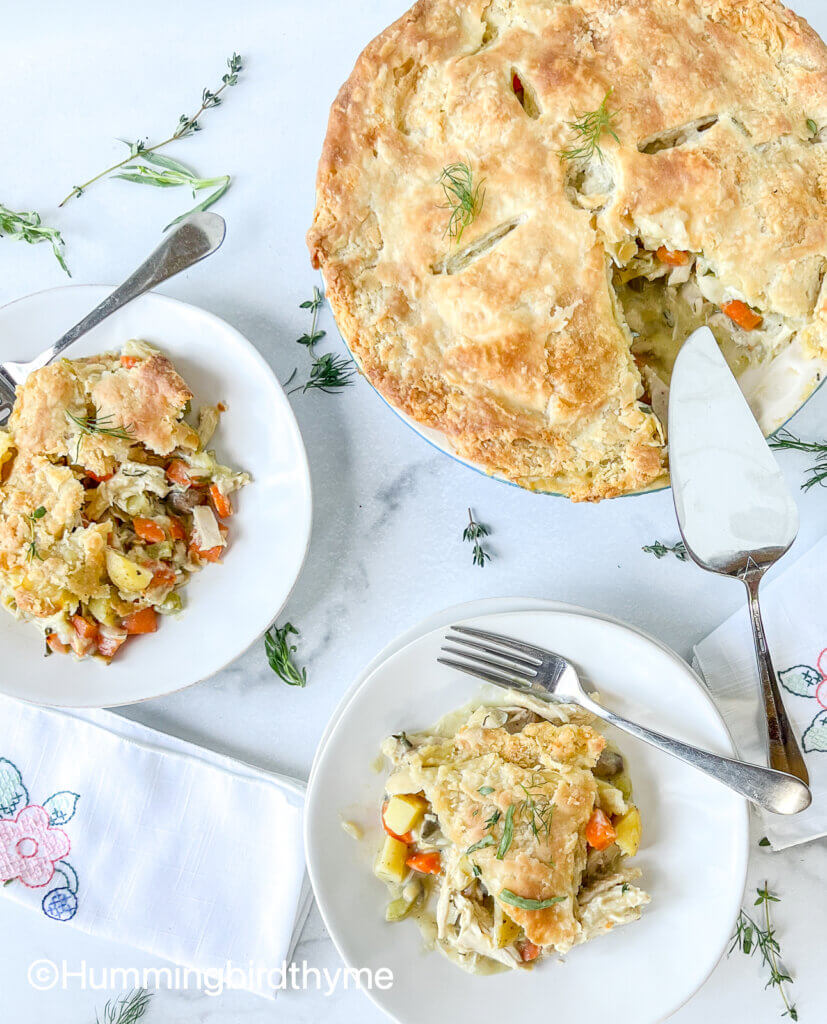 How to Make Chicken Pot Pie:
I AM AN AMAZON AFFILIATE, SO PLEASE KNOW ANY PURCHASES YOU MAKE THROUGH LINKS PROVIDED ON MY PAGE ALLOW ME TO MAKE A SMALL COMMISSION, TO MAINTAIN THIS SITE, BUT AT NO ADDITIONAL COST TO YOU.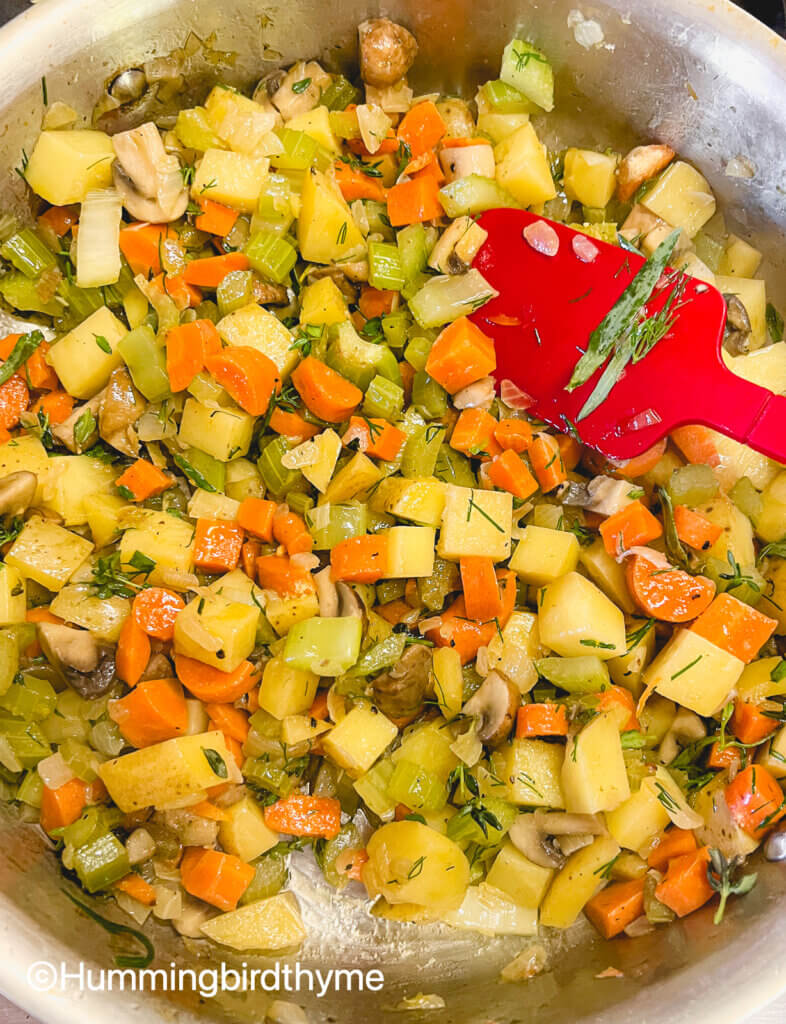 Step-by-Step Instructions
So, in general, the steps to pot pie making are as follows:
Sauté all of the veggies you want to put in the pie. Salt a bit.
Add the herbs and spices, and stir in the flour, and stir for a minute. A note here: you could add the flour either before or after the chicken. It won't change the outcome, I often add it after I add the chicken. This time I added it before. Either way is fine.
Add the shredded chicken. Stir.
Add your stock or broth. Check seasoning and add salt and pepper, as desired. Let the broth thicken while stirring, then add the cream. Allow to thicken a bit more.
Pour into pie pan. You'll want to use a 9″x 2″ deep round pan. (This one is the exact one I used.) Heap as high as you want. Any extra can go into a ramekin and bake alongside.
Top with crust. Bake. Enjoy!
Substitutions you can make:
For the Chicken: You can use any form of chicken, as long as it's cooked, boneless and skinless. Shred as small or large as you like – I like my chicken pieces larger than the vegetables but any size is fine. Some grocery stores, like Trader Joe's, sell sliced, roasted chicken by the pound. Or use turkey!
For the Vegetables: As long as they are cut small, you can use any vegetables. Always use an onion, but any chopped root vegetables will work, you could add peas or green beans. Keep the total volume of vegetables to about 5-7 cups, before cooking. They will cook down a bit but you'll have a lovely heaping pie full of healthy and delicious vegetables.
For the Flour: You could substitute cornstarch.
For the Broth: You could use Stock or Broth for this recipe. You could also use bouillon cubes to make the broth, or substitute turkey stock or broth. I use a product called Better than Bouillon, specifically, the Roasted Chicken Flavor. It keeps in a small jar in the fridge, and I just add a teaspoon to a cup of water for each cup of stock or broth I need in a recipe. No more lugging jugs of broth home.
For the cream: You can use half-and-half. Or if you don't wish to add cream or half-and-half, just go ahead and use all three cups of broth, adding more if you feel you need to.
For the crust: You can use a pre-made crust, or make the one I linked to. Or, if you wish, go ahead and top with biscuit dough or even a can of pre-shaped biscuits. Although, you'll definitely need to watch it a bit closer in the oven, in order not to over-bake the biscuits. They will likely require a shorter bake time.
Want to save this Easy Chicken Pot Pie recipe for later? Pin it!
Print
Chicken Pot Pie
Satisfying and delicious, this creamy chicken pot pie is a winner every time! Something of a no-recipe recipe, ingredient amounts aren't totally precise, but use as a guideline. For example, you'll need roughly 6 cups of fresh vegetables. If you end up with somewhere between 5 and 7 cups, it's all good. Same with the chicken – between 3 and 5 cups will work. You may have a "heaping pie", but that means you'll just need to roll out the crust a bit more, and may need all of the stock or broth at the end.
My favorite Pie dough is this one from Food52. It's made in just a few minutes in a stand mixer. It's an all-butter crust that is flaky and tender every time. But an unbaked, pre-made store-bought crust works here too!
Author:
Prep Time:

45 – 60 min

Cook Time:

30 min

Total Time:

75-90 minutes

Yield:

8

servings

1

x
Category:

Chicken

Method:

Baking

Cuisine:

American
Ingredients
4

cups

coarsely shredded, cooked Chicken. This is all the meat from 1 rotisserie chicken, stripped from bones and skin, shredded by hand. OR around 2 lb boneless, skinless chicken breasts and/or thighs, poached as directed in the instructions below.

3 Tablespoons

Extra Virgin Olive Oil, Vegetable Oil or your chosen Mild-flavored Cooking Oil, plus more as needed

1

Medium-Large Onion, peeled and chopped (about

1.5 cups

)

3

Celery stalks, chopped (roughly

1 cup

)

3

Medium Carrots, chopped into cubes (roughly

1 cup

)

1

cup

chopped Mushrooms

2

Small-to-Medium Yellow Potatoes, chopped into

1/2

–

3/4

" cubes
Salt and Pepper

1/2

cup

All-Purpose Flour

1 Tablespoon

Fresh Thyme leaves or

1 teaspoon

dried thyme

1 Tablespoon

chopped Fresh Dill or

1 teaspoon

dried dill
(optional) 1 Tablespoon Fresh Tarragon leaves or 1 teaspoon dried tarragon

1/4 teaspoon

, heaping, Dry Mustard

3

cups

Chicken Broth or Stock

1/3

cup

Heavy Cream or half-and-half
Salt and Pepper

1

unbaked crust for a single-crust pie
Instructions
If you need to poach the chicken:
 Generously salt the chicken pieces and lay them in a large (4 qt) saucepan or stockpot. Cut 2 stalks celery and 2 carrots in half lengthwise. Cut a whole onion in half. Add to the cooking pot with 1 bay leaf and 2 teaspoons of peppercorns. Pour 4 cups of chicken stock or water over the chicken. Bring to boil. Lower heat to simmer, and simmer until chicken pieces are cooked through, about 20 minutes. Place cooked chicken pieces in a bowl.  Cover with some of the poaching liquid and refrigerate until ready to use.
Making the Pot Pie
Preheat oven to 375F. Shred the rotisserie chicken, discarding skin and bones, or likewise shred poached chicken pieces.
Over Medium heat, place a large sauté pan. Pour in the cooking oil. Add the chopped onion. Sprinkle a bit of salt over the onion, and saute 3-4 minutes.  Add chopped celery, carrots, potatoes and mushrooms.  Add more oil if needed. Season lightly with salt and pepper. Sauté until onions are beginning to be translucent, about 8-12 more minutes.
Add the shredded chicken, herbs, and dry mustard to the pan with the vegetables. Sprinkle flour over the mixture and stir while continuing to cook for a minute or so.
Carefully pour in around 2 1/2 cups of the broth. When the the broth begins to bubble, stir until nicely thickened, about 2-3 minutes. If it gets too thick, just add the remaining 1/2 c of stock. Salt and pepper to taste.
Add the cream or half-and-half. Stir. Re-check and adjust seasonings if desired.
Pour the chicken filling into a pie plate or 2-quart casserole dish.
On a floured surface, roll out the pie crust to a size 2 inches larger than your dish. Gently place over the filling, pinch at edges, and cut slits in it to vent.
Bake 25-35 minutes until crust is golden, and filling is bubbling up through the slits you made. If you are going for a darker, shiny, crust, brush on an egg wash (1 egg beaten with 2 T water) prior to placing it in the oven. Mine did not have the egg wash. I like the texture of the golden, flaky crust better than the shiny crust. Let the pie rest for 15-20 minutes before serving, if you can.  It is so much easier to remove from the dish to serve.
Keywords: Rustic Chicken Pot pie, how to make chicken pot pie, easy chicken pot pie, classic chicken pot pie, heirloom recipe, chicken recipes, how to make pot pie, best pie crust, easy pie crust, comfort food recipe,
Recipe Card powered by