Honeycrisp Apple Crumble Cake! Combining the best of apples, the best of cakes, and the best crumble make for an irresistible Autumn treat that's delicious all year round!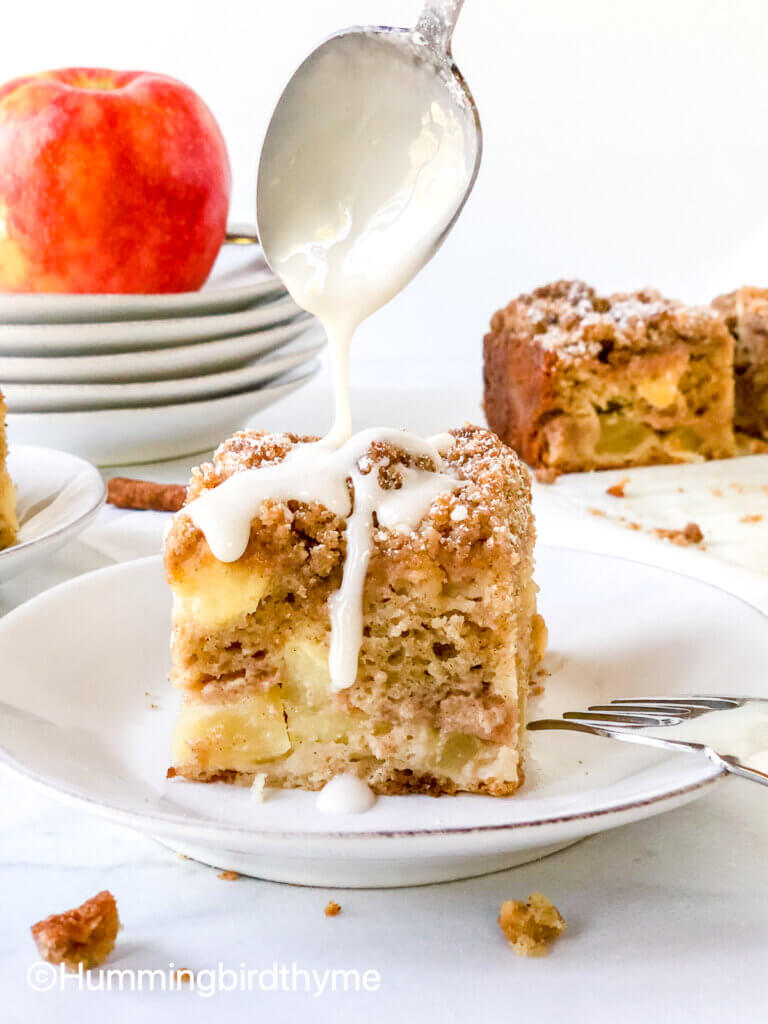 You know how when we know better we do better? I like to think that applies to all areas of our lives. I'm not talking about things personal or existential here. I'm talking about apples, people! (This time, anyway.) Specifically, the best apple there is (IMHO): the Honeycrisp! It's truly the (mostly) perfect apple. Best eating apple compared to all the others – a crispier crisp, a sweeter sweetnes, a tangier tang, and juicier juice! It truly doesn't get any better. I used to bake with a combination of Granny Smiths and Braeburns, and truth be told, I still do, because I can be old school like that. But, usually, this time of year, I have my favorite eating apples on hand. And you know what? They are great baking apples, too!
Now, if you've ever bought a Honeycrisp or two, you know they don't come cheap. Ever. That's the reason why they are "mostly" perfect. Because, unfortunately for apple lovers as well as apple growers, they are difficult and expensive to produce. (I like buying them at Trader Joe's where they are priced by the apple instead of by the pound.) According to Wikipedia, Honeycrisp blossoms are self-sterile, meaning a Honeycrisp needs a different variety to pollinate the the blossom. They also produce better fruit when the trees are less populated with fruit, meaning fewer fruits per tree. Also, they were bred for superior eating, not for shipping or storing. So thank you, University of Minnesota, for creating the perfect expensive eating apple. I'll have a bushel or two myself.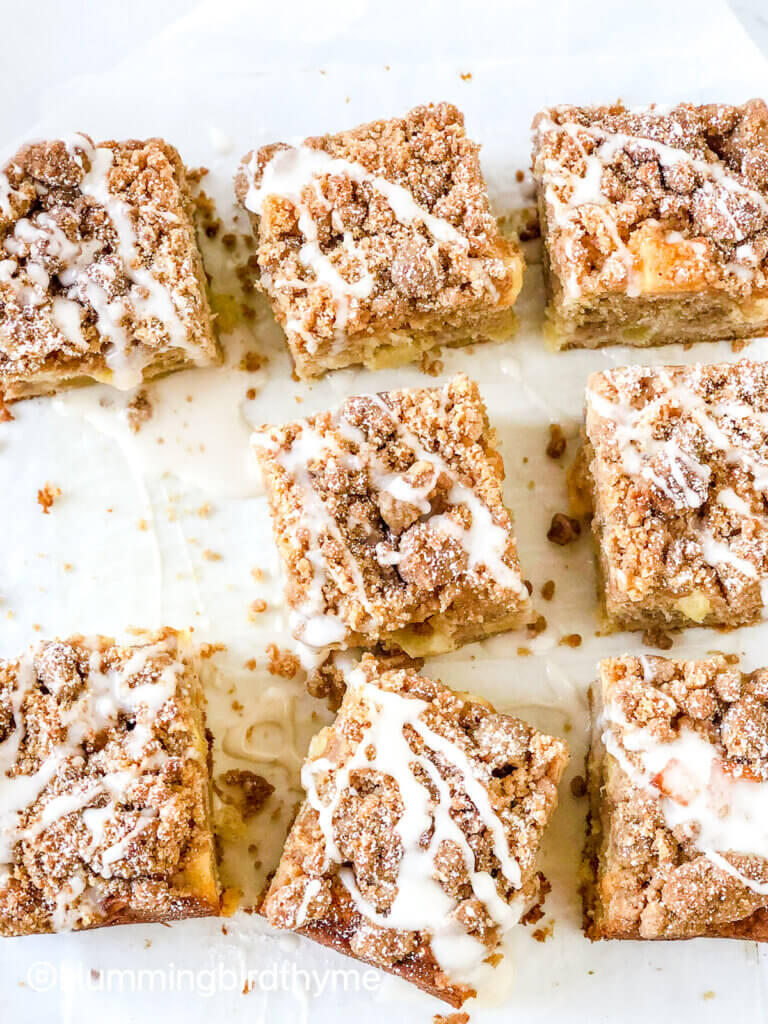 But, for the price of two or three big Honeycrisps, and some ingredients you likely have on hand, you can make this lovely, delicious Honeycrisp Apple Crumble Cake. The list of ingredients looks on the long side, but most are ingredients that are easy to find – often you might have them on hand. You'll want to gather your ingredients first, especially because some of them appear in multiple recipe steps.
And, I can't tell you how much I love this Honeycrisp Crumble Cake! It is moist, lightly sweet, studded with the beautiful Honeycrisps, and topped with crispy brown sugar crumble. I like to top it with a confectioners sugar glaze made with apple cider, but you can top it with dulce de leche, or whipped cream, or a big scoop of vanilla ice cream! Whatever you like!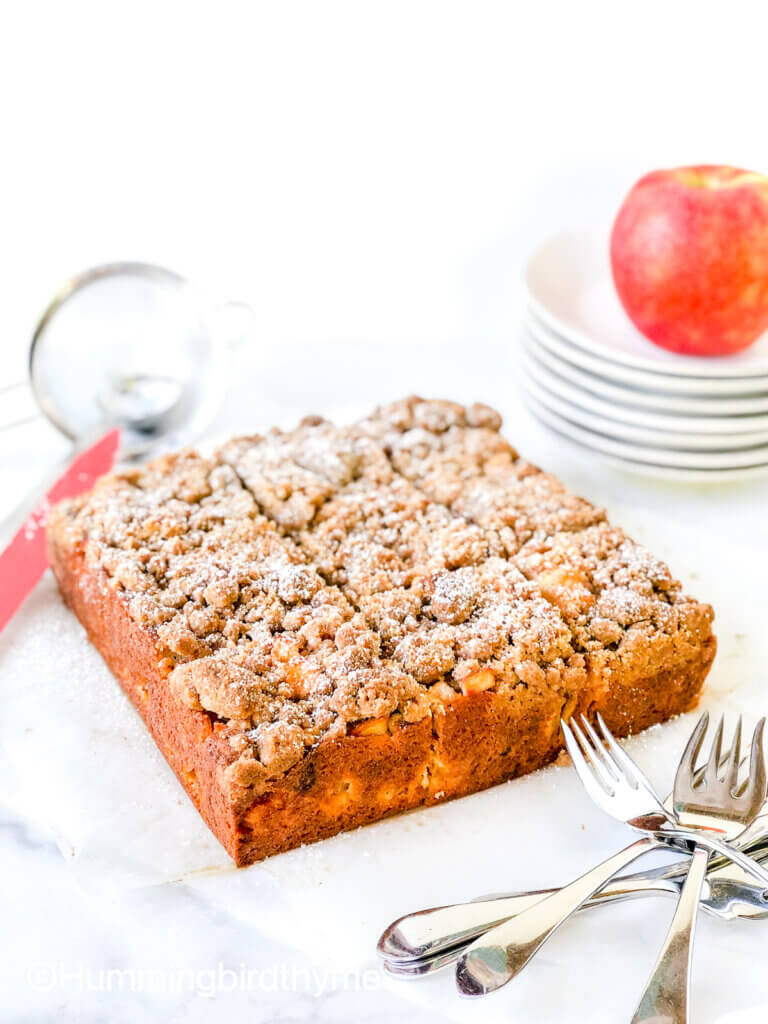 So, have you ever tried a Honeycrisp apple? If so, do you love them like I do? If not, are you going to hunt one down just to see if you can do better in your apple game? What kind of apples do you bake with?
Enjoy!
Looking for other Autumn-themed sweets? How about one of these:
Pumpkin Bundt Cake with Easy Warm Salted Caramel Frosting
Apple Cinnamon Rolls with Salted Maple Glaze
Yummy Pumpkin Chocolate Chip Scones
Pumpkin Bread with Chocolate Chips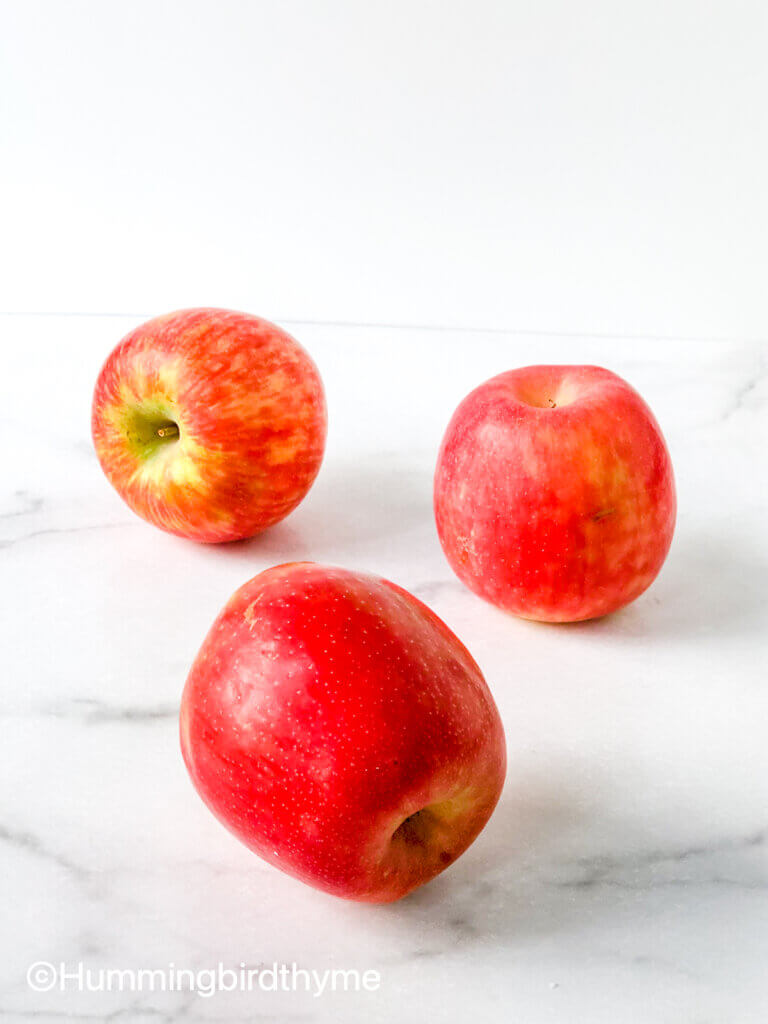 How to make Honeycrisp Crumble Cake:
As an Amazon Affiliate, I may earn a small commission if you were purchase products by clicking on links on this page. Be assured, this is at NO EXTRA COST to you, but it helps offset costs of this blog.
Some things you may need to make this recipe:
Step-by-Step Instructions:
Make the crumble. This step is super-simple. You'll just whisk together the dry ingredients. Melt the butter, add the vanilla, then pour that mixture into the dry ingredients and mix with a fork until all the ingredients are moist, and you see clumps of varying sizes. Set aside.
Peel and chop the apples. Pieces should be chopped small for even baking. Squeeze some lemon juice over them, add a bit of sugar, mix, and set aside.
Mix the dry ingredients for the cake. They all go in a big bowl, where you'll whisk them together.
Mix the wet ingredients. When mixing the EVOO with the olive oil, it may look a bit curdled. DON'T WORRY! It all smoothes out when you add the eggs and sugar.
Add the wet ingredients to the dry. This is your cake batter, so don't overmix. That way the cake will remain tender. Mix just until the ingredients are combined.
Layer the ingredients in the following order: In your prepared pan, spread: Half the batter, 2/3 of the apples, 1/3 of the crumble. Then, the rest of the batter, rest of the apples, rest of the crumble.
Bake! In my oven, this cake took about 65 minutes to be done, meaning the internal temperature near the middle of the cake was 190F. I tested it several times around 45 minutes and beyond, and it was very soft in the middle. It's a thick cake, as it bakes up to the top of the 8x8x2″ pan.
Cool 15-20 minutes before removing from the pan.
If using the optional drizzle, mix that up and drizzle at serving time.
Questions you may have about baking Apple Crisp Cake:
Can I bake this in a 9″ square pan? Or a 9″ round pan?
You could bake this in either of those. A 9″ Round pan has similar area to an 8″ square pan, so you could bake it in roughly the same amount of time and at the same temperature (350F, around 60 minutes) Just make sure it has 2- or 3-inch sides. If you want to use a 9″ square pan, I would raise the temperature to 375F and reduce your time to 40-45 minutes, as outlined by The Food Network Kitchen. Now, I have not (yet) tested these changes, so be sure to check for doneness with a temperature probe (190-195F) or making sure the center springs back when you touch it.
Can I use other varieties of apple?
Definitely! Feel free to use your favorite baking apples – Granny Smith, Braeburn, or any combination of apple varieties. You'll just want to end up with 3-4 cups of small apple chunks from peeled, cored apples.
Can I use butter instead of oil in this cake?
You can use butter, but you'll need to make sure it's softened to the point of almost being melted. I like extra virgin olive oil for its ease and lack of flavor. It keeps the cake moister, longer and also creates a wonderful texture. It's awesome in this type of cake!
How should I keep this cake fresh?
You'll want to loosely cover leftover cake and keep it at room temperature for 2-3 days. If you need to keep it longer, go ahead and cover it more tightly and keep in the fridge.
Want to Save this Recipe? Pin it!
Print
Honeycrisp Apple Crumble Cake
Honeycrisp Apple Crumb Cake – perfect for dessert, snacks, alongside coffee, or breakfast! Tender, moist cake, not overly sweet, is stuffed with apples and topped with a cinnamon-y Brown Sugar Crumble!
Top with the optional confectioners sugar glaze, or caramel sauce, or whipped cream, or even ice cream!
Store leftovers covered at room temperature. If they last longer than 2 days, store covered in the fridge.
Author:
Prep Time:

35-45 min

Cook Time:

60-70 min

Total Time:

1.5-2 hours

Yield:

12

Servings

1

x
Category:

Cakes

Method:

Baking

Cuisine:

American
Ingredients
For the Crumble Topping:
1 1/2

cups

All Purpose Flour

3/4

cup

Brown Sugar (I used light brown)

1/4

cup

Granulated Sugar

1 1/2 teaspoon

Cinnamon

1/4 teaspoon

Nutmeg
(optional) 1/4 teaspoon Cardamom

1 teaspoon

Kosher Salt (or

1/2 teaspoon

table salt)

1/2

cup

Unsalted Butter, melted, cooled a bit

1/2 teaspoon

Vanilla Extract
For the Cake:
1 1/2

cups

All-Purpose Flour

1 teaspoon

Baking Powder

1/2 teaspoon

Baking Soda

3/4 teaspoon

Cinnamon

1/4 teaspoon

Nutmeg
(optional) 1/4 teaspoon Cardamom

3/4 teaspoon

Kosher Salt

6 Tablespoons

Extra Virgin Olive Oil (or other mild-flavor oil)

3/4

cup

Sour Cream

1/2

cup

Granulated Sugar

2

eggs, whisked

1 teaspoon

Vanilla Extract
For the Apples:
2

Medium-Large Honeycrisp (or preferred variety) apples, peeled, cored, chopped small – about 1/2″ cubes (

3

–

4

cups cubes)

2 Tablespoons

Granulated Sugar

1 Tablespoon

Lemon Juice
(Optional) Topping:
1/2

cup

Confectioners Sugar

1 Tablespoon

Apple Cider
Instructions
Prepare your pan:
Preheat oven to 350F. Spray or butter an 8x8x2 square pan. If you would like to remove the whole cake before slicing and serving, line with parchment paper, making sure there is enough overhanging on at least 2 opposite sides to remove the cake. Then spray or butter the parchment well.
Mix the Crumble:
Melt the butter. In a small-to-medium bowl, whisk together the flour, brown sugar, white sugar, spices, Kosher salt. Add the vanilla to the melted butter. Pour the butter mixture into the whisked flour mixture, and, using the fork in kind of a "fluffing" motion, combine the butter until there are pieces of varying sizes from a few crumb-like pieces to somewhat larger pieces. This makes for the crumble to be more bumpy. Set aside.
Prepare the Apples:
Peel and core the apples. Then cut into small chunks, of about 1/2″ (around 1 cm) cubes. Add the sugar and lemon juice. Stir to distribute evenly. Set aside.
Mix the Cake Batter:
Combine the dry ingredients. In a large bowl, whisk together flour, baking powder, baking soda, cinnamon, nutmeg, cardamom, Kosher Salt.
In a separate bowl, whisk the olive oil and sour cream. It will look curdled. Don't worry! Add the sugar, vanilla and whisked eggs.
Add the wet ingredients to the dry ingredients, and stir using a silicone spatula or large spoon, just until there are very few traces of dry flour mixture. It will be a bit lumpy.
Layer the Cake:
Into the prepared pan, add half the cake batter. Spread it to the edges of the pan. The layer will be thin.
Add roughly 2/3 of the apples, scattered evenly. Top with roughly 1/3 of the Crumble mixture.
Spread the other half of the batter over the crumble mixture. Scatter the rest of the apples, evenly, over the batter. Scatter the rest of the crumble over the apples.
Place the cake into the oven and bake until top is deeply golden, and the cake temperature in the middle is 190-195F. If you were to lightly press the middle, the indentation would not remain. This should take between 60-70 minutes. Mine was done at 65 minutes, but all ovens are different, so using the internal temperature is the best way to judge doneness, or the press test.
Cool 15-20 minutes before removing from pan.
Mix the Glaze and pour over the cake or individual slices when serving.
Recipe Card powered by