Seared Salmon in Spring Roll Wrap! My new favorite dish – it's an explosion of flavors and textures! So easy to make! A fun family dinner or a great appetizer!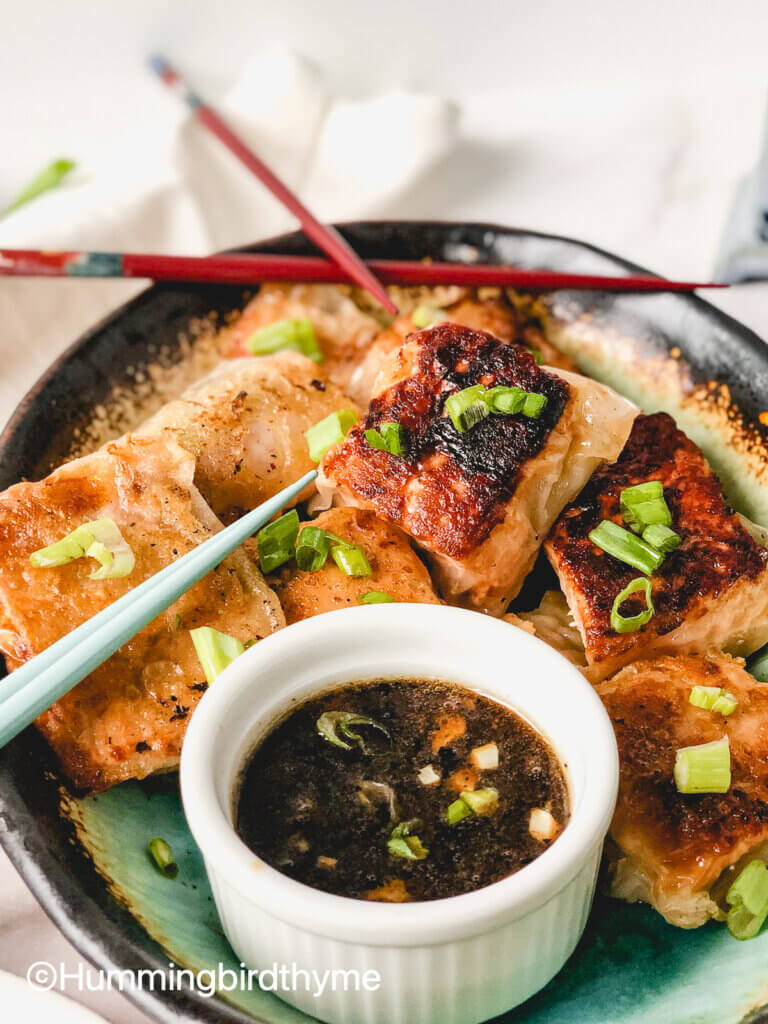 Friends – I know I promised I would try and keep away from that enormous time-sucking TikTok app I put on my phone, but I admit in a moment of weakness, I just couldn't. There I saw this recipe for Salmon in a Crispy Rice Paper from @myhealthydish. One look at these mouthwatering little rice paper-wrapped salmon bites, and I thought, "You know, I think I can make those even tastier." And, you know what? These are my new favorite lunch, dinner, appetizer, and recipe to tell all my friends about. So, once again – Sorry (not sorry)!
I call these Spring rolls because I used a Spring Roll skin to wrap them. Spring rolls are often, but not always deep-fried. Often the unfried version is filled with fresh vegetables and called a "Summer Roll." These Salmon Spring Rolls do not fit neatly into either category. They are more like a Summer Roll or perhaps an un-deep-fried Spring Roll, but then again, they aren't "rolled" per se. So, again, I apologize.
I've used the sauce from this super-easy salmon I make from Nigella Lawson, and added some garlic and ginger to that downright dippable sauce. So, like an old friend of mine from Mississippi, who often starts a sentence with, "I tell you what,…" my immediate thought was: "I tell you what – these little salmon packets, with savory/sweet/salty/umami flavor and crispy/tender/chewy texture from the inside out are a blow-out party in your mouth!" I'm not sorry.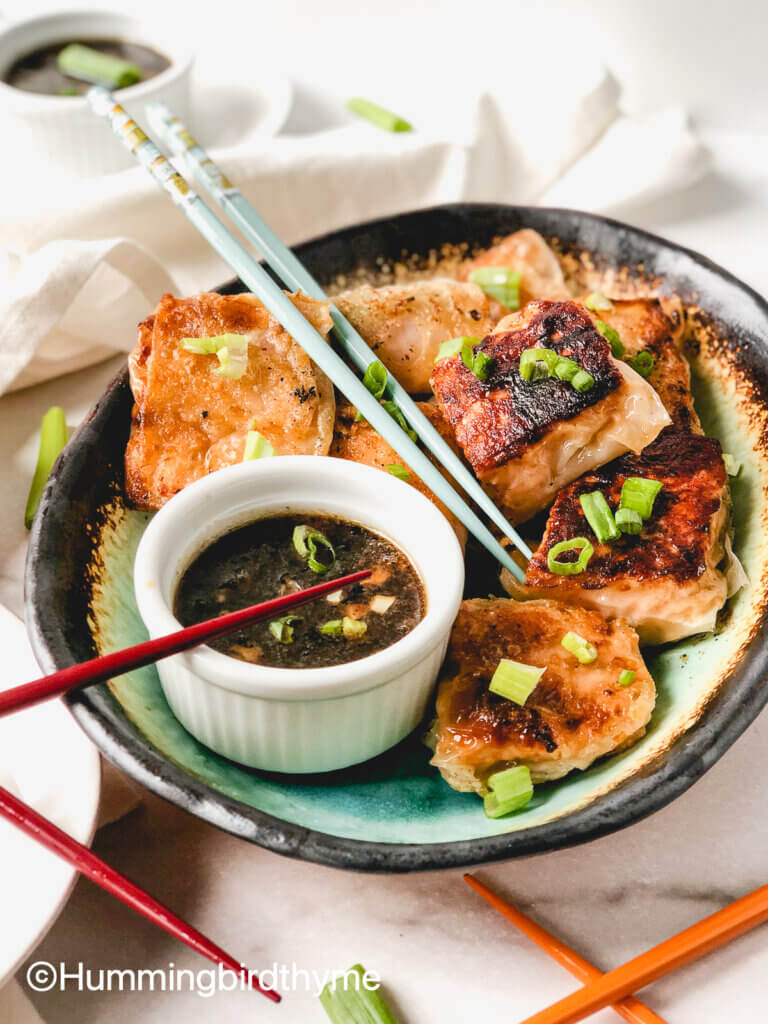 The TikTok recipe, much like this one from Julie Yoon, uses rice paper, rather than spring roll wrappers. Rice paper is a bit thinner than a spring roll wrapper, but is substitutable in this recipe. Whether you use spring roll wrappers or rice paper, you'll want to let them soak, one at a time, in cold water for up to 30 seconds, at which point the disk becomes pliable enough for you to wrap the salmon pieces. I like making Summer Rolls, so usually have those wraps on hand, so that's what I used. Now, the first time I made these, they stuck to my pan because I did not use enough oil. I recommend starting with a full Tablespoon of a heat tolerant oil like Vegetable or Grapeseed Oil, and then not turning the salmon packets until they are golden – between 1 and 2 minutes. Add another tablespoon of oil before you add a second batch to the pan.
I made my salmon pieces around 2 ounces each, a size that's easy to wrap but also easy to pick up with chopsticks or fingers, because you certainly need want to dip them in the tasty sauce! Two or three of these gems make a fine meal!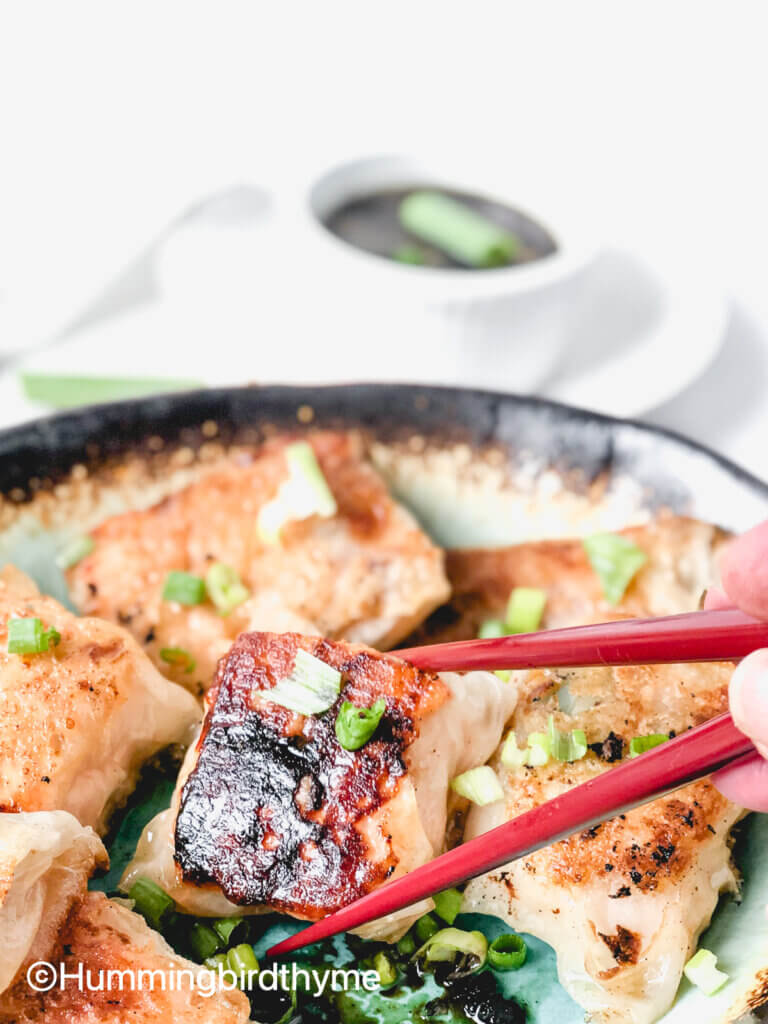 So, do you accept my apologies and contrition for my TikTok habit? Hopefully you're not mad I can't really decide what to call these "Spring rolls" (perhaps wrongly). Because I'm totally not sorry for making this recipe the way I love it! And, if you have a better name for these, by all means, leave it in the comment section!
Enjoy!
Interested in other salmon recipes? How about:
My Dad's Honey Sriracha Salmon
Lemony Salmon with Spiced Chickpea Bowl
Salmon with Pineapple Bacon Salsa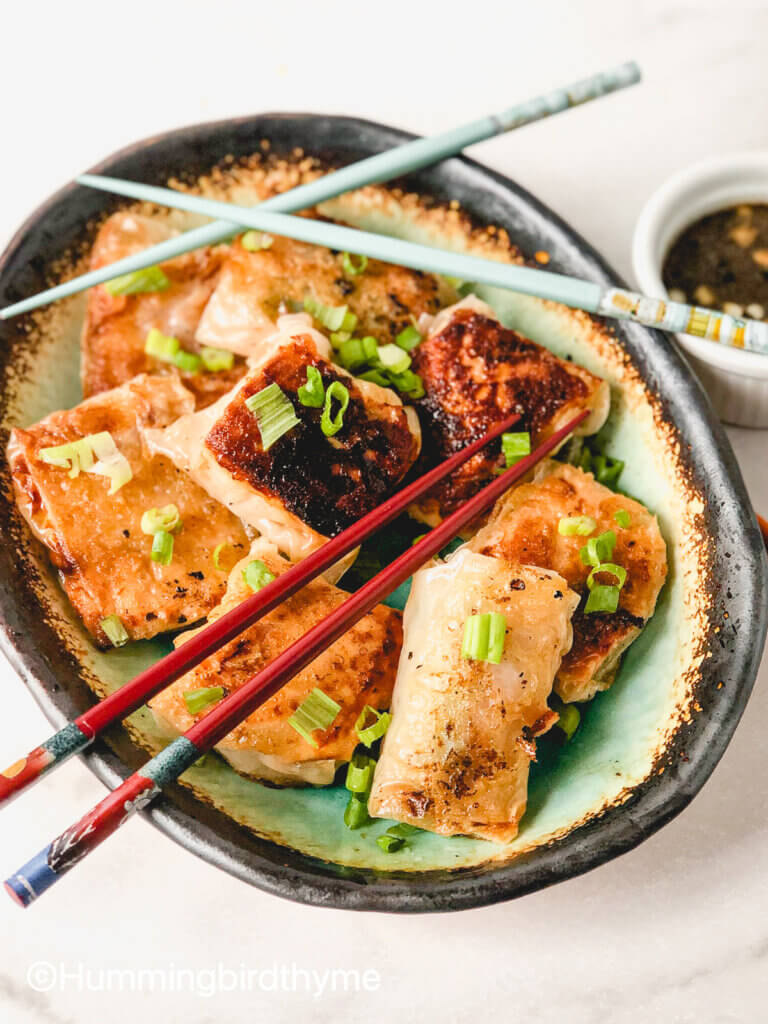 How to Make Salmon in Crisp Spring Roll Skin
This recipe is really pretty easy. It's several steps, but each step is quite simple and easy. And, with a marinade that doubles as the best Asian-style sauce there is, you really can't beat this! The steps to making these total flavor and texture bombs is as follows: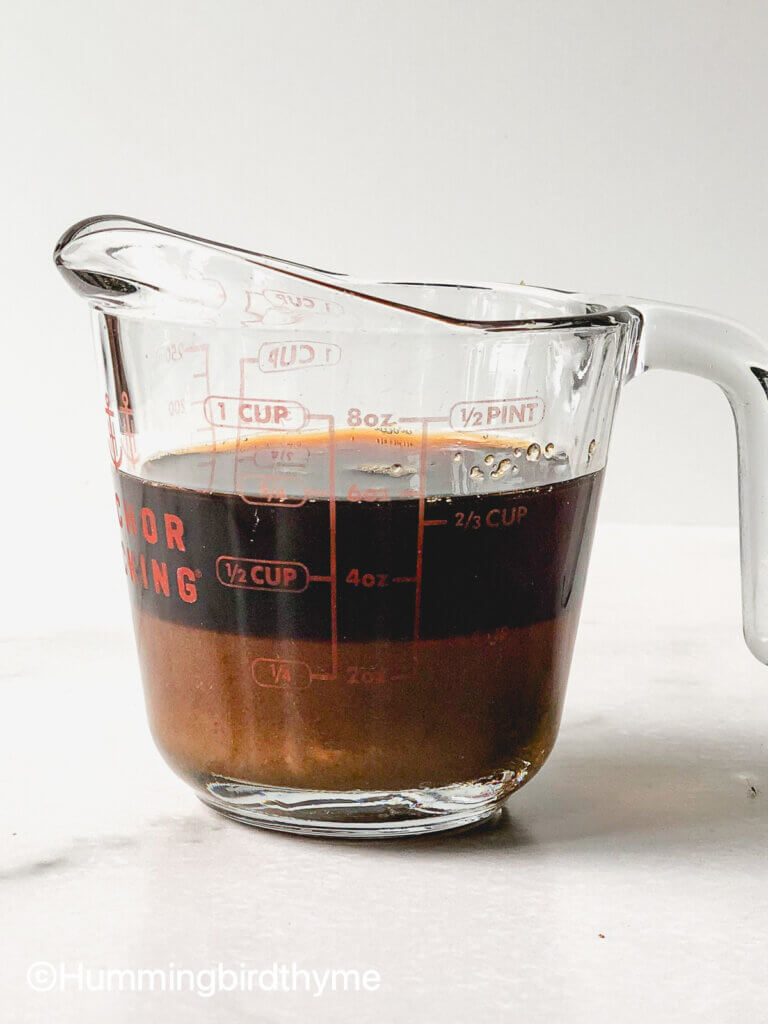 Make the Marinade (2 minutes)
Marinate the salmon fillet – (about 4 minutes)
Sear the fillet(s) on both sides, 1-2 minutes per side. Cut the seared fillet(s) into roughly 2 oz (60g) pieces. Just divide the total ounces of salmon by 2, and you'll get the number of pieces you need, or 8 pieces per pound.
Wrap them in softened rice paper or Spring Roll wrappers, along with some green onion or shallot segments.
Return the wrapped salmon packets to the pan with some heated oil and crisp the top and bottom, about 1 1/2 minutes per sided at Medium-High heat on my gas stove. This also finishes cooking the salmon.
Once the packets are crisped, remove them from the pan, then add the reserved marinade. Let it boil down for about a minute or two, then add the rice vinegar. Swirl a bit, then pour into small bowls or ramekins for dipping the packets.
Want to Save this Salmon in Rice Paper or Spring Roll Wrap for later? Pin It!
Print
Salmon in Crispy Rice Paper
Author:
Prep Time:

15 -20 minutes

Cook Time:

8-10 minutes

Total Time:

25-30 minutes

Yield:

4

servings or

8

appetizers

1

x
Category:

Seafood, Appetizer, main dish

Method:

stovetop

Cuisine:

Pan-Asian
Ingredients
1

lb

. Fresh Salmon fillet, or thawed frozen salmon, about 1-inch or more thick

1/4

cup

(4 Tablespoons) Soy Sauce

1/4

cup

(4 Tablespoons) Mirin

1/4

cup

(4 Tablespoons) Brown Sugar (Dark preferred, but light ok)

1 teaspoon

freshly grated ginger

1

–

2

teaspoons (

1

–

2

Medium cloves) freshly grated or finely chopped garlic

8

rounds Rice Paper or Spring Roll skins

1

bunch chives or

3 G

reen onions, light green area to the top of stems, cut into roughly 1 1/2″ pieces

2 Tablespoons

(

1 oz

.) Seasoned Rice Vinegar

2 Tablespoons

Vegetable, Canola or Grapeseed Oil, more as needed, divided
Instructions
In a flat-bottomed 8-9 inch pan, mix together the soy sauce, mirin and brown sugar, ginger and garlic. Set the salmon fillet in and marinate for 2 minutes, turn and marinate 2 more minutes.
While salmon marinates, heat a flat-bottomed saute pan over Medium to Medium-High heat. Pour 1 Tablespoon of Vegetable or Grapeseed Oil in the pan. When it shimmers, remove the salmon, reserving the marinade, and sear the salmon for 1-2 minutes on each side, just so it gets a nice sear. Remove the fillet, and turn the heat off momentarily.
With a sharp knife, cut the salmon into 8 roughly square pieces, about 2 oz (60g) apiece.
Pour cold water into a 9″ pie plate, and, one at a time, soak a sheet of spring roll skin for around 30 seconds or rice paper for 15-30 seconds, until it is pliable. Rice paper will be pliable in about 15 seconds, spring roll skin will take around 30 seconds. It should be translucent, sticky, and a bit stretchy. Set it on a board, and pat excess water with a paper towel. The wrap will continue to soften as you wrap the salmon pieces. This way, it will stay stuck together in the packet you fold.
When the sheet is starting to be pliable, set a piece of salmon, topped with a couple segments of green onion or several segments of chives, onto the skin, then wrap the skin over the salmon, folding repeatedly from bottom to top of the round rice paper or spring roll wrap, then fold the sides of the skin under the folded salmon, forming a little "packet". The rice paper/spring roll skin should be sticky, sealing the packet. It will continue to seal completely as it sets a minute or two. Repeat for the other 7 pieces. You may be able to soak your next spring roll skin while you are wrapping a piece of salmon in the previous skin.
Once all 8 pieces are wrapped, reheat your pan to Medium to Medium-High. Pour another Tablespoon of oil into pan and heat until shimmering. Then, 3-4 packets at a time, saute 1-2 minutes per side, until the spring roll skin is crispy on both sides. If your pan gets dry, add a bit more oil to make sure the edges get nice and crispy!
After all packages are crisped, add the reserved marinade to the hot pan. Let it heat up and reduce just a bit, maybe 1-2 minutes. Then add the rice vinegar, swirl, and pour the sauce into a bowl or two for dipping the salmon packets.
Keywords: salmon, spring roll, rice paper, Crispy spring roll, seared salmon, Asian, Pan-Asian
Recipe Card powered by