Crispy Garlic Parmesan Roasted Potatoes are SO.DANG.TASTY! A bit of effort, not too much, but all worth it! 15 minute prep, 40 mins in the oven is all it takes for your new favorite side dish!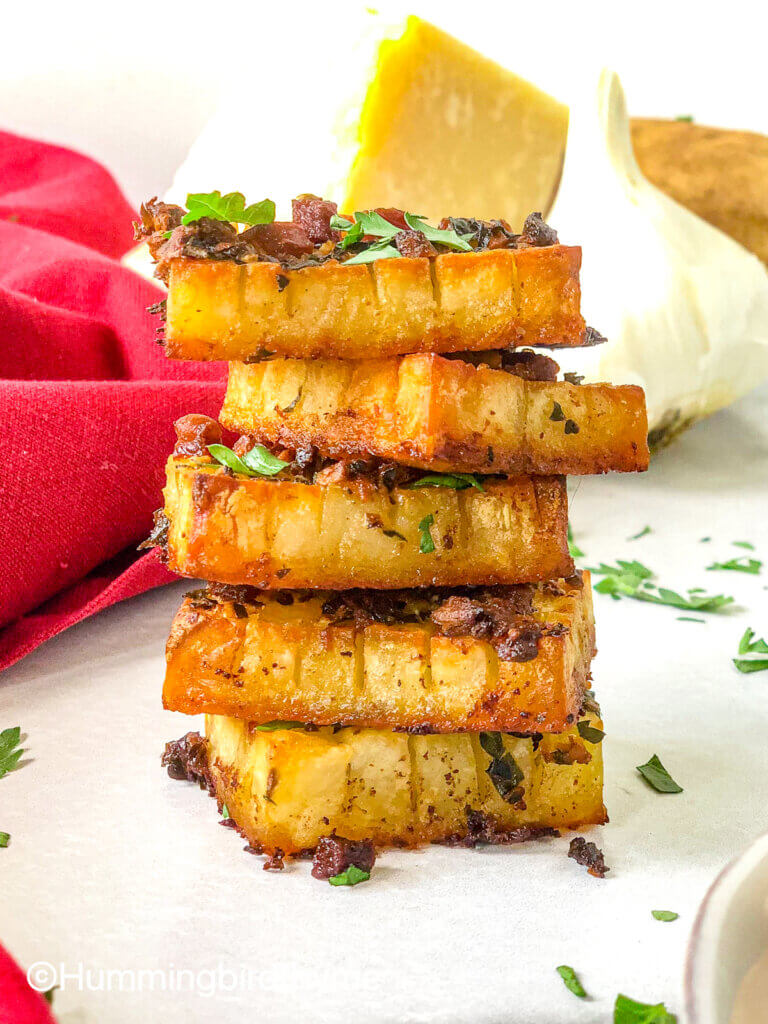 Friends, I have a serious question for you: Do you watch TikTok? I have to admit, I used to have, and sometimes often, I do still. You see, I developed a kind of habit. A habit for which I realized TikTok is the absolutely best-named app you can get from the app store. Time totally tick-tocks by in such a way that you have no idea you've just spent 45 minutes or more watching videos. And then, you think, "What did I get out of that? Knowledge? A better-formed opinion? Strictly entertainment?" Hopefully, you've gotten all three. Likely, not so much. There are some great content providers on TikTok to be sure. There are a few I look forward to seeing and could watch over and over again. That being said, wade in slowly.
Also, there are some great recipe providers. A recipe I saw recently, from a creator who goes by Moribyan, showed how to make Garlicky Parmesan Hasselback Waffle-Cut Potatoes (click TikTok to watch) or her original recipe found HERE. These potatoes are super-flavorful! Nicely golden and crispy outside, beautifully creamy inside! You'll love these. Of course, I've changed the toppings up a bit, but stay true to her method. I've amped up the parmesan and garlic a bit, and also added some lovely pancetta, just so I can eat the entire thing myself and pretend it's a full, balanced meal, because, trust me, I literally could eat the entire pan myself!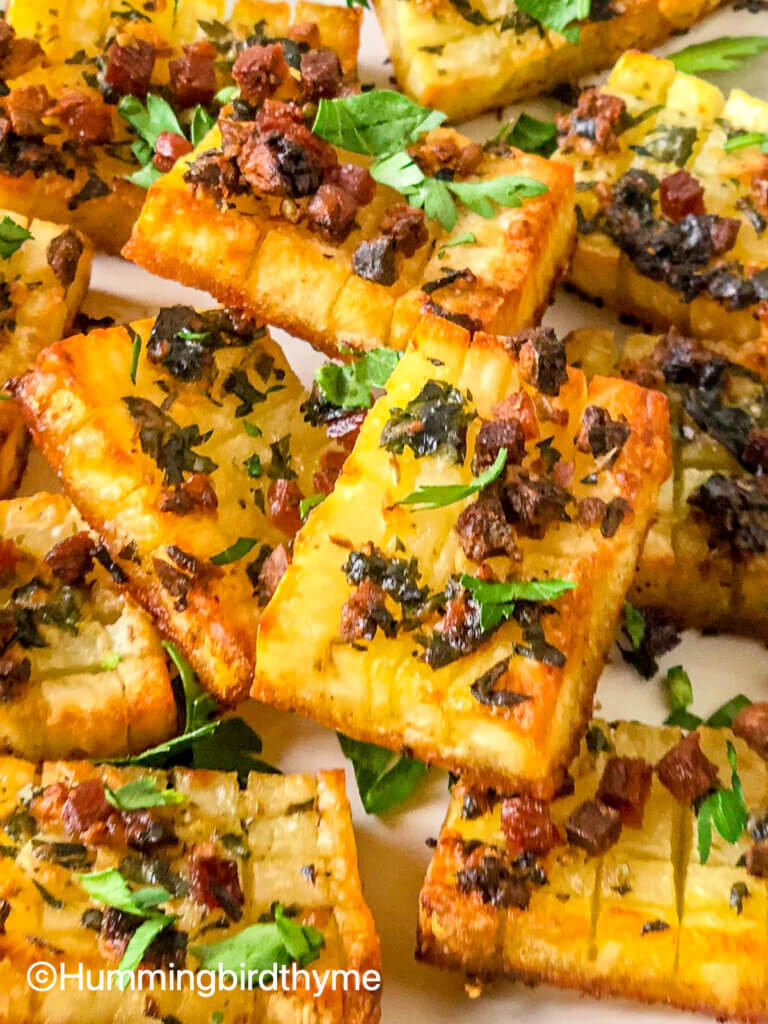 Since I developed my TikTok habit, I've been working on the TikTok diet – meaning every several days, I try to not even think about opening that app, and maybe delete it. But then, I find an enticing recipe I just have to make. That's another TikTok diet just waiting to happen!
So, tell me, are you a TikTok fan? If so, who is your favorite content creator there? If not, have these Garlic Parmesan Roasted Potatoes convinced you to either try it or avoid it?
Enjoy!
If you're looking for other side dish recipes, don't miss:
Easy Spicy'n'Sweet Corn Fritters
Zesty Roasted Carrots and Parsnips
Farro Tomato Salad with Basil and Mint
Awesome Kung Pao Brussels Sprouts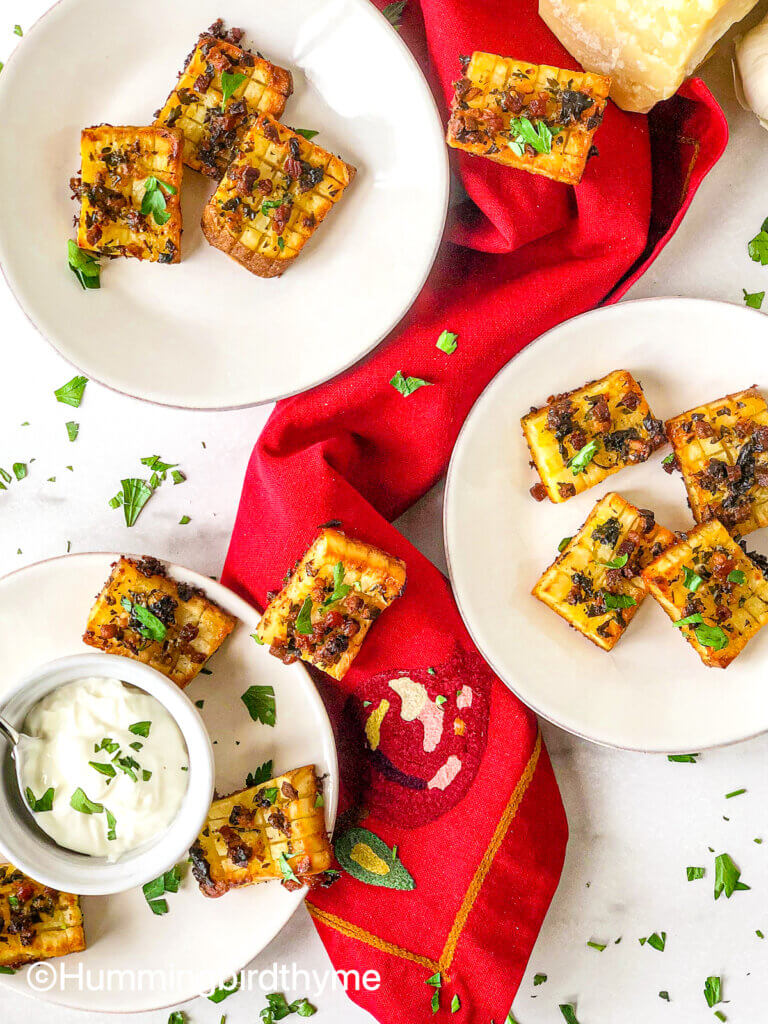 How to make Crispy Hasselback Waffle Potatoes:
As an Amazon Affiliate, I may earn a small commission if you were purchase products by clicking on links on this page. Be assured, this is at NO EXTRA COST to you, but it helps offset costs of this blog.
Some things you may need:
USAPan Sheet Pans – my favorite sheet pans!
Parchment Paper – I buy a year's worth at a time – cheap and convenient!
Ingredients and Substitutions: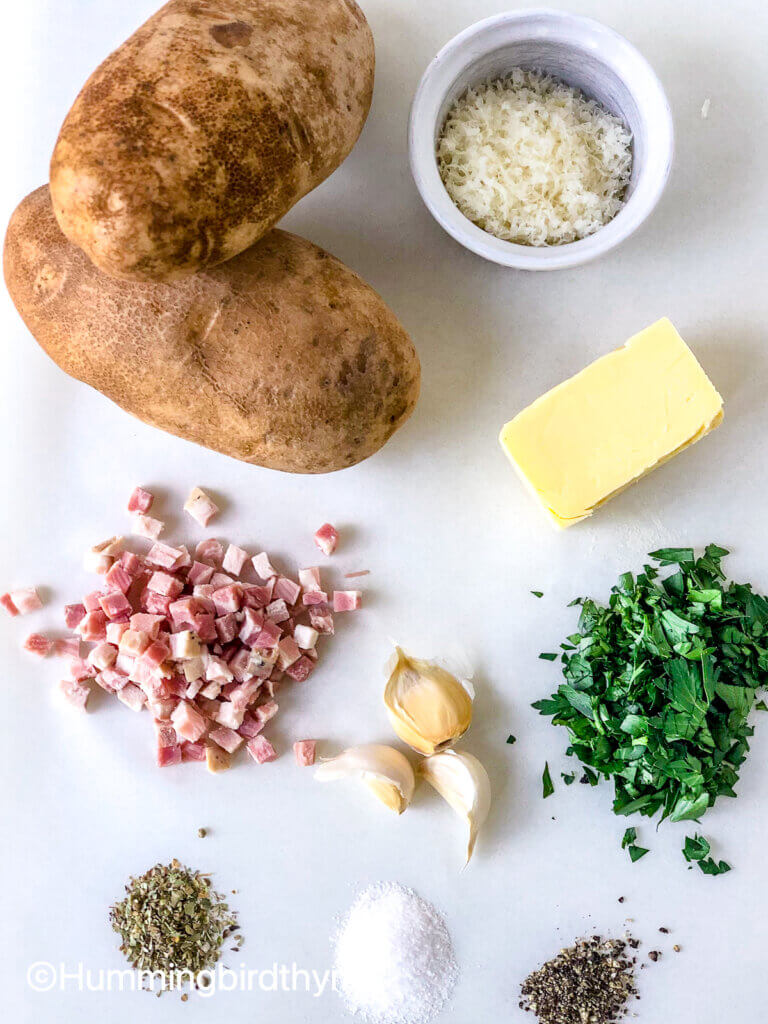 Potatoes – This recipe is for 2 large potatoes. If you have more, you'll need to adjust the amounts of the topping ingredients. If your potatoes are smaller, it will still work, but be sure you have between 1 1/2-1 3/4 lbs of potatoes, and end up with about 16 slices, each about 1/2″ thick.
Butter – I used Unsalted Butter to control the salt content, but if you use the Salted type, you may want to cut the added salt just a bit. Also, I've made this recipe with half-Olive Oil and half-butter. It works just as well, the potatoes are just as crispy and delicious!
Parmesan Cheese – I used Parmeggiano-Reggiano, since that's what I usually have on hand. One tip I have here is that any time there's a cheese sale at the grocery, I like to purchase a nice big block. It lasts several months wrapped in parchment in the fridge.
Garlic – I used fresh garlic, about 2 large or 3 medium cloves. You'll want to grate it fairly finely. Or, you could use Granulated Garlic, or Garlic Powder. I'd use 3/4 tsp.
Oregano – just a quarter teaspoon adds some nice flavor!
Parsley – Fresh Parsley adds some fresh flavor to the whole dish! I love to use it in the butter baste as well as a nice sprinkle at the end!
Salt and Pepper – always in every savory recipe!
Pancetta – you'll need only 3/4 of an ounce. A small enough amount to purchase the good stuff at the deli counter, or a partial package of the pre-packaged variety. Cut it in tiny cubes, about 1/8-1/6 inch size is perfect for each slice to have a few bits of pancetta. I add it when I remove the potatoes after 20 minutes. This will prevent them from getting too crispy!
Optional: My family loved dipping these tasty squares in sour cream or ranch dressing, so if you feel the need to add something, I recommend the sour cream!
Step-by-Step Instructions for these Crispy Garlic Parmesan Roasted Potatoes:
Cut the Potatoes – You'll want to turn your potatoes into an elongated cube or rectangle. I tried it with keeping the skins, and you can certainly do this, but they do not get as crispy that way, and for me, the crisp is what sold me. Don't worry, I didn't waste the skins, I just bake them on another sheet, drizzled with butter and/or olive oil, and sprinkled with salt or Tajin(!). Then cut the elongated cube into 1/2″(1.25cm) sections.
Score a grid pattern on each square. Using 2 chopstick as a guide, I cut a grid pattern of vertical lines, about 4 per square. Turning each square 90 degrees, also cut a horizontal pattern of lines.
3. Make the Garlic-Parmesan Butter baste – Just melt the butter in the microwave, and add the rest of the ingredients, except for the pancetta, you'll sprinkle that when you give the potatoes their second basting.
4. Baste the Potatoes – Spread the bottom of each potato section with the butter mixture, place it on the sprayed or parchment-lined sheet pan. The Baste the top with more butter mixture. There'll be some butter left, don't worry, it will all be used.
5. Roast! Into the preheated oven for 20 minutes. Then remove the pan. The potatoes should be lightly browning around the edges. Baste with the rest of the butter mixture, and sprinkle each piece with a few cubes of pancetta. Back to the oven, where they will finish their browning and crisping journey. Once done, remove to a plate and serve! We liked dipping them in Sour cream! Sort of a "potato skin" – like treat!
Pin this Recipe for Later! ->
Print
Crispy Garlic Parmesan Roasted Potatoes
Golden, crispy, oh so flavorful! These waffle-style potato slices will become your favorite side dish! Brushed with salty, cheesy, garlic buttter, and topped with crispy pancetta, these slices are nothing but joy.
Leftovers can be warmed in a 325 oven for about 6-7 minutes
Author:
Prep Time:

20 min

Cook Time:

40 min

Total Time:

1 hour

Yield:

4

servings

1

x
Category:

Side dish

Method:

Oven Roast

Cuisine:

International
Ingredients
2

Large Russet Potatoes (about

1.5

–

1.75

lb altogether)

1/3

cup

(75g) melted butter (I used salted)

3 Tbsp

(

12g

) Freshly Grated Parmeggiano Reggiano (or other Parmesan cheese)

1 Tbsp

(

2

–

3

cloves) Grated Garlic

1/4 tsp

Dried Oregano

1/2 tsp

Kosher Salt (

3/4 tsp

if using Unsalted Butter)

1/4 tsp

Black Pepper

2 Tbsp

Chopped Parsley, plus extra for garnish

3/4

oz

(22g) Pancetta, chopped into tiny cubes
Instructions
Preheat oven to 400F (375F for Convection). Slice the peeled sides and ends from the potatoes so that the remaining potato is an elongated, peeled (or mostly peeled) cube or rectangle.  Then slice the elongated cube into 1/2-inch slices.
Positioning the slices between 2 chopsticks (or similar), and using a sharp knife, score vertical and then horizontal lines onto each cube. Lay the cut pieces on a sprayed or parchment-covered baking sheet. You should have around 16 pieces.
In a small bowl or measuring cup, melt the butter in the microwave. Then stir in the remaining ingredients, except for the pancetta.
Brush the bottoms of each potato slice with the butter mixture and set back on the pan or parchment.
Then brush all of the tops, with more of the butter mixture, making sure they each have some parmesan and garlic.  Place the pan of potatoes in the oven for 20 minutes. Remove the pan, brush with butter mixture again, then sprinkle a few bits of pancetta over each potato slice. You should be able to use all of the butter mixture. Return to oven for 20 more minutes.
Remove from pan, sprinkle with more parsley and/or Parmeggiano-Reggiano, and serve.
Keywords: Tik Tok potatoes, Hasselback potatoes, crispy roasted potatoes, Garlic Parmesan potatoes, how to make roasted potatoes, how to make crispy potatoes
Recipe Card powered by