Spicy Sweet Corn Fritters! Quick and Easy! These tender and sweet fritters are mostly the sweet niblets of corn we all love! Flavored with green onions, sweet and spicy peppers and cheese, and nestled into a slightly sweet, tender batter, these crispy fritters are out-of-this-world delicious!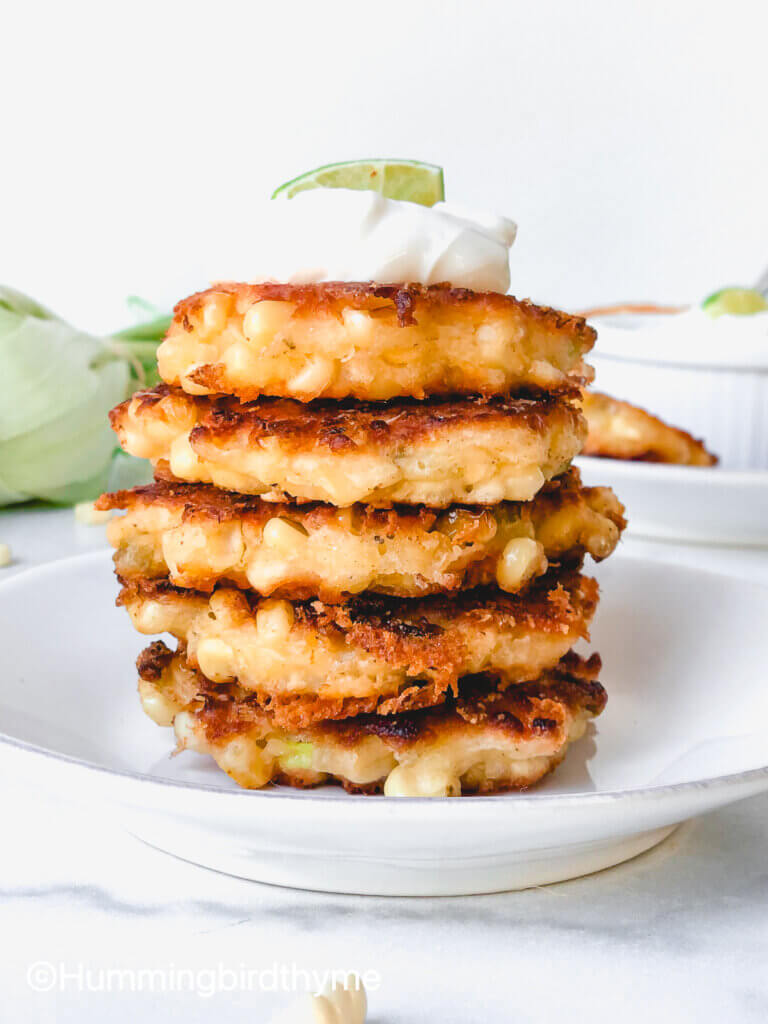 We never had fritters when we were kids. "Fritters" was not even a word with which I was familiar. I'm not sure I could've even told you what a fritter was. That is, until I was a teenager, and one of my friends got a job at a Fried Chicken Takeout Restaurant. It was one whose slogan was "It Tastes Better." Now, we all know which Colonel they were comparing themselves to, don't we? I have to say, I'm not sure the chicken tasted better – although it was yummy! But, and it's a big BUT, they had these Corn Fritters…and, Oh my goodness – deep-fried clouds of joy. Sweet, tender, dough-y fritters, that did indeed have a few detectable corn niblets in them. Possibly closer to a donut than the kind of Corn Fritter I make, which I happen to like better, and think you will, too.
But, since then, you can bet I know a fritter when I hear of one. So I present to you my version of the Corn Fritter. Healthier than a fully deep-fried fritter, since it's sauteed in enough oil to get a crispy edge. And it's mostly corn, to be honest, since it is a Corn Fritter. I use a slightly sweet batter, just like that first corn fritter I tried. But, unlike that fritter of long ago, not much of the batter, but you won't miss it, I promise. Because along with the corn, there's some green onions and a bit of cheese for that melty mood we all love, my fritter also has some sweet heat, thanks to chopped sweet and spicy peppers.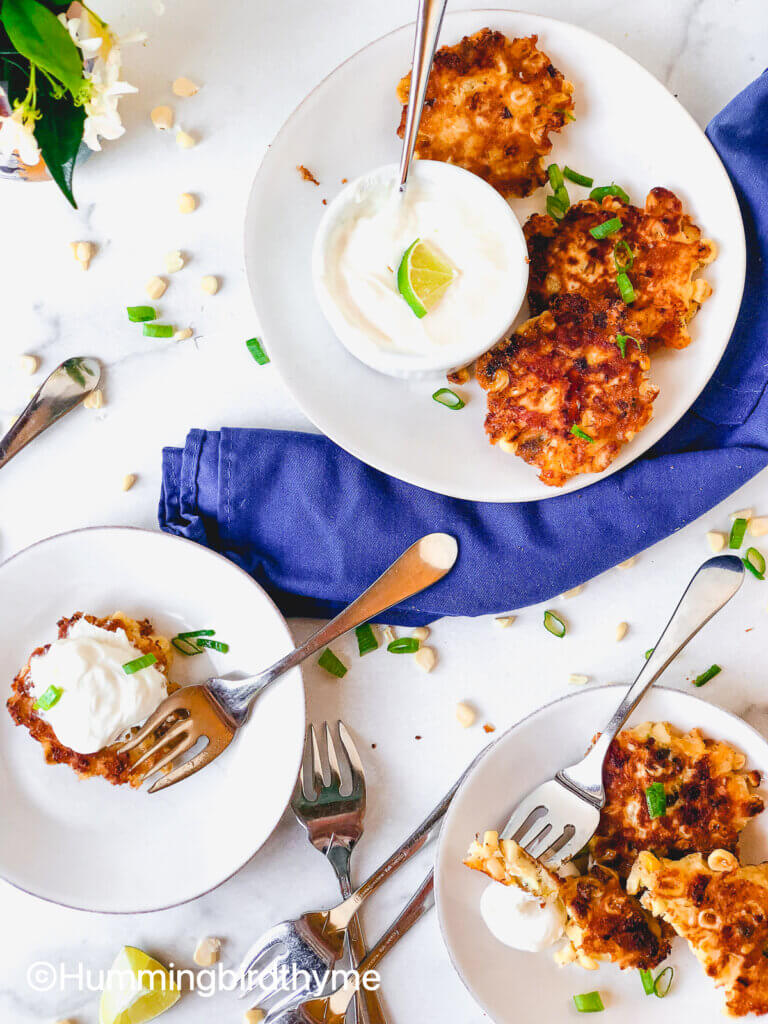 So my fritter is mostly filling with just a little lightly sweet dough. That's so you can see and taste the lovely corn kernels, bits of onion and spicy/sweet peppers. Also, any corn kernels that touch the hot pan also become slightly crispy – so tasty! These light fluffy fritters work well as a side dish, or I've also been known to use them as a bread to make a little sandwich with taco meat, or Barbecued Pulled chicken or pork before dipping them. So many choices!
This fritter comes together quickly and cooks in just 5-6 minutes. You can eat it as is, or whip up a little dipping sauce or spread. I like mine with a simple lime-sour cream dip (that I include in the recipe below) but feel free to use mayonnaise or Greek Yogurt or whatever suits your preference. Or, any other sauce, even salsa, would be delicious with these Spicy Sweet Corn Fritters.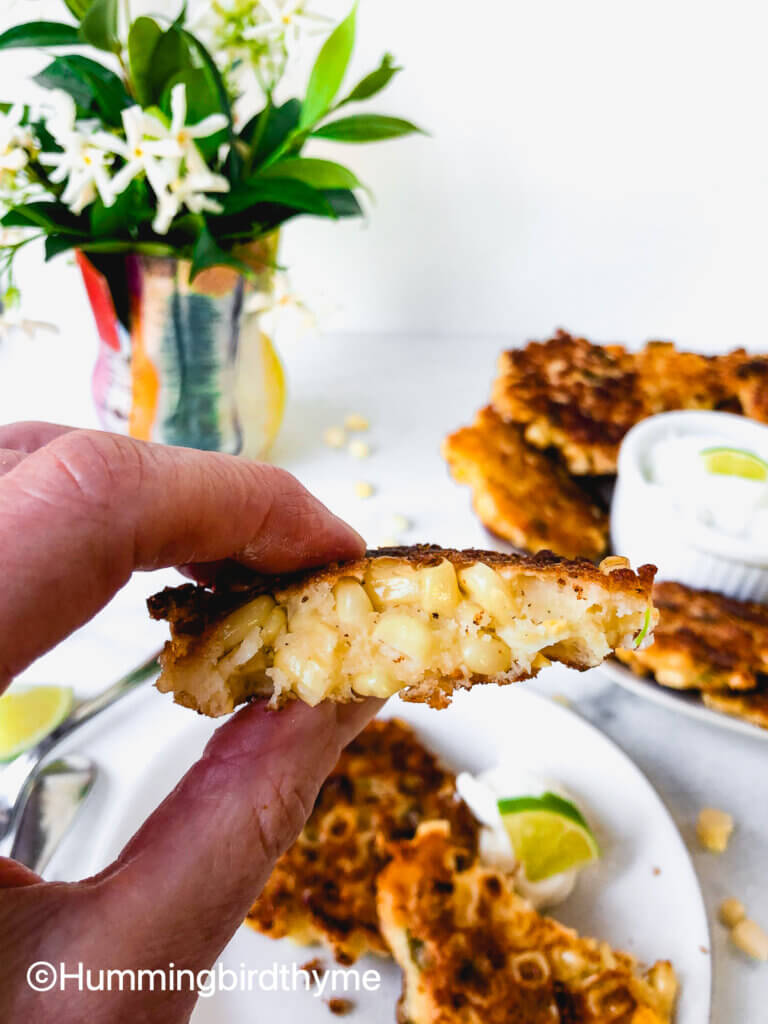 So, have you ever tried to re-make a fast-food favorite into something slightly healthier and tastier? I'd be curious to know, as I'm always looking for great substitutes for eating-out favorites!
Enjoy!
Looking for other Corn recipes?  Don't miss these beauties:
Spicy Mexican Street Corn Salad
Blueberry Crumble with Pistacchio Crumble Crust
Chicken Mole with Crispy Corn Crust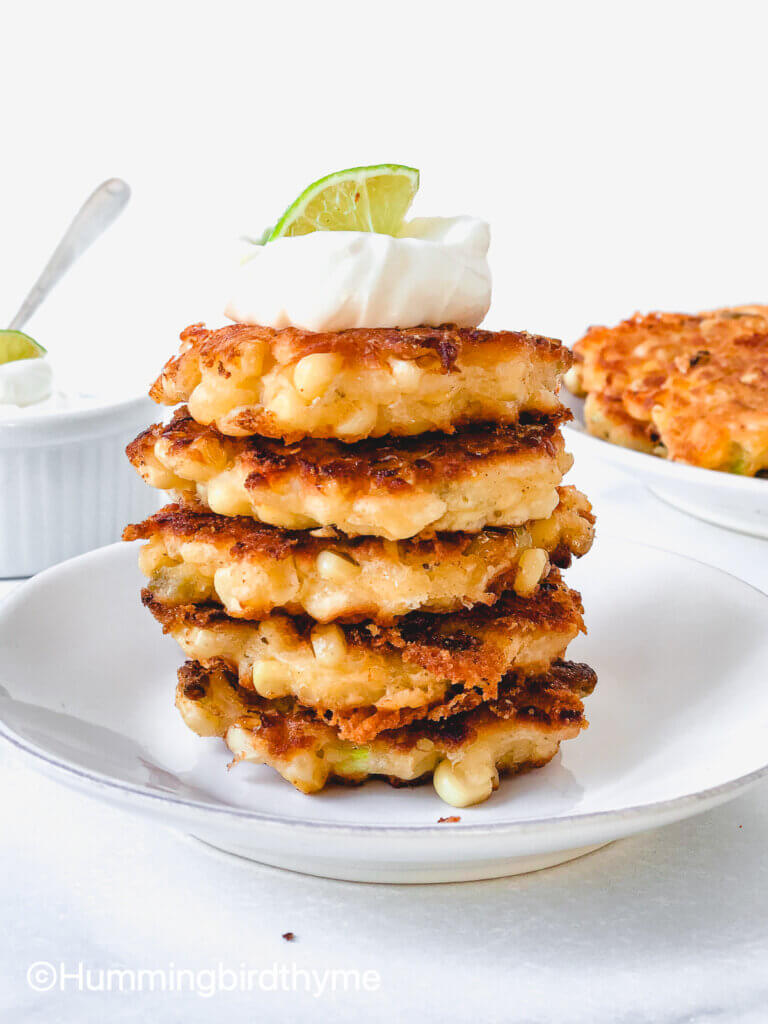 How to Make this Sweet and Spicy Corn Fritter Recipe
I am an Amazon Affiliate, so please know any purchases you make through links provided on my page allow me to make a small commission, to maintain this site, but at no additional cost to you.

Some things you might need:
The Ingredients:
Corn – You'll need about 2 1/2 cups of Corn niblets. That's about 2 large corn cobs' worth. (Here's a tip to cleanly shuck the cob: place the entire cob (or two) in the microwave for 1 minute on High. It will then be easy to cleanly remove the leaves and strands from the corn!) I like to slice the kernels off the cob with a sharp knife while standing the cob in a 13×9 pan. This will keep the kernels in the pan, not all over your kitchen! You could use well-drained canned corn, or frozen corn niblets if you prefer or have on hand. White or yellow? Whichever you prefer or have on hand as well!
Sweet and spicy peppers – for just a touch of sweet heat -I like Peppadew Red peppers or Trader Joe's Sweet and Spicy Jalapenos. I finely chopped enough to make about 3 Tablespoons.
Cheese – Cheese adds a bit of nice creaminess and if you use a sharp cheese, it adds that nice sharp note to the sweet corn. I used Sharp Cheddar but you could use any hard cheese you want, from Monterrey Jack to Cotija to Parmeggiano-Reggiano.
Green Onions – I sliced up the white and light green part of 2 scallions, because I wanted some onion flavor here. You could also use 1/2 teaspoon of Onion Powder if you prefer.
Eggs – Since corn niblets don't naturally stick together, like, say, shreds of zucchini, I find i need 2 whole eggs to bind my patties.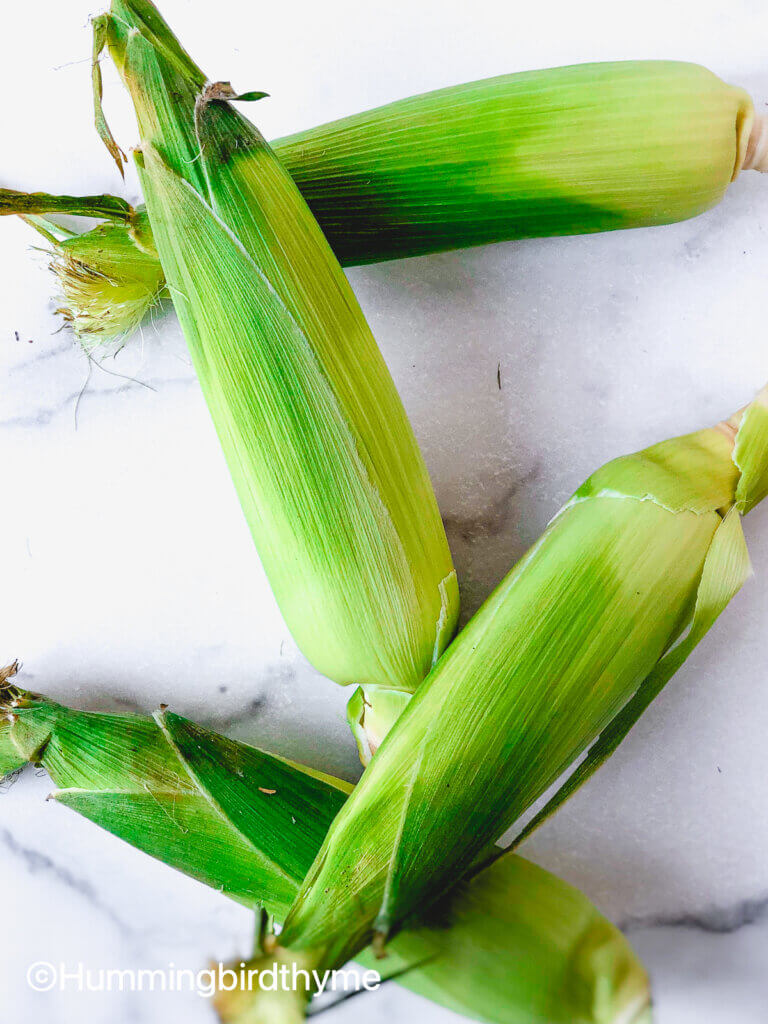 Milk – just a bit to help make a batter. I used whole milk, and thus, recommend that. You could also use half-and-half or cream if you want.
Cornstarch, also known as "Cornflour", tends to get a bit crispier when sauteed than does All-Purpose flour. AP Flour stays a bit more tender. So I use part Cornstarch, part All-Purpose Flour.
AP Flour – for the batter, as I mentioned before, I use half cornstarch (cornflour), and half all-purpose flour.
Sugar – Just 1 Tbsp highlights the sweetness of the corn.
Salt – don't forget the salt – it brings out all the flavors!
Baking Powder – some nice rise keeps the cooked batter nice and tender.
Cooking Oil – I recommend Canola Oil or Vegetable Oil. I sauteed some of the fritters in Olive Oil, but liked the Canola Oil was able to get hotter and resulted in a slightly crispier fritter.
Dipping Sauce – I made a super-simple dipping sauce with sour cream, lime juice and salt. You could substitute Mayonnaise or Full-Fat Greek Yogurt and make a similar sauce, or use your favorite salad dressing or sauce.
Simple Step-by-Step Recipe: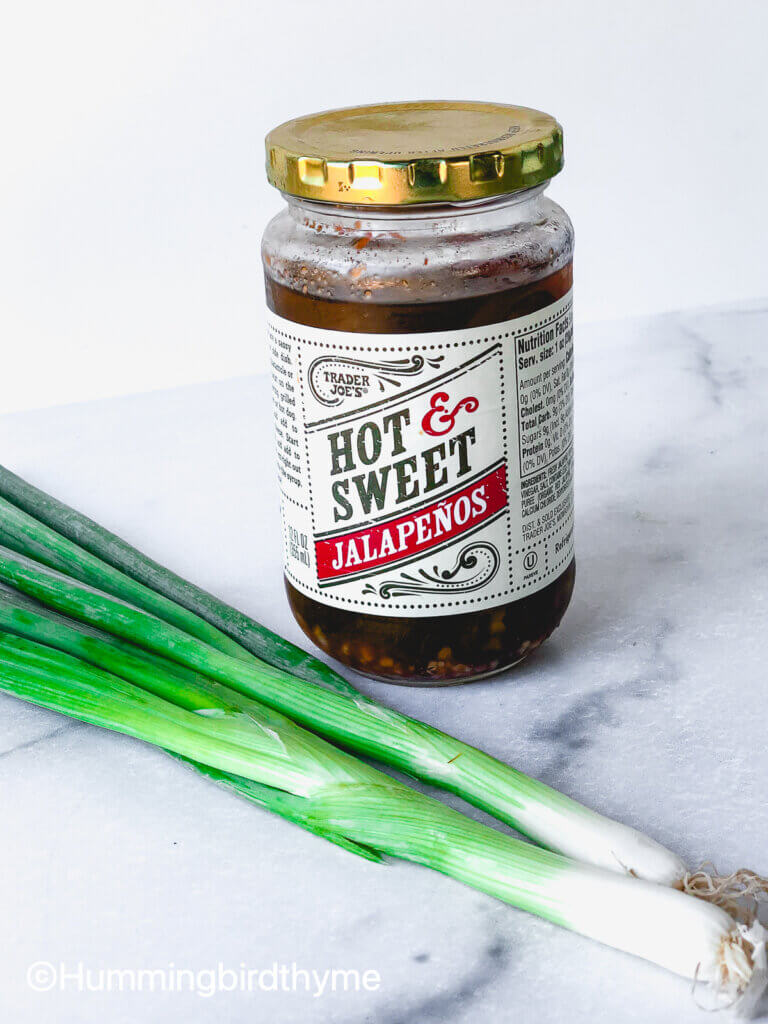 First, you'll gather your ingredients. You'll need 2 bowls – one a Medium-sized, where you'll mix up all the vegetables, cheese, and then add the eggs and milk.
Second, combine the dry ingredients: cornstarch, All-Purpose Flour, Sugar, and salt. Add that mixture to the corn mix and stir until it becomes a bowl of barely-battered corn-cheese-pepper mixture.
Third, Heat the saute pan, add some oil, and drop cookie-dough sized blobs of batter into the oil. Saute on both sides, until beautifully golden brown. Then dig in! Dip into your favorite dip, or make mine, which is just some sour cream, lime juice, and a pinch of salt. So easy, so delicious!
Want to Save this for later? Pin it!
Print
Spicy Sweet Corn Fritters
Try these wonderful sweet and slightly spicy corn fritters! Such easy prep! The batter is thin but puffs up nicely into a tender fritter full of sweet corn, bits of onion and sweet and spicy peppers and a bit of melty cheese! Use the sauce/dip recipe included or feel free to use any sauce you like and have on hand! Just a few minutes from cob to pan and a few more to cook!
Author:
Prep Time:

15 min

Cook Time:

6 min

Total Time:

21-30 min

Yield:

18

Fritters

1

x
Category:

Side Dish

Method:

Stove top
Ingredients
2 1/2

cups

Sweet Corn Niblets – Fresh-sliced from the cob, 10 oz. (283g) Frozen or canned (drained well)

2

Green Onions (Spring Onions), white and light green parts, thin sliced

3 Tbsp

finely chopped, jarred sweet and spicy peppers such as Peppadew or Sweet and Spicy Jalapenos

1/3

cup

(80g) Shredded or grated hard cheese (I used Sharp Cheddar, but any firm cheese you like would be good)

2

eggs, lightly beaten

2 Tbsp

(

30

ml) Whole Milk

4 Tbsp

(

31g

) All-Purpose Flour

1/3

cup

(40g) Cornstarch (Cornflour)

1 tsp

Baking Powder

1 Tbsp

(

13g

) Granulated Sugar

1 tsp

Kosher Salt

1/4 tsp

Black Pepper

4 Tbsp

(60ml) Vegetable or Canola oil, plus more, as needed
Dipping Sauce (Optional)
1/2

cup

Sour cream
Juice of

1/2

lime
Pinch of Kosher Salt
Instructions
Combine the Fresh Ingredients: In a Medium Bowl, mix together the corn niblets, sliced green onions, chopped peppers, cheese. Mix in the lightly beaten eggs and milk, and stir until incorporated.
In a separate small bowl, whisk the Flour, Cornstarch, Baking Powder, Sugar, Salt and Pepper.
Add the dry ingredients to the mixed fresh ingredients. Stir until well-distributed. The mixture won't look much like a batter at this point, rather just some lightly-coated ingredients. The small amount of batter will seem thin in consistency, so be sure to stir a bit as you scoop, just to make sure the amount is uniform across all fritters.
Heat a large saute pan over Medium heat. Add the oil. When it begins to shimmer, drop 2 Tbsp-size dollops of the corn mixture into the hot oil. (You'll want to stir your ingredients every few scoops to distribute the thin batter.) Once your pan is full, gently press the fritters with the back of a spoon or silicone spatula gently to flatten. Cook until bottom is golden brown, about 2-3 minutes. Flip the fritters and continue cooking until second side is also dark golden, another 2-3 minutes. Remove to a cooling rack set over a sheet pan to drain. 
Make or serve with a dip. I made a dip by squeezing a half lime and a pinch of salt into about 1/2 cup sour cream. Feel free to use Mayonnaise, or Plain greek yogurt. 
See Note for instructions for reheating leftover fritters.
Notes
Leftovers? Just cover and refrigerate. To reheat, place on sheetpan in 350F oven 9-10 minutes!
Keywords: sweet corn, spicy, corn fritters, fritter recipe, vegetable recipe, easy corn fritters, best corn fritters, healthy corn fritters, sweet and spicy corn fritters, spicy sweet corn fritters
Recipe Card powered by