Blueberry Lemon Icebox Cake – lush, cool and creamy mascarpone whipped cream, layered with tangy lemon curd, sweet blueberry jam and graham crackers.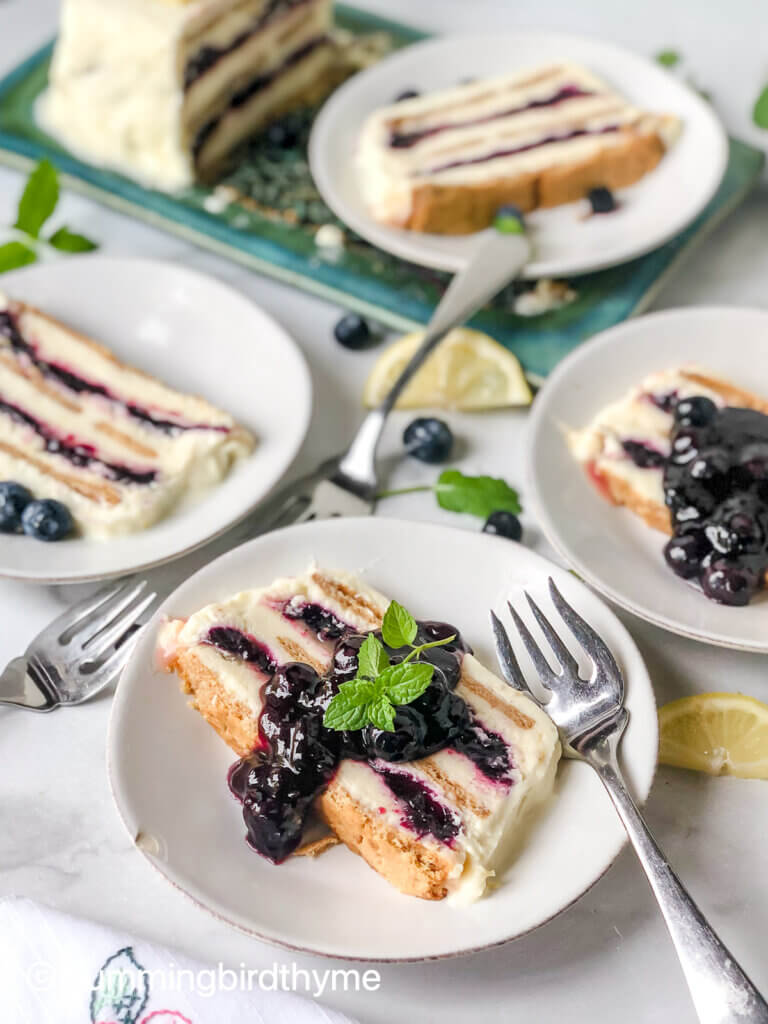 There were several years of my life I didn't eat any blueberries. Crazy, right? Because who doesn't love these deliciously bursting juicy orbs of sweetness? I love them so much that years ago, I planted 6 gorgeous blueberry bushes on my patio deck. I highly recommend this – they are so easy to grow, and care for, produce abundantly year after year, and the trunks and stems become a beautiful vibrant red during the fall and winter. A plant that is a lovely and delicious experience all year-round.
But this is precisely the reason I didn't have a single blueberry for several years – If I had the plants, why would I buy any at the market? Silly me! In an effort to keep my curious (then) 18-month-old son busy, I introduced him to the blueberry bushes. It was unfortunately ME who suggested that he go and check to see if any of the blueberries were ripe. And it was also ME who suggested he might "test" them to see how they were. He began "testing" them a few many times a day, every day. And, as there were 6 separate bushes – well, you get the picture. If only I'd have known about this Lemon Blueberry Icebox Cake in those days, I'd maybe have suggested he go look for the cats or something.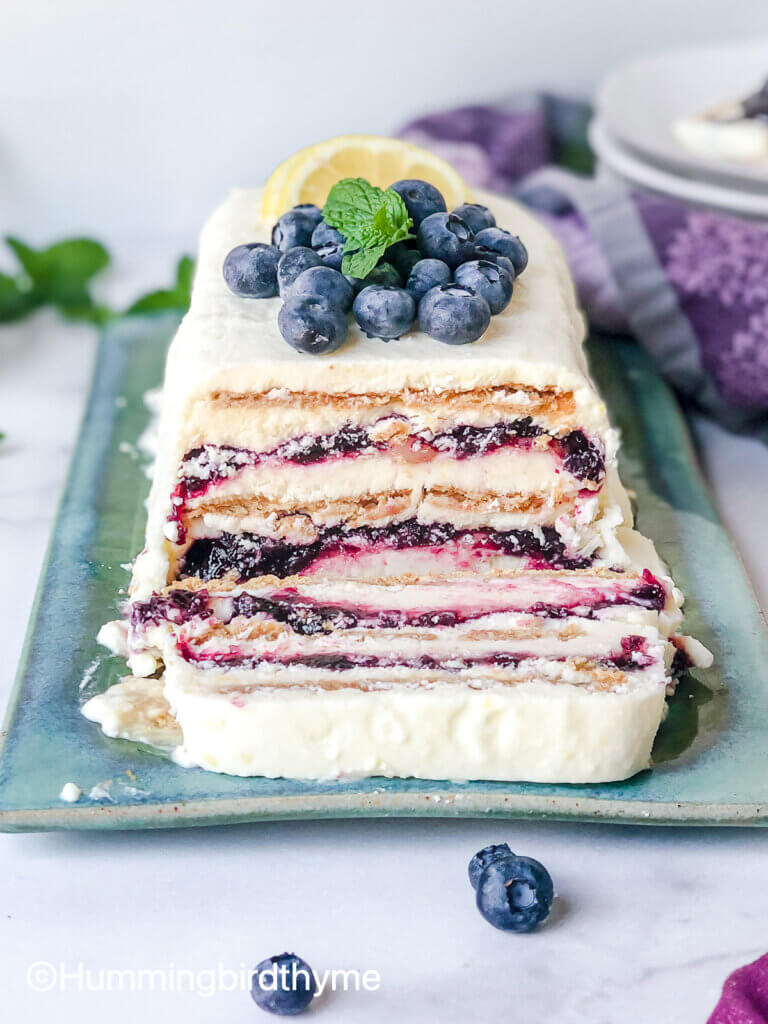 So, indeed, it was my own fault I went several years without a single berry. He loved them so much, and I, of course, loved seeing his beautiful, purple-tinged lips and teeth and cheeks as he ate them, one-by-one. He began harvesting them earlier and earlier, loving the underripe ones as much as the fat, blushing, purple ones. No way I could have wasted a single one on myself. What great memories! Remind me to plant some more of those bushes. (They disappeared during a remodel.)
This recipe for a lush, Lemony Blueberry Icebox Cake, is adapted from one from Epicurious that I made several years ago. I have a different method for making the Mascarpone Whipped Cream, and I also use jarred Blueberry Jam, instead of making the homemade Blueberry Chia Seed Jam you can make by clicking the link.
This lovely Blueberry Lemon Icebox cake reminds me of those days. It is a no-bake confection that combines mascarpone cheese, blueberry jam, lemon and graham crackers. Nothing bad in that list! Now it does take some advance preparation. It's a great thing to make in the morning or up to a week in advance of serving. You can serve it frozen if you like, or place it in the fridge 30 minutes before serving to soften it a bit. Oh my, my mouth is watering. So dang good. And so refreshing on a hot day!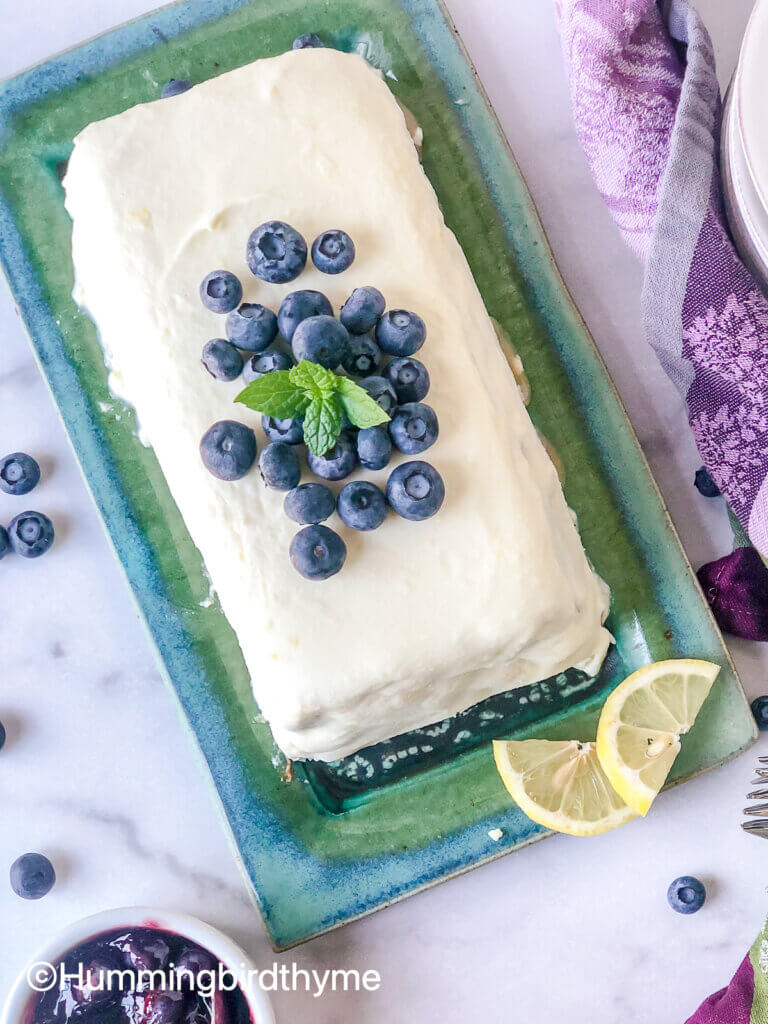 So, tell me, do you grow any of your own produce? Maybe something in particular that is so delicious you don't even have the chance to partake? I'm curious to know if anyone else has a blueberry bandit like I do. 😉
 Enjoy!
Looking for other easy and tasty no-bake desserts? Why not try:
Easy Meyer Lemon Blueberry Trifle
Homemade Peanut Butter Cups (Better than Reese's!)
Any of these awesome No Churn Ice Creams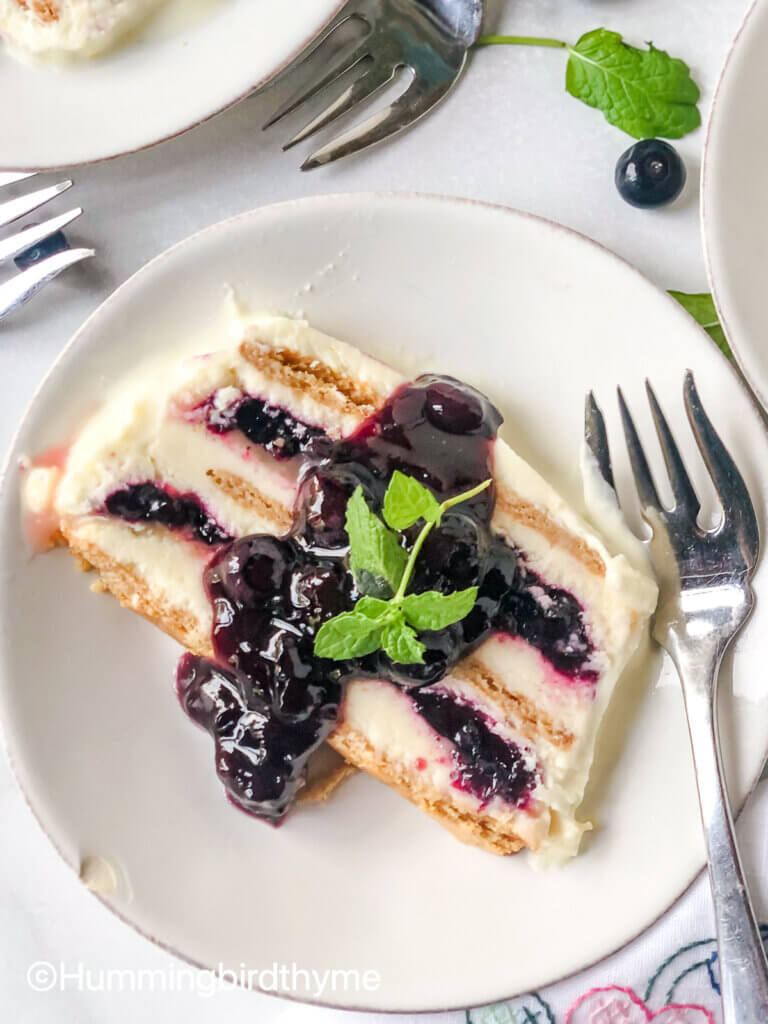 How to make Blueberry Lemon Icebox Cake:
Things you may need:
Loaf Pan – I love my USA Pan pans!
Zester – love the easy-hold handle on this one!
Offset Spatula – A small one is totally worth the small price!
Ingredients and Substitutions:
Mascarpone Cheese – You need an 8 oz. tub, just remember to remove it from the fridge about 10-15 mins before you mix up the whipped cream mixture. You don't want it warm, nor do you want it straight from the fridge, so maybe when gathering your ingredients, just get it out first. I've only made this withe Mascarpone, but if you must, you could use cream cheese, but since it's a bit firmer than Mascarpone, I'd let it sit at room temperature around 30 minutes so you could whip it easily.
Whipping Cream – You'll need 2 1/2 cups. I used "Heavy Whipping Cream," as opposed to the lower-fat "Whipping Cream."
Graham Crackers – You could use any brand. You'll need 16 squares, which is 8 "sheets" that some brands come in. You'll need to break some of them into pieces in order to fit into a layer. You could substitute Vanilla Wafers if you like, you'll need enough to create 3 cookie layers.
Fresh Lemon Zest – You'll need 2 Tablespoons, or the amount you'd get by zesting a large lemon or 2 medium lemons.
Blueberry Jam, Preserves, or Spread – feel free to substitute blackberry or other berry that you love, but blueberries and lemons have such a fantastic flavor when joined, they are worthy of a whole category of recipes. Whatever brand is your favorite, there are many to choose from! Make sure your jar has around 480g, about 1 1/2 cups.
Lemon Curd – you can make your own, like I did in this recipe for Meyer Lemon Blueberry Trifle, or purchase a jar, you'll need 1 cup, about 8 oz or 240g. Most containers have 11.5 oz, which is enough for the recipe. I've never had a bad lemon curd, but I used the Bonne Maman brand for this recipe. You can order you favorite lemon curd HERE.
Optional Ingredients (but strongly recommended!) – some fresh blueberries to mix with some jam to make a sauce to put over the cake, and some fresh mint for garnish.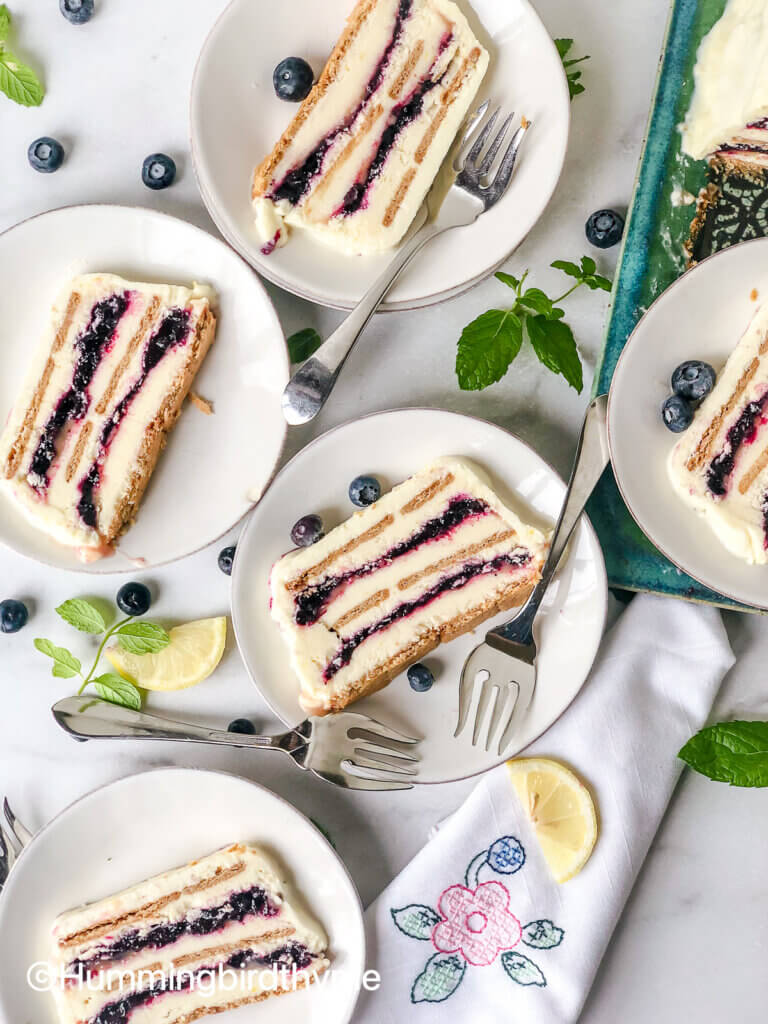 Step-by-Step Instructions to make the Mascarpone Whipped Cream:
You'll want to first gather your ingredients. Then, prepare your pan by placing plastic wrap into it, making sure there is an overhang of wrap on each of the 4 sides.
Next, whip up the mascarpone whipped cream by first whisking a mixture of mascarpone, confectioners sugar and lemon zest. In a separate bowl, where you'll need a stand- or hand-mixer, whip the heavy cream to soft peaks, then add back the Mascarpone mixture and whip until it holds its shape nicely.
Separate out 1/3 of the whipped mascarpone cream and refrigerate – this will be the cake's frosting.
Then, fold some lemon curd into the remaining whipped mixture. This will be used in the cake layers.
How to Layer the Icebox Cake:
Layer the cake by placing a layer of graham crackers, topped with a layer of Mascarpone Whipped Cream, a layer of Blueberry Jam, layer of Lemon Curd, followed by another layer of Mascarpone Whipped Cream. The key here is to make sure you spread each of the layers evenly, all the way to the edges and corners. Repeat this step. Then top with another layer of Graham Crackers. This layer will serve as the bottom of the cake when you flip it out of the pan, after freezing.
Cover up the cake with the overhanging plastic wrap. Then freeze at least 6 hour and up to 2 days.
Unwrap the top of the fully frozen cake. Flip it onto a serving plate. Unwrap the rest of the plastic. Then frost with the reserved Mascarpone Whipped Cream, returning the freezer for at least 15 minutes prior to serving.
Slice with a sharp knife!
Top with fresh blueberries mixed with blueberry jam!
Want to save this recipe for later? Pin it!
Print
Blueberry Lemon Icebox Cake
A light and lemony Icebox cake, this frozen treat is so tasty with its layers of lemony mascarpone whipped cream, blueberry jam, lemon curd and graham crackers. This is a recipe I've made several times over the past few years. It's adapted from Bon Apetit, as seen on Epicurious. As easy as it is delicious! I use a slightly different method to make the Mascarpone Whipped Cream and also use jarred Blueberry Spread or Jam for the Blueberry filing.
Author:
Prep Time:

30 minutes

Total Time:

30 minutes + 7 hours freezer time

Yield:

8

–

10

servings

1

x
Category:

Desserts

Method:

No Bake

Cuisine:

International
Ingredients
8

oz

. (227g) Mascarpone Cheese

3/4

cup

(90g) Confectioners Sugar

2 Tbsp

(from

2

Medium-Large Lemons) Grated Lemon Zest

2 1/2

cups

(592 ml) Heavy Whipping Cream

16

Graham Crackers (

8

sheets)

1 1/2

cups

(340g) Blueberry Jam, Preserves or Spread

8

oz

. (227g, 1 cup) Lemon Curd

1/3

cup

Fresh Blueberries
Instructions
 Whisk together the Mascarpone, Confectioners Sugar and Lemon zest, until smooth. This should take about 60 seconds. Set aside. (you can do this part in the mixer if you want, just remove it before whipping the cream – no need to wash the bowl at this point.)
Into the bowl of a stand mixer, or a large bowl and using a hand mixer, beat the cream until it is at the "soft peak" stage, a couple minutes after it appears "billowy". In  2-3 separate additions, add in the Mascarpone-Sugar-Lemon mixture and beat until peaks are firmer.
Remove 1/3 of mixture and cover and refrigerate – save as "frosting"
To the remaining 2/3, fold in 1/2 cup of Lemon Curd, until only tiny streaks remain, being careful to not deflate the mixture. Using a knife or spatula, draw lines in the shape of a cross or an "X" to separate the whipped mixture into quarters, to use as a guideline that will help layers be even.
Line the loaf pan with 2 pieces of plastic wrap, so there is overhang both lengthwise and width wise on all 4 sides.
Make the first layer: Line the bottom of the pan with graham crackers, breaking crackers as needed to fill the gaps.  Then add one quarter of the whipped cream mixture, using an offset spatula or knife to smooth it over the entire surface of the crackers and into the corners. Top the layer of cream with 1/2 cup of blueberry jam, again spreading into an even layer all the way to the edges. Top the jam with 1/4 cup lemon curd, spread to corners, then top with the second "quarter" of whipped cream mixture, spreading  to the edges and corners of the pan.
Repeat, starting with graham crackers and ending with whipped cream mixture. Then place a layer of graham crackers over the top.
Use the overhanging edges of the plastic wrap to cover the top of the cake. Place in freezer until completely frozen, 6-8 hours or overnight.
Once frozen, remove the pan from the freezer. Unwrap the top. Then, invert over your serving plate. Carefully peel the plastic wrap from the top and sides of the cake.
Spread the remaining third of the Mascarpone Whipped cream over the top and sides of the cake. Return to the freezer at least 15 minutes before serving.
Garnish the cake as desired. Use a sharp knife to cut neat slices.
For the sauce, mix together the fresh blueberries with 1/2 cup of blueberry jam and serve over individual slices of cake.
Re-wrap any uneaten portion of the cake and keep frozen.
Nutrition
Serving Size:

1/10 recipe
Keywords: blueberry lemon icebox cake, frozen treats, no churn, lemon curd, summer desserts, easy summer desserts, blueberries, graham crackers,
Recipe Card powered by