FLAVOR FOR DAYS, Friends! Each ingredient in this Watermelon Feta Salad with Mint, Basil and Peanuts plays a delicious role! You won't believe the utter and awesome tastiness of this delightful summer salad!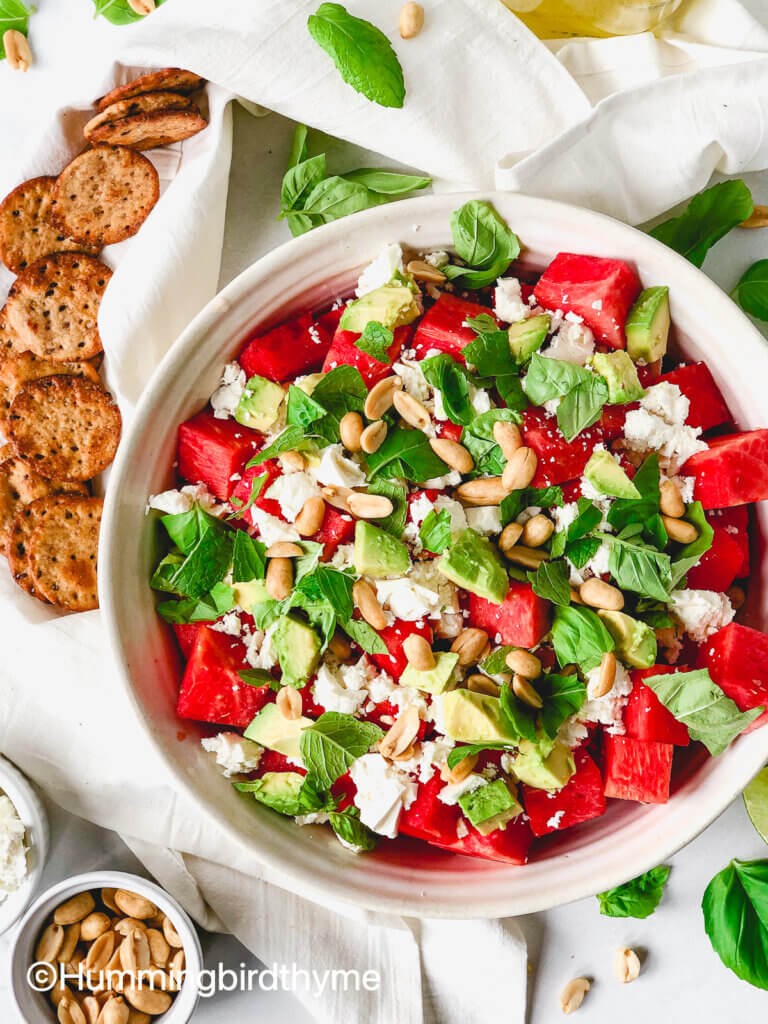 Consider me late to the party – something anyone who has ever invited me over will tell you never happens. Strangely, it takes real effort for me to be "fashionably late" – and even then, it's difficult. I grew up in a house that if you weren't 10 minutes early, you were late. Truly, it's a difficult thing to change. But, in the case of my Watermelon Feta Salad with Peanuts, Basil and Mint, I think late is the new "prompt." Or maybe it aways was – I guess someone just forgot to tell me. Believe me, it's not the most pleasant being perpetually punctual to the party.
Fruit salads are always popular, and show up often at brunches, outdoor parties, holidays, and family dinners. And, after awhile, while they are delicious, no one really gives them a second thought. Because they are always there and you know what you'll be tasting. But, honestly, this Watermelon Feta Salad has made me completely re-think the fruit salad! The flavor is outrageous! Each ingredient, from the sweet, juicy watermelon, to the salty feta cheese, creamy avocado and the 3-ingredient tangy lime dressing. Then, as if those things aren't enough, add some crunchy, salty roasted peanuts, fresh mint and basil. This is the party in your mouth you've been waiting for – DON'T MISS IT!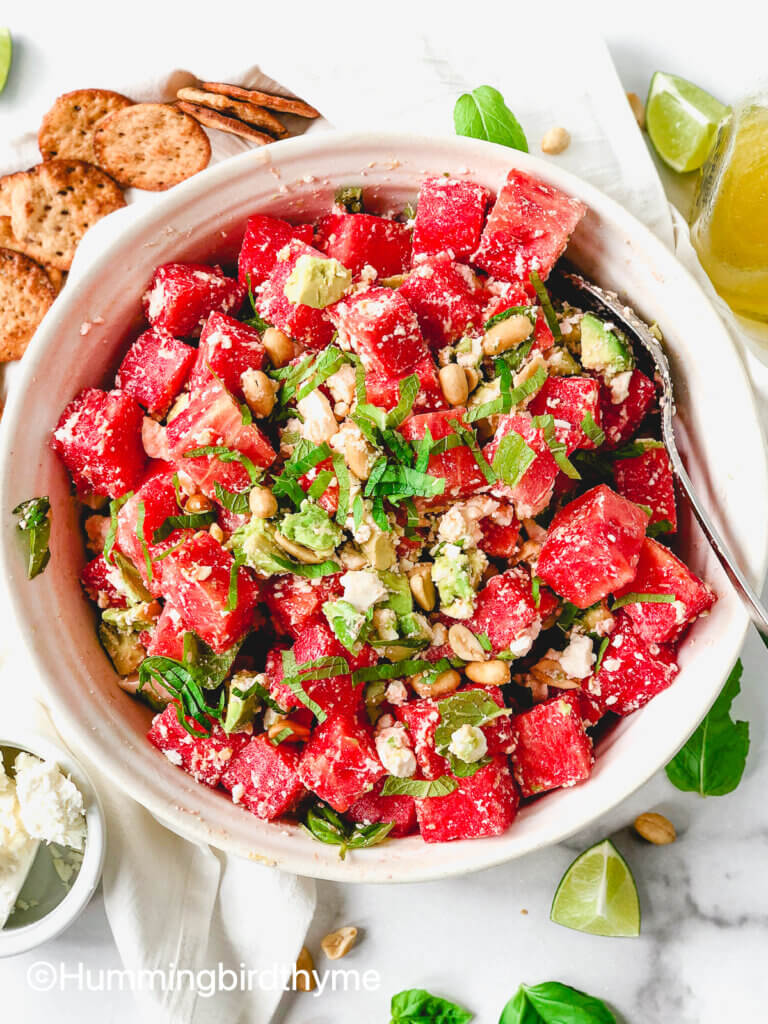 The idea of a Watermelon Salad is one I kind of watched from afar for awhile. It did sound good, but I wasn't sure I wanted a sweet-tasting dish on my plate. It wasn't until I decided to add the crunchy, salty peanuts (a la Epicurious) to the mix and top it with my favorite combination of herbs – mint+basil – and then top everything with the simplest lime dressing, that I made one of the best salads I've ever tasted.
This flavor bomb of a salad is also nutritious – low calorie, some protein, fiber, and healthy fats. You just can't beat it. And, if my family is any example, you might just hear, "Wow! This is good." (high praise in my house). Also second helpings! This recipe makes at least 8 servings, and believe me, you'll want them all!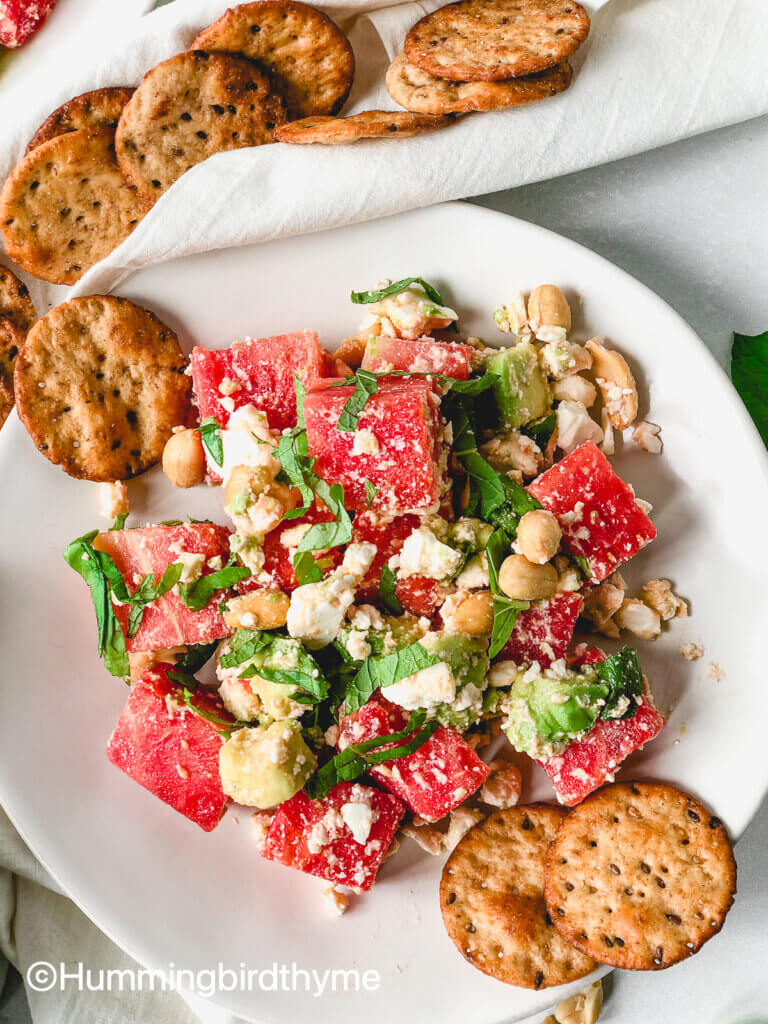 So, tell me, friends, dear readers, are you like me? Do you have difficulty being late for anything? Or is it a way of life? No judgment, we are all wired (and parented!) differently. If you are perpetually early, you are one of the few I've ever known. I feel your pain.
Enjoy!
Other cool summer salads:
Anthony Bourdain's Beet and Orange Salad
Farro Tomato Salad with Basil and Mint
Spicy Mexican Street Corn (Elote) Salad
Chicken Salad with Herby Buttermilk Green Goddess Dressing
Chicken Mango Salad with Lime Poppy Seed Dressing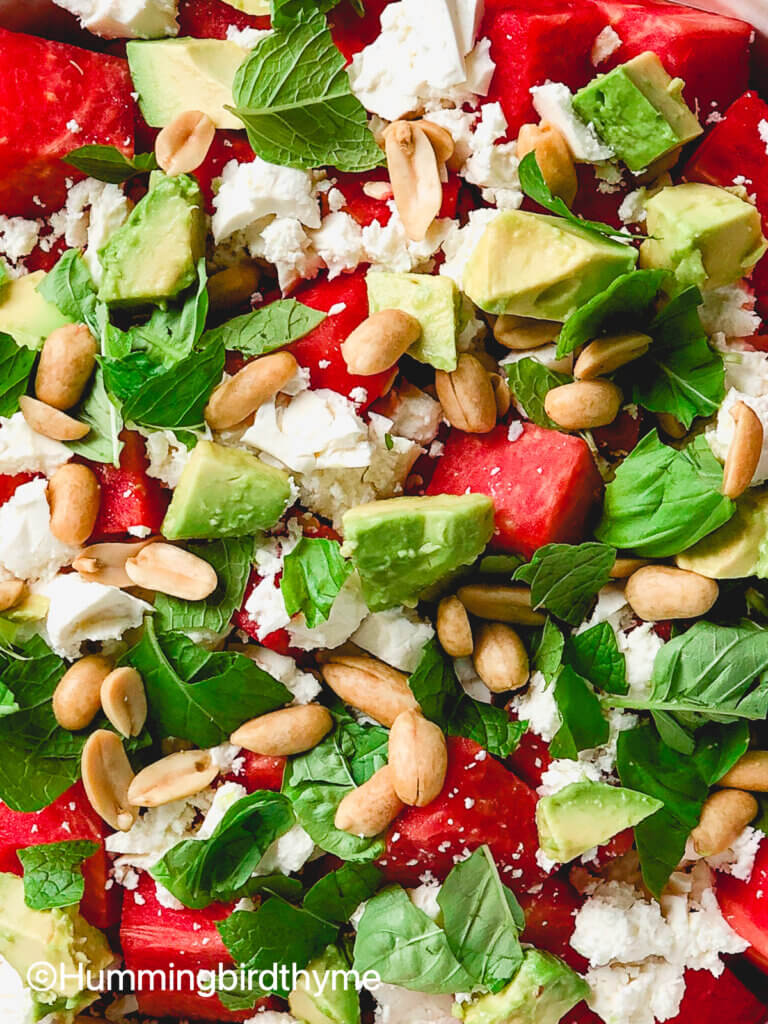 How to make Watermelon Feta Salad with Mint and Basil:
The Ingredients:
Fresh Watermelon – I recommend seedless, as you'll be cutting it into bite-sized cubes. You won't want to seed each of those. You'll need about half a medium-sized watermelon, or most of an "Individual-Sized" watermelon. A good watermelon is often one with a big yellow spot on it, indicating it sat for long time in one spot, ripening. It should give a "hollow" kind of sound if you knock on it. (Although it's a WATERmelon, you don't want it extra watery.)
Feta Cheese – A crumbly, salty cheese, which gets its tangy, salty flavor from the brining process it takes to make this sheep or sheep and goat's milk cheese. A Greek cheese often used in Mediterranean cooking provides a counterpoint to all that sweet from the melon. A flavor pairing like no other!
Avocado – Creamy. Tasty. Full of healthy fats. Need I say more? Except that its earthy flavor is amazing next to the watermelon.
Dry Roasted, Salted Peanuts – Crunchy. Now you have sweet, soft, creamy, cheesy, and crunchy. Yes please.
Fresh Herbs – Fresh Mint and Fresh Basil are a combination I use over and over again in many recipes – and this salad is no exception! It's a combination that is so flavorful you really will seek recipes in which you can use it!
Tangy Lime Dressing – Just 3 ingredients to a tangy lime dressing that compliments each ingredient in the salad. Like many salads, the flavors meld over time when dressed, so it's good to refrigerate the salad a bit after assembling and dressing. The lime juice in the dressing will keep the avocado from browning, too!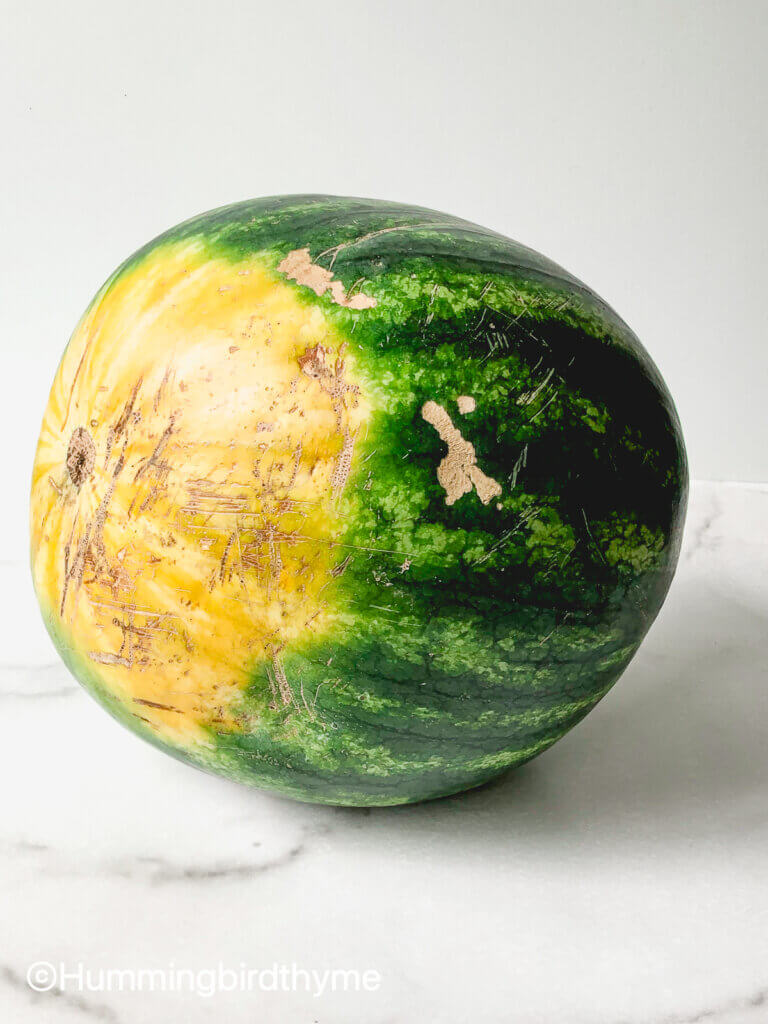 Step-by-Step instructions:
About the simplest of assemblies. You'll want to:
1. Cut the watermelon first, as this is the most time-consuming step. I like to cut the ends off of the watermelon, making a flat surface to stand the watermelon up, from which I can easily slice off the remaining rind. Then slice, and cut into cubes of about 1-inch, or little less – bite size.
2. Crumble the feta cheese over it.
3. Slice and cube the avocado.
4. Make the simple dressing.Pour it over. Stir.
5. Garnish with the peanuts, basil and mint. Stir again. I recommend refrigerating to let the flavors get to know one another. Not necessary but highly recommended.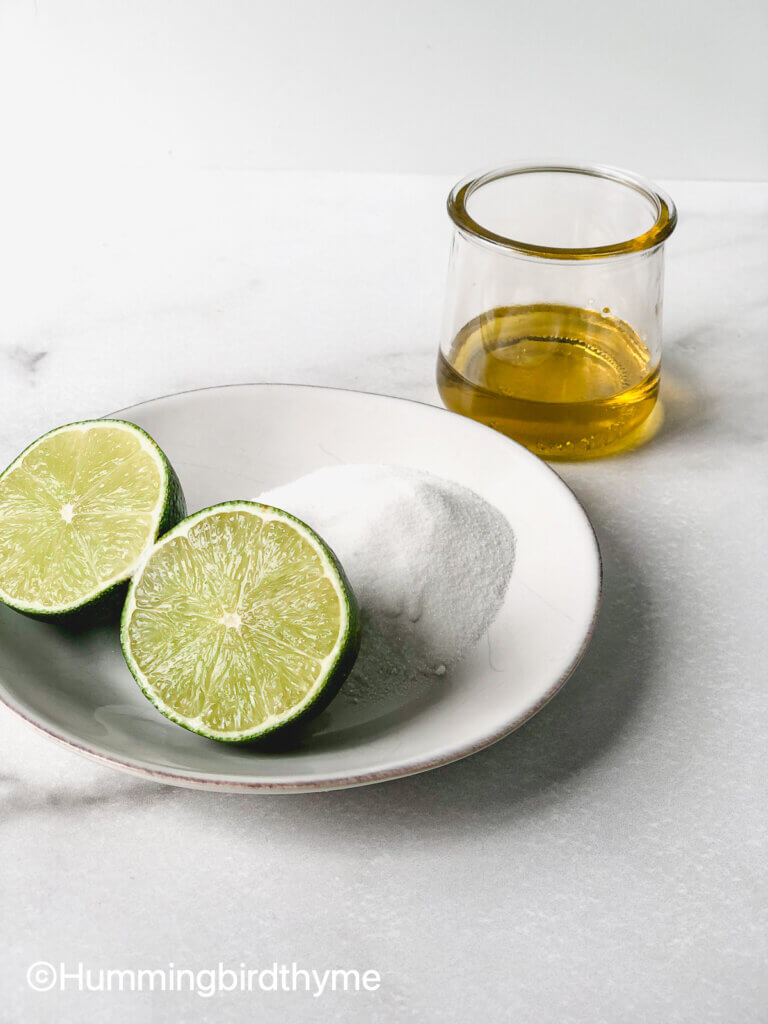 Questions you may have about this recipe?
How can I keep the avocado from turning brown? 
Since the dressing is citrus-based, it will keep the avocado from browning. For extra assurance, you may want to stir the avocado cubes with a few spritzes of straight lime juice as well.
What if I don't have or don't like Feta Cheese? Is there a substitute?
This article lists several substitutes for Feta Cheese. The ones I like best here are Halloumi, which is kind of a milder form of Feta, or the Mexican-style Cotija, or Queso Fresco, which are both flavorful, salty and crumbly. Chevre cheese is also a good alternative. You will just want something that is nicely salty and crumbly.
How long do leftovers keep fresh?
If you have leftovers, they will still be delicious and fresh the next day if you place them in an airtight container in the fridge.
Want to make this Watermelon Feta Salad later? Pin it!
Print
Watermelon Feta Salad with Peanuts and Lime Dressing
Sweet, juicy, Watermelon, salty Feta, creamy Avocado, crunchy Peanuts, Basil, Mint all in a 3-ingredient tangy Lime Salad dressing. FLAVOR BOMB! So so EASY!
Makes 8 servings. You may just want them all to yourself.
Author:
Prep Time:

20-30 min plus chilling

Total Time:

20-30 min plus chilling

Yield:

8

servings

1

x
Category:

Salad

Cuisine:

International
Ingredients
For the Salad:
8

cups

Watermelon Cubes, about 1-inch cubes

6

oz

. (170g) Feta Cheese, crumbled

1

Avocado, peeled, pitted, cubed

1/3

cup

(80g) Dry Roasted Peanuts (salted preferably)
Handful Fresh Basil Leaves, chopped or chiffonade
Handful Fresh Mint, chopped or chiffonade
For the Dressing:
4 Tbsp

(59ml) Fresh Lime juice

3 Tbsp

(

38g

) Granulated sugar

1/4 tsp

Kosher Salt (I use Diamond Crystal)

4 Tbsp

(59ml) Extra Virgin Olive Oil
Instructions
Mix together the cubed watermelon, crumbled feta, avocado cubes.
Prepare the dressing by placing the lime juice, sugar and salt into a jar with a lid. Shake until the sugar is fully dissolved. Add the olive oil. Shake again until emulsified. Pour over watermelon mixture.
Add the peanuts and chopped herbs to the salad.
Serve, or refrigerate up to 2 hours before serving.
Keywords: watermelon salad, lime dressing, feta cheese, watermelon feta salad, watermelon peanut salad, watermelon salad with basil, watermelon feta salad with mint, salad with mint and basil, watermelon feta salad mint, easy summer salads, fruit salads, watermelon avocado salad, flavor bomb salads
Recipe Card powered by