Peach Snickerdoodle Ice Cream is so easy to make – it's No Churn so you don't need an ice cream maker! Cinnamon-Sugar Snickerdoodle Ice Cream with ribbons of simple Peach Jam! Perfect for Peach season, or you can use a jar of Peach Jam if you prefer!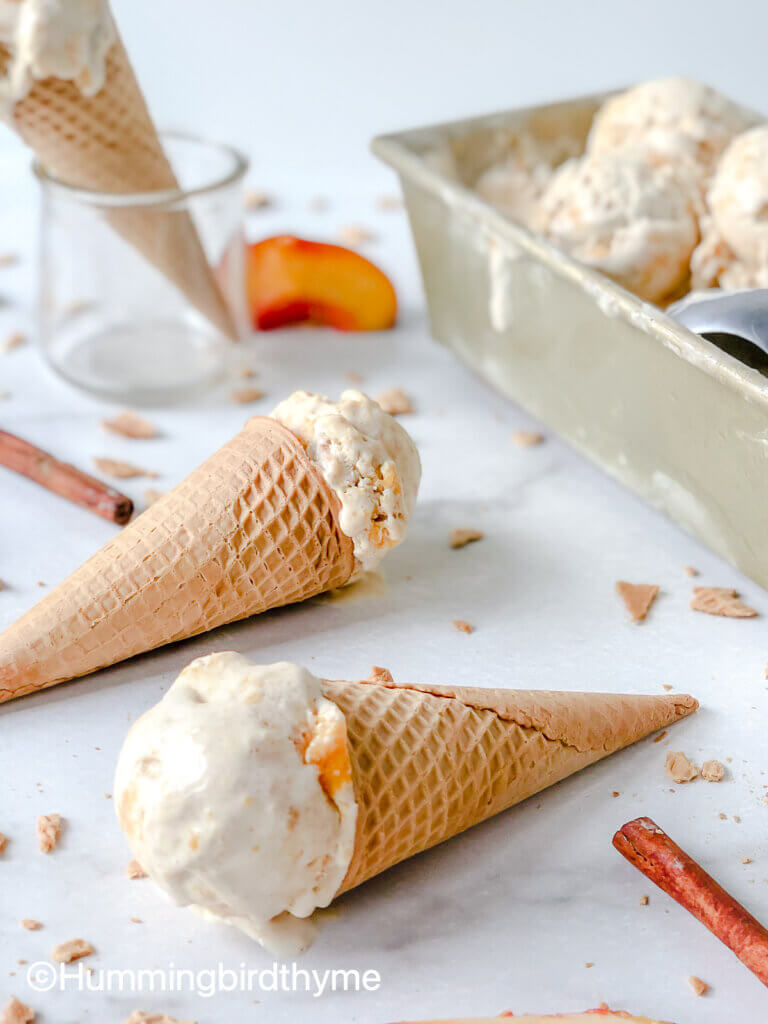 Who doesn't love ice cream? I've not met a single person who could pass on at least (!) the occasional frozen treat. And if I did, could we even be friends? Because, seriously, there's nothing better, right? And, with the ease of making a No-Churn Ice Cream, many of us have all the ingredients in our fridge and pantry right now!
Ice Cream Flavors seem to get more creative and decadent over time. With addition of savory ingredients like cheese (see my Goat Cheese Sweet Cherry No-Churn if you'd like to try a cheese-flavored ice cream!) or popcorn, spices, candy mix-ins, fresh herbs like basil and mint, textural elements like nuts or cereal, you can really create any ice cream you want. But when I decided on this recipe, I was thinking a little more traditional – back to my Mom's Snickerdoodle Cookies. She didn't make them very often, but when she did, I feel like we could smell the cinnamon-sugary goodness a block away, as we walked home from school. Snickerdoodles are certainly one of the best homemade cookies – and an old-school comfort food for sure! Those soft, chewy cinnamon-sugary treats, with their cracked tops and just a whisper of tang – where did that come from anyway?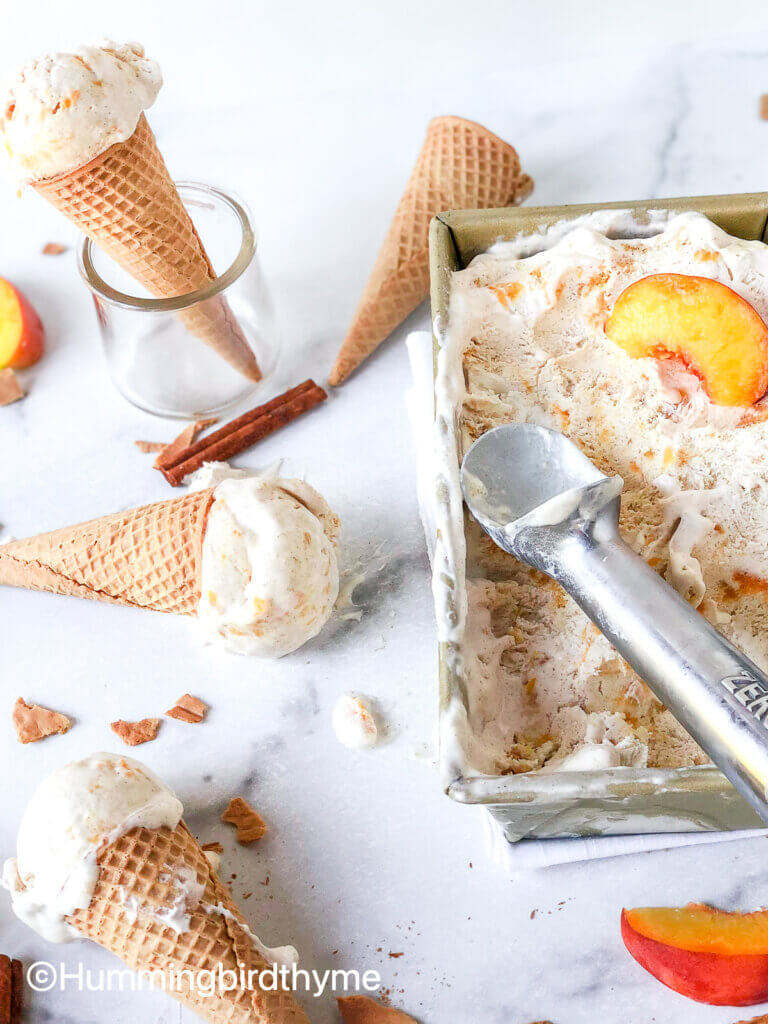 The answer: Cream of Tartar! Who knew? Cream of Tartar (or Potassium Hydrogen Tartrate) is a by-product of winemaking. Much like lemon juice or vinegar, it can impart a tangy flavor, say, for Snickerdoodles. But it is also good for stabilizing recipes like Whipped Cream or Meringue. Additionally, it is an ingredient that can be used in Baking Powder. So, if you're out of baking powder, you can use Baking Soda + Cream of Tartar. (Learn more Here!) So many uses for Cream of Tartar! I'm not sure why it often gets pushed to the back of my spice drawer.
So, Cream of Tartar gives Snickerdoodles a hint of tangy flavor as well as texture. And, although we don't need a lofty baked texture in ice cream, I added the Cream of Tartar to the Whipping Cream because it also helps to stabilize the whipped cream, perfect for ice cream. A real win-win here!
Anyway, I decided to pair my Snickerdoodle ice cream with a ribbon of fresh peach jam, because, well, right now it's peach season! And, I just can't get enough of those fresh, tangy-sweet, juicy peaches. So I made a simple jam that you can layer with the Snickerdoodle Ice Cream or just swirl right into it. If you choose to layer it, you'll end up with more distinct ribbons of peach, but if you swirl it all right in, you'll see peach flecks everywhere. Mashing the peaches a bit makes them small enough that they don't get icy once embedded in the Ice Cream.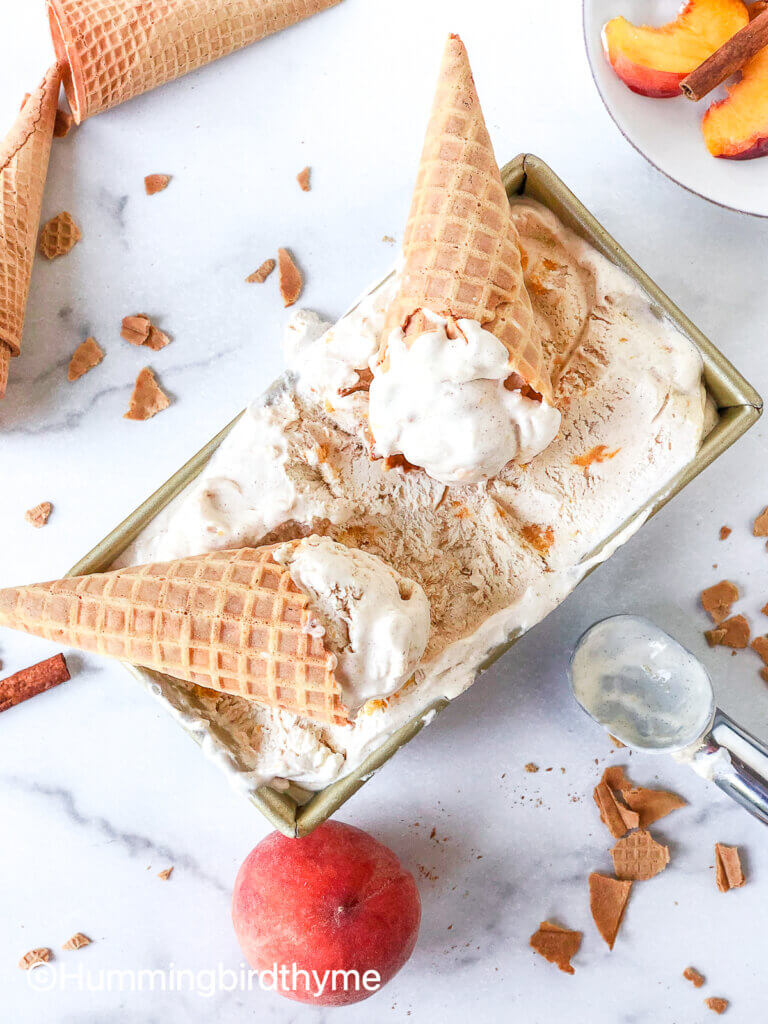 So, who wants Ice Cream? And, I'm curious, do YOU have a forever favorite flavor? If so, what is it? Or, are you like me, and your favorite changes like the wind?
Enjoy! 
For more of my No-Churn Ice Creams, click HERE!
Looking for other recipes that include Fresh Peaches?  Try one of these:
Super Moist Peach Lime Pound Cake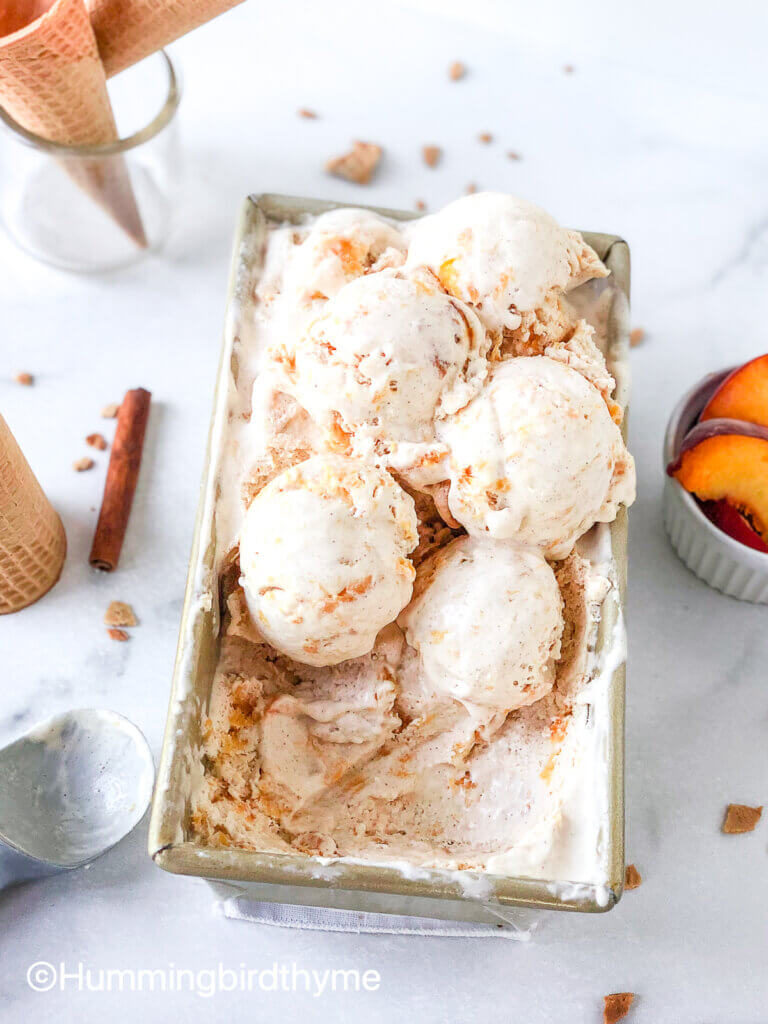 How to Make Peach Snickerdoodle No-Churn Ice Cream
As an Amazon Affiliate, I may earn a small commission if you were purchase products by clicking on links on this page. Be assured, this is at NO EXTRA COST to you, but it helps offset costs of this blog. 
Some things you may need:
Stand Mixer – These truly last a lifetime!
Loaf Pan – You know I love a USAPan! (#notanaffiliate)
Masher – not necessary for the recipe, but I used it to mash the peaches a bit.
The Ingredients and Substitution Ideas:
Heavy Whipping Cream – It's Ice Cream, so it needs some cream. "Heavy" Whipping Crean will whip up better than "Whipping Cream."
Cream of Tartar – one of the important ingredients here. Not only does it help keep the cream well whipped, it also adds a bit of "tang" to the ice cream, something that a good Snickerdoodle Cookie has, thanks to the Cream of Tartar in some recipes! Total Win-Win!
Fresh Peaches – For best flavor, be sure to use ripe-to-very-ripe peaches. These will be the sweetest and will cook down the fastest! I used 4 large ripe peaches, which weighed between 1.5 and 1.75 pounds (.7kg) altogether. If you prefer, you could also use a jar of Peach Jam or Preserves!
Brown Sugar and Butter – Perfect for making the Peach jam/syrup!
Sweetened Condensed Milk – A smooth condensed milk that provides all the sweetness this recipe needs! If you have Condensed Coconut Milk on hand, it would make a good stand-in for the dairy variety I used!
Cinnamon – Not only is cinnamon a complementary flavor for peaches it's the primary flavor in Snickerdoodles!
Vanilla Extract – I always use Natural Vanilla Extract for the best flavor!
Salt – I always include salt in my sweets – it brings out all the flavors and notes of each ingredient. More flavor – More satisfaction! Kosher Salt or Sea Salt are both good choices here, you'll just need a big pinch!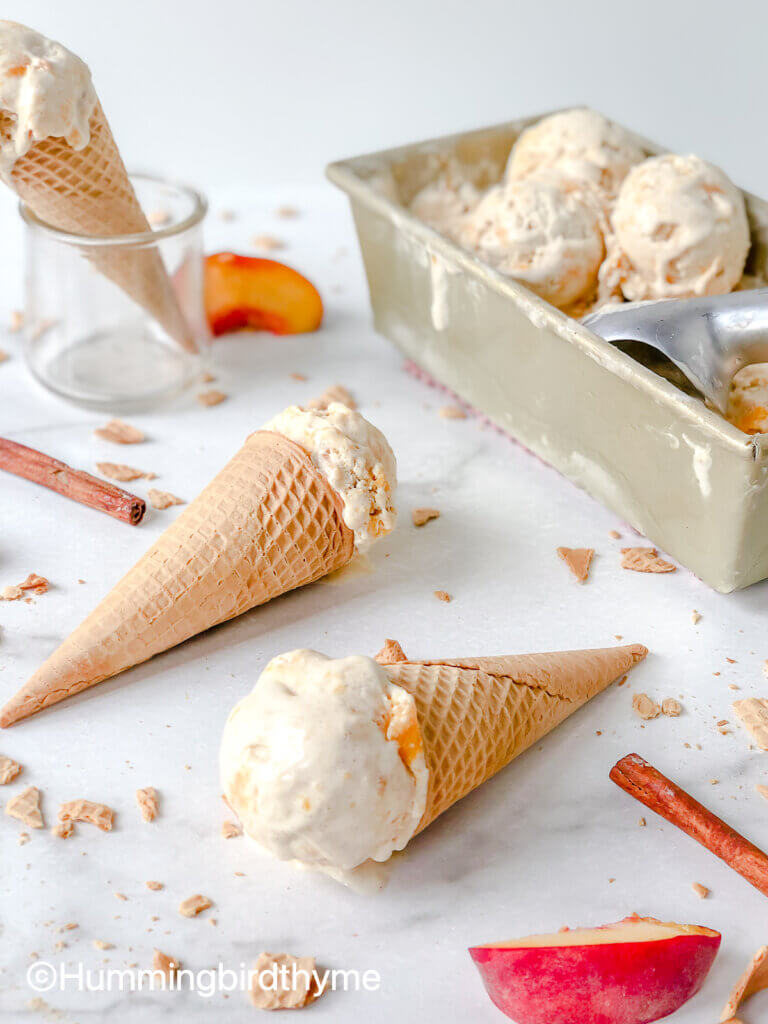 Step-by-Step Instructions for Snickerdoodle No Churn Ice Cream with Peaches:
Make the Peach Jam – (20-25 minutes) – You'll just cook the peeled, chopped peaches with a bit of brown sugar and butter, making a simple jam to swirl into the Cinnnamon Ice Cream. You'll want to do this in advance as the jam is best if chilled when adding it to the ice cream.
Whip the Cream (5 minutes) – Add the cream of tartar to the heavy cream and whip it until the peaks are stiff. The Cream of Tartar serves two purposes here – It stabilizes the whipped cream to keep it fluffy, and also as an acid, provides some of the "tang" that is often present in Snickerdoodle Cookie Recipes.
Combine the Sweetened Condensed Milk (SCM) with the spices (2 minutes) – Just mix the SCM with cinnamon, vanilla and a big pinch of salt, then fold it into the whipped cream.
Add the peaches (3 minutes) – You have two choices here – you can just stir the peach jam and then fold it into the Snickerdoodle Ice Cream mixture, or you can layer it with the ice cream mixture and swirl each layer individually. The layered approach is likely prettier, but the folding in method evenly distributes the jam throughout. Your choice!
Freeze (4 hours) – Cover with plastic wrap and freeze until serving time. I recommend at least 4 hours freeze time.
Want to Make Snickerdoodle Peach Ice Cream later? Pin it!
Print
Peach Snickerdoodle Ice Cream (No Churn!)
Creamy No-Churn Snickerdoodle Ice Cream with ribbons of peach jam!  It's best to make the easy peach jam the day before so it's refrigerated and cold when adding to the ice cream base. If you don't want to make the jam, feel free to omit the peaches, brown sugar and butter, and use about 1 1/2 cups (450-480g) Peach Jam. 
Author:
Prep Time:

10-15 minutes

Cook Time:

20 minutes

Total Time:

30-35 minutes + Freeze time

Yield:

10

servings

1

x
Category:

Ice Cream

Method:

No Churn

Cuisine:

International
Ingredients
3

–

4

(1 1/2 – 1 3/4 lb, or .75kg) Large Ripe Peaches, peeled, pitted chopped

3 Tbsp

Light Brown Sugar

1 Tbsp

Butter

14 oz

. (

396g

) can Sweetened Condensed Milk

1 tsp

Ground Cinnamon

1 1/2 tsp

(8ml) Vanilla Extract

1/4 tsp

Kosher Salt

1

pint

(16oz., 473ml) Heavy Whipping Cream
Heaping

1/2 tsp

Cream of Tartar
Instructions
Make the Easy Peach Jam
In a 2 –  or 3 quart (2-3 liter) sized saucepan over medium heat, melt the butter and sugar, and add the peach pieces. Heat at a high simmer for 15-20 minutes until the liquid portion darkens a bit and becomes syrupy. If desired, use a potato masher to create even smaller bits of peach. Bring to room temperature, then cover and refrigerate until ready to use.
Make the Ice Cream
In a medium bowl, stir together the Sweetened Condensed Milk, Ground Cinnamon, Vanilla Extract and Kosher Salt. Set aside.
In the bowl of a stand mixer, or a large bowl and using a hand mixer, whip the Heavy Cream with the Cream of tartar until peaks are stiff.
Fold the Sweetened Condensed Milk mixture into the Whipped Cream mixture, then give a couple of stirs to more thoroughly combine.
Place 1/3 of the mixture into the loaf pan (lined with plastic if you like). Stir the jam, then Dollop 1/3 of the jam over the ice cream, then, using a knife or spoon, swirl it into the ice cream mixture. Repeat with two more layers, using all of the ice cream mixture and all of the Jam. (Alternatively, just fold in the jam in 3 separate additions to the full ice cream mixture, like I did. Then pour the Snickerdoodle-Peach mixture into the loaf pan. The swirls will not be as apparent, but you'll be able to see flecks of peaches.)
Place the Ice Cream in the freezer, cover lightly with plastic wrap, and freeze at least 4 hours or up to 2 weeks before serving. Once fully frozen, remove from freezer 10 minutes prior to scooping.
Nutrition
Serving Size:

1/10 Recipe
Keywords: Snickerdoodle Ice Cream, Peach Snickerdoodle Ice Cream, Peach Snickerdoodle Cookies, Peaches, Snickerdoodle Recipe, Why is there Cream of Tartar in Snickerdoodles, What does Cream of Tartar do, Does Cream of tartar stabilize whipped cream, no churn ice cream, No Churn snickerdoodle ice Cream, No Churn Peach Ice Cream recipe, No Churn Peach Snickerdoodle Ice cream, recipe
Recipe Card powered by