Peanut Butter Marshmallow Blondies with Chocolate Chips! The trifecta of ooey-gooey yumminess! Easy stir and bake recipe in well under an hour!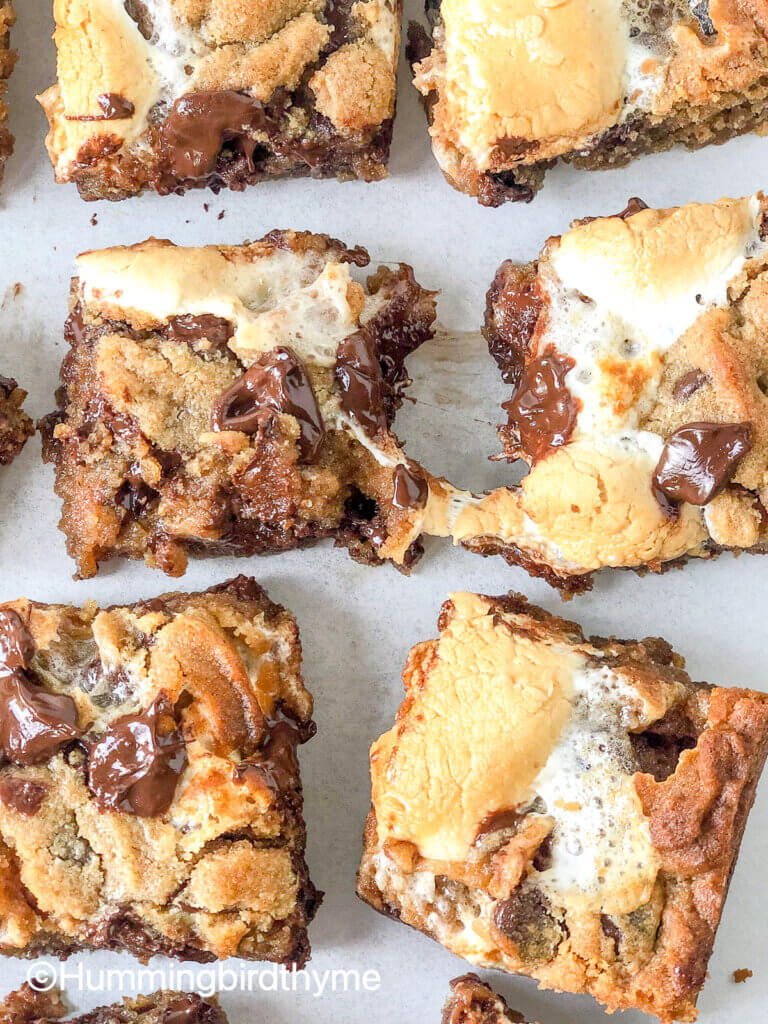 I don't know why, but I used to think Blondies were just not that interesting, kind of the boring version of a brownie. Weird, right? I think I assumed they were just brownies without the chocolate. And, really? Who wants that? How completely wrong I was! I've come to realize each has its place in the world. (Especially when Blondies can be chocolatey, too.) Just look how much chocolate is in these delicious squares. I have to say, these Peanut Butter Marshmallow Chocolate Chip Blondies are not only a mouthful to say, they just may be one of the best mouthfuls I've ever made. And, my family totally agrees! The flavors, the textures, the toasty marshmallows were all a big hit!
Ooey. Gooey. Tender. Chewy. Chocolatey. Peanut Buttery. Melty Marshmallowy. I know – What's not to love? That's the point here. It's all so good! And even better because it's so easy. From gather-your-ingredients to in-your-mouth in nicely under an hour. You could even mix it all in a single bowl. I just like to have the dry ingredients already mixed up before I begin the whole process, but that's maybe just me.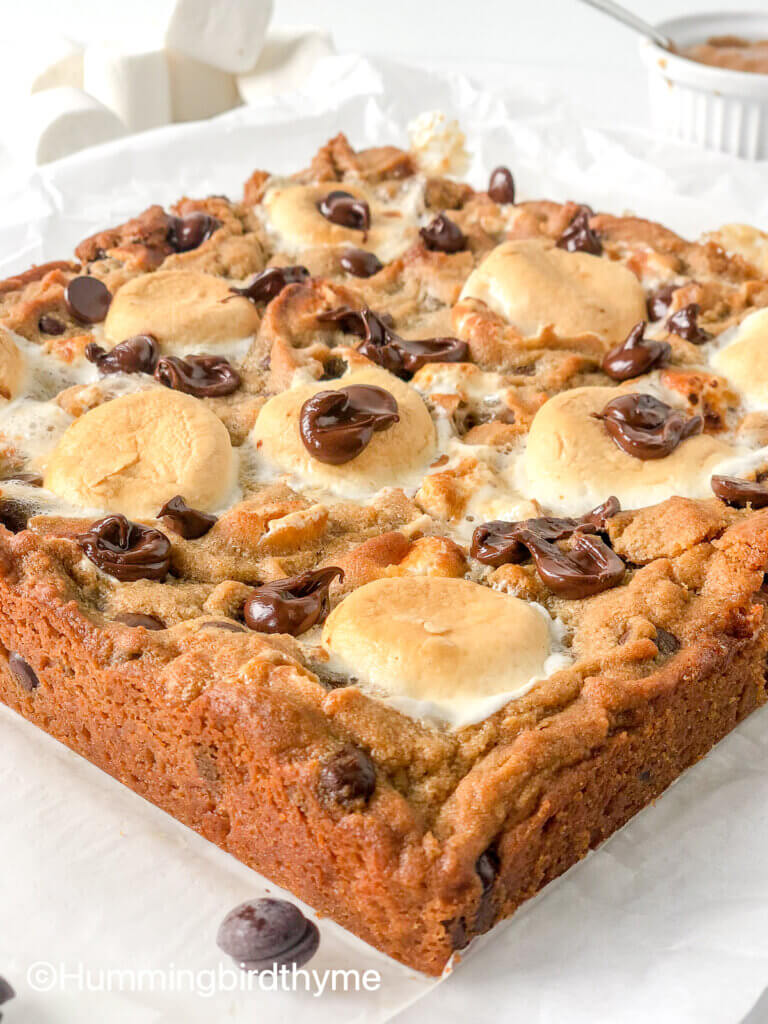 These Peanut Butter Blondies are so tender, but still have a good chew, thanks to the use of soft, nearly melted butter, and brown sugar. Studded with chocolate chips (I use semisweet or bittersweet, but milk chocolate would be awesome here, too!), and melty marshmallows, I can't think of a better treat when you're craving something irresistible, but need it to be quick and easy! I like to top them with slices of big marshmallow that can get nice and toasty as they bake, too!
Variations:
If you don't mind taking a bit of extra time, you could even brown the butter – like I did for these awesome Brown Butter Oatmeal Chocolate Chip Cookies!. Because why not gild the lily here? You'll just want to start with 9 Tbsp butter (130g) instead of 8, because of volume loss while browning.
Instead of chocolate chips, you could use butterscotch chips or peanut butter chips – or substitute half the chocolate chips for one of these.
Or, skip the chips altogether and just make Peanut Butter Marshmallow Blondies. I understand there are those who don't care for chocolate. At least that's what they say.
Serve these WARM from the oven, with a nice scoop of cold vanilla ice cream on top. Just thinking of this has my mouth watering!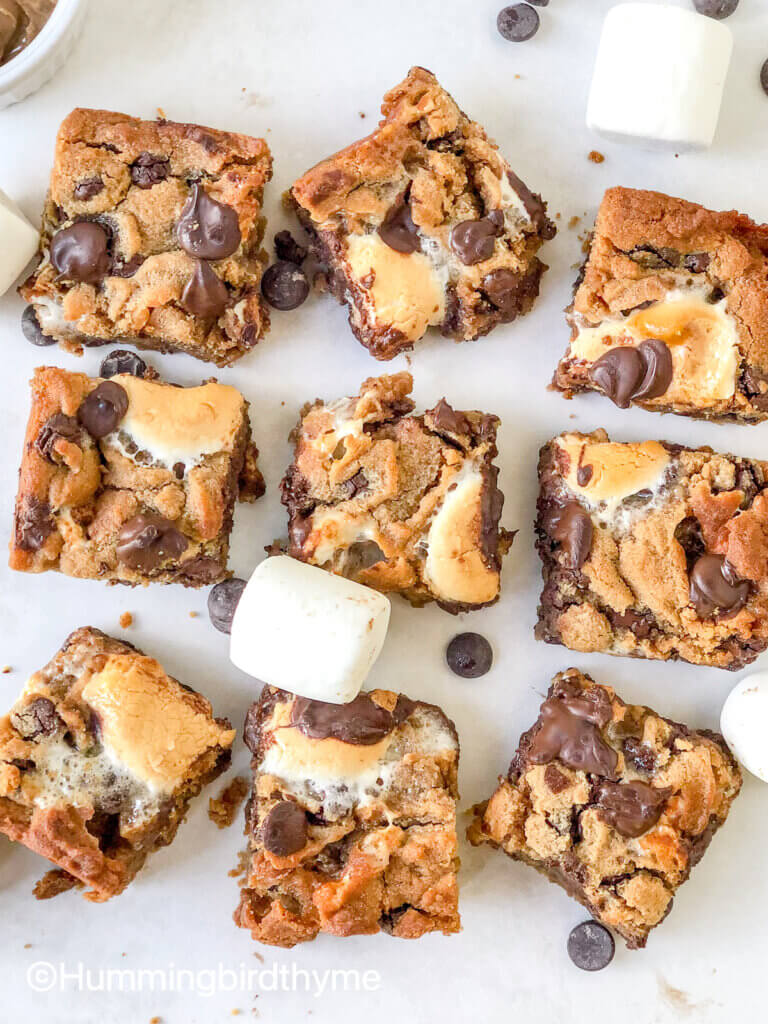 So, I'm curious, are there any foods that you used to think were "ho-hum" or boring, only to find out what you've been missing is AMAZING?
Enjoy!
Looking for other Yummy treats? How about these:
Gluten Free Dark Chocolate Tahini Brownies
Brown Butter Oatmeal Chocolate Chip Cookies
The BEST Homemade Peanut Butter Cups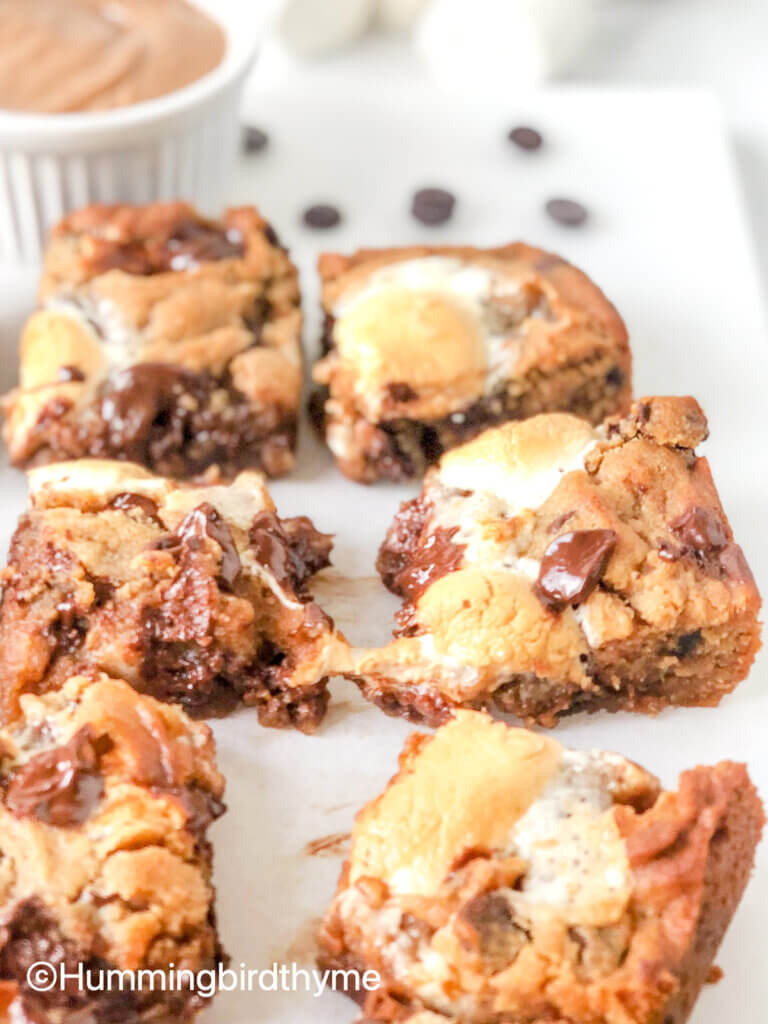 How to make Fluffernutter Blondies
As an Amazon Affiliate, I may earn a small commission if you were purchase products by clicking on links on this page. Be assured, this is at NO EXTRA COST to you, but it helps offset costs of this blog.
Step-by-Step Instructions for the Best Blondies
The beauty of this recipe is that it is simple. Really no special equipment is required. A couple bowls, a whisk, a spoon or spatula, and a baking pan. I do like measuring my ingredients using my kitchen scale, but measuring cups and spoons work just as well. The key to a good Blondie is in the baking. I like blondies the way I love brownies – kind of just short of being done. So if you bake until the edges are golden, and the middle still appears soft, the Blondies will be tender but chewy, and with those melty chocolate chips and marshmallows in a peanut butter blondie, these will be ooey-gooey wonderful!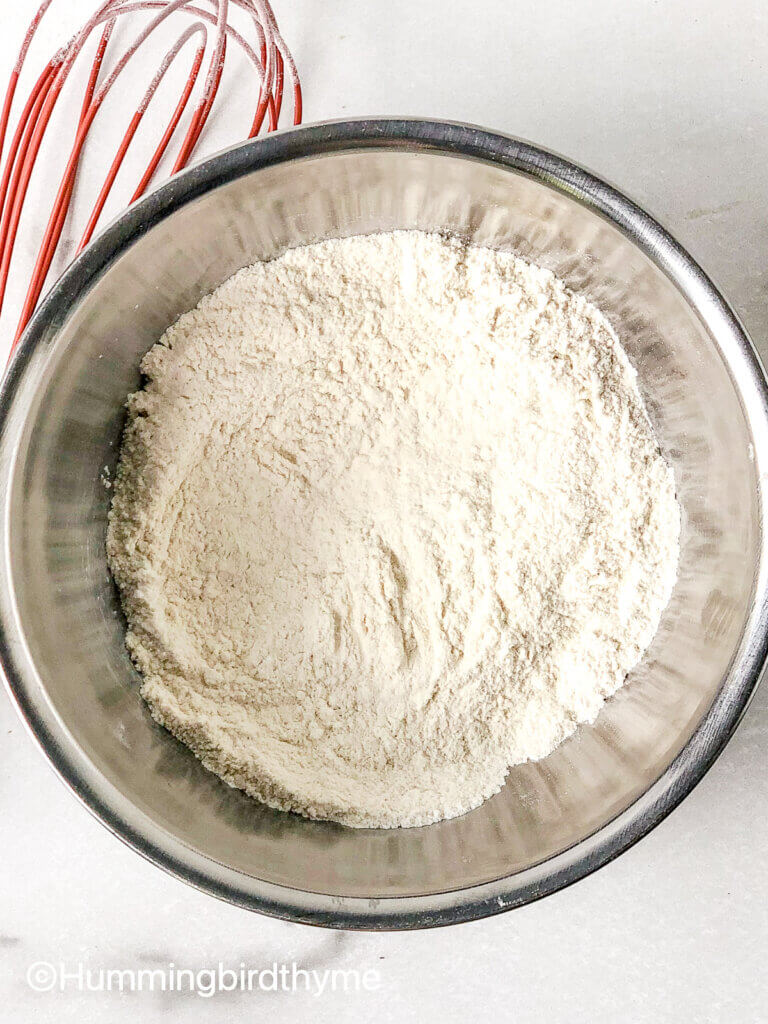 In a Small or Medium Bowl, whisk together the flour, Kosher Salt and Baking Powder. If you are using table salt as opposed to Kosher salt, you will want to use about 3/4 teaspoon instead of 1 teaspoon. Also, if your butter is salted, reduce the added salt by 1/4 teaspoon.
In a large bowl, place the following ingredients: softened butter, egg, peanut butter. The important things here are to make sure the butter is softened, meaning if you stick a spoon (or your finger) into it, the indentation will remain, it should be that soft. And, you can use any smooth peanut butter you want. I use an all-natural peanut butter, the kind you need to stir, that has only peanuts and salt. I keep it in the refrigerator after I stir it, so the consistency remains scoopable and it doesn't really separate after the first stir.
Whisk those ingredients together, until nice and smooth.
To the smooth peanut butter mixture, add brown sugar (dark or light is fine!), and vanilla. It won't be quite as smooth, but that's ok.
Add the whisked flour mixture. You can see from the photo above, it won't be super-smooth. Just don't overmix, you want a tender blondie.
Add in the marshmallows and chocolate chips. A note about the marshmallows: I used "jumbo" marshmallows, and just tore each into quarters. You can use the regular small marshmallows, you'll just want to measure 100g, or about a cupful, or 3 1/2 oz.
Spread into an 8×8 baking pan that's been sprayed or buttered, and if you want to remove the whole blondie from the pan before cutting into it, add a half-sheet of parchment paper, leaving long edges on 2 sides so you can lift the fully cooled blondie from the pan.
I added more marshmallows on the top. This is totally optional, but I like the looks of the toasty marshmallows. If you don't want to do this, no worries, it's not necessary. You can just make sure some of the pieces are sticking up from the dough, and you'll still get some toasty mallows!
Bake in your preheated oven until the edges are golden and the middle is still soft. The temperature in the center of the pan should be around 190F-195F. These are scrumptious warm and gooey, and still awesome when fully cool.
Want to Save this Easy Peanut Butter Chocolate Chip Blondie Recipe? Pin it!
Print
Peanut Butter Marshmallow Blondies with Chocolate Chips
Peanut Butter Marshmallow Blondies with Chocolate Chips! The trifecta of ooey-gooey yumminess! Easy stir and bake recipe in well under an hour!
No special equipment needed, just an 8×8 baking pan, a couple of bowls and a whisk!
Author:
Prep Time:

10-15 min

Cook Time:

20-25 min

Total Time:

30-40 min plus cooling time

Yield:

16

bars

1

x
Category:

Brownies/Blondies

Method:

Baking

Cuisine:

International
Ingredients
1/2

cup

(1 stick, 114g) Unsalted Butter, softened enough to stir

2/3

cup

(160g) Smooth Peanut Butter

1

Large egg

3/4

cup

(150g) Brown Sugar, either light or dark

1 teaspoon

(5ml) Vanilla Extract

1

cup

(125g) All Purpose Flour

1 teaspoon

Kosher Salt (or

1/2 teaspoon

table salt)

1 teaspoon

Baking Powder

1

cup

(175g, 6 oz) Chocolate chips

14

Large Marshmallows (

100g

, or

1 cup

regular marshmallows)
Instructions
Preheat oven to 350F (175C) or 335F/168C for Convection/Fan. Spray or butter 8″ Square pan. If you wish to nicely remove the blondies from the pan, line with parchment, leaving an overhang on 2 sides,  and spray again.
In a Medium bowl, whisk together softened butter, peanut butter and egg, until smooth. Stir in brown sugar and vanilla extract, until very nearly smooth.
In a small bowl, whisk together the flour, salt and baking powder. Add to the bowl containing the peanut butter mixture, and using a silicone spatula or large spoon, stir until just about all the bits of flour are incorporated.
If using "jumbo" marshmallows, tear or slice each marshmallow in half, then tear each half again, so each large marshmallow is now 4. Add the marshmallows and chocolate chips and stir until they are well distributed. Pour the dough into the prepared pan, and pat it to the edges with a spoon or your hands. (if you wish to decorate the top, reserve 3-4 marshmallows, cut in half and place on top of the dough in the pan.
Place in preheated oven until edges are golden brown, but the middle of the pan is still a bit soft, 21-26 minutes. If you have a probe thermometer the center temperature should be around 190-195F/88-90C when done. In my oven they took 23 minutes, but your oven may differ. A temperature probe is the best way to check for doneness. Remove from the oven and cool at least 10 minutes but up to completely cooled in the pan before slicing or removing from the pan.
Nutrition
Serving Size:

1/16 Recipe
Recipe Card powered by