How about a Spicy Fried Chicken Biscuit Sandwich? Yes, please! Really, what more is there to say? And all pretty quick and easy to make! Kind of in "slider" form, so we call can have 2, right? At least!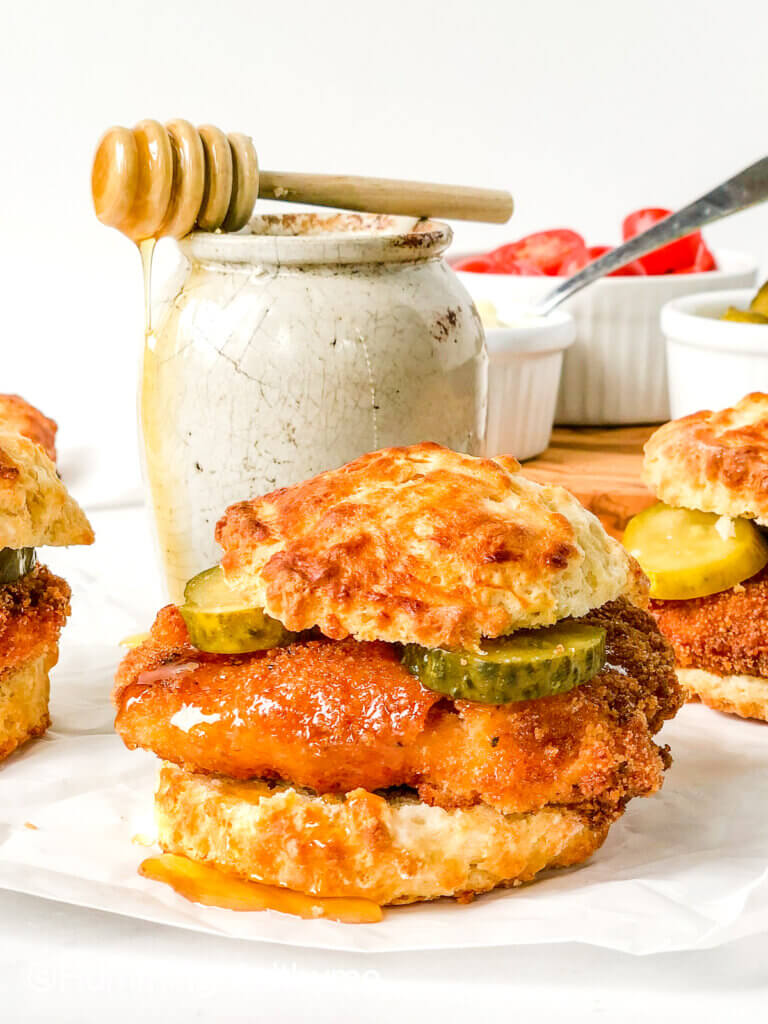 Over the past year or so, we've been (major!) Spicy Chicken Sandwich eaters. Nashville Hot Chicken Sandwiches, Korean Fried Chicken Sandwiches, Cajun Chicken Sandwiches, Chicken Sandwiches from the local fried chicken place. And we each have opinions. But, certainly, the only opinion we all share is that we love our Fried Chicken Sandwiches spicy, but (for most of us) not 3-alarm spicy! On a Hawaiian bun, a sesame bun, hoagie-style roll, or a biscuit – we love them all! So, I really wanted to be able to make them at home (for those times I'm not feeling the whole "let's order out!" vibe). Because as much as I love ordering out, I really should know how to make these myself. 
And, when the spicy and flavorful fried chicken is on a crispy-edged-but-fluffy-inside biscuit, the kind that's so easy you can't NOT make them, it's definitely a Win-Win! The reason I chose biscuits instead of buns is this: you can have leftover buns that just never get used, but you'll never have a leftover biscuit that doesn't get eaten. Am I right? And these easy biscuits, so simple because I used frozen, grated butter, came together in a snap! Just mix your dry ingredients, add the grated butter and pour in the wet ingredients. A bit of folding the dough and you're ready to cut (or slice) the biscuits!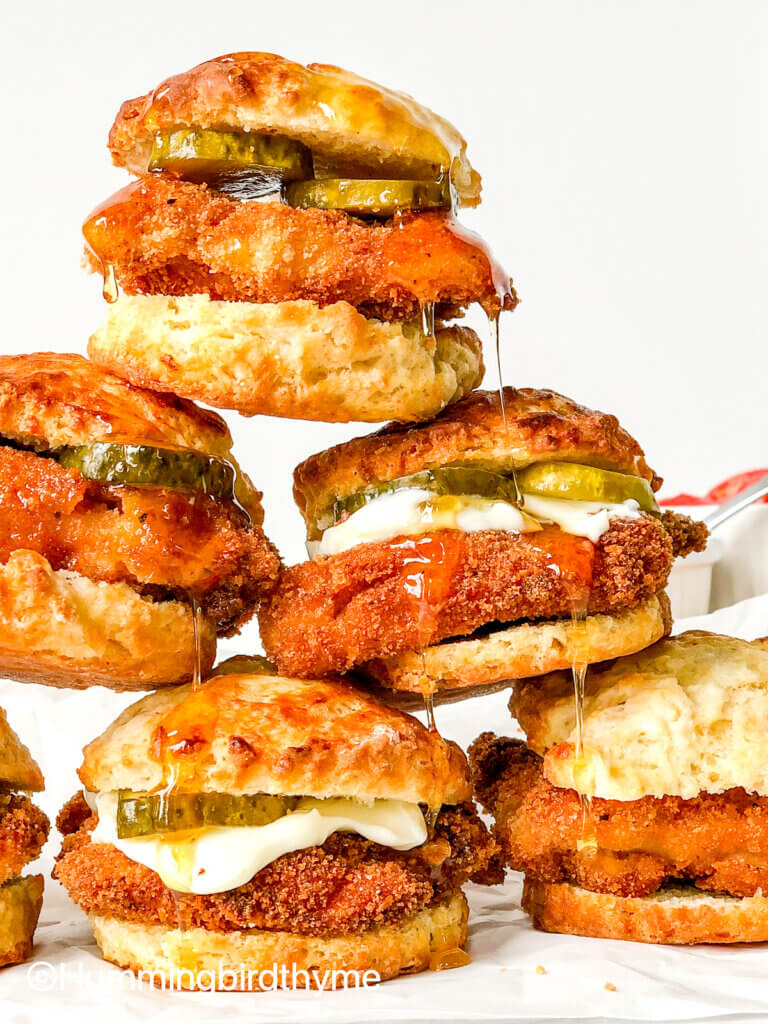 I used boneless, skinless chicken thighs here because they are juicier, tastier, and less expensive than chicken breasts. Although the size of each is not as uniform, an easy pounding makes them all similar thickness and makes it easier to be sure they all get cooked evenly. You can tailor the seasonings to your level of spice love – if you prefer a mild spice, just use sweet paprika and the smaller amount of cayenne pepper. It will end up pretty mild. Or if you're a spicy fan, use Hot Paprika and the higher end of cayenne pepper. To be totally EXTRA, just sprinkle the raw chicken pieces with some cayenne when you salt them. (That's the 3rd alarm!)
The best part, like so many other dishes, is adding a bit of sweetness to this spicy sandwich – I like to drizzle the whole thing with honey, and maybe add some sweet and spicy pickles. Makes for a perfect bite!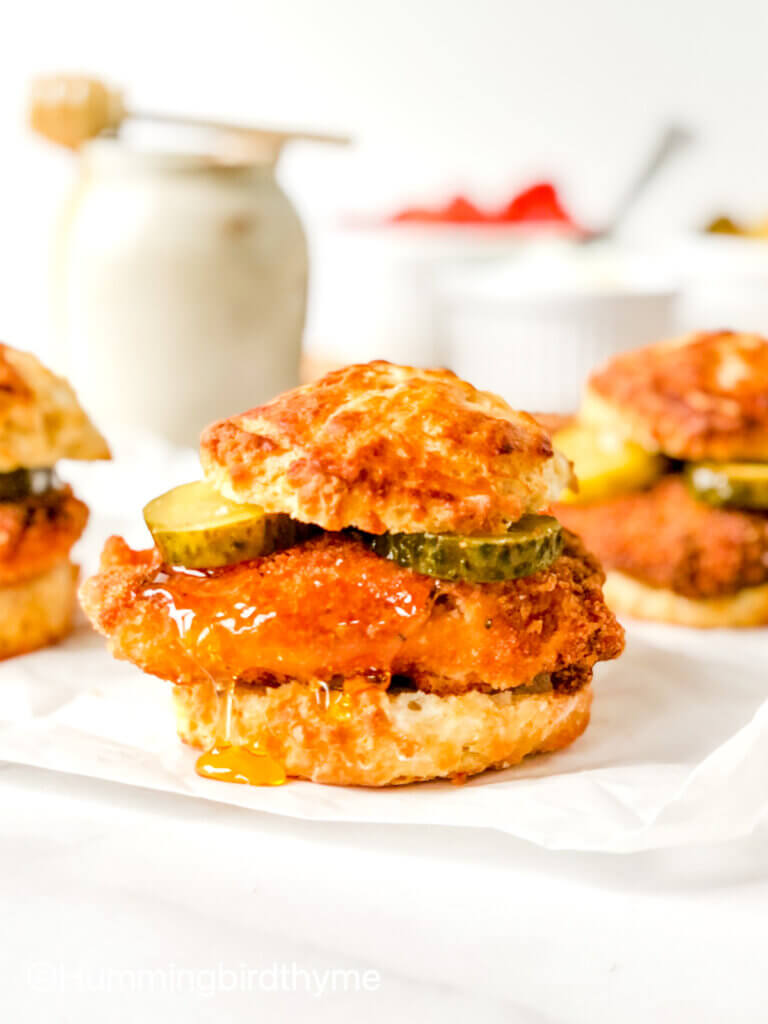 So are you a spicy fan? Do you Fried Chicken Sandwich super-spicy? Mild spicy? or Spicy/Sweet? And do you love your Spicy Chicken on a biscuit? Hawaiian Roll? All by itself?
Enjoy!
Looking for other Super-Tasty Chicken Recipes? These are all awesome!:
(Super Easy) Creamy Skillet Chicken
Simple Mole Chicken with a Crispy Corn Crust
Sheet Pan Panzanella (Bread Salad!) with Chicken
Sheet Pan Curried Chicken with Cauliflower and Grapes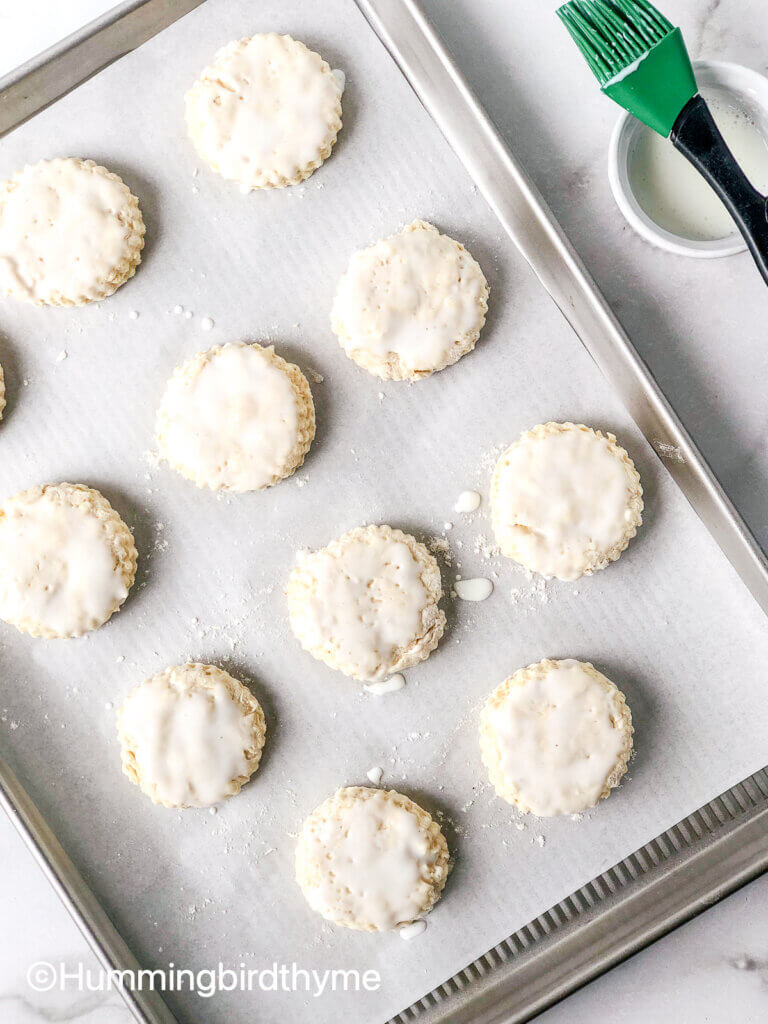 How to make Pan Fried Spicy Chicken Biscuit Sandwiches
As an Amazon Affiliate, I may earn a small commission if you were purchase products by clicking on links on this page. Be assured, this is at NO EXTRA COST to you, but it helps offset costs of this blog.
Some things you might need:
Make the Biscuits
This is a very simple buttermilk biscuit recipe. It takes about 15 minutes to make the dough and get the biscuits cut, then another 15 to bake, so best to preheat the oven while you're making the dough. What you'll get is light, fluffy biscuits with enough structure to make a sandwich. If you're looking for a denser, but a little easier-to-make biscuit, check out my Easy Butter Dip Biscuits, or for a flakier layered biscuit, these Buttermilk Biscuits are tough to beat!
I've learned a few "tricks" to making good biscuits. You can use the traditional pastry cutter to cut in cold butter. Or (a better idea!), you can use a box grater and, using the "large grate" side, shred the butter, then place it in the freezer while you gather and mix the dry ingredients and, separately, the wet ingredients. Then it's just a matter of combining the frozen shreds of butter with the dry ingredients and mixing in the wet ingredients to form a sticky dough. Pour the dough out onto a well-floured surface, fold it over onto itself several times, letting it gather enough extra flour to be just barely sticky, then pat it into a 3/4″ thick round-ish form. Cut the biscuits and place them on the sheet. You'll be able to get 10-12 biscuits, if you use a 2 1/2 inch cutter.
Bake until the biscuits have risen nicely and tops are golden, 13-15 minutes (14 minutes in my convection oven at 425F).
Fry the Spicy Chicken
First, you'll want to set up your breading station. You could do this while the biscuits bake. (Or, if you're ultra-organized, go ahead and do it before you even bake your biscuits and that way, the chicken and biscuits could get done at the same time. That's all too much for me, but you do you here). The recipe lists ranges for certain ingredients, like paprika, hot sauce, and cayenne pepper. If you like your chicken mild, use the low end, and potentially omit the cayenne pepper. If you like it spicy, use the high end of each.
Trim excess fat if you like from the chicken pieces if you like. Then cut them each in half. You'll need about 1 1/4 lb, (20 oz, 575g) boneless, skinless chicken thighs, about 5 of them.
Coat with the flour mixture, shaking off excess. Place in the egg mixture, coat, again, shaking off excess, then into the bread crumb mixture, and, you guessed it – shake off the excess. Set each on a wire rack while you heat the oil.
Pan-fry the coated chicken pieces. Just make sure your oil is hot. If you have a thermometer, you'll want it at 350-375. It should take 3-4 minutes per side, and you'll end up with deeply golden brown, nicely crispy-outside, juicy-inside chicken thighs. When done, chicken pieces should register 165F.
Great topping ideas for a Spicy Chicken Sandwich:
Honey
Mayonnaise (we are Kewpie Mayo fans! #notanaffiliate )
Sweet pickles
Dill pickles
Sweet and Spicy pickles (we use Wickles or Bubbies #notanaffiliate by the jarful!)
Sweet and Spicy Pickled Jalapenos
Sriracha Mayo
Thousand Island Dressing
Crispy Lettuce
Sliced Tomatoes
Want to save this Recipe for Fried Chicken Biscuit Sandwiches? Pin it!
Print
Spicy Chicken Biscuit Sandwich
Super-easy light, fluffy biscuits, with enough structure to hold a sandwich, completely let the spicy chicken shine! This chicken is not overly spicy. The low end of the spice range is (truly) not spicy at all! Just flavorful. The higher end is nicely spicy. But, if you like super-spicy, feel free to increase the cayenne and hot paprika a bit from the high end. I used only 1/2 tsp of Cayenne Pepper here, but I'd have been happy to go the full teaspoon myself. Feel free to use Sweet Paprika if you prefer a mild chicken. I love these sandwiches drizzled with honey and topped with sweet and spicy pickles or jalapenos!
Author:
Prep Time:

30 minutes

Cook Time:

30 minutes

Total Time:

60 minutes

Yield:

10

–

12

Small Sandwiches

1

x
Category:

Chicken

Method:

Baking, Frying

Cuisine:

American
Ingredients
For the Biscuits:
6 Tablespoons

(

85g

) Cold Unsalted Butter

2

cups

(250g) All-Purpose Flour

4 teaspoon

Baking Powder

1/2 teaspoon

Baking Soda

1 Tablespoon

Sugar

1 1/2 teaspoon

Kosher Salt (about

1 tsp

Table salt)

3/4

cup

(180 ml) Buttermilk, plus a few Tbsp extra, if needed

1

egg, lightly beaten
For the Chicken:
1 1/4

lb

(20oz, 575g) Boneless, Skinless Chicken Thighs

1/3

cup

AP Flour

3 teaspoons

Kosher Salt, divided

1 teaspoon

Black Pepper, divided

2

–

4

teaspoons Hot Paprika

1/2 teaspoon

Garlic Powder

1/2 teaspoon

Onion Powder

1/2

–

1

teaspoon Cayenne Pepper or hot chili pepper

2

Large Eggs

2 Tablespoons

Hot Sauce (Sriracha, Tabasco, Cholula)

3/4

cup

Dry Breadcrumbs (See Note)
For Frying:
1/3

cup

(80ml), plus extra, if needed, High temperature and high smoke point oil, such as Canola, Grapeseed, Vegetable
Sandwich Toppings: as desired.
honey, mayo, lettuce, tomatoes, pickles, sweet/spicy jalapenos, sriracha mayonnaise, bacon.
Instructions
Bake the Biscuits
Preheat oven to 450F/230C, or for Convection/Fan oven, preheat to 425F/220C.
Using the "large grate" side of a box grater, grate the cold butter onto a plate, and place it in the freezer while you gather and measure the other ingredients.
Into a large bowl, add the flour, baking powder, baking soda, sugar, kosher salt. Whisk to combine. In a small bowl or measuring cup, whisk together the buttermilk and beaten egg.
Remove the shredded butter from the freezer, add to the dry ingredients, and stir to distribute and combine. If your shreds are quite large, you can use a pastry cutter to "cut in" the pieces a bit.
While slowly stirring with a spoon or silicon spatula, add the buttermilk mixture, gently mixing to form a soft, sticky dough.
Pour the dough onto a well-floured surface, then fold it in on itself, pressing gently down on it around 6-8 times, letting the dough absorb more flour from the floured surface, until the dough is only barely sticky. Gently pat out into a 3/4-inch thick round-ish form.
Using a 2 1/2 inch biscuit or cookie cutter, cut biscuits and place on a buttered or parchment-lined baking sheet. You should get 10-12 biscuits. If you like, brush the tops with buttermilk, cream or melted butter. Bake 13-16 minutes until biscuits are nicely risen and golden on top. If you have a probe thermometer, the temperature should be 190F-195F.
Cook the Chicken:
Set up a 3-part "Breading Station." In one pan or bowl, add the flour, paprika, garlic and onion powder, cayenne, 1 teaspoon salt and 1/2 teaspoon pepper. In the second pan or bowl, whisk the eggs and hot sauce (I used Sriracha), and a pinch of salt. In the third bowl, add the bread crumbs, 1 teaspoon salt and 1/2 teaspoon pepper.
Trim any excess fat from the chicken pieces, then cut each in half. (Halves will be uneven in size and thickness, no worries here) I recommend lightly pounding the "thicker half" so the thickest parts of the thigh pieces are all uniform thickness and flat. That way, each chicken thigh will yield a thinner, flat piece, and a bit thicker piece that is also flat and uniform with the others. This makes the frying easier as they all get done at similar times.
Pat the pieces dry, then sprinkle with about a teaspoon of kosher salt. (I know this all seems like a lot of salt, but you'll be glad you seasoned each layer!) If you like your chicken extra spicy, go ahead and sprinkle a bit of cayenne pepper on them as well, both sides maybe) Then, dredge each piece in the flour mixture, shaking off any excess, then the egg mixture, again letting excess fall off, then the bread crumbs, again, letting the excess fall off. Set the pieces on a wire rack or grate.
Over Medium to Medium-High heat, heat a large, flat-bottomed frying pan, and add the oil. Food fries best and less oil is absorbed if the oil reaches 350-375F, and is kept there. Once the oil is hot, gently place 3 or 4 chicken pieces into the oil, watching them closely.  If the oil begins to smoke or spatter, turn the heat down a bit. Carefully flip the chicken pieces after 3-4 minutes, and cook 3-4 minutes more. Both sides should be deeply golden brown. Remove to paper towels set over a wire rack. Sprinkle kosher salt over hot chicken. Repeat until all chicken pieces are cooked.
Make Sandwiches:
Cut each biscuit in half, and add one of the fried chicken pieces. Add toppings as desired. We like honey and sweet/spicy pickles, but you could add any sauces or topping you love!
Nutrition
Serving Size:

1 Chicken Biscuit Sandwich
Keywords: fried chicken biscuit sandwich recipe, recipe, Chicken biscuit sandwich, spicy chicken sandwich, buttermilk biscuits, fluffy biscuits, honey chicken biscuits, chicken biscuit, fried chicken biscuit, spicy fried chicken, sweet and spicy chicken, chicken thighs, what to do with boneless skinless chicken thighs
Recipe Card powered by