One of my favorite quotes from Julia Child is, "A party without cake is just a meeting."  Think about that for a moment. Or two.  It really is true, isn't it?  Cake is that ubiquitous dessert that makes everything more festive. Some parties, like maybe a wedding, a Birthday, or a retirement, call for fancy cakes.  And I love baking, so I've made many "fancy" cakes, like my Chocolate Cake with Peanut Butter Frosting, or Vanilla Cake with Strawberries and Cream Cheese Frosting or the Best Angel Food Cake. But some parties are more casual, so you need a cake that doesn't require a lot of tender care or fussiness.  One that is easy to transport and serve but is still delicious as one of those fancy cakes. This type of occasion may not be a "fancy cake occasion", but you could call it a "sheet cake occasion". It could be a Sunday dinner, which I would argue is a weekly dinner party for your closest family and friends. And I'm going (maybe even further) out on this limb (but just being honest here) to say that this Chocolate Sheet Cake with Chocolate Frosting is THE best sheet cake I've EVER had. Maybe one of the best cakes, period. So yummy. A great choice for all of your sheet cake occasions!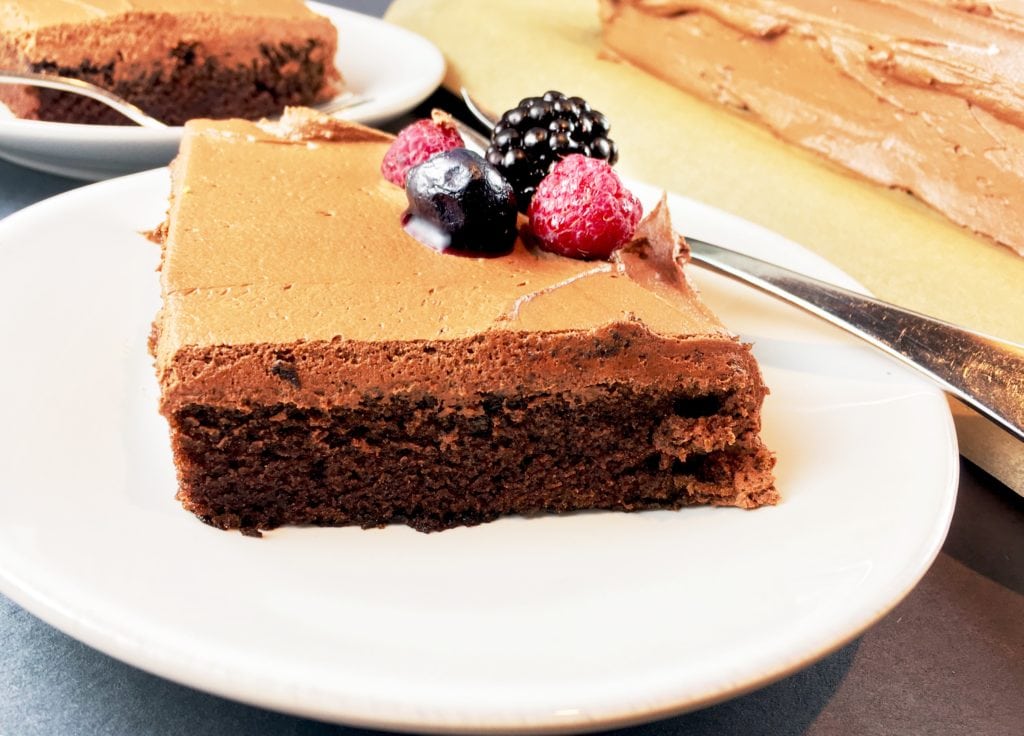 It is everything you want in a Chocolate Cake.  First of all, it is chocolate-y.  Not to call out our favorite box mixes, but some of them actually don't taste like chocolate to me.  I'm not quite sure what flavor they are, but it isn't the rich definitive chocolate flavor of this Chocolate Sheet Cake.  Second, it is super-moist, something you often don't find in a chocolate cake.  This one is just as moist after a couple of days as it is the day you bake it.  And, third – the FROSTING – because we all know, cake is sometimes just a vehicle for the frosting, right? – This Chocolate frosting is 4 simple ingredients of fluffy, smooth, intense chocolate flavor, without being overly sweet.  So this Chocolate Sheet Cake with Chocolate Frosting is Per-Fec-Tion! The recipe is one I adapted slightly from one of my all-time favorite cookbooks, Leslie Mackie's Macrina Bakery and Cafe Cookbook.  I didn't change any of the ingredients, rather, I just baked the cake in a 9×13 pan instead of a 9″ round.  Because of this, I made half of the frosting recipe from the book, and actually still have a bit leftover. Easy to bake, easy to frost, easy to serve.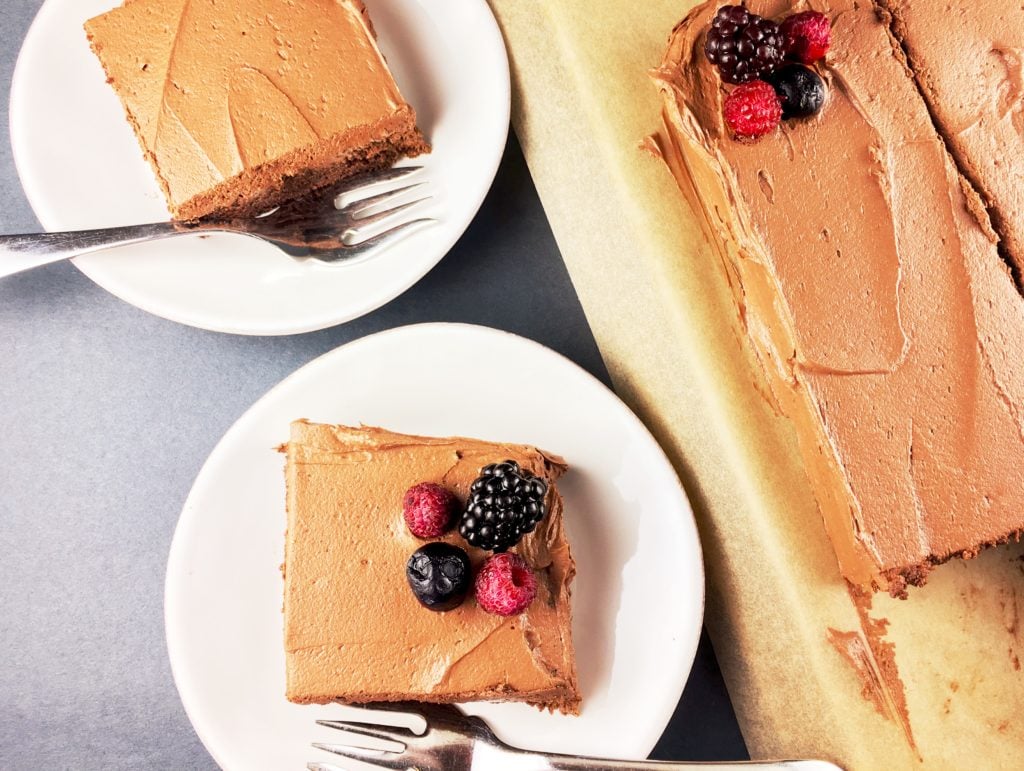 So listen to Julia Child! Don't let your next party become simply a meeting! Even a family dinner deserves to be a party, so make a Chocolate Sheet Cake! You won't regret it! Enjoy!
Print
Chocolate Sheet Cake with Chocolate Frosting
The moistest, chocolatey cake around!  So delicious, enrobed in fluffy cocoa-flavored frosting, it can feed 12-20 people.
This recipe is adapted from Leslie Mackie's Macrina Bakery & Cafe Cookbook: Favorite Breads, Pastries, Sweets & Savories
. Instead of making it a 9″ round cake, I poured the batter into a 9×13 baking pan and made it more of a sheet cake.  I also cut the frosting recipe in half, so if you wish to bake a layer cake, just double the frosting portion.
Author:
Prep Time:

20 mins

Cook Time:

30-35 mins

Total Time:

32 minute

Yield:

12

-

20

servings

1

x
Category:

Cakes

Method:

Baking
Ingredients
For the cake
2

Eggs

3/4

c Whole milk

1/3

c Canola oil (you could substitute any vegetable or corn oil)

2

t Pure Vanilla extract

1 3/4

c Granulated sugar

1 1/2

c AP flour

1/4

c Best dark cocoa powder, sifted

1

t Baking Powder

1

t Baking Soda

3/4

t Salt

3/4

c Water, boiling (see Note)
For the Vanilla Syrup
1/4

c Pure Vanilla extract

1/4

c Granulated Sugar

1/4

c T water
For the Frosting
6 oz

. Unsweetened Chocolate, chopped

2

sticks (1 c) Unsalted Butter, room temperature

1 3/4

c Confectioners' Sugar, sifted

1

T Pure Vanilla extract
Instructions
Prepare the Cake Batter
Preheat oven to 325F. Brush the inside of a 9×13 baking pan with butter or oil.  Place a sheet of parchment paper over the bottom and up 2 sides of the pan.  Brush paper with butter or oil.
In a medium bowl, whisk together eggs, milk, oil and vanilla extract.  Set aside.
Into a large bowl, or the bowl of a stand mixer, sift the sugar, flour, cocoa, baking powder, soda and salt. Add the bowl of wet ingredients to the dry ingredients and mix on medium speed with the whisk attachment for 2 minutes in the stand mixer or with a 4-5 minutes with a hand mixer. While continuing to mix, add the boiling water and mix until well-combined, about 30 seconds.
Pour the batter into the prepared baking pan.  Bake in preheated oven 30-35 minutes, until a skewer inserted into the center comes out clean.  The cake should be beginning to pull away from the edges as well.  Cool on a rack for at least 30 minutes before removing.  Allow to cool completely prior to brushing with syrup and frosting.
Make the Vanilla Syrup
In a small saucepan, mix together the vanilla, sugar and water.  Stir.  Heat over medium heat until mixture boils.  Continue to cook, stirring occasionally, for 2-3 minutes, until mixture becomes syrupy.  Remove from heat, pour into a small bowl, and let cool.
Prepare the Chocolate Frosting
In a double boiler, or in a metal or glass bowl set atop a pan of simmering water, gently heat the chopped chocolate, stirring occasionally, until melted and smooth. Be careful not to let the bottom of the bowl touch the hot water, or the chocolate could burn.  Remove from heat and let cool to room temperature.
In a large bowl or the bowl of a stand mixer and using the paddle attachment, whip together the butter and confectioners' sugar.  It's best to start at low speed, then, once they mix together, move up to medium speed.  This will prevent a mess of confectioners' sugar coming from the mixer into your kitchen.  Mix the two ingredients until they are light and fluffy, which should take 6-8 minutes.
Slowly add the melted chocolate, which should be at room temperature, until incorporated.  Then add the vanilla. Continue mixing (Medium speed) 2-3 more minutes, until the frosting is spreadable.  This frosting can be a bit sensitive to temperature, so unless it is super-hot in your kitchen, it is best to leave it at room temperature prior to frosting the cake.  However,  if it begins to lose its fluffiness, you will need to refrigerate a few minutes so it can be spread easily.  If you prepare it in advance and refigerate it, you will need to bring it back to room temperature, then whip it up a bit with a mixer.  I've found that if it is refrigerated, I can warm it slightly on my microwave power setting of 4 (of 10) for 30-45 seconds, and then stir it and it will be smooth.  If this doesn't work for you, you will likely need to whip it again.
Assemble the Cake
If you would like to frost the top and the sides of the cake, you will want to dump it out onto a tray or board to frost. Place the board or tray atop the cake pan, hold tight and flip quickly.  The cake should come out easily if you oiled both the pan and the parchment.  If not, use a knife or rubber spatula to be sure the cake is separated nicely from the pan edges.
Brush a little of the vanilla syrup (you may need only 1/2-3/4 of the syrup) over the top of the cake.  Then spread the frosting in a thick layer up the sides and over the top of the cake.  It is likely you will have a cup or so of the frosting leftover, possibly more if you frost the cake in the pan.
Notes
For even more intense chocolate flavor, you could substitute 3/4 c boiling coffee for the boiling water.
The cake is great served with fresh fruit, or with a small sprinkle of flaked sea salt.
Cover and refrigerate any leftovers, but the cake is wonderful served at room temperature, so be sure to take it out 30-60 minutes prior to serving.
Any leftover frosting is fantastic spread over Saltine, butter crackers, or Graham Crackers.
Recipe Card powered by