I kind of hate the term "foodie", because sometimes I don't understand why everyone isn't interested in the food they eat.  Because we all know, our food keeps us alive and good food choices make us healthy, so why wouldn't we want it to be tasty and satisfying, too? So even though I don't care for the term, I must be a "foodie" because compared to others, I do spend a large amount of time thinking about what I am feeding my family, and myself.  When did I become a "foodie"?  Thinking back, it may have been pretty early on, as evidenced by my Walt-Disney-watching days. Imagine this: while watching that iconic scene in "Lady and the Tramp", you know, the one where they are eating spaghetti and they both pick up the same strand and all of the sudden, they realize the spaghetti is bringing them closer together? Their eyes meet in something of a "magic moment"?  Am I the only one, who, upon watching this romantic moment, thought, "I wonder if our Mom would make us Spaghetti and Meatballs?" (Ok, I was just a kid) After all, I didn't grow up eating much spaghetti – we weren't really pasta people.  We were more the meat and potatoes variety.  The closest we ever came to pasta was the can of Chef-Boy-ar-Dee in the pantry, as I mentioned in Homemade Potato Gnocchi as well as in my Lidia Bastianich's Lamb Ragu post.  (Hmm, pasta issues?) Anyway, thanks to Walt Disney, I asked Mom to make Spaghetti and Meatballs, and one day, Voila!  A dish that tasted so like this Easy Spaghetti and Meatballs Marinara for dinner!  Delish! And (I think) evidence of my early life as a "foodie".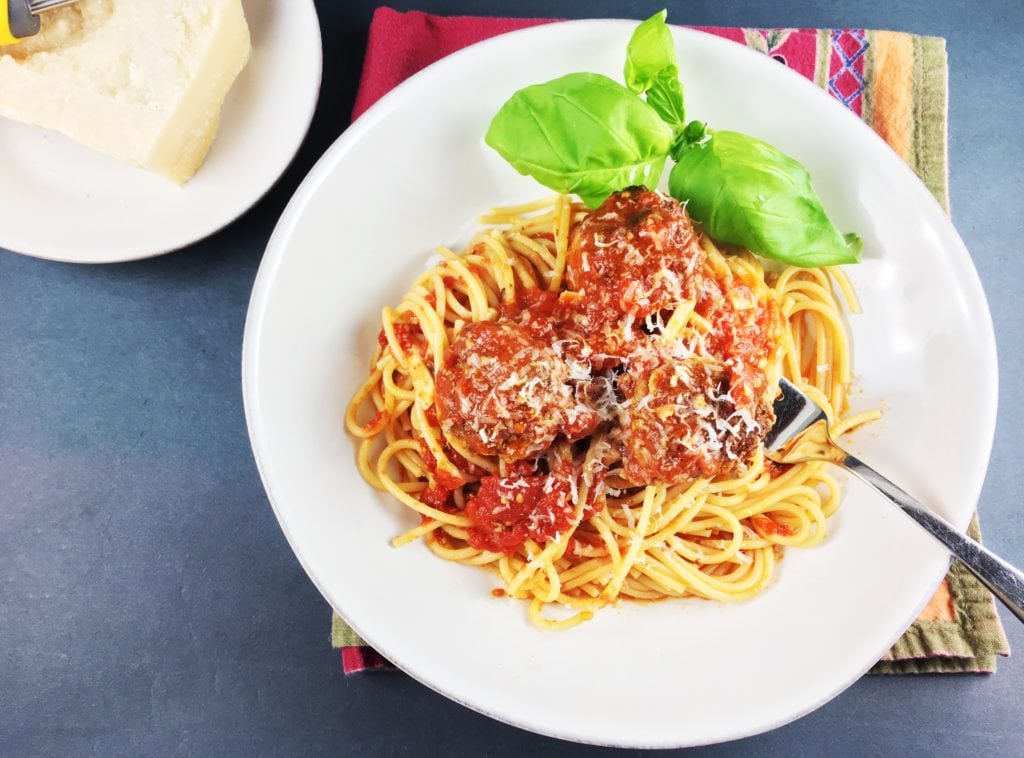 At that time, our local grocery store didn't sell pre-made meatballs, either in the fresh or frozen sections, so I know Mom made them by hand.  And pasta sauce?  Probably also starting with a can of tomatoes and her trusty Betty Crocker Cookbook.  I can tell you, once you make your own pasta sauce, you won't look at a jar of pre-made sauce the same way again!  And this recipe for Marinara sauce is so simple, you won't even know why you bought that jar in the first place.  At least for Spaghetti and Meatballs Marinara, where a flavorful sauce is as much a star as the tender meatballs! What is it about homemade? Just a few simple ingredients and a few minutes rewards you with so much more!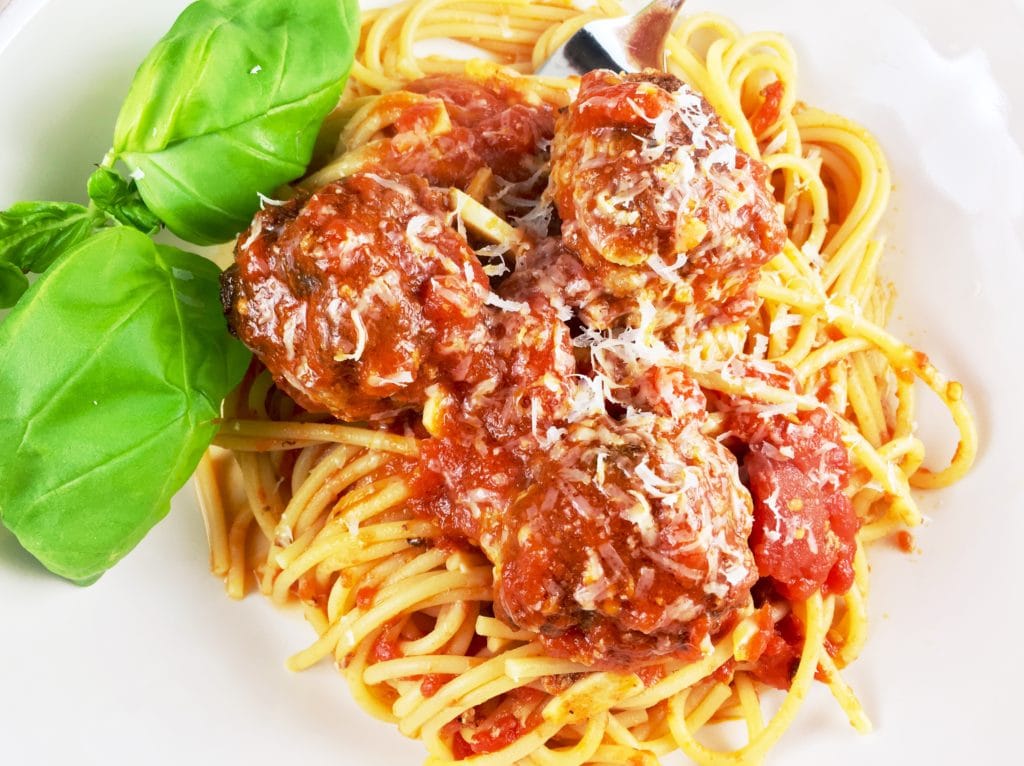 So whether or not you call yourself a "foodie", this Spaghetti and Meatballs Marinara is a must! You might even admit to being a foodie once you make it.  It is just so easy and so satisfying! Lady and the Tramp, anyone?
Enjoy!
Print
Easy Spaghetti and Meatballs Marinara
Inspired by and adapted from the NY Times recipe for Marinara, and  Bobby Flay's Meatballs, I made this Easy Spaghetti and Meatballs.  Both recipes are easy and straightforward and blend together to make the perfect Easy Spaghetti and Meatballs Marinara recipe!
For this recipe, I form the meatballs first, and refrigerate them while I make the Marinara.  While the Marinara simmers, I brown the meatballs, then add them to the marinara to simmer and finish cooking, while the pasta cooks.  So I recommend reading the entire recipe first, so you can decide whether to multitask or pour a glass of Sangiovese and take your time.
Author:
Prep Time:

20

Cook Time:

50

Total Time:

1 hour 10 minutes

Yield:

8

servings

1

x
Method:

Stove-top

Cuisine:

Italian
Ingredients
For the Marinara Sauce
1

28oz. Can whole tomatoes, preferably San Marzano variety

2

T olive oil

7

garlic cloves, peeled and slivered

1

t sugar
pinch crushed red pepper flake

1

t Kosher Salt

1

large sprig of fresh Basil
For the Meatballs
2

lb. total of Ground Meat:  I used 1 lb beef and 1 lb pork but feel free to use beef, pork, veal, alone or in combination, as long as you have about

2

lb.

4

cloves garlic, peeled, minced

1/2

c Grated Parmeggiano Reggiano Cheese

1/2

c Breadcrumbs

2

eggs

1 1/2

t salt

1/2

t pepper

1/4

c olive oil
Pasta
1

lb dry pasta, preferably a long pasta like Spaghetti or Linguini
Instructions
Make the Meatballs
In a large bowl, place all of the meatball ingredients except for the olive oil.  Using your hands (preferred) or a large spoon, gently mix ingredients until all ingredients are incorporated.
Form mixture into 1 1/2″ balls, placing them on a sheetpan.  Put meatballs in the refrigerator while you prepare the marinara.
Make the Marinara
In a large saucepan, heat the oil.  Add the garlic.  Once the garlic sizzles, gently lift the tomatoes from the can with your hands, and gently crush into the hot oil and sizzling garlic.  Add 1 c water to the can. Reserve.
Once the tomato mixture begins to bubble, add the reserved water, sugar, crushed red pepper, and salt.  Place the basil sprig on top of the sauce and simmer while you cook the meatballs.
Cook the Meatballs
Heat the 1/4 cup olive oil in a saute pan.  In two batches, brown the meatballs to a deep golden brown color on all sides, draining on paper towels when browned.  This should take 8-10 minutes per batch.
Gently spoon the meatballs into the simmering marinara.  Continue to simmer while preparing pasta.
Cook the Pasta
Cook 1 lb pasta to "al dente" according to package directions.  Place pasta on serving platter or bowl, or onto individual plates.  Remove basil sprig from the marinara and spoon meatballs and marinara over pasta.
Serve with more freshly grated Parmeggiano-Reggiano at the table.
Notes
Too speed up cooking time, consider heating your salted pasta water while you cook the meatballs.
If you don't have fresh basil for the Marinara, a good substitute is 1 tsp. dry oregano (it has more flavor than dried basil).
Recipe Card powered by