We all eat with our eyes first.  When I opened the February issue of Bon Appetit, it was a veritable feast!  All of the photos were so lovely, so bright, so appealing, I was inspired to try (at least) one of the recipes right away.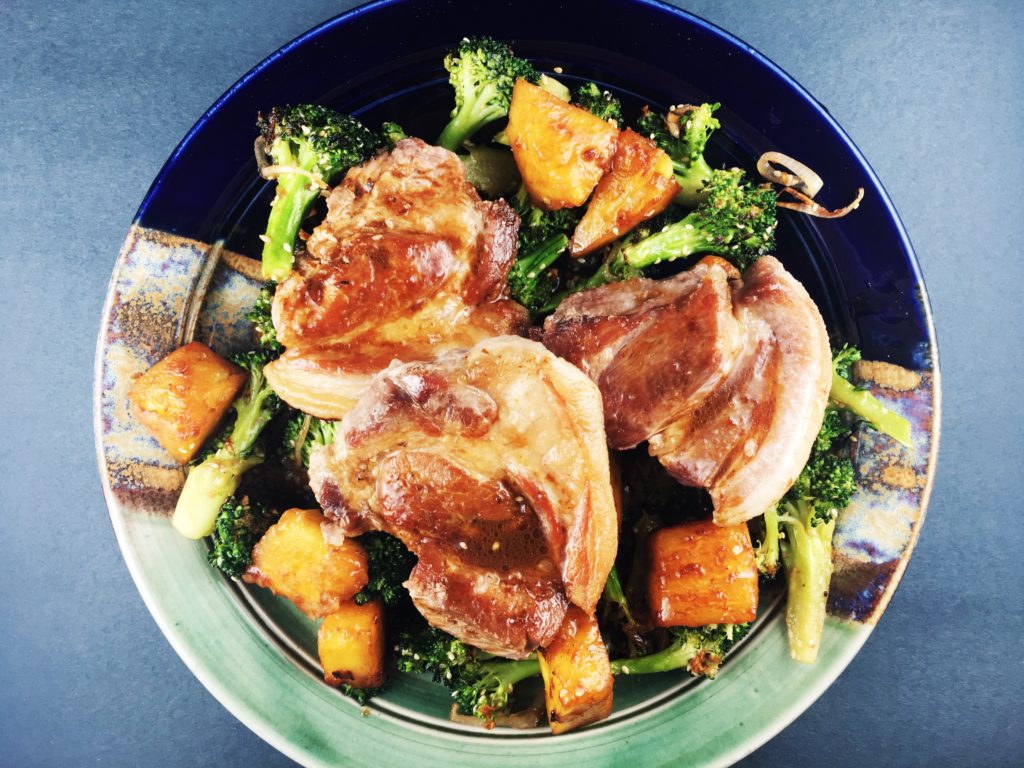 This recipe, Pork Shoulder with Pineapple and Sesame Broccoli, rose to the top of the list for 3 reasons:  1. Pork Shoulder.  Usually a bargain cut, for which slow-cooking, like in one of my all-time favorites, Pulled Pork Barbecue, tenderizes in the most lovely way.  2. Pineapple. My favorite fruit, this time of year. My mouth waters just thinking about its juicy, sweet-tartness.  3. Broccoli.  A staple on my table.  Tender, with some crunch.  Just the way I like it.  Put them all together with some shallots, sesame seeds, and a savory sauce, and it's magic.  A gorgeous bouquet of color, this dish. I had to make it!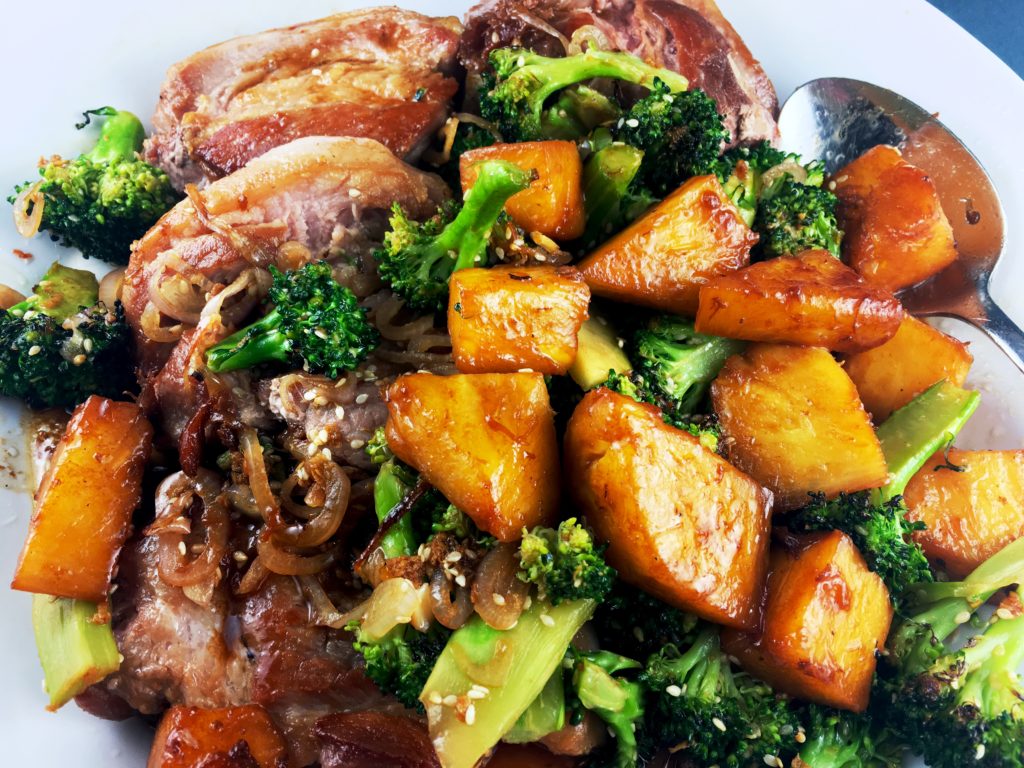 Like several dishes in the magazine, this recipe is from Nate Appelman, whose food philosophy seems similar to mine:  whole, unprocessed foods, quality meats, fresh vegetables and fruits, and healthy fats, all brought together in ways that balance the flavors of the ingredients. With this philosophy, even the humblest of ingredients shines.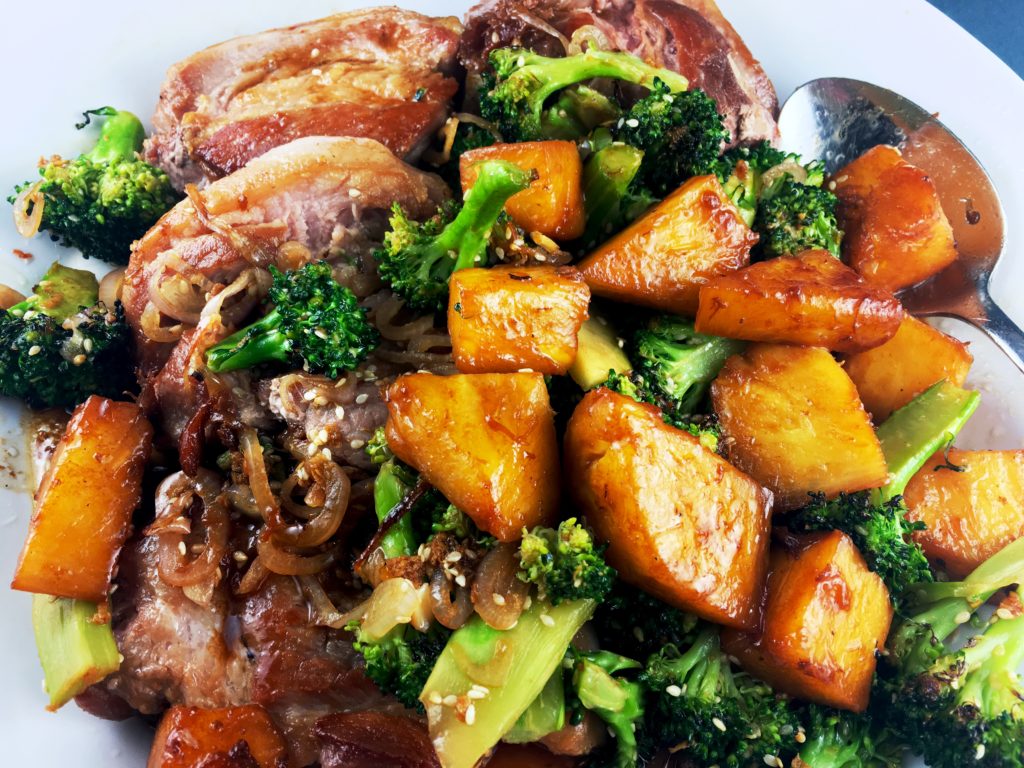 No fancy cooking techniques here, just a sear of the pork steaks, saute the pineapple, roast the broccoli.  Pour a simple dressing, and dinner is ready in about 40 minutes.  The only thing that seems a bit, I don't know… maybe…excessive, in a recipe wanting to be "quick", is the blanching of the broccoli.  Blanching produces a brighter color, and helps retain the desired tender-crisp texture. I would say if you can sacrifice the bright beautiful color of the broccoli, you might be able to get by with a quick minute in the microwave with a tablespoon of water or two, before roasting in the oven.  Again, I don't know, but next time (and this is so delicious, there WILL BE a next time), that's my plan.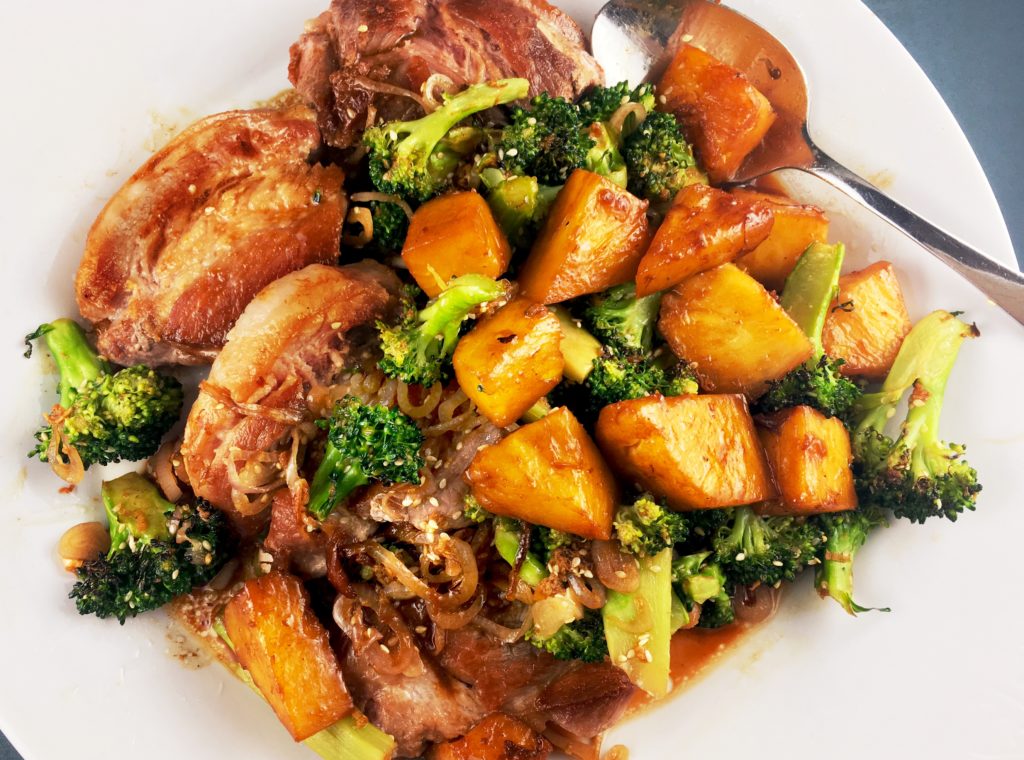 And, when you taste it – oh, my, this is simply delicious!  The sauce has an Asian flavor, from the ginger and soy sauce, a bit of sweetness from the balsamic vinegar and the party of textures from the broccoli and pineapple make this dish a winner!  A great new dinner for the family, this is a must-cook!  So eye it, eat it, and Enjoy!