An easy-to-prepare and healthy dish with so much flavor! This recipe was featured in Bon Appetit, February 2017.  It is from Chef Nate Appelman, who cooks with well-marbled (juicy!) quality meats and fresh fruits and vegetables.  This dish would be delicious with brown rice, couscous or a nice sourdough bread to sop up the fantastic sauce.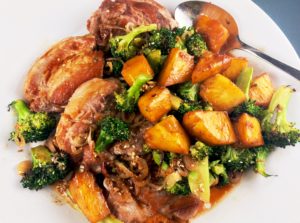 Ingredients
2

lb

Pork Shoulder (or 4-5 blade chops)

1

1" piece of fresh ginger, peeled, grated

1

Clove garlic, minced or grated

1

tbsp.

Plus 2 tsp. Balsamic Vinegar

1

tbsp.

Plus 2 tsp. Soy sauce

1 1/2

lb

Broccoli (fresh)

3

Small Shallots, peeled, sliced

2

tbsp.

Olive oil

2

tbsp.

Sesame Seeds (toasted is ok)

1

tbsp.

Vegetable oil

1/2

Small pineapple, peeled and chopped into 1/2-1" chunks

1

tbsp.

Butter
Instructions
Cut the pork shoulder into 4 1"-thick steaks. Season with Kosher salt.
Whisk together the ginger, garlic, 1 T balsamic vinegar, and 1 T soy sauce in a small bowl and set aside.
Preheat oven to 450F. Place a roasting pan in the oven to preheat the pan. Divide the broccoli into large florets. Cut the stem into 1/4" planks. Blanch broccoli pieces in a saucepan of boiling salted water until bright green. This takes 10-30 seconds. Remove from the water, drain and arrange on a rimmed sheet. Cool. Pat dry. Toss with olive oil, shallots and sesame seeds. While waiting for broccoli to cool, proceed to the next step.
In a large heavy skillet, heat vegetable oil over medium heat. Sear pork steaks 5 minutes on the first side (don't peek!), then 3 minutes on the second side. A thermometer or probe placed into the steaks should read 135-140F. Transfer to board, and let rest 10 minutes.
Pour excess fat from the skillet, return to heat and cook pineapple until it is slightly softened and appears brown in spots. This takes about 3 minutes. If it gets dry, feel free to add a few tsp water so it stays saucy. Once done, add butter along with any drippings from the board with the resting pork. Add remaining balsamic and soy sauce. Season with salt and pepper to taste.
Take the roasting pan out of the oven. Place the broccoli mixture in the pan and roast until lightly browned at the edges but still tender, about 8-10 minutes. Once done, add to the reserved ginger-garlic dressing (from Step 2), and plate with the pineapple and roasted pork.