It seems Julia Child Has been whispering to me lately. Note the following occurrences of the past week: 1) My darling daughter gave me a beautiful book to record recipes and notes.  While I have used this book a couple of times to write recipes, I just noticed the quote just inside the front cover:  "Learn how to cook:  try new recipes, learn from your mistakes, be fearless and above all have fun." – Julia Child.  2) My other (also darling) daughter, her friend and I watched a movie featuring Amy Adams, which resulted in us talking about other Amy Adams movies, specifically "Julie and Julia" a good movie based on an excellent book by a woman (played by Amy Adams) who cooked several hundred Julia Child recipes over the course of a year (and blogged about it!). And, 3) Teresa (unaware of the previous 2 occurrences) suggested we cook a Julia Child recipe this week.  That led us to Daube de Boeuf! Thanks, Julia!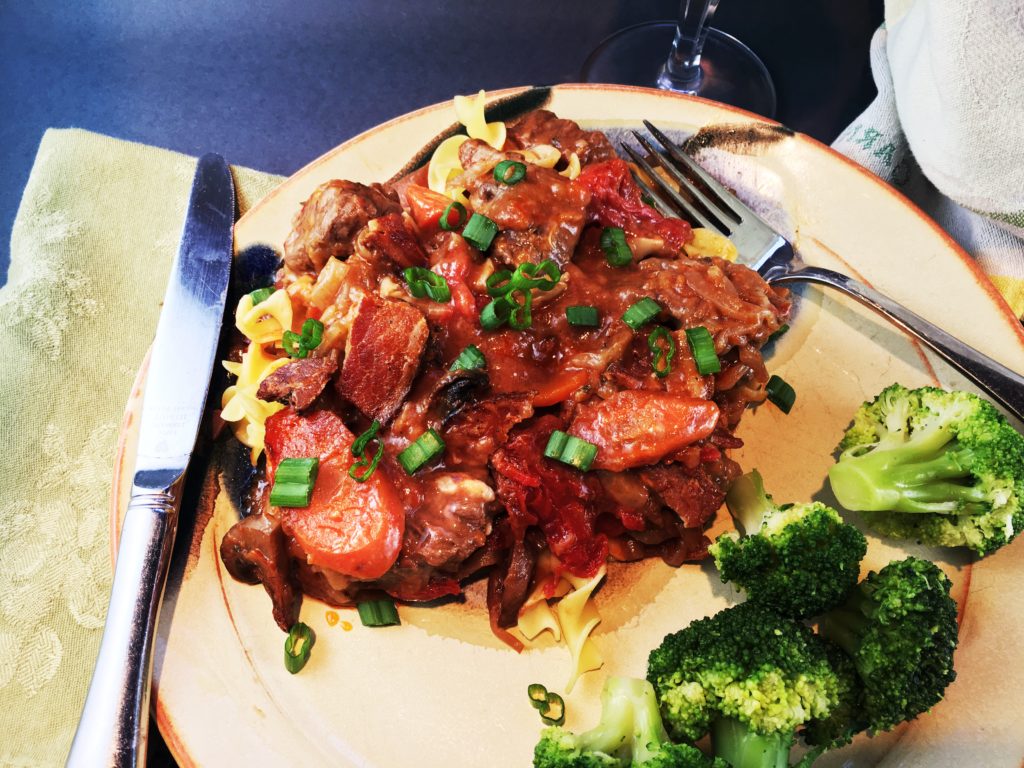 This Daube de Boeuf, which is adapated from Julia Child's casserole of beef, wine and vegetables, is braised until it is melt-in-your-mouth tender.  The flavor of this casserole is per-fect-ion – not a single ingredient's flavor is lost in this creation – the smoky bacon, super tender beefy beef (I know that sounds weird, but one bite and you will know what I mean), hearty mushrooms, marinated onions, carrots, tomatoes.  You can taste each one.  I guess we shouldn't have expected less from Julia.
The recipe is very much a casserole, as ingredients are layered and baked in a large casserole dish, but it turns out stew-like, in that it has a sauce that you want to drape over noodles or potatoes and then sop up with a nice baguette.
But don't think this is anything like your standard Beef Stew! It is in an entirely different part of the food universe from good 'ol Set-It-And-Forget-It in the CrockPot (or Instant Pot!) Beef Stew, (although I think it's the ingredients here, not the lack of CrockPot, which you certainly could use). The complexity of flavors will absolutely knock you over!  Julia certainly knew what she was doing here.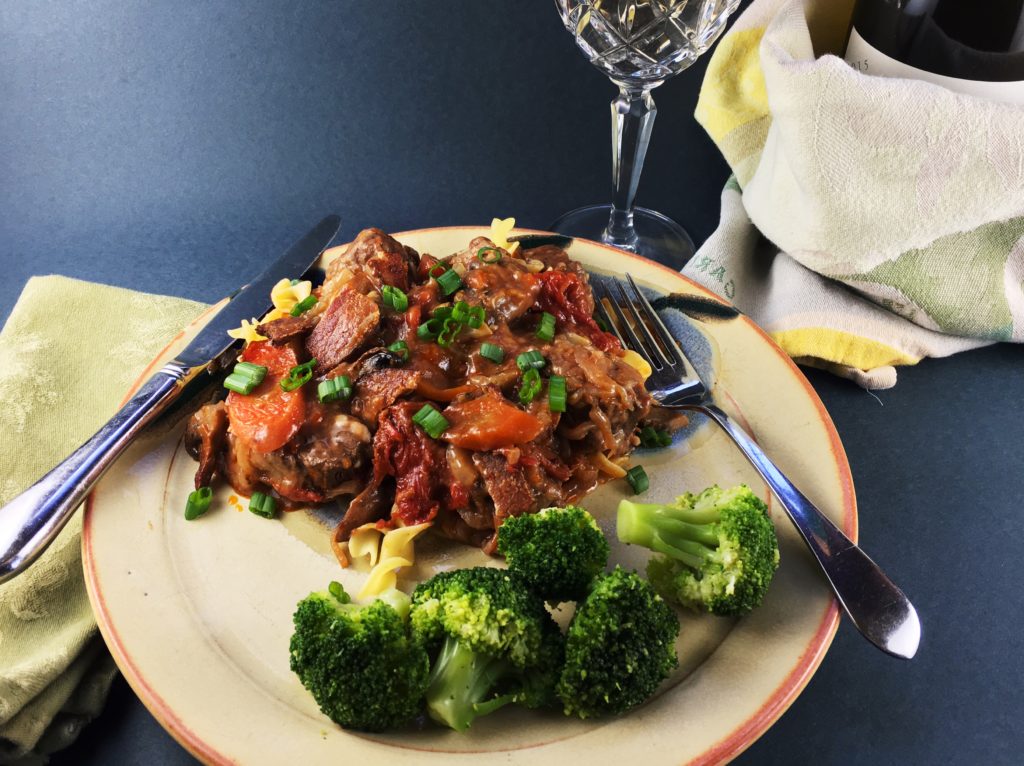 Sometimes the Universe talks to you.  On the occasion it whispers "Julia Child" in your ear, you know what to do.  Daube de Boeuf! Enjoy!