Daube de Boeuf is a Casserole of Beef with Wine and Vegetables. This recipe is adapted from Julia Child, in Mastering the Art of French Cooking.  We have changed a few things to adapt to our specific timing and kitchen:  we are using canned tomatoes, rather than fresh and have changed the layering since we used a large, wide dish, rather than a smaller casserole dish.  We served this beef with boiled egg noodles, but feel free to serve with potatoes or rice.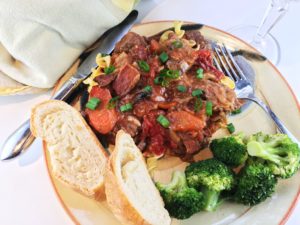 Ingredients
3

lb

Chuck roast, cut into 2" squares that are 1" thick

1 1/2

c

Dry white wine

1/4

c

Gin or brandy (Optional)

2

tbsp.

Olive Oil

2

tsp.

Salt

1/4

tsp.

Pepper

1/2

tsp.

Thyme

1

Bay Leaf, crumbled

2

Cloves Garlic, mashed

2

c

Thinly sliced onions (about 2 medium)

2

c

Thinly sliced carrots

1/2

lb

Thick-cut Lean bacon, cut into 2" x 1" slices

6

oz

Mushrooms, thinly sliced (about 1 1/2 cups)

2 1/2

c

Tomato purée (most or all of a 28-oz. can)

1

c

AP flour, whisked or sifted

1

qt

Beef Stock
Instructions
In a large bowl, place the beef, wine, optional spririts, oil, salt, pepper, thyme, bay leaf, garlic, onions, and carrots. Cover and marinate at least 3 hours, or, If you are marinating in refrigerator, 6 hours. Stir frequently.
When you are getting ready to put the casserole together, simmer the chopped bacon in 2 quarts of water for about 10 minutes. Drain. Dry bacon with paper towel. Prepare the sliced mushrooms.
Preheat oven to 325F. Remove the chunks of beef from the marinade, reserving the marinade and all of the marinated vegetables.
In a large, deep casserole dish (should hold at least 5 Qt.), layer ingredients in the following way: Half of the bacon, half of the marinated vegetables, half of the mushrooms, half of the tomatoes. Next, dredge the pieces of beef in the flour, shaking off excess, and layer the pieces, pushed close together. Atop the beef, place the remaining vegetables, mushrooms, tomatoes and finally the remaining bacon pieces.
Pour the reserved marinade over the layered casserole. Then pour as much beef stock to almost cover all of the ingredients. Bring the casserole to a simmer on the stovetop, then cover and place into the oven for 2 1/2 to 3 hours. Meat pieces should be fork-tender.