I just LOVE spices!  I love everything about them –  their rich colors, their incredible aromas, the way they make a dish that can transform a simple meat or vegetable into a memory of a favorite vacation or a visit to somewhere you've never been.  Magical.  I love Thai spices, Mexican, Cuban, Indian, Cajun, you name the spice, I love it?  And I will cook with it.
Teresa and I often cook Indian food. One of the staples of food from this region of the world is Garam Masala. Garam Masala is a fantastic blend of various spices, including (but not limited to) cumin, cardamom, coriander, fennel, cinnamon, anise and nutmeg. What attracted me to this particular recipe was the opportunity to make my own Garam Masala. So worth it. The homemade mixture was so beautiful, fragrant, and richly colored I couldn't wait to taste it in the stew.  If you don't have a spice grinder, feel free to use already ground versions of the spices, or just use 5-6 Tablespoons of commercially-available prepared Garam Masala.
The other thing I love about this recipe is that it is made with lamb shank.  I have to say, I've never met a lamb (shank) I didn't love.
The resulting stew is rich, teeming with exquisitely tender, juicy lamb and a flavorful gravy.  Served with bits of each of the garnishes, it tastes like heaven?  Wrapped in a bit of naan, dipped in the gravy, Mmmmmm.  Just Mmmmmm.
Definitely making this again.  Enjoy!
PAKISTANI LAMB STEW
(Inspired by and adapted from Saveur, posted 10/21/14)
Ingredients
For the Garam Masala:
2 T poppy seeds
1 T coriander seeds
1 t cumin seeds
1 t fennel seeds
1/2 t black peppercorns
1/4 t freshly grated nutmeg
5 whole cloves
1 t ground cardamom
1 whole star anise
1 stick cinnamon
For the stew:
1 c canola oil
1 medium yellow onion, thinly sliced
3 lamb shanks
1 1/2 t cayenne pepper
2 garlic cloves, mashed into a paste
3 inches ginger, divided into 1″ mashed, and 2″ julienned
1/4 c flour
2 T ghee or olive oil
Garnishes: cilantro, lemon wedges, thin-sliced Thai chile or jalapeño, naan
INSTRUCTIONS
Make the Garam Masala.  In a spice grinder (I use and old coffee grinder), first grind the poppy seeds along with 1T water, into a paste.  Place in a bowl. Next, grind remaining Garam masala ingredients into a fine powder.  Mix with the poppy seed paste.  Set aside.
In the pan of a pressure cooker, heat the canola oil and sliced onion.  Cook over medium-low heat until the onion is carmellized and crispy. This takes 25-40 minutes. Using a slotted spoon, remove the onions to a bowl.  Discard most of the remaining oil, leaving 1/4 cup in the bottom of the pan.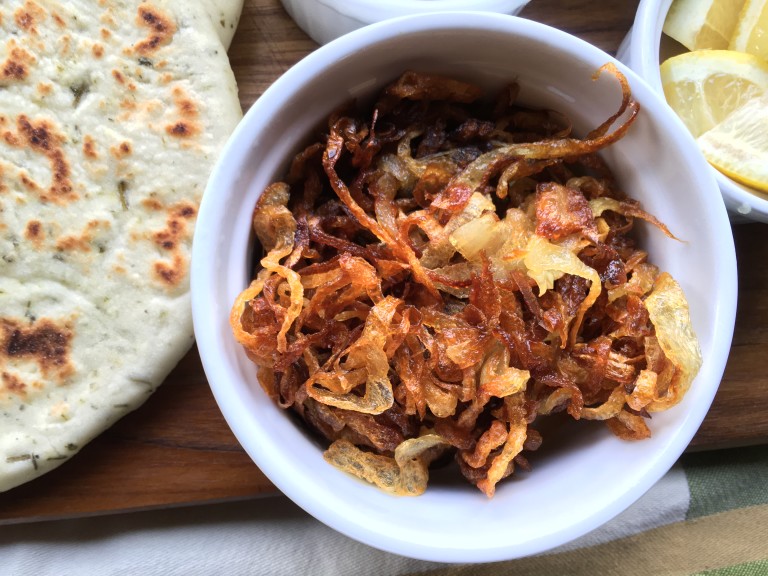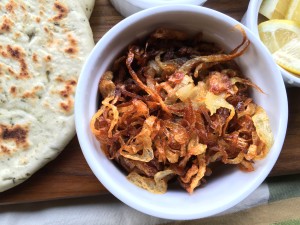 Return heat to medium and brown the lamb shanks on all sides in the remaining oil, around 3 minutes per side.  Remove to a plate.  Into the hot oil, place the reserved Garam Masala, cayenne pepper, garlic and ginger pastes and 1 1/2 t salt. Stir and cook 2-3 minutes until very fragrant.  Add 3-4 c hot water to the pan, stir to distribute spices.  Place the lamb shanks into the pan, making sure they are about 2/3 submerged in the broth. Place the top on the pressure cooker and seal. Return to stove over medium heat.  When the pressure regulator rocks slowly, cook for 1 hour.
Let pressure drop on its own accord. (An alternative would be to cover and roast the lamb 5 1/2 – 6 hours at 300F) At this point, the meat should simply fall off the bones.  Remove shanks from the broth.  Make a slurry out of the flour, ghee and 1/4 c water.  Pour into the both and cook 10-15 minutes until thickened.  Shred the lamb and top with the thickened gravy.
Serve the lamb stew alongside the garnishes.
Enjoy!