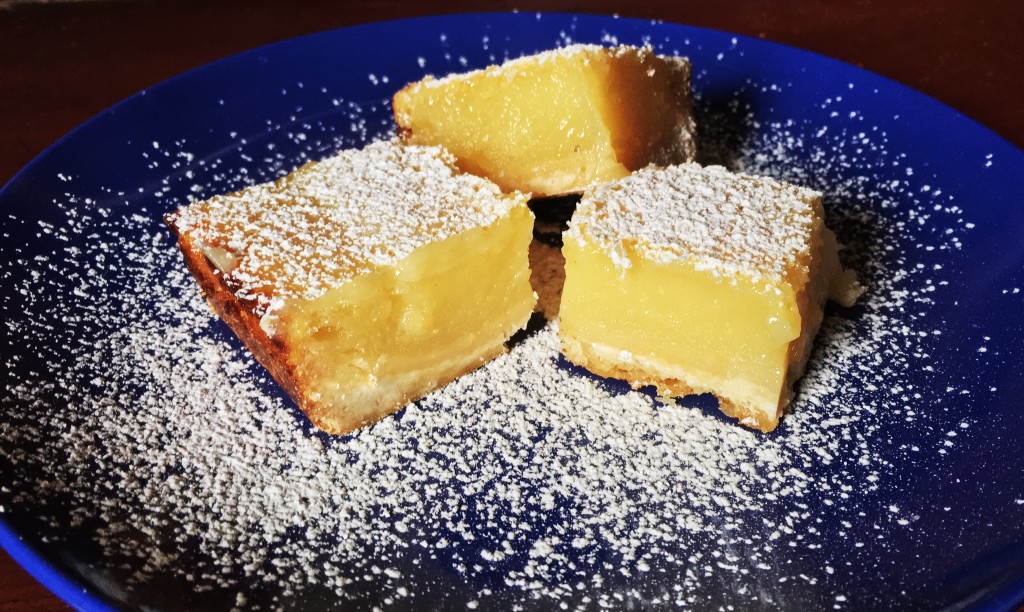 When I was a kid, we so rarely ate any cookies or desserts that were not homemade.  My mom was an especially good baker.  We would come home from school and just detect the faint aromas of baking still in the air. That would be our signal to run to the cookie jar in hopes it was full of sweet treats.  Occasionally, it was empty.  Huh?  But we smell them, Mom!   Where are they?  To our pleasant surprise, they were bar cookies, ones not to be stored in the regular old cookie jar. One of our favorite bar-type cookies were Lemon Squares, which our mom made with a bottle of Reallemon Lemon Juice. Because, really, with 6 kids, who had time to squeeze several lemons?
These luscious bars have been taken up a notch or two by the incomparable Ina Garten, aka, Barefoot Contessa.  They are all at once tangy, sweet, scrumptious.   Crispy, buttery shortbread crust on the bottom, ooooey-gooey smooth lemony goodness inside, a dusting of powdered sugar over an ever-so-slightly crisp top.  These are the perfect snack or dessert (or breakfast!) for this time of year. And the beautiful golden-yellow sunshine-y color just invites a bite or two…or three…
With this recipe, I made two batches, since I needed to take them to two different events.  So, I thought I would use that as a little experiment to learn about two different things I've been wondering.  First, I have two 9×13 baking pans.  One is light-colored, the other a darker, nonstick-type pan.  I wondered if using the dark nonstick pan would make a difference in the look or flavor of what was baked.  And, not surprisingly, the edges an bottoms of the bars were darker, toastier, and crispier.  All benefits in my  book!  So I do like the bars from this batch better.
Secondly, whenever a recipe says "mix until just combined" I often mix only until the ingredients are uniformly incorporated, and not until it comes together into a ball of dough.  This is because I've somehow been lead to believe it is easy to over mix, thus making a tough crust. So this time, I thought that with the second batch, I would continue mixing until it not only is combined, but actually forms a ball of dough.  To my surprise, but possibly no on else's, "mix until just combined"  really means mix until a nice beautiful dough is formed.  Who knew?
I know that once you try this recipe, it will become your go-to lemon bar.  (For extra crispness bake in a dark pan!) I know Mom would approve, too. Enjoy!
INA GARTEN'S LEMON BARS
(From Ina Garten, as seen on Food Network.com)
Ingredients
For the crust:
2 sticks unsalted butter, room temperature
1/2 c granulated sugar
2 c AP flour
1/4 t salt
For the filling:
7 large eggs (Ina calls for 6 extra-large)
3 c granulated sugar
2 T grated lemon zest (3 large or 4-6 regular lemons worth)
1 c freshly squeezed lemon juice
1 c AP flour
Confectioners' sugar, for dusting
Instructions
Prepare the crust.  First, cream the butter and sugar until light an fluffy.  Mix together the flour and salt.  With mixer on low, add to the butter mixture until it forms a smooth dough.  Flour your hands well and gather the dough into a ball. Press into a 9×13 baking pan to form a crust that extends about a half inch up the sides of the pan. Chill 30 minutes, while oven preheats to 350F.
Bake crust 15-20 minutes until light golden brown. Let cool while you prepare the filling, leaving the oven on.
While crust is baking, prepare the filling.  In a large bowl, whisk eggs.  Then add the sugar, lemon zest, lemon juice and flour.  Pour the filling into the slightly cooled crust.  It will likely over-fill the crust.  This is perfectly fine. Bake 30-35 minutes, until the filling is set.
Cool on a wire rack.  Once completely cool, sprinkle confectioners' sugar, using a sifter.  Cut in squares. Enjoy!