(adapted from Trove Noodle's Best Dish as seen in The Seattle Times, 1/19/16)
First Make the Sauce, then prep the ingredients for the rice cake.  Have them ready at the stove for quick cooking.
Recipe yields 1 pt sauce, and 4 servings Rice Cake with Lamb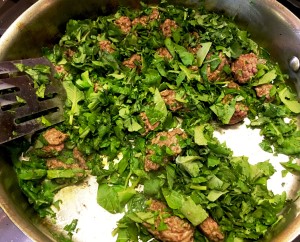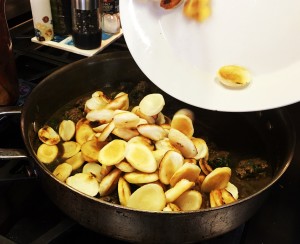 Prep Time: 45h
Cook Time: 15h
Total Time: 1h
Ingredients
2

oz

Lemongrass, pounded and chopped

2

oz

Ginger, sliced

2

oz

Garlic, rough chopped (about 10-12 cloves)

1

oz

Or 2 T salted fermented shrimp (saeujeot)

1/2

c

Mirin

1/4

c

Coconut milk

1

tbsp.

Fish sauce

1/4

c

Tamarind puree

1/2

tsp.

Ground coriander

1

tsp.

Red pepper flake

For the Rice Cake:

4

tbsp.

Canola oil, as necessary to fry rice cake slices

1

lb

Rice cake, sliced

1

lb

Ground lamb

4

tbsp.

Butter

4

c

Kale, chopped

3

tbsp.

Scallion, chopped
Instructions
In a blender, place lemongrass, ginger, garlic, salted fermented shrimp (saeujeot), mirin, and coconut milk (and sake if using). Blend until almost smooth.
Pour mixture into a bowl and whisk in fish sauce, tamarind puree, coriander and pepper flake. Set sauce aside.
Heat a large sauté pan or wok over medium-high to high heat. Add 2-3 T canola oil. Add rice cake in a single layer. Sauté until crisp and golden, turning to crisp other side. Repeat for remaining rice cake.
Crumble lamb into hot pan, searing until brown and cooked through. Add kale. Saute.
Add. Rice cake back to pan. Then pour 8-12 oz curry sauce. Cook until thickened, and rice cake is chewy texture. Stir in butter. Remove to serving plate.
Garnish with chopped scallion. Enjoy!