Adapted from Elvis Presley's Favorite Poundcake, as seen in Gourmet Magazine, September 2005
We like to butter and grill slices of this cake, then top with fresh fruit and whipped cream.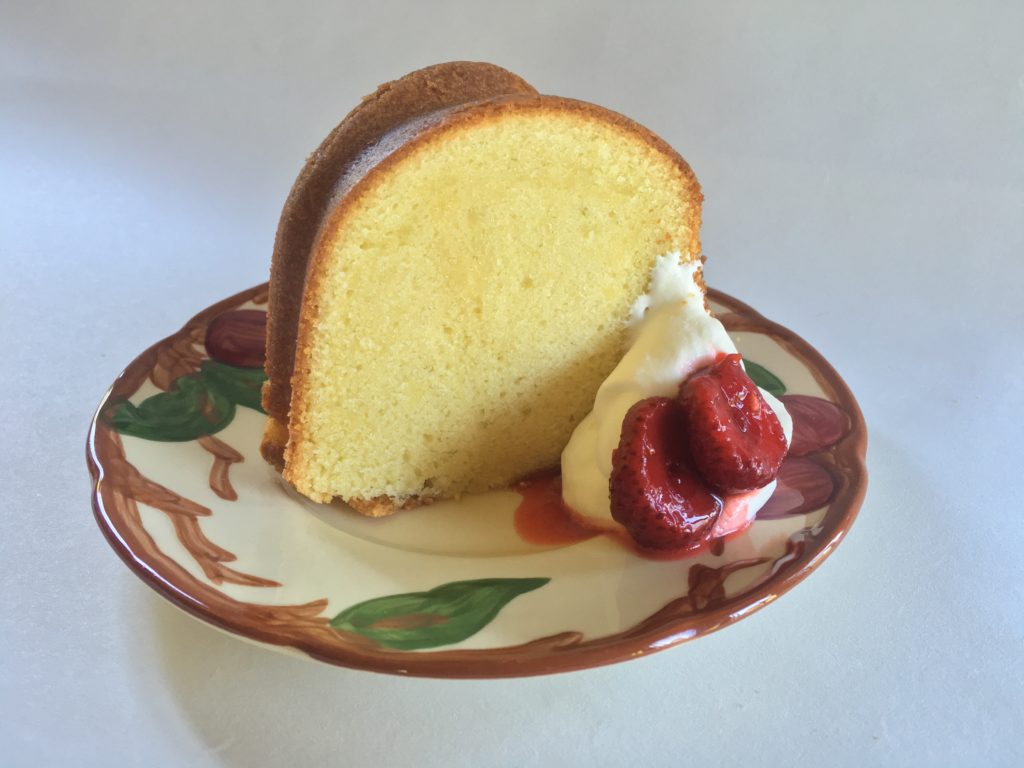 Prep Time: 30m
Cook Time: 1h
Ingredients
1

c

(2 sticks) butter, softened to room temperature

3

c

Sifted cake flour (sift before measuring)

3/4

tsp.

Salt

2 1/2

c

Sugar

7

Large eggs

1

tbsp.

Vanilla extract

1/2

c

Heavy cream - (can use 1 c and skip the yogurt)

1/2

c

Plain yogurt (I used Greek-style)

2

tsp.

Grated zest of lime (about 1 lime's worth)
Instructions
Preheat oven to 325F for convection, 350F for standard oven. Sift together the already sifted flour and salt. Repeat. (This is a total of three siftings of the flour.) Set aside.
In a stand mixer with paddle attachment (or a bowl with a hand mixer), beat the butter and sugar at medium-high speed until very light, pale, and fluffy. This will be about 5 minutes in a stand mixer, a bit more with a hand mixer.
Add the eggs, one at a time, mixing thoroughly until each is incorporated. Add vanilla, then lime zest. Reduce speed to low.
Mix together the cream and the yogurt. To the mixing bowl, add half of the sifted flour/salt mixture followed by the cream/yogurt and the second half of the flour. Make sure each addition is fully incorporated before adding the next. Scrape down the sides then beat batter at medium-high speed for an additional 5 minutes. Batter should be ultra-smooth and creamy.
Spoon into pan. Bake 60 - 70 minutes, until a you can poke the cake with a toothpick and it comes out with just a few moist crumbs attached. Cool in pan 30 minutes, then invert onto a cooling rack until completely cooled.