This phenomenal Sweet and Sour Brisket recipe comes from Smitten Kitchen Cookbook from Deb Perelman.  I'm here to say it is now my go-to for a great Beef brisket – so easy and just fantastic.  The meat is juicy, the sauce divine!  Deb recommends cooking the brisket a day in advance, then refrigerating it, and re-heating it at 300F in its sauce prior to serving.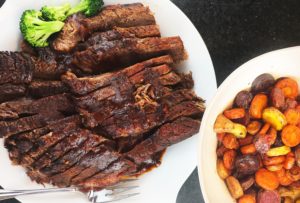 Special Equipment needed:  a good roasting pan with a cover (foil or tight-fitting lid)  or a slow-cooker. My recipe is for the oven.  If you are using a slow-cooker, plan on cooking at Low temperature for 10 hours.
Prep Time: 10m
Cook Time: 3h
Total Time: 3h 10m
Ingredients
For the Brisket
4

lb

Beef Brisket

1 1/2

tsp.

Kosher salt, plus more for seasoning the meat

1

c

Beef Stock or Broth

3

tbsp.

Tomato Paste

1/4

c

Brown Sugar (light or dark is ok)

1/2

c

Red Wine Vinegar

4

tsp.

Paprika

2

tsp.

Worcestershire Sauce

1

pinch

Red Pepper Flake

1

tsp.

Garlic Powder

2

tbsp.

Onion Powder
For the Carrots and Potatoes
2

lb

Fingerling Potatoes, any color, sliced into 1/2" coins

2

lb

Large Carrots, sliced into 1/2" coins

1/4

c

Olive Oil

1 1/2

tsp.

Kosher Salt

2

tbsp.

Minced Rosemary or dill, or any fresh herb
Instructions
Prepare the Beef:
Preheat oven to 350F. Season brisket generously with Kosher Salt and Pepper on both sides. Place in the roasting Pan or the slow cooker. Whisk remaining Brisket ingredients in a medium bowl. Pour over the beef.
Cover beef tightly, place in preheated oven for 3 hours. After 3 hours, beef should be fork-tender. If serving now, slice brisket in thin slices, then pour the sauce over the beef. Be sure to pass any extra sauce at the table.
For the Vegetables:
While the beef is in the oven, about 1 hour prior to serving, spread the vegetable coins across 1 or two large baking sheets that are generously coated with olive oil. Drizzle with remaining olive oil, then generously season with salt and pepper.
Turn oven to 400F. Roast vegetables 40-45 minutes, turning half-way through until coins are crisp and browned. Remove from oven and serve.