These sweet and spicy pecans are great by themselves or on salads! And so easy to make!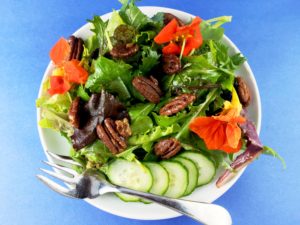 Prep Time: 5m
Cook Time: 12m
Ingredients
8

oz

(2 cups) Raw Pecan halves

2

tbsp.

Unsalted Butter

4

tbsp.

(1/4 cup) honey

1

tsp.

Salt

1/2

tsp.

Ground Cumin

1/2

tsp.

Cayenne Powder

1/2

tsp.

Ground Cinnamon
Instructions
Preheat oven to 350F. Line a baking sheet with parchment paper.
In a small saucepan over low-medium heat, melt the butter. Add honey, salt and spices. Stir until well mixed. Pour pecans into the butter mixture. Stir with heat-resistant spatula until all nuts are coated and butter mixture is absorbed into the nuts.
Spread nuts on baking sheet in a single layer. Bake in oven 10-12 minutes until nicely toasted. Remove pan to cooling rack. Stir occasionally to prevent nuts sticking together. When cool, store in air-proof container.