This recipe for Swedish Pot Roast is so easy and super-delicious. It is unlike any other Pot Roast you've made.  It will become a family favorite, guaranteed! Add Potatoes and Carrots for complete meal!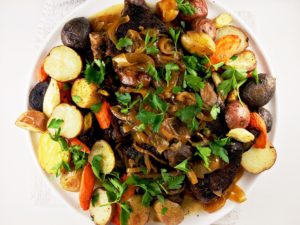 Special equipment needed:  One of the following:  a Dutch Oven, Instant Pot or Pressure Cooker, or CrockPot.
Ingredients
4

lb

Chuck Roast

1

tsp.

Cinnamon

1

tsp.

Nutmeg

1

tsp.

Dried ginger

2

tsp.

Salt

1/8

tsp.

Pepper

4

Bay leaves

2

tbsp.

Cooking oil, such as Canola or vegetable

2

Onions, sliced

1

Clove Garlic, minced

1/2

c

Brown Sugar (dark or light ok)

1/2

c

Vinegar or red wine (I used Red Wine Vinegar)

1/2

c

Water or Beef Stock
Instructions
Combine cinnamon, nutmeg, ginger, salt and pepper. Rub into all sides of roast. Heat Dutch oven or pressure cooker/InstantPot pot (if using one of these), pour in the cooking oil and brown the roast on all sides.
To the pot, add sliced onions, garlic and brown sugar dissolved in the vinegar or wine, water and bay leaves.
If using Dutch Oven: place lid over Dutch Oven, and roast in 250F oven for 6-6 1/2 hours until meat literally falls apart when you lift it from the Dutch Oven.
If using Pressure Cooker or Instant Pot: Close and lock Pressure Cooker. Heat until Pressure Regulator begins rocking slowly. After 40 minutes of rocking, turn off heat and let pressure drop of its own accord. For Instant Pot, set at High Pressure for 45 minutes. After cooking, let pressure drop naturally before opening and serving.
If using Crock Pot, Cook roast and all ingredients on High for 3-4 hours or Low for 8-9 hours.
Serve roast with roasted potatoes and carrots, along with sauce from the meat.