This hearty delicious chowder recipe is adapted from Playful Cooking.  I have added red pepper to it, and altered the spice mixture a bit.  The original recipe calls for Korean Chile powder, which I did not have, so I substituted smoked paprika and cayenne pepper.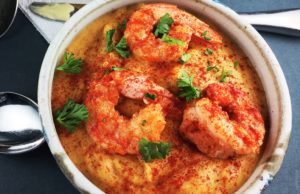 Ingredients
3

tbsp.

Butter

2

Large leeks, chopped finely

6

Cloves garlic, minced

6

Ears of corn, kernels removed

3

Medium potatoes, cut into 1/2" cubes

2

Chopped roasted red peppers (I used the kind that come in a jar)

2

Bunches green onions, chopped finely

4

tsp.

Ground Cumin + additional for shrimp

3

tsp.

Smoked Paprika + additional for shrimp

3

tsp.

Ground fennel seed + additional for shrimp

1/2

tsp.

Cayenne pepper, more or less to taste

2

c

Water

3

c

Milk

24

Large shrimp, shells removed (I used 13-15 size)

4

tbsp.

Olive oil
Instructions
In a large, deep pan, melt the butter along with 3 T of the olive oil, over medium heat. Add the chopped leek, seasoning with salt. Cook, stirring occasionally, until leeks are softened, 3-5 minutes. Add the chopped garlic. Continue to cook 1 minute.
Add the corn kernels, chopped potatoes, red pepper, and 3/4 of the chopped onions. Season with 1 tsp salt and all of the spices. Stir and allow to cook for about a minute. Add the milk and 2 cups of the water. Reduce heat to medium-low. Cook until potatoes are softened, 10-15 minutes. It is ok to let this simmer an hour or so if desired, but not necessary,
While chowder cooks, rub shrimp with oil. Sprinkle with salt, cumin, fennel and smoked paprika. Heat a sauté pan with 1 T olive oil. Once oil is hot, fry the shrimp for 2-3 minutes per side, until the shrimp curls. Set aside.
Using an immersion blender, blend chowder to desired consistency. You can blend for a minute or so to make it remain a bit chunky, or blend a couple extra minutes for it to be smooth. It's delicious either way! Add additional water to the soup, as desired. IMPORTANT: Be sure to salt to taste at this point as well!
Ladle into serving dishes. Top each dish with several shrimp and a sprinkle of the remaining green onions.