The ingredient list seems long, but nothing is too difficult, no chopping is required for the marinade, just some potentially therapeutic smashing and crushing. (!)
This flavorful Soy Sauce and Citrus Marinated Chicken is best marinated overnight (and can be up to 2 days).  It is topped with a delicious sauce you can use for dipping as well.  So tasty over rice!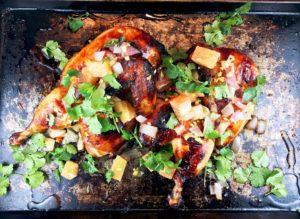 I found this recipe on Bonappetit.com.  The original recipe calls for a stalk of lemongrass. I substituted 1 tsp Thai Heritage brand minced lemongrass I found in the Asian section of my local grocery.
Ingredients
Chicken and Marinade:
4

Cloves garlic, crushed

1

2" piece of ginger, crushed (no need to peel)

1

c

Fresh citrus juice - use grapefruit, lime, sour orange, use one or any combination

1/2

c

Soy Sauce

1/3

c

White vinegar

1/4

c

Granulated sugar

1

3 1/2 - 4 lb chicken, backbone removed, halved
Dipping Sauce and Assembly:
1

tsp.

Minced lemongrass

2

Shallots, halved

2

Scallions, dark green tops removed

1

Red chile, such as a Fresno

4

Garlic cloves, unpeeled

1

1" piece ginger, peeled and finely chopped

2

tbsp.

Fish Sauce

2

tbsp.

Fresh lime juice

1

tsp.

Granulated Sugar

1

Pomelo

Cilantro sprigs, for serving
Instructions
Prepare the chicken and Marinate: in a medium bowl, combine the garlic, ginger, citrus juice (I used 3/4 of a grapefruit and about 4 limes), soy sauce, vinegar and sugar. Place chicken halves in a large zippered bag and pour in the marinade. Seal the bag, pressing out an air. Chill 12-48 hours.
Preheat oven to 425F. If using a conventional oven, place rack in the top third of oven. For convection, use middle rack. Remove the chicken from the bag, discarding marinade. Pat dry with paper towels, season with salt.
Place chicken on a foil-rimmed baking sheet. Roast until deep brown and cooked through, 30-40 minutes. (Mine took 40 mins.)
While chicken roasts, prepare dipping sauce. Bring 1/2 c water to boil in a microwaveable bowl or cup. Add the minced lemongrass. Let sit until very fragrant, about 8-10 minutes, then strain into a large measuring cup or medium bowl. Set aside to cool.
Heat a large skillet (cast-iron preferred) over medium-high heat. Toast the shallots, scallions, chile and garlic, stirring occasionally, until dark brown in spots, 8-10 minutes. Let cool. Remove skins from garlic cloves, can coarsely chop garlic with the shallots, scallions and chile. (I partially seeeded the chile to reduce the heat a bit.)
Add the chopped garlic, shallots, scallions, chile and the chopped ginger to the lemongrass-infused water. Stir in the fish sauce, lime juice and sugar.
Using a sharp knife, remove the peel and pith from the pomelo. Discard. Cut along the sides of the membranes to release the pomelo segments. Tear the segments in to large pieces and mix with dipping sauce.
When chicken is done, transfer it to a large platter. Spoon some of the dipping sauce over the chicken. Top with cilantro. Serve with the remaining dipping sauce.