A delicious dish that is easy to prepare with pantry ingredients, healthy, low-carb, and utterly delicious! Serve this any time of day, with bread for dipping and Hot Sauce (I like Cholula) for those who need more heat!
This recipe is prepared stove-top and can be finished either in the oven or covered on the stove.  If you want to finish by cooking eggs in the oven, preheat oven to 375F.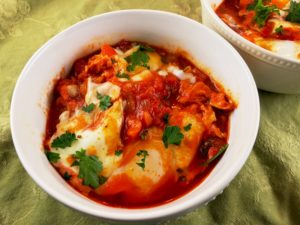 Ingredients
1

Large onion, diced

1

Red bell pepper, seeded and diced

3

tbsp.

Olive oil, any type

4

Cloves garlic, chopped

2

tsp.

Ground cumin

2

tsp.

Sweet paprika

1

tsp.

Sugar

1/4

tsp.

Cayenne Pepper (or more if you want it spicy - I use 1/2 tsp)

3

tbsp.

Tomato paste

1

28-oz. can plum tomatoes, including liquid (I used brand)

8

Large eggs

1 1/2

tsp.

Salt

1/2

tsp.

Black pepper

Chopped parsley for garnish
Instructions
If finishing eggs in the oven, preheat to 375F. In a heavy or cast-iron skillet, heat the olive oil over medium heat. Add chopped onions and peppers, and sauté, stirring occasionally, until onions are translucent and peppers are soft. This will take 8-12 minutes.
Add garlic, and continue to sauté 1-2 minutes until fragrant. Add cumin, paprika, cayenne, sugar and tomato paste. Stir for a minute or two until vegetables are coated. Then add tomatoes, salt and pepper. Simmer 10 minutes, stirring occasionally and breaking up tomatoes into smaller pieces. Reduce heat to simmer (or low).
Carefully break eggs, one at a time into small bowl, and gently pour into simmered liquid. Either place pan in oven or cover on stovetop for 7-11 minutes until eggs are done as you like. Mine took 8 minutes to get to sunny-side up. On the stovetop.
Spoon into bowls and serve with pita or crusty bread if desired.