This recipe is from one of my all-time favorite cookbooks, My Paris Kitchen, By Dave Lebovitz. Every recipe in this book is a masterpiece! He gives so many great cooking tips with each recipe. You can use any sort of hearty vegetable in this recipe.  I used the ones suggested in the book.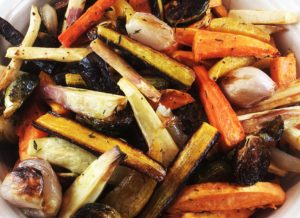 Prep Time: 10m
Cook Time: 1h
Ingredients
3

Large Carrots

2

Parsnips

1

Large Beet, any color

1

Large or 2-3 small sweet potatoes (about 8 oz.)

8

Shallots, peeled

8

oz

Brussels sprouts

3

tbsp.

Olive oil

1

tsp.

Sea salt or Kosher salt

10

Thyme sprigs

Black pepper
Instructions
Preheat oven to 400F. Peel the carrots and parsnips, and cut into "batons" or "sticks" about 3" long and 1/2" wide. Peel the beet and sweet potato. Cut into 1/2' slices, then slice each section into sticks roughly the same size as the carrots and parsnips. Slice shallots in half length-wise. Gently peel outer layer of Brussels Sprouts and cut in half.
Place all vegetables on sheet pan. Drizzle olive oil over the vegetables, toss and sprinkle salt and pepper evenly over them. Make sure veggies are in a single layer across pan. It is best to place the cut side down on the shallots and Brussels Sprouts so they get nice and toasty. You may need to use 2 sheet pans to fit them all. Scatter the thyme sprigs over the oiled and salted vegetables.
Place sheet pan with veggies into the oven and roast for 45-60 minutes, stirring half-way through. Roast until veggies are nicely browned and cooked through.