This is a budget-friendly, tender and juicy roast with a heavenly horseradish sauce.  Impressive enough for the holidays or a dinner party, with leftovers for sandwiches another day.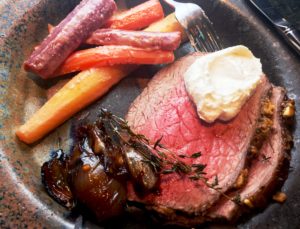 This recipe is from Martha Stewart.  The horseradish sauce can be made a day or two ahead of time, and you can add the vermouth the day of cooking.  It is best to cook the vermouth in actual cooking pan to absorb the flavors of the meat and shallots.  Martha suggest thinning any leftover sauce with water to make a salad dressing.  We used it as is for sandwiches made with the leftover slices of Roast Beef.
Ingredients
1

5-lb Bottom Round Roast, trimmed and tied if necessary

Kosher salt and freshly ground pepper

6

tbsp.

EVOO

10

Shallots (about 1 lb)

1/4

c

Chopped garlic (most or all of 1 head)

1/2

c

Dijon mustard

2

Handfuls of fresh herbs: sage, rosemary, or thyme, or a combination

1/2

c

Dry vermouth

2/3

c

Heavy Cream

2

c

Sour Cream

1/8

tsp.

Cayenne Pepper

2

tbsp.

(Or more, depending on taste) Prepared horseradish, drained if necessary
Instructions
At least a few hours and up to a day before serving (longer is better!), sprinkle roast with 2 Tbsp salt and 1 tsp pepper. Wrap with plastic and refrigerate. Remove from refrigerator and unwrap 1 hour prior to beginning preparation. This will be around 3 hours prior to serving.
Preheat oven to 350F. Heat a large skillet (cast-iron is best) over medium-high heat with 2 T oil. Brown beef on all sides. This should take 12-14 mins. Transfer to a large plate. Discard oil from skillet.
Place shallots in a single layer in skillet. Drizzle with 1 Tbsp oil. Stir together garlic, mustard, 2 Tbsp oil. Rub all over roast. Lay 1 handful of fresh herbs down the center of skillet. Place mustard-coated beef on top of herbs and shallots, fat-side up. Transfer to oven, roast 45 minutes.
Remove from oven, place remaining herbs on top of roast, drizzle with remaining 1 Tbsp oil. Return to oven and roast 10-30 minutes until desired doneness. For rare, a thermometer placed in the center of the roast should read 105F, for medium-rare, it should read 115F. Transfer roast to a cutting board, place shallots on a serving platter, tent both with foil, and let stand 30 minutes.
Pour any standing oil from skillet, and return skillet to medium-high heat. Stir in vermouth, bring to boil and cook, stirring occasionally for 5-7 minutes, or until just a few Tbsp remain. Strain and let cool.
Whip heavy cream to stiff peaks. Fold in sour cream, cayenne pepper, horseradish and vermouth mixture. Season with salt.
Remove any twine from roast (ours was not tied). Thinly slice across the grain. Serve with horseradish cream and shallots.