Use your favorite crust recipe or a pre-made crust if you desire.  My go-to recipe, prepared in a food processor, is Martha Stewart's Pate Brisee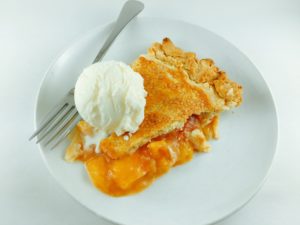 Ingredients
For the filling:
8

c

Peeled, sliced fresh peaches (about 7-8 large)

1/2

c

Sugar, depending on sweetness of peaches (I use only 1/2 c, but you may desire more)

1/4

c

Flour or 2 T cornstarch

1

tsp.

Natural vanilla

1/2

tsp.

Salt

2

tsp.

Lemon or lime juice

1/4

tsp.

Cinnamon (optional)
For the egg wash (optional)
Instructions
Preheat oven to 400F. While oven is preheating, place all of the pie filling ingredients into a large bowl. Stir. Set aside.
Roll out dough for the bottom of the pie crust. Pour peach filling into the crust. Roll out top crust. Trim and pinch edges together to seal the crust. Using a small paring knife, cut slits in the top crust to let air escape during baking.
If desired, brush on an egg wash (1 egg + 2 T water). You may also top with turbinado sugar for added sparkle and crunch.
Bake pie for 50-60 minutes. Check pie at 30 minutes and wrap edges with foil strips if they are browning too quickly. Pie is done when entire crust is golden and filling is bubbling out of the slits.
Cool at least 1 hour before serving. Top with ice cream as desired.