One of the most impressive (and easy) preparations for any type of steak.  I like New York Strip, but you can use sirloin, prime rib, or even a hamburger!  So delectable!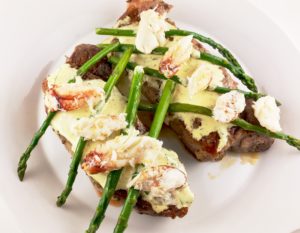 A Warning:  this contains raw egg yolks.  Raw yolks can, in some instances, cause Illness. Please do not eat if your immunity is compromised in any way, or if you should not eat raw foods.
Ingredients
3

lb

1" thick New York Strip steaks, or desired cut, at room temperature.

1

Bunch asparagus

2

tbsp.

Olive oil

3

Egg yolks

1

Stick unsalted butter, melted

4

tsp.

Lemon juice

1

tsp.

White vinegar (white wine vinegar ok)

1

tsp.

Dried tarragon

2

tbsp.

Parsley, chopped

1/4

To 1/3 lb. fresh crab (or canned is ok)
Instructions
Preheat oven to 375F. Generously season steaks with salt and pepper. In a heavy skillet, preheated over high heat, sear steaks 2 minutes/side. Move skillet to oven for 6-8 minutes, for Medium-Rare to Medium preparation. Let rest 5-10 minutes.
Prepare the Bernaise sauce. In a blender, place the egg yolks. Season with salt and pepper. Turn blender to low. Slowly stream in the melted butter to form an emulsion. Once the butter-egg yolks are emulsified, add the lemon juice, vinegar, tarragon and parsley. Salt and pepper further if desired. Set sauce aside.
Sauté asparagus in olive oil, until tender-crisp, about 3-5 minutes. Salt and pepper as desired.
Plate steaks. Top with asparagus tips. Spoon be raise sauce over asparagus. Top with pieces of crab, then more Bernaise sauce.