From Bon Appetit, July 2016
The secret here it to salt generously and WELL ahead of grilling.  As it sits it tenderizes the leaves all the way to the core and adds flavor. So give it some time!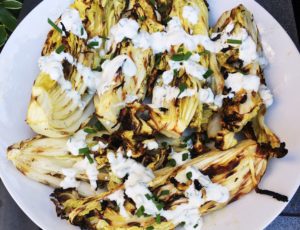 Ingredients
For the dressing:
2

Jalapenos

1/2

c

Buttermilk

1/3

c

Plain Greek Yogurt, full fat

1/4

c

Mayonnaise

1

tsp.

Freshly grated lemon zest

2

tbsp.

Lemon juice, fresh preferred

1

tbsp.

Chives, finely chopped

Optional: crumbled blue cheese and/or crumbled bacon
For the cabbage:
1

Small head Napa or Savoy Cabbage

2

tbsp.

Olive oil

1

tbsp.

Kosher salt
Instructions
Cut the head of cabbage into 6 wedges. It is best to do this starting your cuts at the stem, and cutting up the head from there. Lay wedges on a sheet pan. Pour olive oil over wedges, then sprinkle with the Kosher salt. Leave on counter for up to 12 hours, but at least one hour. Important! - Longer is better.
Preheat or prepare grill to Medium-high, including an area for indirect heat (heat to one or both sides but no heat on food).
Grill Jalapenos over medium-high heat until blistered and black, turning often. This takes about 5 minutes. They will begin to soften. When done, let cool slightly. Then stem, peel, seed and chop peppers. Place in a medium bowl.
Add the buttermilk, yogurt, mayonnaise, lemon zest and juice and chives. Mix well, season to taste with salt and pepper. Chill until ready to serve.
When grill is ready, place cabbage wedges over the medium-high heat, turning several times until charred on the edges as desired. Move to indirect heat to finish cooking. Wedges should be tender-crisp in 15-20 minutes total.
Top wedges with dressing, adding more chives, blue cheese and bacon, if desired. Serve remaining dressing to use as desired.