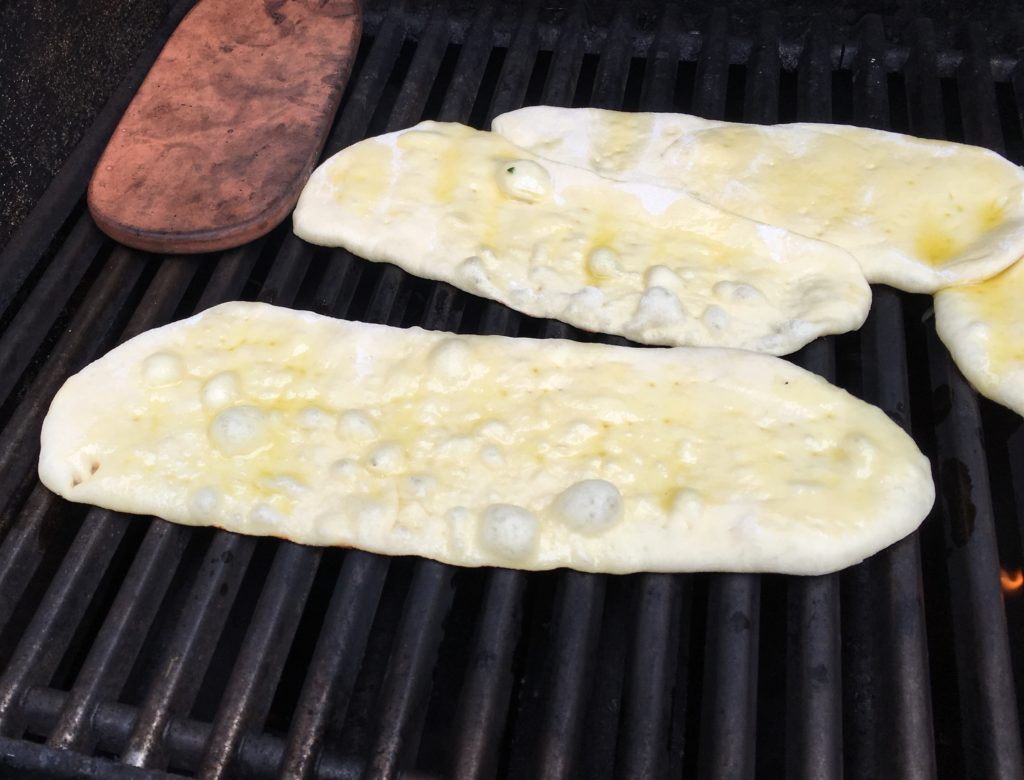 Adapted from The Complete Book of Indian Cooking, by Veronica Sperling et al.
Prep Time: 3h 15m
Cook Time: 4m
Ingredients
1/4

c

Warm water + about 1/3 cup, set aside

1/4

tsp.

Sugar

1/2

tsp.

Active dry yeast

2

c

AP flour

1/4

tsp.

Salt

2

tbsp.

Plain yogurt (Greek is fine)
Instructions
In a small bowl, mix the 1/4 c water and sugar. Sprinkle the yeast over the mixture. In about 5-10 minutes the yeast will be dissolved and the mixture foamy. At this point, place the flour and salt in a large bowl. Mix together and make a well in the center. Add the yogurt and the yeast mixture.
With your hands, combine the flour into the yeast mixture. When all of the water is absorbed, add additional warm water (around 1/3 c) and continue to mix with your hand until a soft dough is formed.
On a floured surface, continue to knead the dough until it is smooth and feels elastic. This will take 7-10 minutes. Clean out the large bowl in which you mixed the dough, oil it (any oil) and place the ball of dough into it, rolling it in the oil so the entire surface is shiny. Cover the bowl with plastic wrap. Place near a sunny window or other warm place for about 3 hours.
Preheat grill to medium - medium high. Divide the dough into equal portions. This dough makes 4-6 thin or 2-3 thicker naan loaves. Roll or stretch each piece into desired shape, round, oblong or triangular. Lay each piece on a lightly floured surface and poke all over with a fork.
Brush both sides of loaves with oil. Place on the hot grill. Once the naan is bubbly on the top, 1-2 minutes, flip and cook an additional minute or two. Remove and keep warm.