We found this recipe for Lime Pickle Roasted Chicken in the March 2017 Bon Appetit.  The key to this fantastic flavored chicken is to marinate it as long a possible, up to 12 hours.  I don't know, but I bet you could go a full 24 and it would be even better.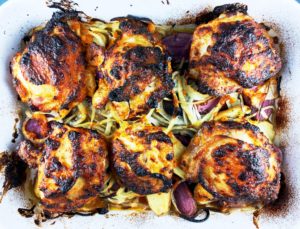 The marinade contains a secret ingredient that maintains the chicken's juiciness as well as encourages the gorgeous color.  That ingredient is Mayonnaise – the real stuff, please!
Ingredients
3

Garlic cloves, crushed

1

1" piece ginger, peeled and thinly sliced

3

tbsp.

Prepared Lime Pickle (we used Patak's Lime Pickle)

1

tsp.

Smoked Paprika

1/4

tsp.

Cayenne Pepper

2

Large Sweet Onions, thickly sliced, divided

1/2

c

Mayonnaise

6

Skin-on, bone-in chicken thighs (1 1/2-2 lbs. total)

1 1/2

lb

Fingerling potatoes, any color, scrubbed and halved lengthwise

2

tbsp.

Olive Oil

1

Large bunch watercress, tough stems trimmed

2

tsp.

Fresh Lemon Juice
Instructions
In a food processor, pulse the garlic, ginger, lime pickle, paprika, cayenne, and 1/4 of the sliced onions until smooth. Add the mayonnaise, a sprinkling of freshly ground pepper and pulse to combine. Using a rubber spatula, transfer marinade to a zipper lock bag.
Pat chicken thighs dry with paper towel, then season lightly with salt. Add to the bag, seal and toss to coat. Let marinating chicken set at room temperature for 1 hour, or refrigerate up to 12 hours - longer is better. Wrap or cover remaining onion slices and chill until ready to use.
If chicken is marinating chilled, remove from refrigerator 1 hour before roasting to bring it to room temperature. Preheat oven to 450F. Toss halved potatoes and remaining sliced onionswith the olive oil in a large roasting pan. Add 1/4 cup water, season with salt and toss again. Place chicken pieces, skin side up, on top, making sure there is some space between pieces. Roast 45-55 minutes until chicken is cooked through and lightly charred in spots. Remove from oven, allow to sit for 10 minutes before serving.
Toss the watercress with lemon juice, season with salt. Serve chicken, onions and potatoes with the watercress.