This Cacio e Pepe spaghetti is about the most flavorful pasta you can make.  It's adapted from Chrissy Teigen's book Cravings. I made it for my daughter and her friend a few weeks ago and just couldn't get it out of my mind. So I made it for my family. OMG, so dang delicious!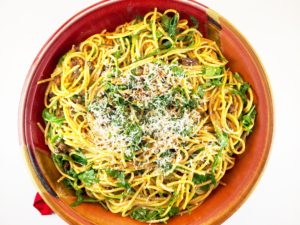 You'll want to dice the pancetta, mince the garlic, squeeze the lemon and grate the cheese in advance.  These make preparation of this recipe a breeze!
Author: Chrissy Teigen – adapted from Cravings
Ingredients
2 1/2

tsp.

Black pepper, freshly grated (plus more, to taste)

6

tbsp.

Fresh lemon juice

2

c

Freshly grated Parmeggiano-Reggiano Cheese, plus more for serving

4

c

Fresh baby arugula

16

oz

Dried Spaghetti (not angel hair)

5

oz

Pancetta, finely diced

1/3

c

Extra-Virgin Olive oil

4

tbsp.

Minced garlic - about 5-6 large cloves

1

tsp.

Heaping, red pepper flake
Instructions
Dice the pancetta. Mince the garlic. Grate the pepper. Squeeze the lemon. Grate the Parmeggiano-Reggiano.
In a large pot of generously salted water, cook spaghettti, stopping when it is al dente - about a minute less than the minimum time recommended on the package. If you are draining the pasta, be sure to save about 1 1/2 cups of the pasta water. If you pull it out with tongs like I do, have a ladle ready because you will need some of the hot pasta water.
While the pasta is cooking, heat a large skillet to medium and cook the pancetta until it is brown and crispy, about 8 minutes. To the crisp pancetta, add olive oil, followed by the garlic, red pepper flakes and black pepper, cooking about 1 minute. It should be fragrant at this point.
Add the lemon juice, then add the cooked pasta, tossing to coat. Add the parmeggiano-reggiano and toss. Slowly add some reserved pasta water. This will cause the cheese to become creamy and stick to the pasta. Add arugula, toss until wilted about 1 minute.
Taste and add more salt, pepper or cheese as desired. Serve with grated Parmeggiano-Reggiano.