You will be crazy for this rich yet light and creamy Lemon Blueberry Cheesecake.  The cake has a hint of lemon and the lemony-blueberry topping provides a beautiful topping.  Use fresh or frozen berries.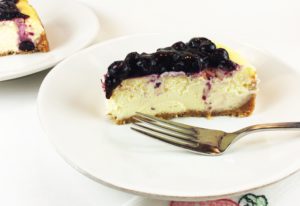 The recipe for the crust and the cheesecake filling was adapted from the beautiful cake found at Buttercream Blondie. The key to a smooth filling is to be sure all ingredients are at ROOM TEMPERATURE! So be sure to set them out several hours in advance!
Special equipment needed: 9″ Springform pan or baking pan with removeable bottom.  You may also want to bake the cheesecake in a "water bath", so you will want to prepare the pan for the water bath before you make the crust. Once the filling is in the crust, that is the point you will prepare the water bath and bake the cake in the bath. The idea of the water bath is to provide moisture so the top of the cake will not crack.  If you don't mind a crack or two, it is perfectly fine to skip the bath.  It will not affect the quality of your cheesecake! And, if you are topping it with the blueberry sauce anyway – no one will even notice any crack in the cake.
Prep Time: 20m
Cook Time: 1h 10m
Total Time: 1h 30m
Ingredients
Crust ingredients:
2

c

Graham Cracker crumbs (about 27 squares, or 13-14 sheets)

1

tbsp.

Granulated sugar

1

pinch

Salt

1

Stick (4 oz) unsalted butter, melted, plus more for the pan
Filling ingredients:
24

oz

Or 3-8oz. Blocks cream cheese, at ROOM TEMP!

1

c

Granulated sugar

1

c

Sour Cream, ROOM TEMP!

Zest of 1 lemon

1/4

tsp.

Salt

2

tsp.

Natural Vanilla Extract

3

Large eggs, at ROOM TEMP!

1

Large egg yolk
Blueberry topping ingredients:
4

tbsp.

Sugar (more to taste, if desired)

4

tsp.

Cornstarch

Juice of 1 lemon (zest it first!)

1/2

c

Water

3

c

Fresh or Frozen Blueberries (I used frozen)

Zest of 1 lemon
Instructions
Prepare the Pan:
Wrap the bottom edge (where the sides meet the bottom of the pan) with a layer of plastic wrap. Fully cover the plastic wrap with a layer of aluminum foil. Generously butter bottom and sides of pan. Place the pan on a large, low-sided baking sheet - you will use this sheet for the water bath (if you choose to do the water bath).
Prepare the Crust:
Preheat oven to 350F. In a medium bowl, mix graham cracker crumbs, sugar, salt, and melted butter until it is like wet sand. Press in bottom and 1-2" up sides of springform pan. Bake 8-10 minutes until set. Lower oven temperature to 325F. Set crust aside to cool.
Prepare the Filling:
In a large bowl of a stand mixer (it's ok to use a hand mixer or even a good strong bicep), at medium to medium-high speed, cream together the cream cheese and the sugar, until mixture is smooth. Add the sour cream, salt, lemon zest and vanilla extract.
Add eggs and egg yolk, one at a time, until nicely incorporated. To ensure filling is completely smooth, continue mixing an additional 15-30 seconds.
Pour filling into crust. Place in oven. Into the baking sheet, pour 1 1/2 - 2 cups boiling or near-boiling water. Bake (at 325F) for 60-70 minutes, or until sides of cake are set and the middle 2-3" are still wobbly. Turn off oven, and leave cake in an additional 30-60 minutes. At this point cake should be fully set. You may want to run a sharp knife around the edge of the cake at this point to ensure it doesn't stick to the sides of the pan once fully cool.
Prepare the Topping:
In a medium saucepan, whisk together the sugar, cornstarch, lemon juice and water. Over medium heat, continue to stir occasionally until mixture boils. Add in half of the blueberries and simmer 2-3 minutes, while smashing most of the berries with the bottom of a metal spoon or a potato masher.
Stir in remaining berries and lemon zest. Pour into pint-sized jar or bowl and set aside to cool. Refrigerate. Use to top entire cheesecake or individual pieces.