This beautiful recipe for Lamb Ragu with Peppers was adapted from Lidia's Mastering the Art of Italian Cooking from Lidia Bastianich.  It is flavored with a pestata, which is a ground mixture, in this case, a mixture of pancetta and garlic.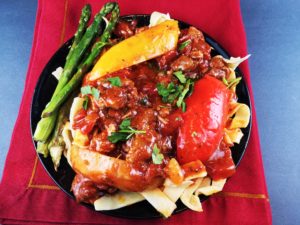 Special equipment:  a mini food processor or mortar and pestle, and a Dutch Oven or Cast-iron pot with lid.
Ingredients
2

oz

Pancetta, chopped

4

Garlic cloves, crushed and peeled

2

tbsp.

Extra-virgin olive oil

2

lb

Boneless lamb shoulder or lamb stew meat, cut into 1" pieces

2

tsp.

Kosher salt

1/4

tsp.

Crushed red pepper flakes

1/2

c

Dry white wine

1

28-oz. can Italian tomatoes (preferable plum tomatoes, crushed by hand)

2

tsp.

Dried oregano

2

tsp.

Paprika, sweet

2

Russet potatoes, peeled and quartered

3

Bell peppers (red, yellow, orange preferred), seeded and quartered
Instructions
First, make the pestata. Place the pancetta and garlic cloves into the food processor and grind until smooth. Heat a large Dutch oven or Cast-iron pot over medium heat. Add olive oil. When oil shimmers, add the pestata and cook until the fat is rendered, 3-4 minutes.
Season the lamb with 1 tsp of salt. Add to the hot pan with pestata. Cook over medium heat until the lamb releases its juices, stirring occasionally, about 6 minutes. Increase the heat to brown the meat all over, about 4 more minutes.
Season with remaining salt and red pepper flakes. Add the wine, and cook until it is almost reduced away, approximately 4 minutes. Add the tomatoes, their juices, and 1 1/2 cups water. Sprinkle in the oregano and paprika. Bring to a simmer, cover, and cook 30 minutes.
Add potatoes, peppers, and 1 cup water. Set lid ajar, and cook 45-60 minutes more, until lamb and vegetables are fork-tender.
If the sauce is too watery, turn the heat to high and reduce until desired consistency is reached. Or, add a slurry of cornstarch (about 2-4 tablespoons) and liquid from the pot, and stir until desired thickness. Serve over pasta, risotto, rice, or toasted bread.