This recipe is from Michael Chiarello, as seen on Food Network.  We doubled the recipe, as we had 6 people to serve.  Feel free to cut it in half for 4 servings.   We made a sauce quick sauce by melting 4 T butter, and adding chopped basil and a bit of chopped parsley.  Topped with Parmeggiano-Reggiano, it makes a memorable dish!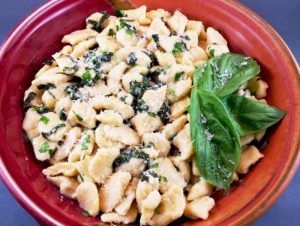 Ingredients
2

lb

Russet potatoes

7

Egg yolks

1

c

Freshly grated Parmeggiano Reggiano cheese

1/2

tsp.

Nutmeg

1

tsp.

Salt

1/2

tsp.

Black pepper

2

c

AP flour, plus more for dusting
Instructions
Preheat oven to 425F. Season potatoes with salt and pepper. Bake on tray for 45-60 minutes, until they seem a bit overdone. Let cool until you can hold them without burning your hands.
Cut potatoes in half lengthwise. Scoop flesh and press through a ricer, or grate using a box grater. (You can discard skins or save for another use.) Grate or rice them directly onto the counter or where you will prepare the gnocchi dough. You should have around 4 c of shredded potatoes. Make a well in the middle of the mounded potatoes. Into the well, place the yolks, cheese, nutmeg, salt and pepper. Mix well with your hands. Sprinkle a cup of the flour over the potatoes, pressing it in with your knuckles. At this point, you don't want to knead the dough, just press the flour into the potato mixture with your knuckles. You can fold the dough over onto itself and press down.
Use the remaining cup of flour, sprinkling little by little, until the dough feels firm, but gives using slight pressure. You should be able to form a bit of the dough into a 1/2" diameter "rope", and it will hold together. If the dough begins to feel dry, add a little water, Tablespoon at a time, until it no longer is dry. Or, if your rope does not hold together, add a little more flour. We used approximately 1 1/2 c of the flour, but I think we had slightly more than 4 c of shredded potatoes. Once your rope holds together, you are ready to form the gnocchi.
Divide dough into 8 sections. On a floured surface, roll each section out into a long 1/2" diameter rope. Cut each rope into 1/2" sections. You can cut them straight or at a slight angle. Then press down using the tines of a fork, onto each gnocchi. This will make indentations that hold the sauce. (Yum!) Sprinkle gnocchi with a layer of flour.
Place finished gnocchi on a wax- or parchment paper covered cookie sheet. Allow to dry for 1-2 hours, turning over halfway through.
When ready to cook, bring a large pot to boil with salted water. Salt a little more than you think you should. The water should taste like the sea. Drop gnocchi into the water, and cook about 3-4 minutes, or 90 seconds after they rise to the surface of the water. Remove with a slotted spoon or strainer, shaking of excess water.
You can sauce them with brown butter or olive oil seasoned with herbs, or any type of tomato sauce or alfredo sauce. Be sure to sprinkle more cheese on top. Parmeggiano-Reggiano is my favorite, but feel free to use any cheese you like!