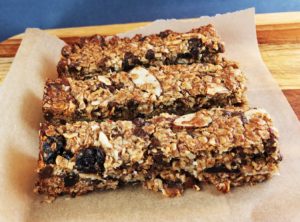 My recipe is adapted from Molly Wizenburg at Orangette, who adapted the recipe from Smitten Kitchen. It is a recipe I've made over and over again to send in kids' lunches or to eat as my own breakfast, lunch or dessert. If you want to make them Vegan, just substitute maple syrup for the honey.
You can also make them different flavors by varying the nuts, chocolate, and dried fruits.  Just aim for 4-5 cups of add-ins.  I chose pecans, almonds, chocolate, cherries, coconut and flaxseeds. You  might try almonds, walnuts and dried apricots, or peanuts, pecans and, raisins and white chocolate. Whatever you like!
Prep Time: 15m
Cook Time: 35m
Ingredients
4

c

Quick-cooking oats, separated

2/3

c

Brown sugar, packed (dark preferred)

1

c

Toasted pecans, salted if desired

1

c

Sliced almonds

1/2

c

Unsweetened, shredded coconut

1/2

c

Ground flaxseed

1

c

Chopped chocolate, or mini chocolate chips

3/4

c

Dried cherries

1 1/4

tsp.

Salt

2/3

c

Smooth Peanut Butter (I used Trader Joe's all-Natural)

2

tsp.

Vanilla extract

3/4

c

Coconut oil, melted

3/4

c

Honey
Instructions
Preheat oven to 350F. Prepare a 13x9 baking pan by spraying or buttering it, then cover with a layer of parchment that is long enough to hang over two sides (aids in removing the bars to cut) and then spraying or buttering the parchment.
In a small food processor (or a coffee bean grinder), process 3/4 c of the oats until they are finely ground. In a large bowl, mix together oats, ground oats, brown sugar, pecans, almonds, coconut, flaxseed, chocolate, cherries and salt. Set aside.
In a medium bowl, whisk peanut butter, vanilla, coconut oil and honey. Pour the liquid mixture over the dry ingredients and mix well.
Press granola firmly and evenly into the prepared baking pan. It's best to take a sheet of plastic wrap, set it over the granola, then firmly press down. This way your hands stay clean and the granola is properly pressed into the pan. Discard the plastic when finished.
Bake 30-35 minutes until bars are brown at the edges and golden in the middle. Remove from oven, cool. When bars are cool, place them in the refrigerator for at least 2 hours before slicing. This prevents them from being crumbly. When ready to slice, use the long edges of the parchment as "handles" to gently pull the entire sheet of bars from the pan. Using a sharp knife, slice into bars or squares. I made my bars 1" x 4" (ish) but you can make them any size or shape you like.