Adapted from Alton Brown, as seen on Food Network
Special Equipment needed:  Food Processor, one large brick, loaf pan, 13×9 pan
Serve with Greek Salad and Tzatziki Sauce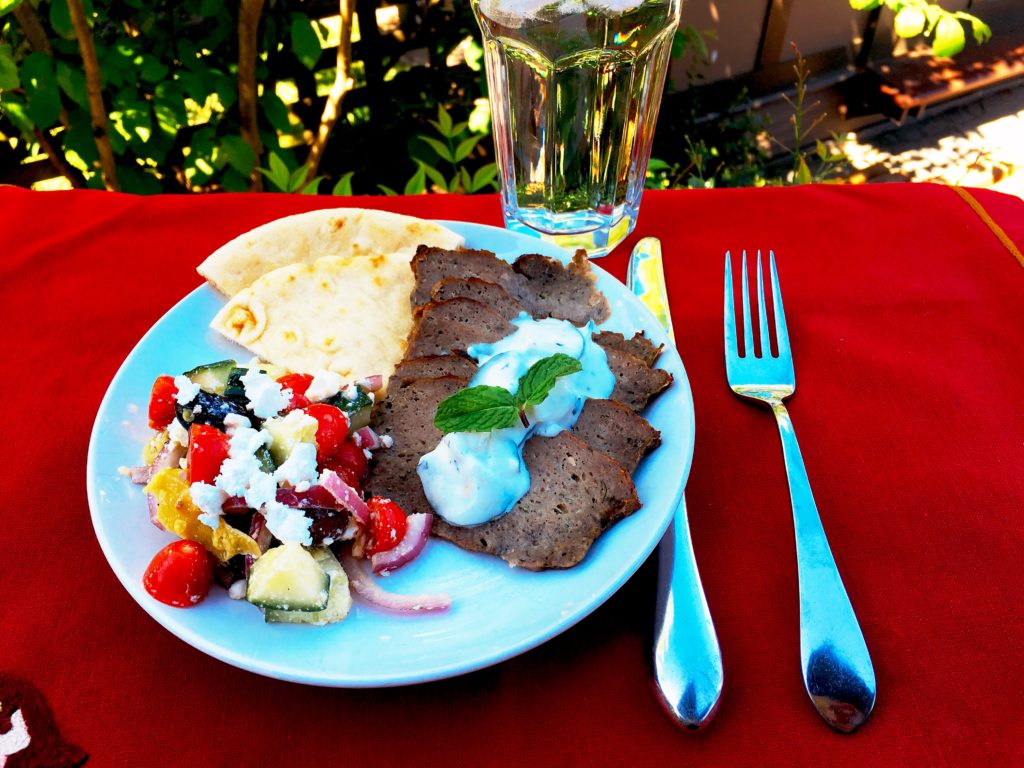 Prep Time: 30m
Cook Time: 1h 15m
Total Time: 2h 5m
Ingredients
1

lb

Ground lamb

1

lb

Ground beef

1

Medium yellow onion, diced

2

tbsp.

Fresh, or 1 t dry Rosemary

1

tbsp.

Dry oregano

2

Large cloves garlic

1

tbsp.

Salt

1/2

tsp.

Ground pepper
Instructions
Preheat oven to 325F. While oven is preheating, prepare the meat mixture. First, process the chopped onion in a food processor until finely minced, about 15-20 seconds. Pour the wet minced onion into a paper towel or a tea towel, wrap and squeeze most of the water out into the sink to discard. Return the nearly dry minced onion to the processor.
To the onion, add the lamb, ground beef, rosemary, oregano, garlic, salt and pepper. Process until the mixture blends into a nearly smooth paste. This will take about 1 minute.
Spread the meat paste into the loaf pan, making sure it is up against the sides. Smooth the top as much as you can. Place the loaf pan into the 13x9 pan. Fill the 13x9 half-way with water, being careful not to splash it onto the meat. Place in the oven for 60-75 minutes.
The meat will be done when it reaches 165-170F. If you do not have a thermometer, it will be done when the meat has fully pulled away from the sides of the loaf pan, and is firm to the touch.
Drain the fat from the meat, leaving meat in the loaf pan. Wrap a large brick in foil. Set the meat, in its pan, over a cooling rack. Place the brick atop the meat for 15-20 minutes. At this point the meat should be around 175F.
Thinly slide the meat. Serve with Greek Salad, Taztziki Sauce and Pita Bread.