From Martha Stewart
This is truly one of the best salads I've ever had!  Give it a try, I know it will be yours, too!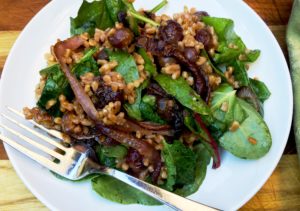 Ingredients
8

oz

Whole Farro

6

c

Red seedless grapes (about 1 1/2 -2 lb), stemmed

2

Red onions, small, cut into 1/4" slices.

5

tbsp.

Extra virgin olive oil

3

tbsp.

Red wine vinegar (plus more for serving)

4

c

Hearty baby greens (I used mix of baby kale, baby spinach and baby chard from Trader Joe's)

Salt and Pepper

8

oz

Optional - Goat cheese crumbles (if not making vegan salad)
Instructions
Cook Farro according to directions on package. If there are no directions, cook about 1 1/2 cups along with 4 1/2 c water. Boil for 25-30 minutes. Most if not all of the water should be absorbed. Drain if necessary and pour into serving dish.
Preheat oven to 400F. On a large sheet pan, mix grapes, 1 T olive oil, 1 t salt and 1/2 t pepper. On a second large sheet pan, place the onion slices in a single layer. Drizzle 1 T olive oil over the slices. Turn them over, then drizzle another tablespoon of olive oil, followed by sprinkling of salt and pepper. Place sheetpans in preheated oven. If your oven does not have a convection setting, place the onions below the grapes in the oven.
Set a timer for 45 minutes. Every 15 minutes, flip the onion slices and stir the grapes. During the last 15 minutes, watch carefully so the onions do not burn, they should end up golden and caramellized but not black. The grapes should be just beginning to burst at the 45 minute mark. When done, scrape the onions and the grapes into the serving dish with the Farro.
In a small bowl or a cup, combine the last 2 tablespoons of olive oil, the red wine vinegar 1-1 1/2 teaspoons of salt and 1/2 teaspoon of pepper. Pour over Farro mixture and stir until all ingredients are evenly incorporated. Let salad cool 20-30 minutes.
When ready to serve, mix in the salad greens. If desired sprinkle on a bit more red wine vinegar to taste. If desired, top with goat cheese crumbles.