Adapted from Bon Appetit Magazine, June 2016
Special equipment needed:  mortar and pestle or spice mill – I use an old coffee grinder, 8 metal skewers (wood is fine if you soak them 60 minutes prior to using them)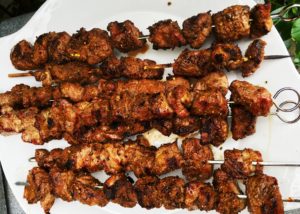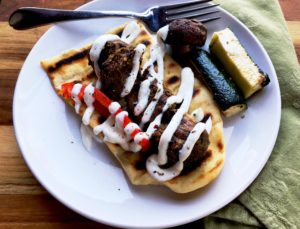 Ingredients
For the Yogurt Sauce:
2

Cloves garlic, grated

1

tsp.

Fresh lemon zest

2

tbsp.

Fresh lemon juice

2

c

Greek Yogurt, plain
For the Lamb
3

tbsp.

Cumin Seeds

1 1/2

tsp.

Black peppercorns

1

tbsp.

Caraway Seeds

2

tsp.

Crushed Red Pepper flakes

1 1/2

tsp.

Sugar

2 1/2

lb

Boneless Lamb shoulder (could substitute lamb leg or loin)

Vegetable Oil, for grill

Kosher Salt and freshly ground pepper

Lemon Zest, for serving
Instructions
For the Yogurt Sauce:
Mix together the grated garlic, lemon zest and juice and the Greek Yogurt in a medium bowl. Season with salt and pepper as desired. Refrigerate until use.
For the Lamb:
Preheat grill so that one half of the grill is medium-high heat, and the other half is low heat, or is heated indirectly.
Cut the lamb shoulder Into 1" cubes or pieces. Thread cubes onto skewers, leaving a small space between each piece.
Grind the cumin seeds, caraway seeds, peppercorns, pepper flakes and sugar in a spice mill or with mortar and pestle, until only a few larger pieces are visible. Generously salt the lamb skewers, then sprinkle spice mixture over all sides of lamb skewers. Rub into the meat so the mix adheres.
Grill lamb skewers over medium-high heat, turning about every minute, until char marks begin to form. This will be about 4 minutes per side. Move to cooler side of grill and continue to cook until desired doneness. This will be about 4 more minutes for medium-rare or 6-8 minutes for medium-well.
Serve with naan and garlic sauce. Garnish with black pepper and lemon zest.