I found this recipe on The Cafe Sucre Farine, a beautiful recipe website! The brown butter crust is a famous recipe from Paula Caillat, of the Promenades Gourmandes Cooking School.  It is absolutely to die for – and believe it or not, it doesn't require rolling the dough, or cutting butter into flour! So easy! Combined with the rich chocolate filling, I will be making this dessert again and again. And so will you!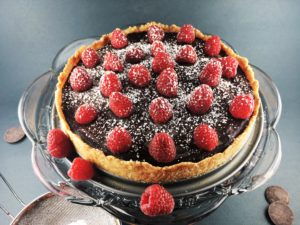 Equipment needed: an ovenproof bowl or container (such as a Pyrex bowl or large measuring cup) and 8-9″ tart pan or springform pan.
Ingredients
For the Crust:
3

oz

(6 Tbsp) butter

1

tbsp.

Vegetable oil (or other mild-tasting oil)

3

tbsp.

Water

1

tbsp.

Sugar

1/8

tsp.

Salt

1

Slightly rounded cup AP flour (5 oz. or 150 g)
For the Filling:
1

c

Heavy Cream

8 1/2

oz

Fine dark Chocolate (70-72 pct cacao), chopped (250 g)

1

oz

(2 Tbsp) butter
Optional for topping:
Fresh berries, confectioners' sugar, whipped cream
Instructions
First make the crust. Preheat oven to 410F. Cut the butter into small pieces. Into an oven-proof dish (such as a Pyrex bowl), put the butter, oil, water, sugar and salt. Place into the preheated oven, removing when the butter is melted, mixture is bubbly and started to turn golden brown. This will take around 15 minutes. In my oven, it took 18 minutes. Be careful, as it will be spattering a bit, and the dish will be HOT. Once you remove the butter mixture, lower oven temp to 375F.
Being careful with the hot bowl, pour the flour into the butter mixture. Stir with a heatproof spatula until the dough forms a ball. Dump the ball of dough into your tart pan or springform pan. Let cool a bit, then form the crust by pressing it across the bottom and up the sides. (Chris from thecafesucrefarina.com recommends making the sides first, then patting out the bottom.) Pierce the crust all over, including the sides, with a fork. Bake 15 minutes until it is golden brown. Cool completely.
Once crust is cooled, heat the heavy cream in a small saucepan. Place chopped chocolate pieces in a medium bowl. Once the cream reaches the boiling point (bubbles just forming around the edges of the pan), pour the hot cream over the chopped chocolate. Wait about 30 seconds, then stir until chocolate is incorporated. Add the butter, and stir until it is fully incorporated as well, then pour mixture into the cooled crust. Refrigerate at least 1 hour before topping with fruit, confectioners' sugar or whipped cream.