This delightful pie is perfect for a Holiday dinner – Thanksgiving, Christmas, New Year's Eve or Day.  The crunchy gingerbread crust, the smooth chocolate custard with a hint of orange essence is both festive and satisfying.  And so easy to make!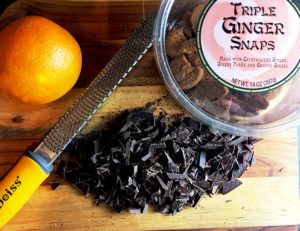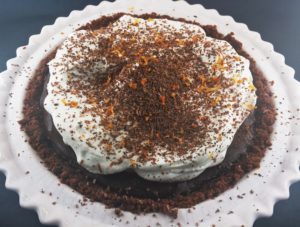 Ingredients
For the Crust:
10

oz

Gingersnap Cookies

6

tbsp.

Butter, melted
For the Filling:
6

oz

Dark Chocolate (I used 72%), chopped

3/4

c

Granulated Sugar

3

tbsp.

Cornstarch

1/2

tsp.

Salt

2

c

Whole Milk

3

Large egg yolks

Zest of 1/2 Orange

1

tsp.

Natural Vanilla Extract

2

tbsp.

Butter

3/4

c

Heavy Cream, whipped

1

tbsp.

Confectioners' Sugar
Instructions
Preheat oven to 350F. Make the crust. Grind the gingersnap cookies in a blender or food processor, or place them in a zippered bag and roll a rolling pin over them until they are finely ground. Place crumbs in a medium bowl. Add the melted butter. Mix until crumbs are evenly moistened. Press mixture into a 9" pie plate. Bake in preheated oven for 10 minutes. Cool. Crust will harden as it cools.
Make the filling. Into a 2 or 3 quart saucepan, place the granulated sugar, cornstarch, salt, and chopped chocolate. Whisk together milk, egg yolks and the orange zest. Pour into the pan. Heat ingredients over medium-low to medium heat, stirring continuously. The mixture will slowly thicken, with small bubbles forming around the edges. Then it will begin to thicken. Once the mixture in thickened (to the consistency of a pudding or custard) and the bubbles are large, let it cook, continuously stirring, for an additional 2 minutes.
To the hot custard, add the vanilla extract and 2 T butter. Stir until incorporated.
Pour custard into the completely cooled pie crust. Let cool a bit, then place into the refrigerator until chilled. Once chilled, whip the cream and confectioners' sugar. Top the pie with the whipped cream and return to the refrigerator until ready to serve.